35 DIY Outdoor Fireplace, Fire Pit, and Tabletop Fire Ideas & Tutorials
There's just nothing like throwing on a sweatshirt, grabbing your marshmallows, and enjoying a fire in your back yard. No matter how much space you have in your back yard, there's room for a fire, be it in a fireplace, fire pit, or on a tabletop. 
If you're into DIY projects, a spot for an outdoor fire is an easy project to manage. Here are some great ideas to spark your creativity. 
Shiplap Style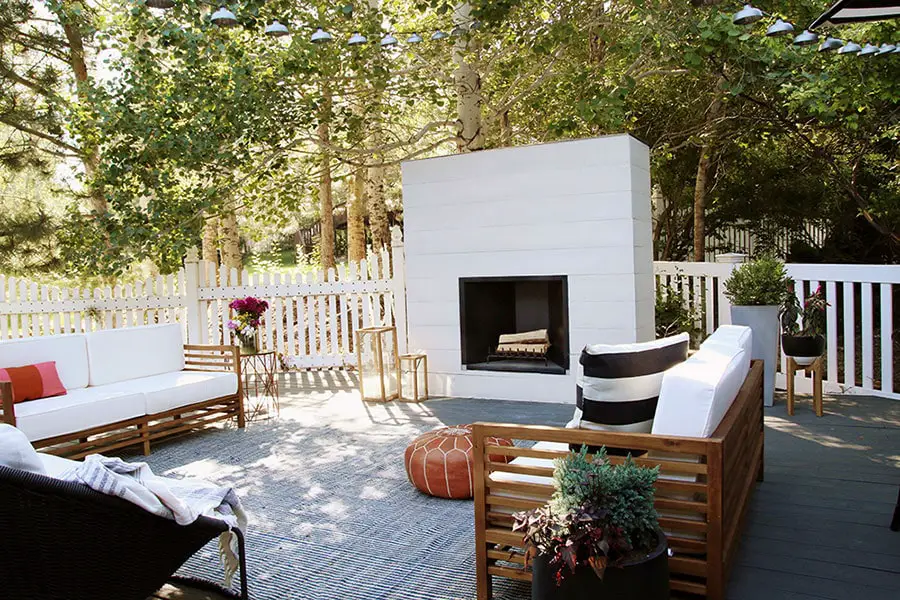 Learning how to build an outdoor fireplace may seem overwhelming, but this design isn't nearly as complicated as stone or brick styles.
This shiplap style fireplace is modern without being cold and brings a cozy feel to the outdoor space.
DIY Outdoor Fireplace from Chris Loves Julia DIY / Homes
Easy Paver Fire Pit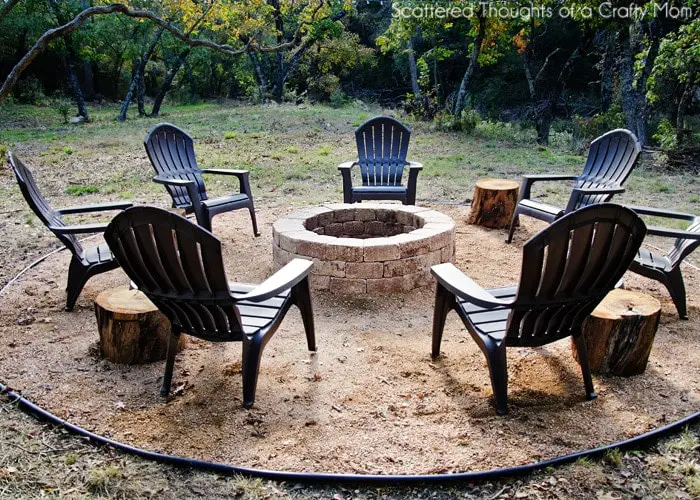 This is probably the most classic DIY fire pit design there is. 
It's so popular for two reasons: it's really easy to do and really inexpensive to make! You can have your family set up to make s'mores in only one day with this design. 
How to Build a Firepit from Scattered Thoughts of a Crafty Mom
Adirondack Fire Bowl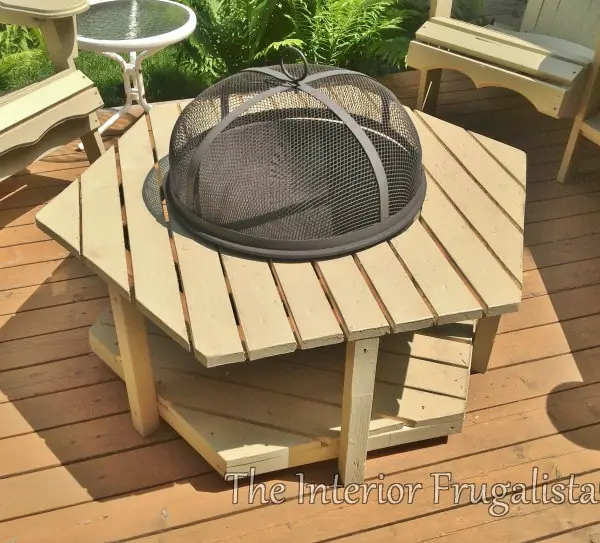 If you like the look of Adirondack chairs, this is the fire table version of them. 
Adding the extra wood design to the fire bowl/pit makes it a little more stylish and easier to use on a patio. 
DIY Adirondack Fire Bowl from Frugalista
Fire Pit With Grill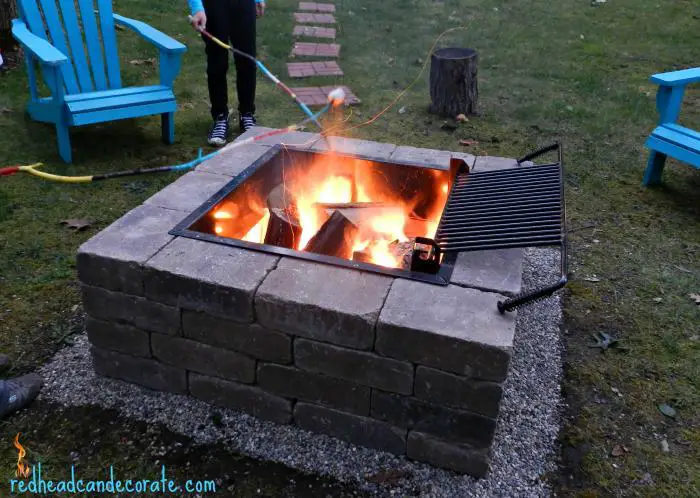 Do you love to relax by a fire? Do you enjoy cooking over a fire? With this DIY project, you can do both. 
Seriously, though, this is a good looking fire pit and the added grill is a nice touch. 
Easy DIY Fire Pit Kit with Grill from Redhead Can Decorate
Small Tabletop Fire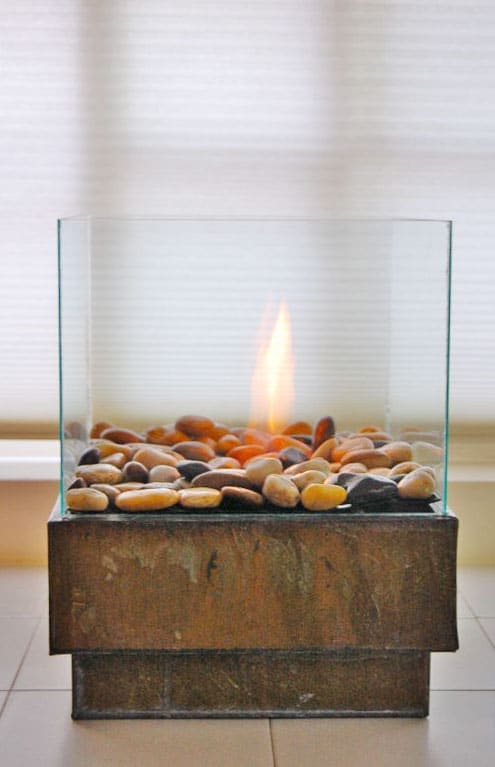 If you just want a little warm spot outside, you can make this inexpensive tabletop fire pit. 
Not only is it perfect for a small outdoor space, but it's also really aesthetically pleasing! 
How to Make a Backyard Fire Pit for Cheap from The Art of Doing Stuff
Brick Oven & Fireplace Plans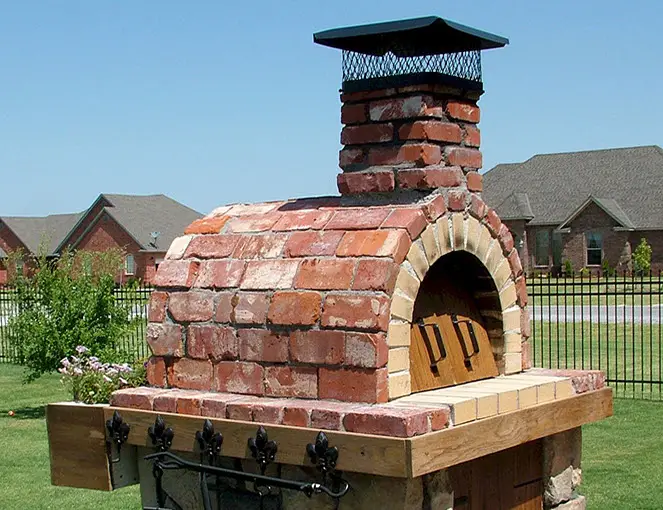 Sure, you could look for regular old DIY outdoor fireplace plans, or you could go a step further and look for brick oven plans! 
You can use this brick oven as an outdoor heater and as a place to bake a delicious pizza. 
Build Your Family a Wood Burning Fire Pit  / Fire Pit Grill from Brick Wood Ovens
Brick and Stone Fireplace
It's hard to believe this intricate outdoor fireplace was made by anyone other than a professional, but it was just a DIY project! 
You can learn more about his homemade outdoor fireplace by watching his video tutorial on YouTube. 
How to Build an Outdoor Fireplace from Oxford Blaze / YouTube
Reclaimed Brick Fireplace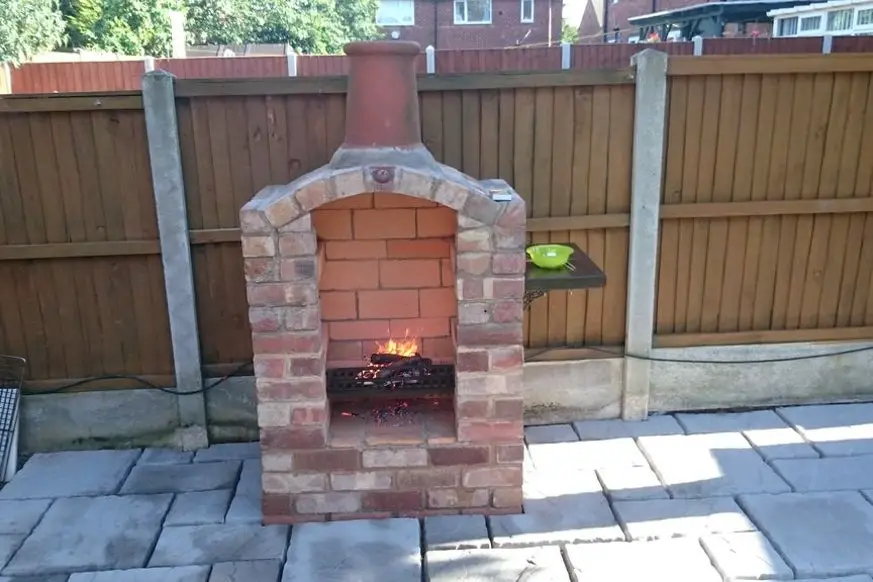 The best materials for homemade outdoor fireplaces (or any DIY project, really) are reclaimed materials.
This person made an arched outdoor fireplace using reclaimed bricks, and it looks amazing. 
Reclaimed Brick Arched BBQ from Instructables
Fire Pit Table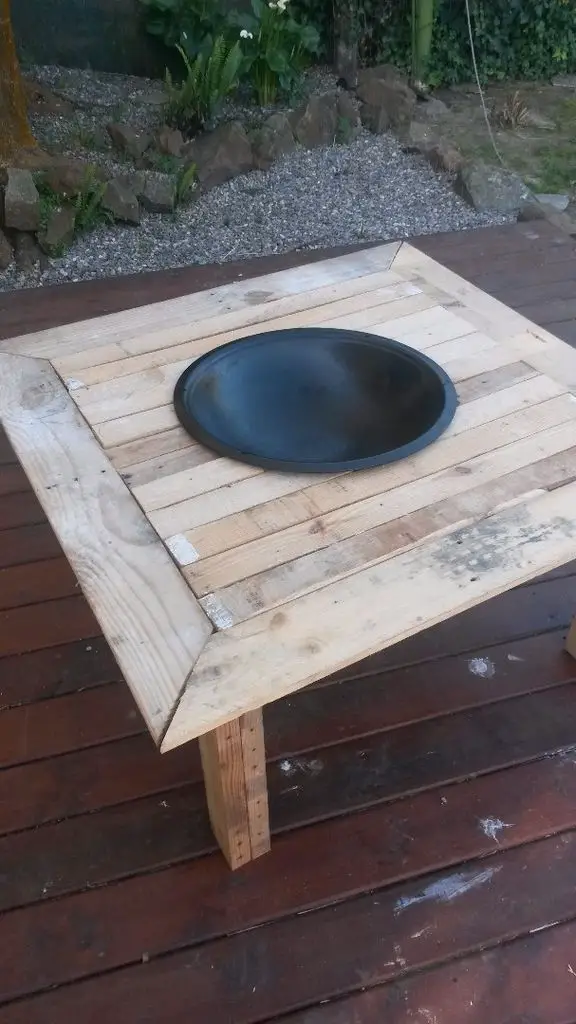 Maybe you're someone who enjoys intimate conversation over practically yelling across a blazing bonfire. 
If that's the case, a fire pit table is just for you. It will allow you to sit closer to friends while still keeping you warm. 
Outdoor Fire Pit on a Table from Instructables
Copper Chimnea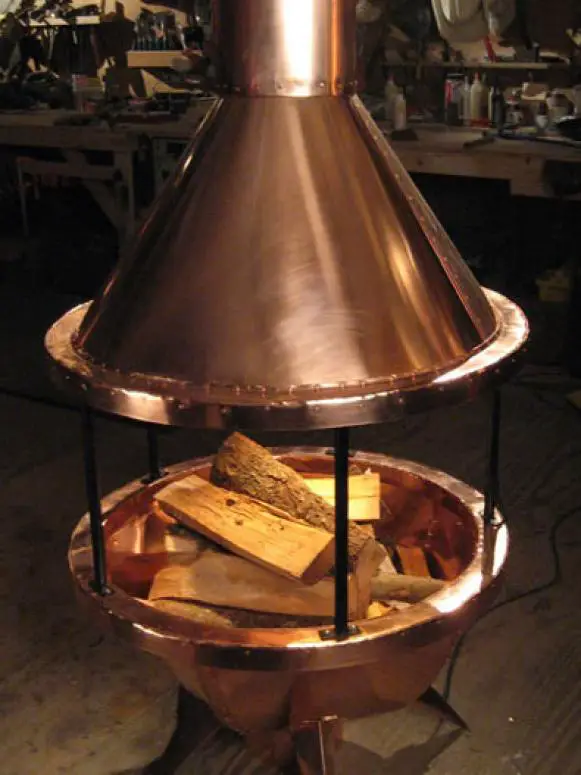 Chimneas are great options for people who don't have the space for (or want) a fire pit or an outdoor fireplace. It's a happy medium. 
You can recreate this gorgeous copper chimnea using the guide from HGTV. 
Building a Copper Chimnea from HGTV
Repurposed Washing Machine Drum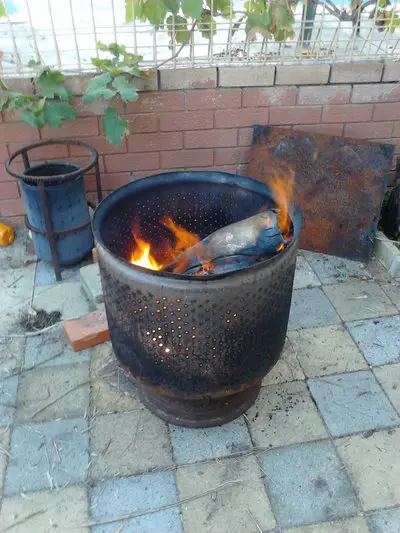 Do you have an old washing machine that doesn't work and you're planning to get rid of? Wait just a minute! 
Remove the drum of the washer and use it as a fire pit! Check out DecorNotes for the how-to. 
Repurpose a Washing Machine Drum into a Fire Pit from DecorNotes
Raised Concrete Fire Pit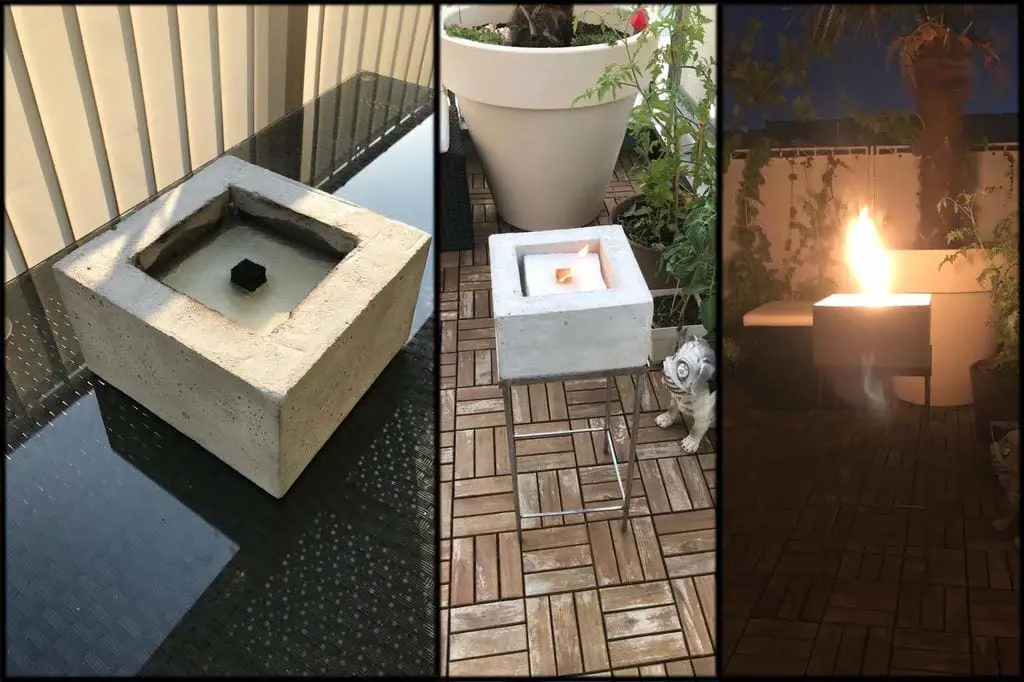 This concrete and steel fire pit is perfect for someone who likes a clean, modern look. 
It's also great for small spaces, because it will give off some light and heat while still being compact. 
Concrete Outdoor Fire Pit With Steel Base from Instructables
Three-Hour Gas Fire Pit Project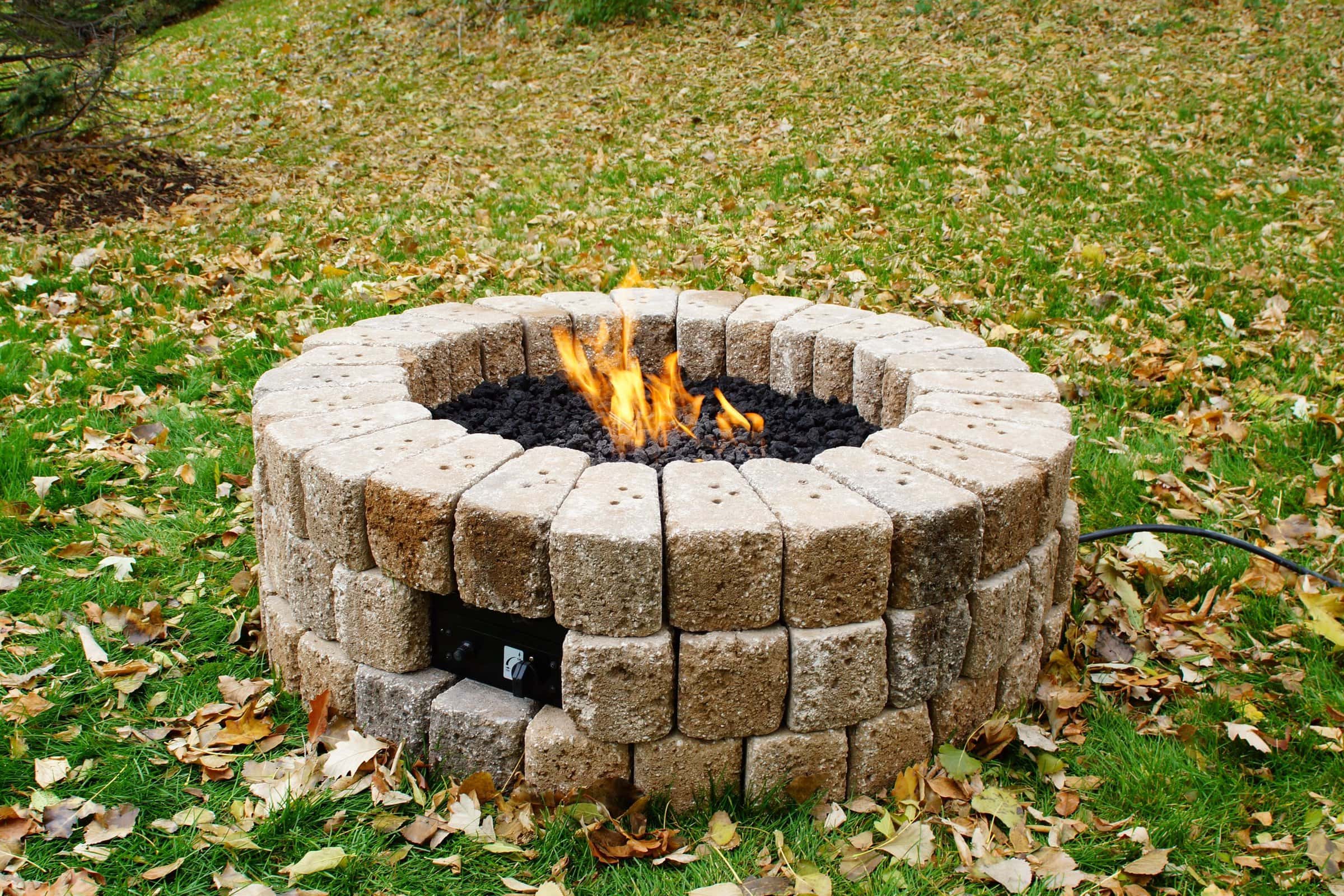 Do you want a gas fire pit? Do you have three hours to spare? 
This DIYer built a gas firepit that's easy to make, and even easier to light and shut down for the night. 
How to Build a Gas Fire Pit in 10 Steps from Outdoor Rooms
Stucco Fireplace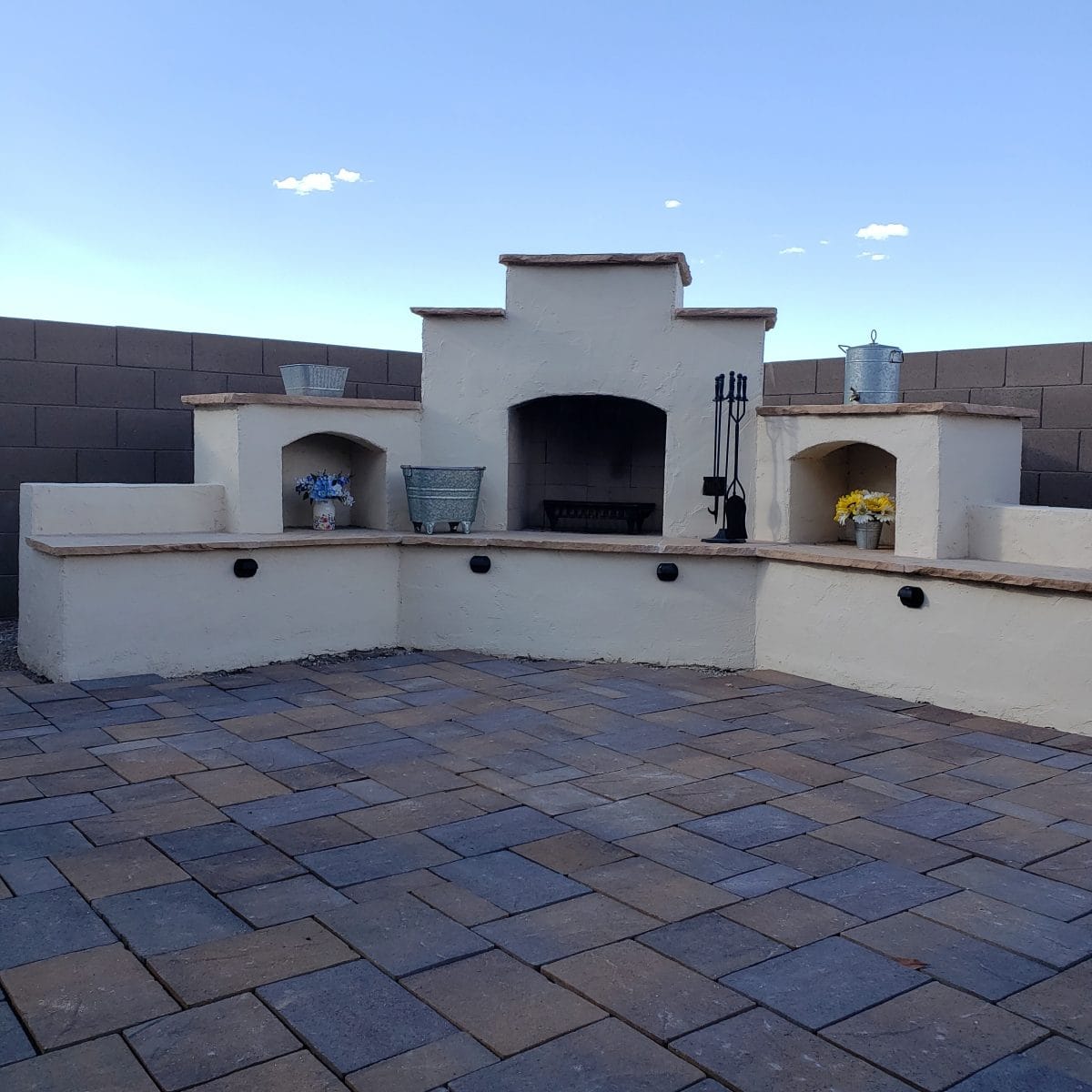 This may be one of the more impressive outdoor fireplaces, and it was a DIY project! 
This couple used stucco to create their large outdoor fireplace which gives it a west coast vibe. 
DIY Outdoor Fireplace Plans from DIY Outdoor Fireplace Headquarters
Reclaimed Water Heater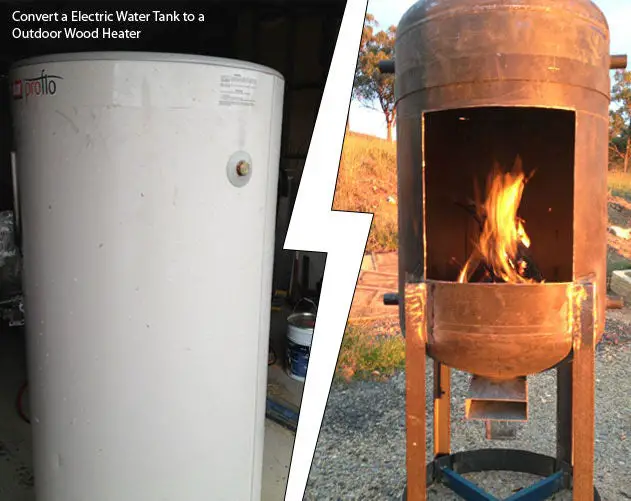 You can turn an old discarded water heater into a chimnea with a few simple steps. 
It's a great opportunity to reuse something that would otherwise go to waste while also elevating your outdoor style. 
Convert an Electric Water Heater into an Outdoor Wood Heater from Instructables
Tractor Wheel Fire Pit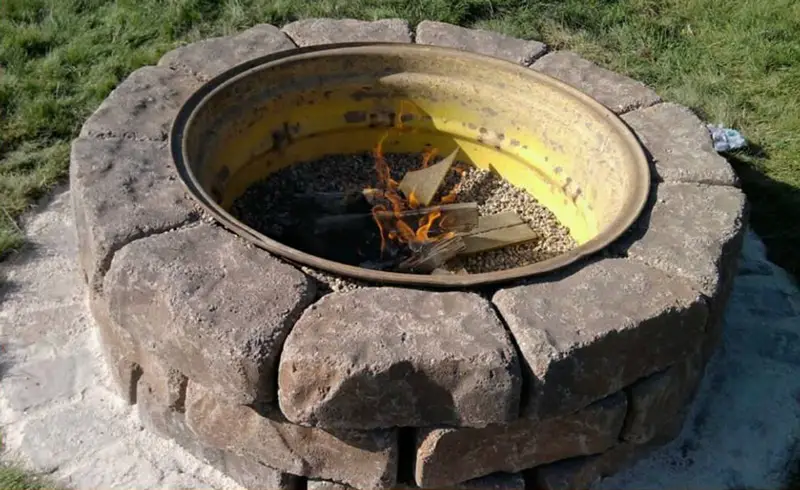 Okay, not everyone has easy access to a tractor wheel, but if you do, you should make this fire pit!
The exterior of the pit is pretty similar to the popular DIY model, but the added wheel will protect the stones to help the structure last a lot longer. 
Tractor Wheel Fire Pit from Handimania
Paint Splatter Fire Bowl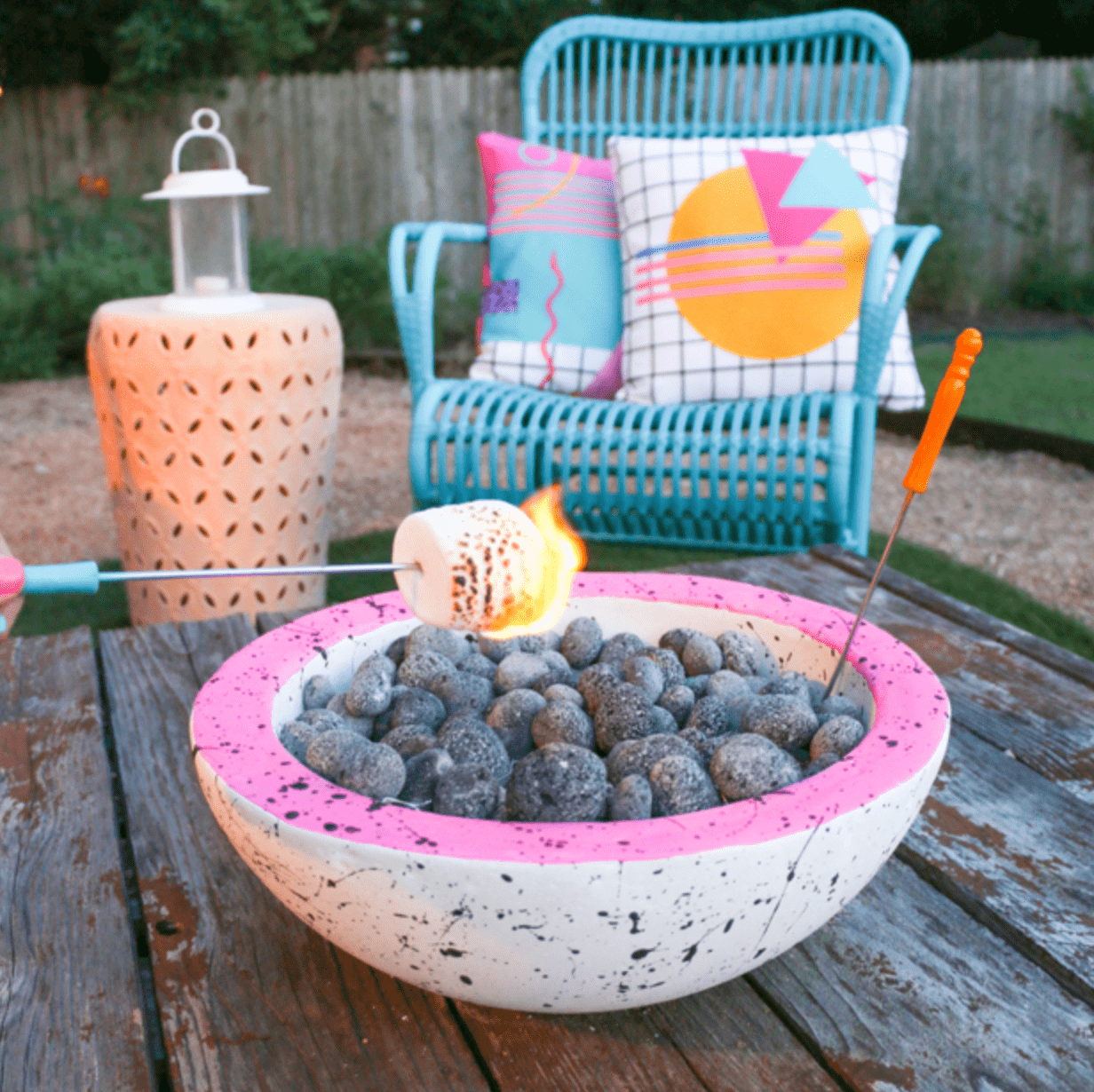 If you don't have a lot of outdoor space, you're probably looking for smaller fire pit patio ideas, and this concrete bowl is one of the best.
It's not going to let off a ton of heat, but it will toast some marshmallows, create a nice ambiance, and will be fun to make. 
DIY Splatter Painted Fire Bowl from A Kailo Chic Life
Sunken Fire Pit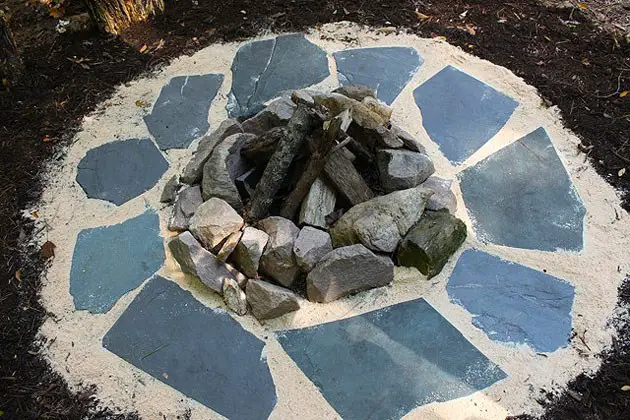 Your fire pit can blend right in with your outdoor space if you design it to be in the ground. 
It's not much different from a good old-fashioned bonfire spot, but the landscaping makes it look a little nicer than just a dead spot of scorched grass. 
DIY Fire Pit and Seating from Pretty Handy Girl 
Square Fire Pit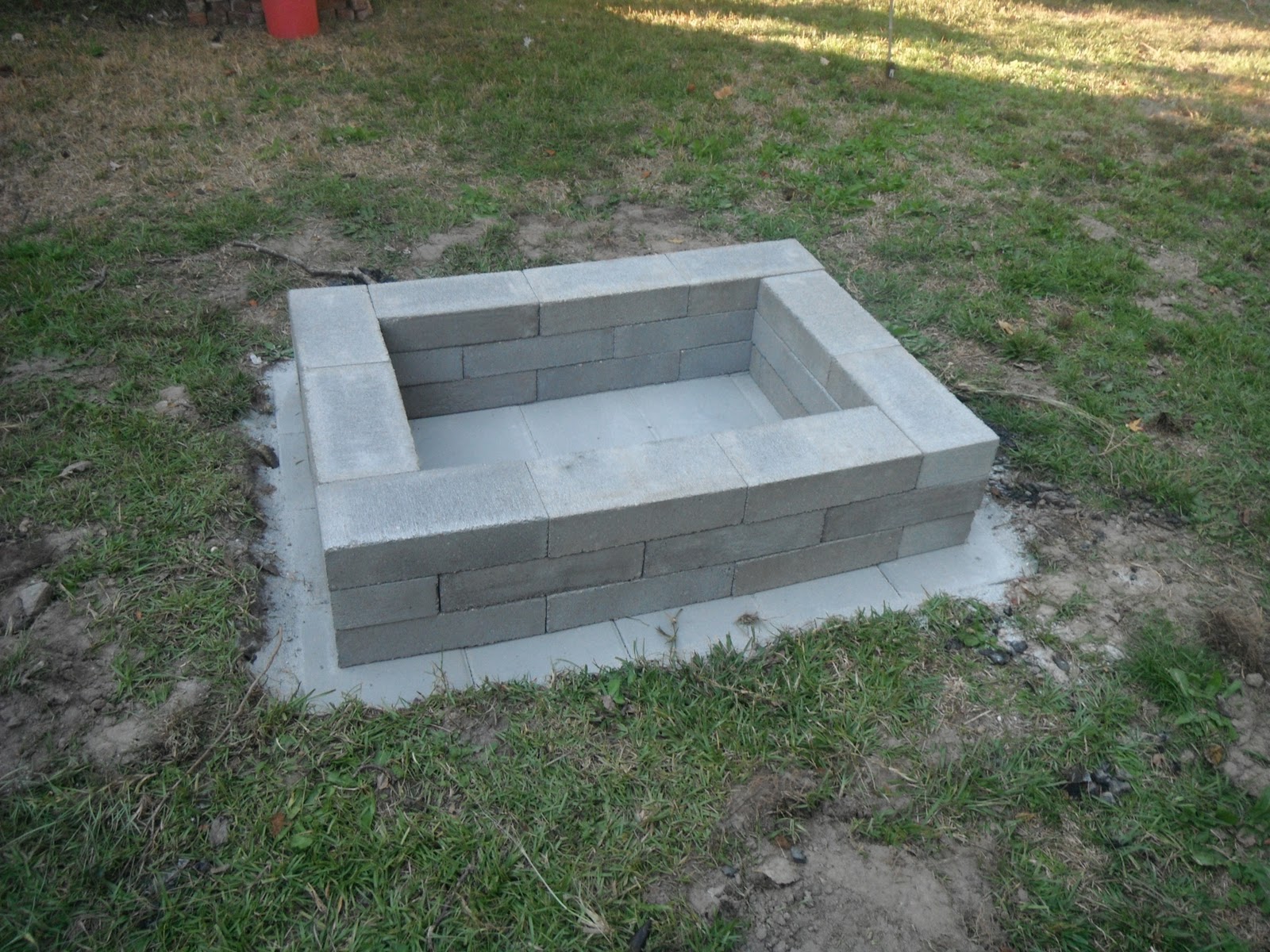 So many fire pits are designed as circles, which makes the square fire pits really stand out as unique. 
You can recreate this beautiful fire pit by checking out the Deals, Steals, and Heels blog. 
DIY Fire Pit from Deals, Steals, and Heels
Gas Fire Table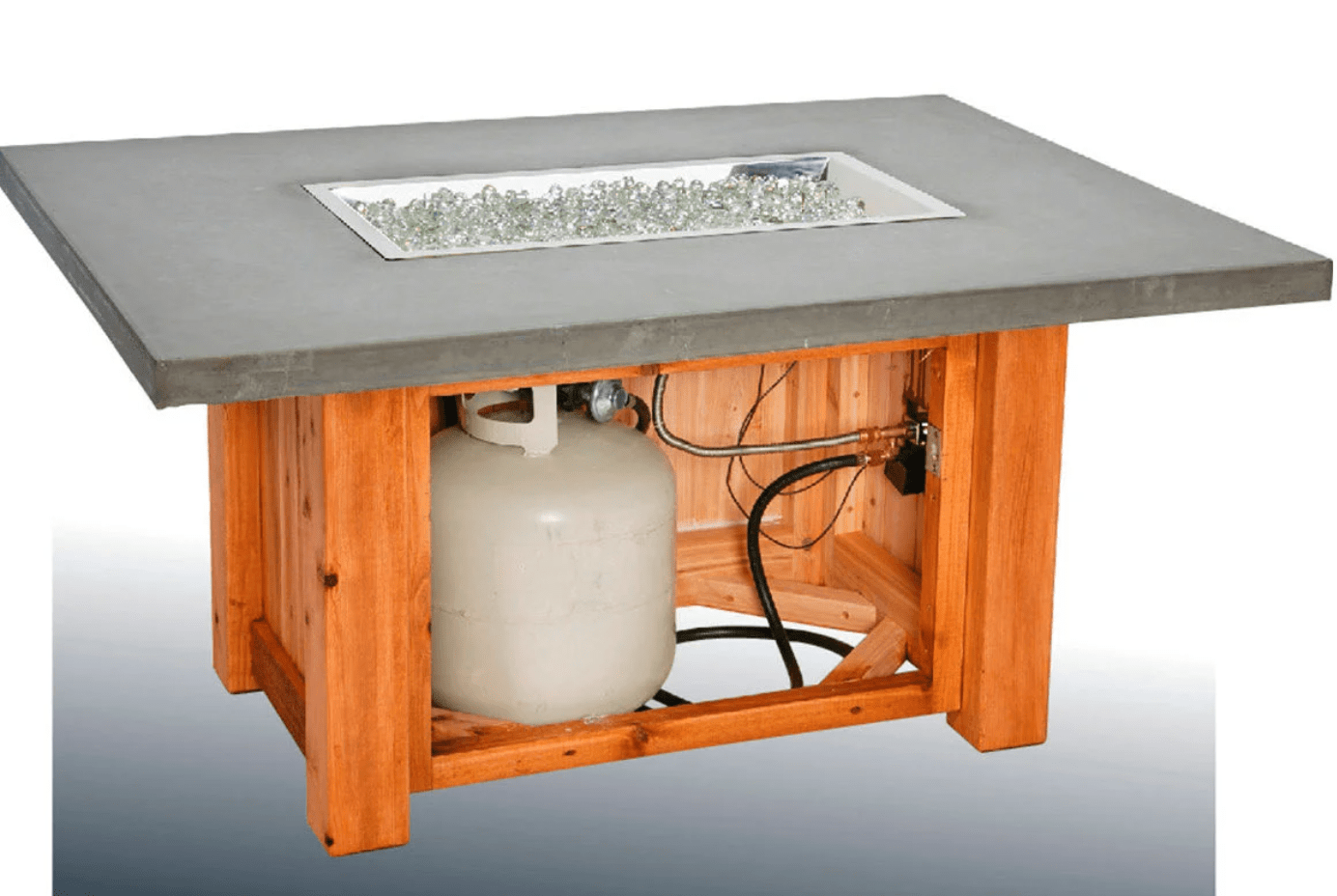 This is, by no means, an easy project. But, if you take it on you will save yourself a lot of money. 
Gas fire tables are a true luxury, and they're priced that way. It's worth the time and work to do this one yourself. 
How to Build a Fire Table from Family Handyman
Steel & Stone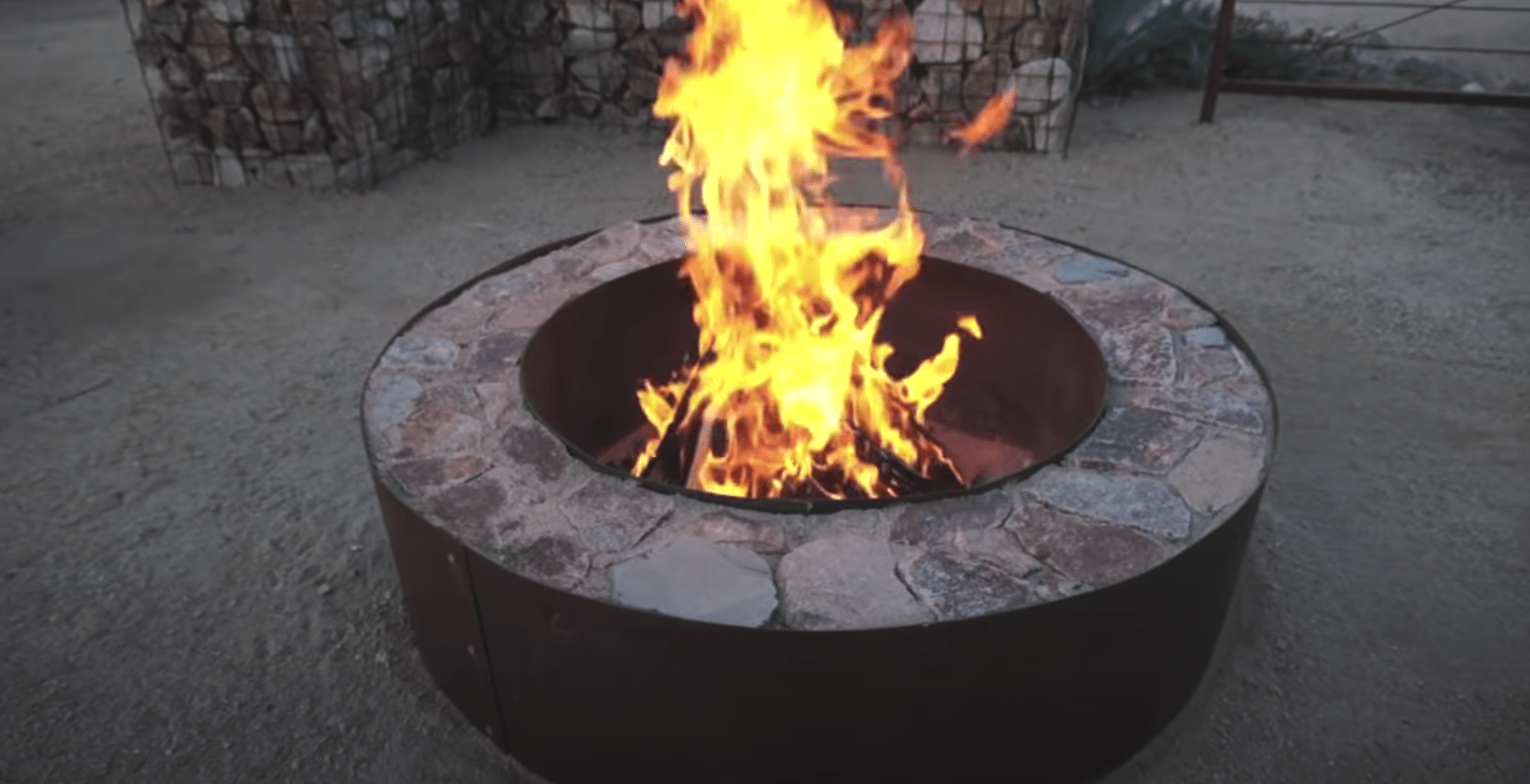 A lot of fire pits look pretty much the same because they're made from similar materials and share the same shape. 
If you want yours to be a little different, try this steel and stone design. The stone is sandwiched between two sheets of steel which gives it a clean look. 
DIY Fire Pit with Steel & Stone from Homesteadonomics / YouTube
Stylish Outdoor Fireplace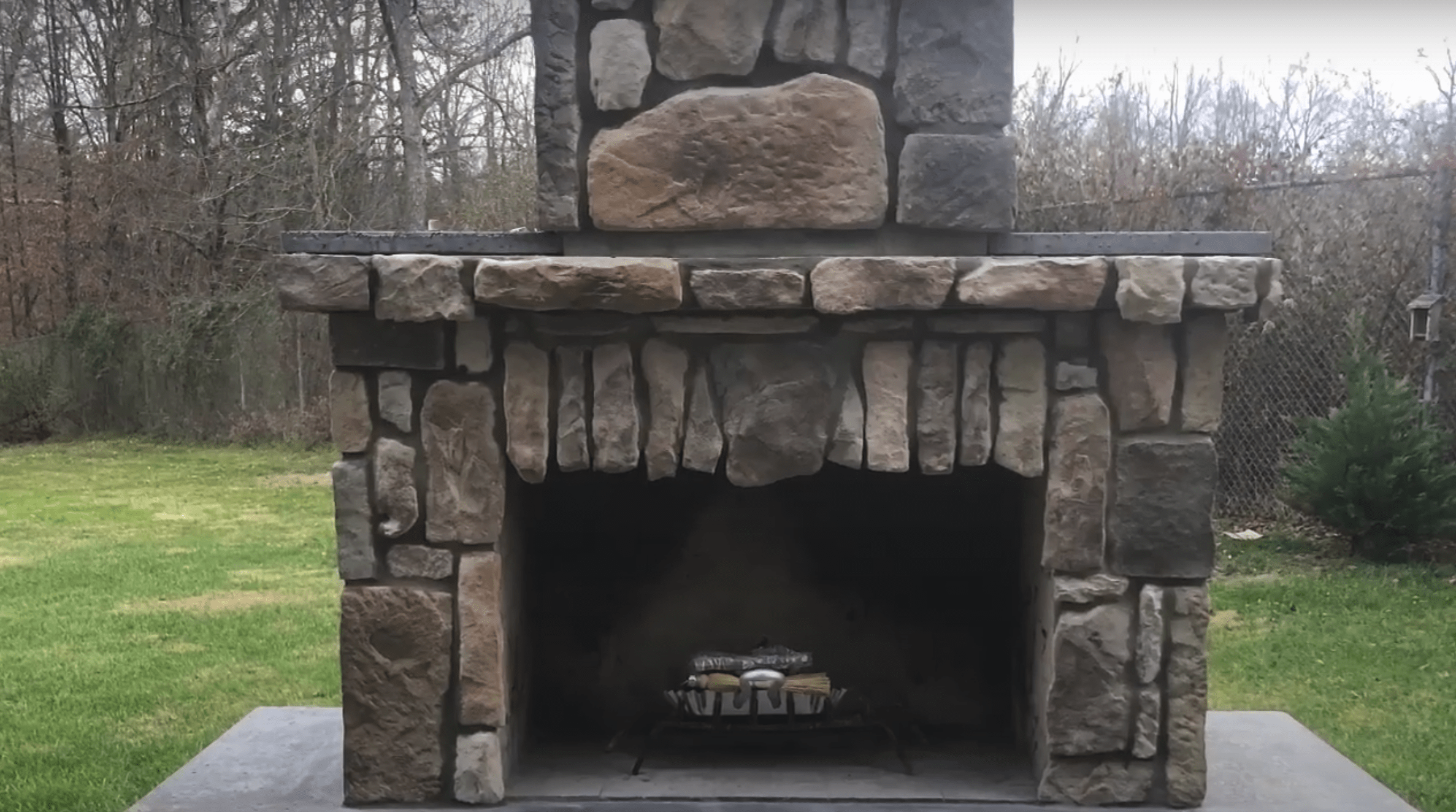 When you look at pictures like this, it's hard to believe that someone made it from nothing. 
This impressive outdoor fireplace was definitely a labor of love, but the end result was so worth it. You can learn more about it on YouTube. 
Outdoor Fireplace from The Wortman's / YouTube
Garden Fireplace With Wood-Storage Bench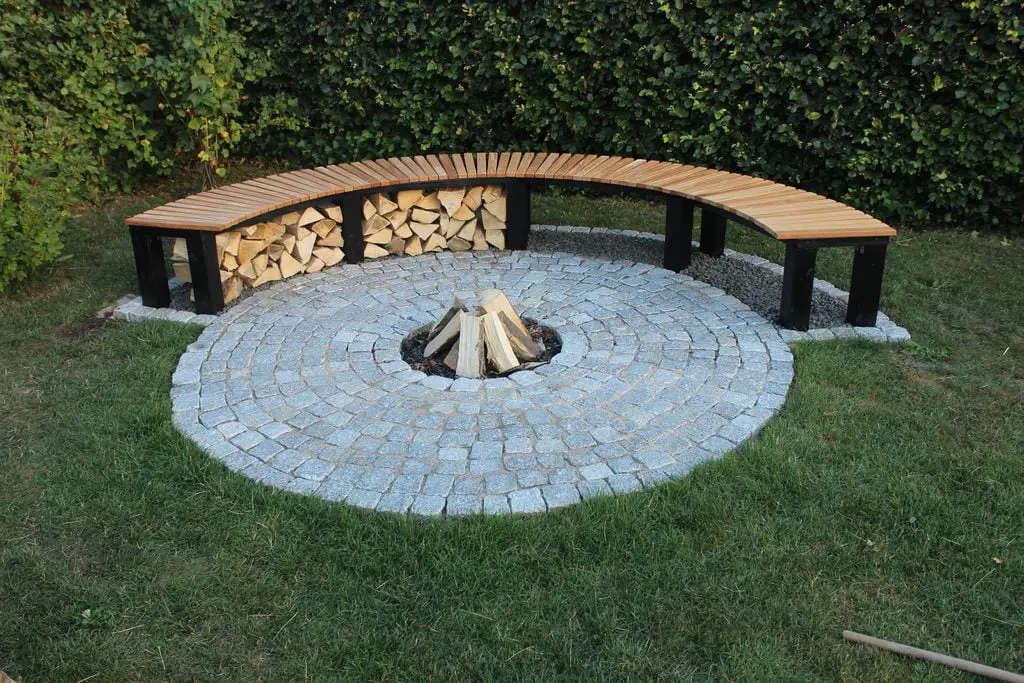 This DIYer came up with a way to have a fire pit in their yard without sacrificing aesthetics and style. 
Not only is the fireplace itself beautifully designed, but the bench with storage for logs is also top-notch. This is about as good as it gets. 
Garden Fireplace with Bench from Instructables
Stone Fire Pit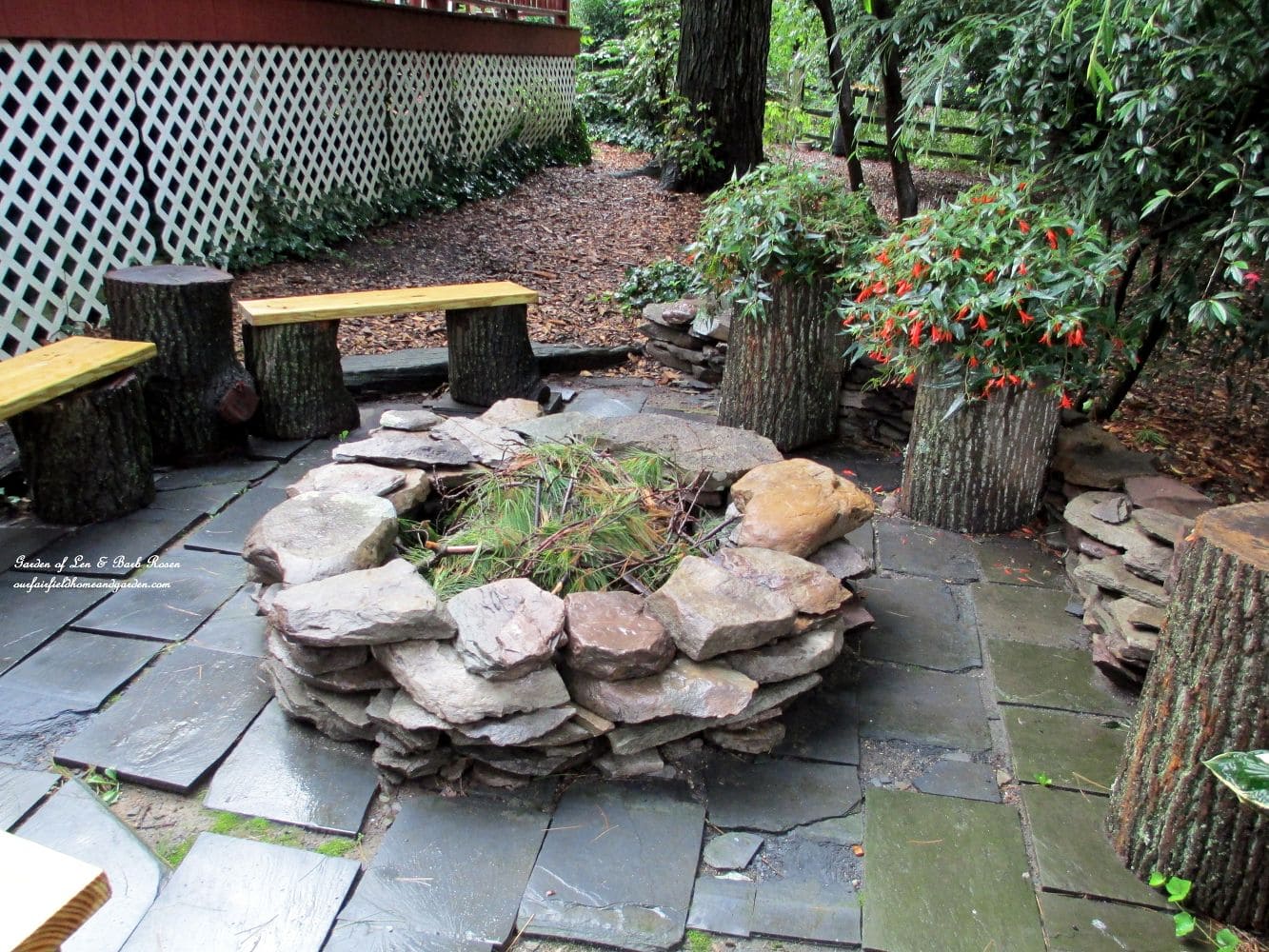 For this setup, all you need are some stackable stones and tree stumps. 
You're going to have a hard time finding an easier DIY fire pit and chair project with such stylish end results. 
Build Your Own Fire Pit from Hometalk
Gorgeous Outdoor Fireplace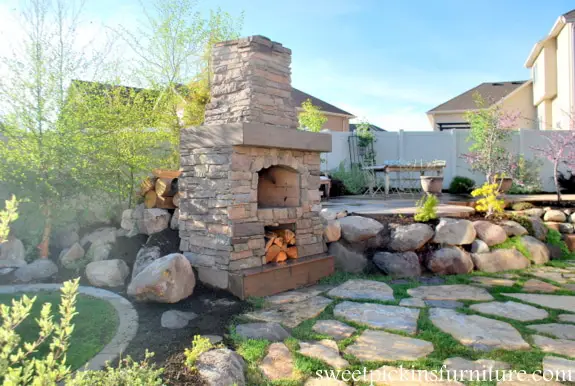 Don't you want to just lay a blanket in front of this fireplace and soak in the heat? 
You can make your own back yard look this good with your own DIY fireplace. Check out this blogger's DIY story on Milk Paint. 
Backyard Fireplace from Milk Paint
Steel Chimnea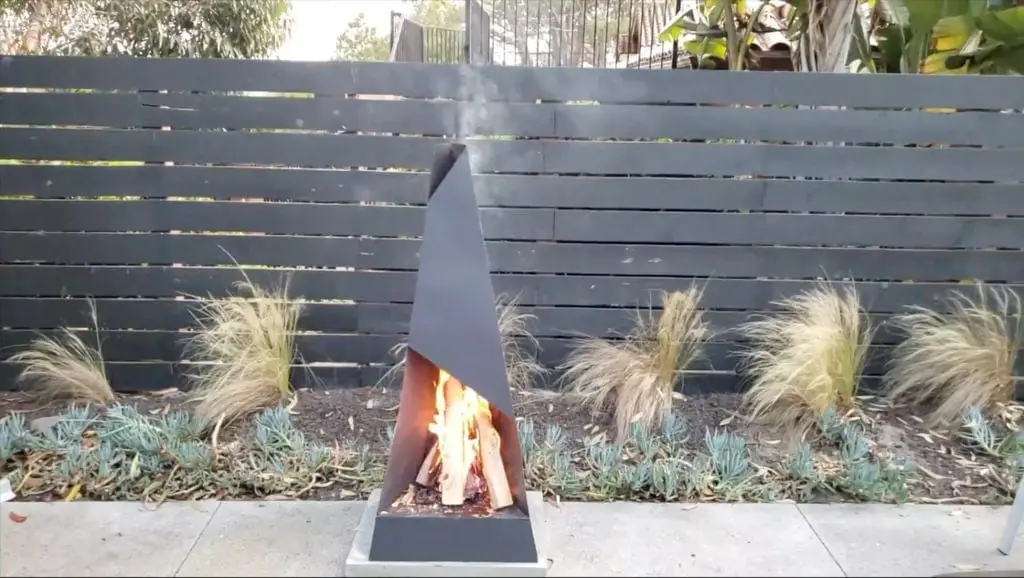 For anyone with a small outdoor space, patio fireplace ideas are limited.Chimneas are a great solution to this because they will keep you warm without taking up much room.
You can learn how to make this beautiful steel chimnea on Instructables. 
Modern Geometric Steel Chimnea from Instructables
Modern & Easy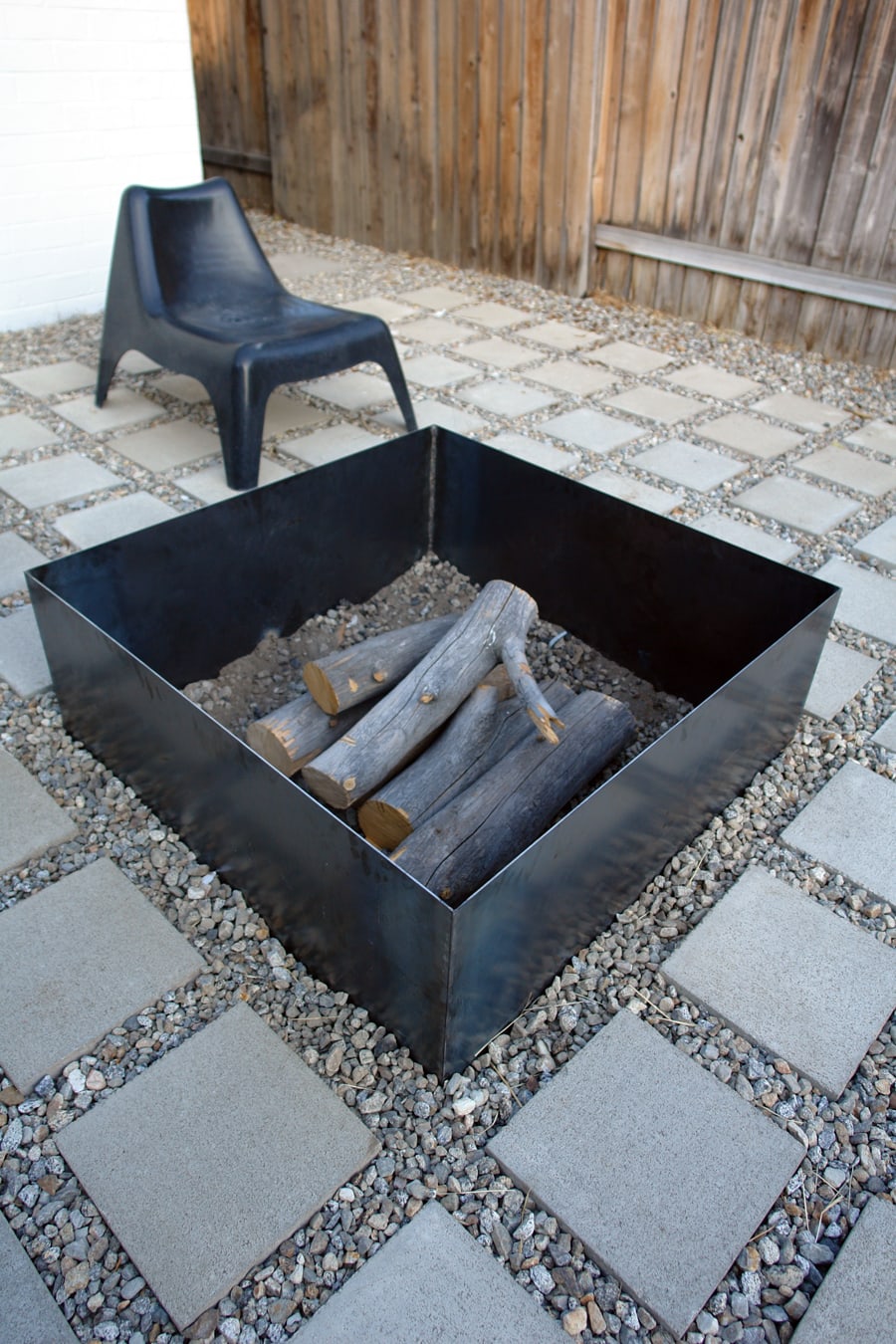 How can something so simple look so good? 
Seriously, you don't need high-level DIY skills to recreate this modern fire pit. Follow the tutorial and your back yard will look fabulous in no time. 
Fire Pit Redux from Brick House
Portable Fire Table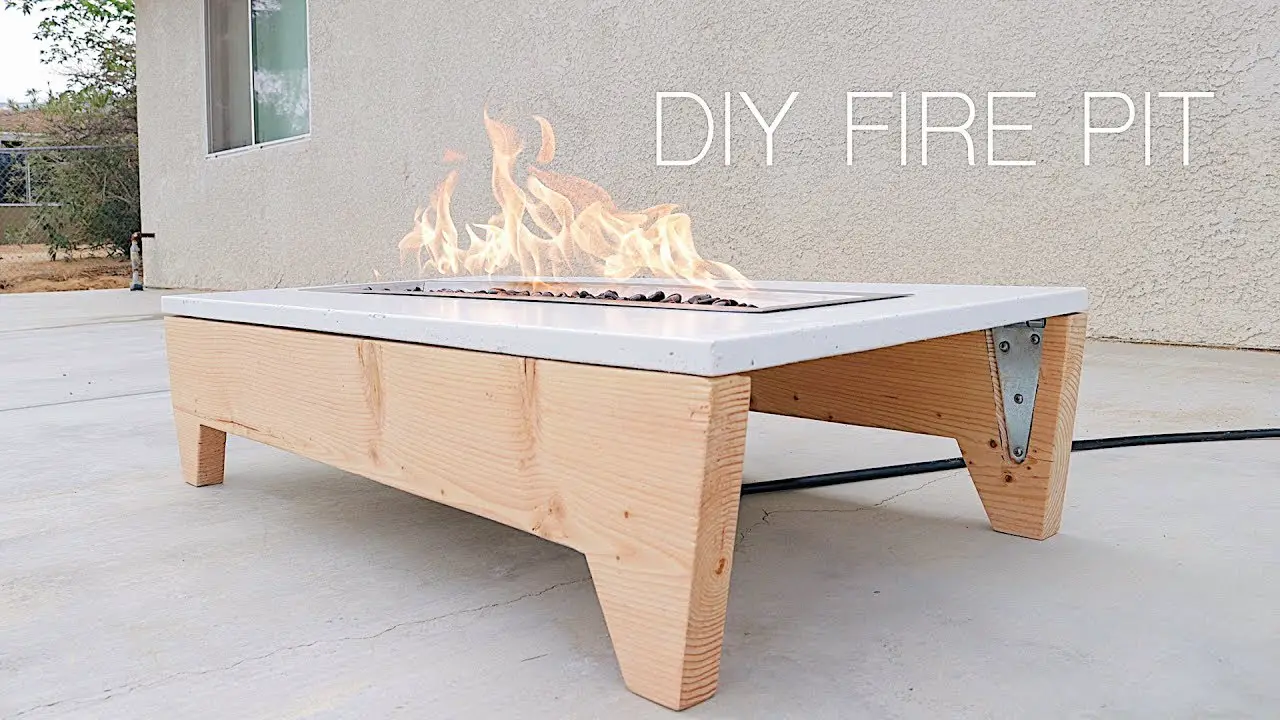 With this fire table, you can be the friend who shows up to gatherings with a bottle of wine and a portable fire. Everyone is going to want to hang out with you!
But seriously, this little fire table is portable while also being stylish and easy to make. It doesn't get much better! 
DIY Portable Concrete Fire Pit from Modern Builds / YouTube
Stylish Fire Pit with Grill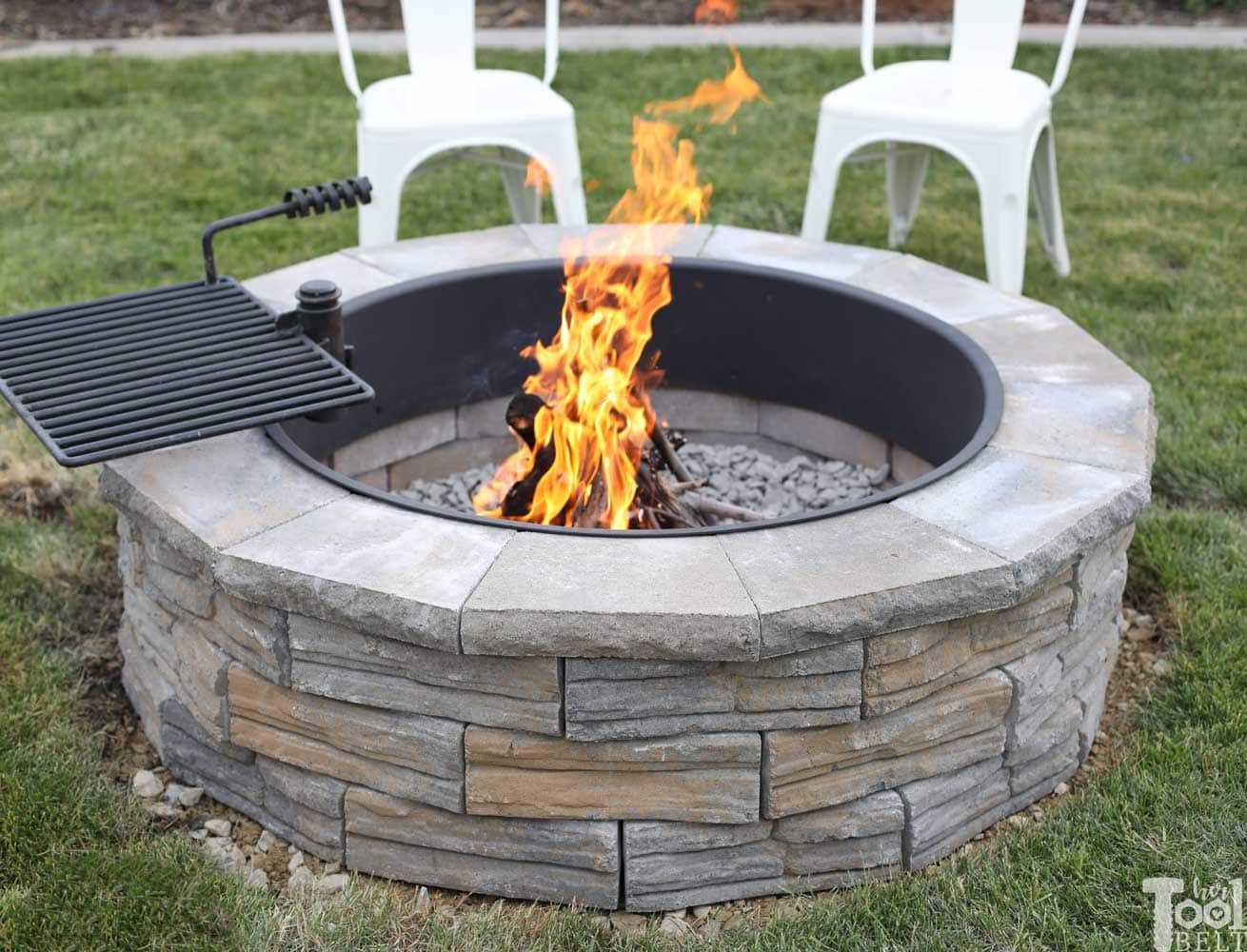 Here's another great example of an outdoor fire pit with an attached grill for some delicious food. 
You can learn how to recreate this fire pit from the tutorial on Her Tool Belt. 
DIY Backyard Fire Pit from Her Tool Belt
Upcycled Satellite Dish (Inspo)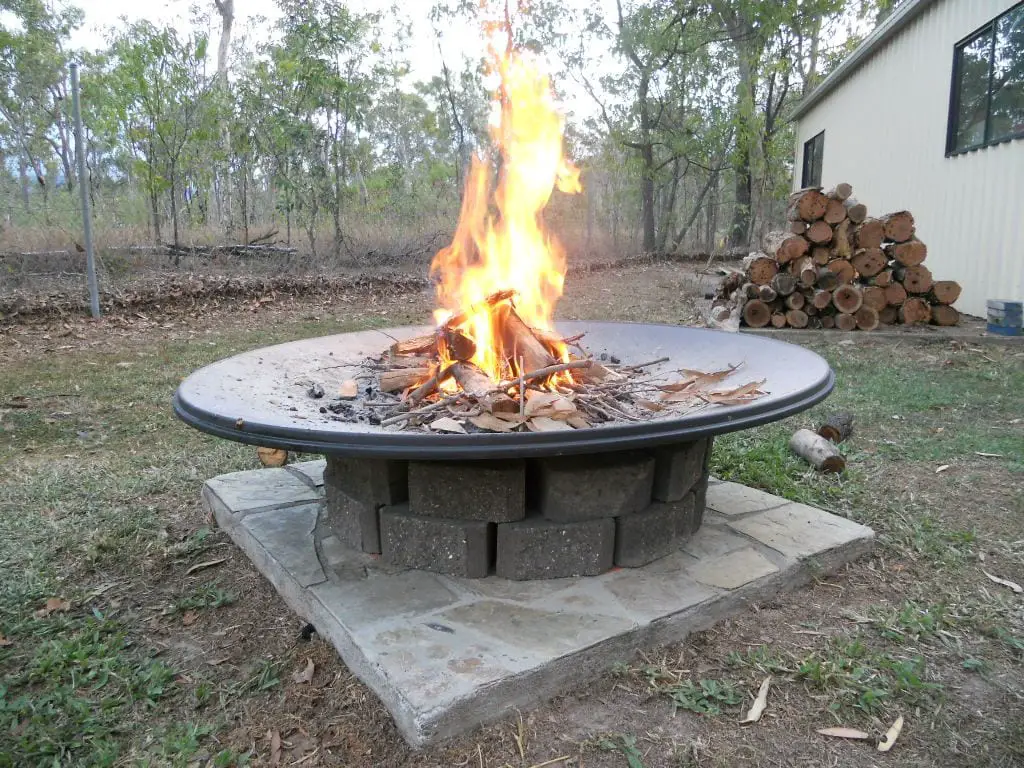 This fire pit photo should be used as inspiration since it came from Pinterest without plans or a tutorial attached. 
This pin claims to use an old satellite dish for the bowl of this fire pit, but do your research before trying it (if it's safe, go for it because it looks awesome). 
DIY Fire Pit from Pinterest
Pallet Fire Pit Table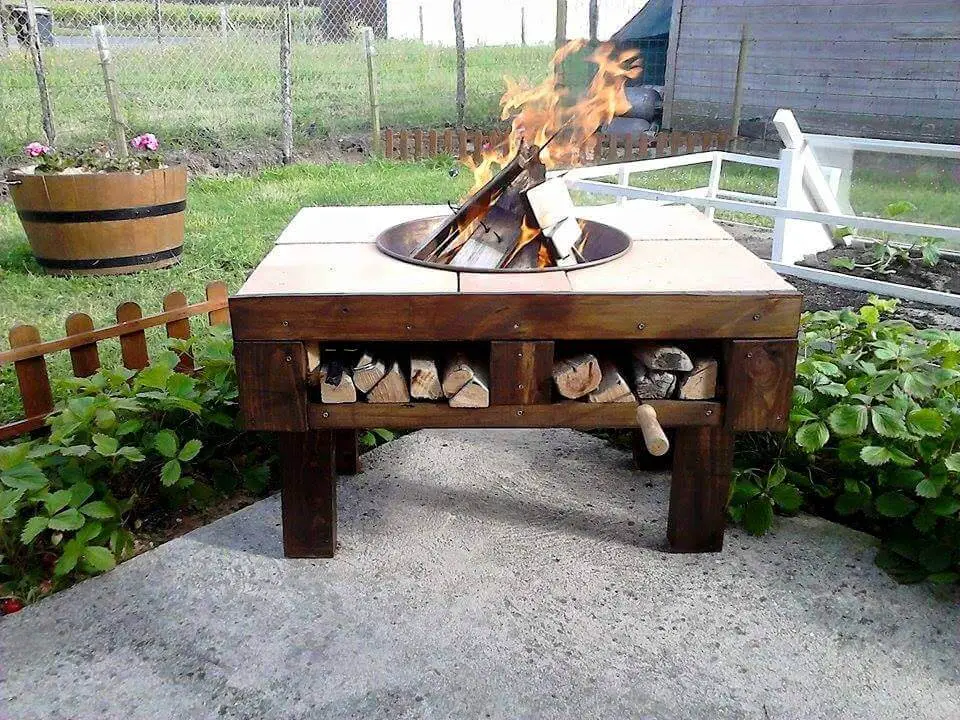 It seems like for every DIY project, there is an option to use pallets to build it – including this! 
You can make this fire table that includes storage space for wood using materials from a pallet. 
DIY Fire Pit Table With Firewood Storage from 99 Pallets
Mosaic Fire Pit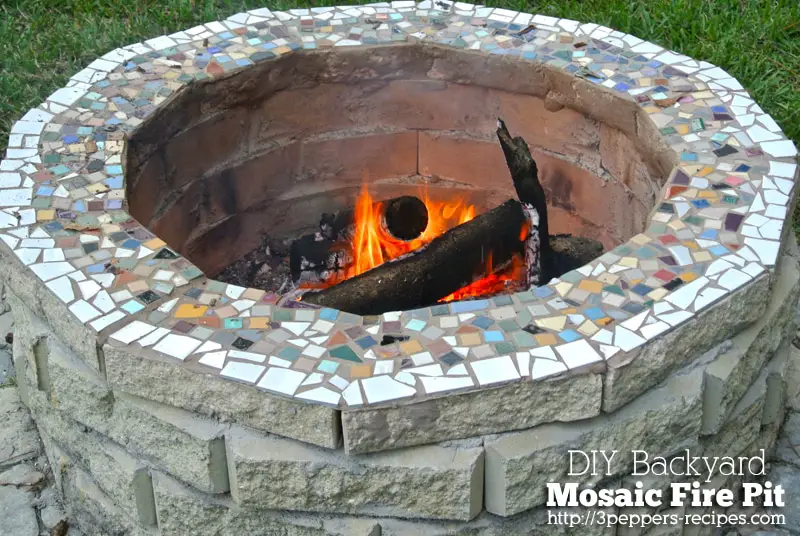 As far as backyard fire pit ideas go, this mosaic design may be one of the prettiest. 
It's actually just a basic stone fire pit that someone added mosaic tiles to the top of. Check out Hometalk to learn how to recreate the gorgeous fire pit. 
DIY Backyard Mosaic Fire Pit from Hometalk
Easy Brick and Stone Fire Pit (Inspo)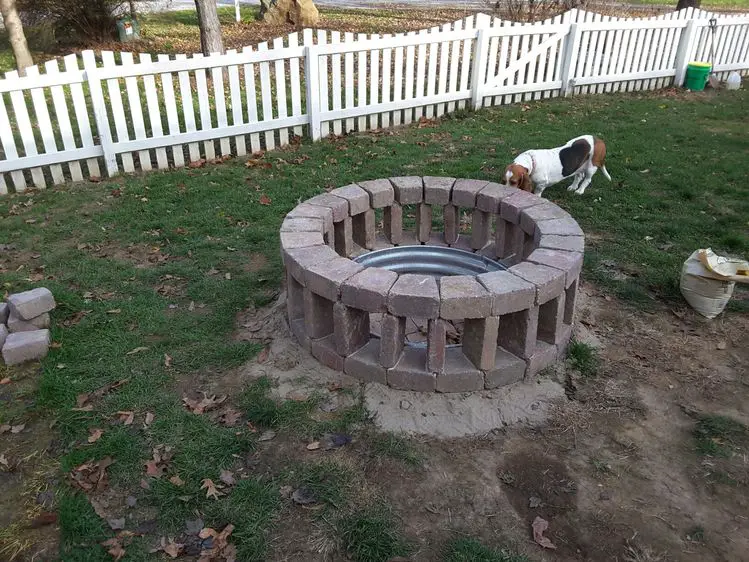 There aren't any tutorials that come with this pin from Pinterest, but it looks so easy that you don't seem to need them. 
A number of people have recreated this project successfully, and chances are good that you can do the same even without plans. 
DIY Outdoor Fire Pit from Pinterest
Granite Fire Pit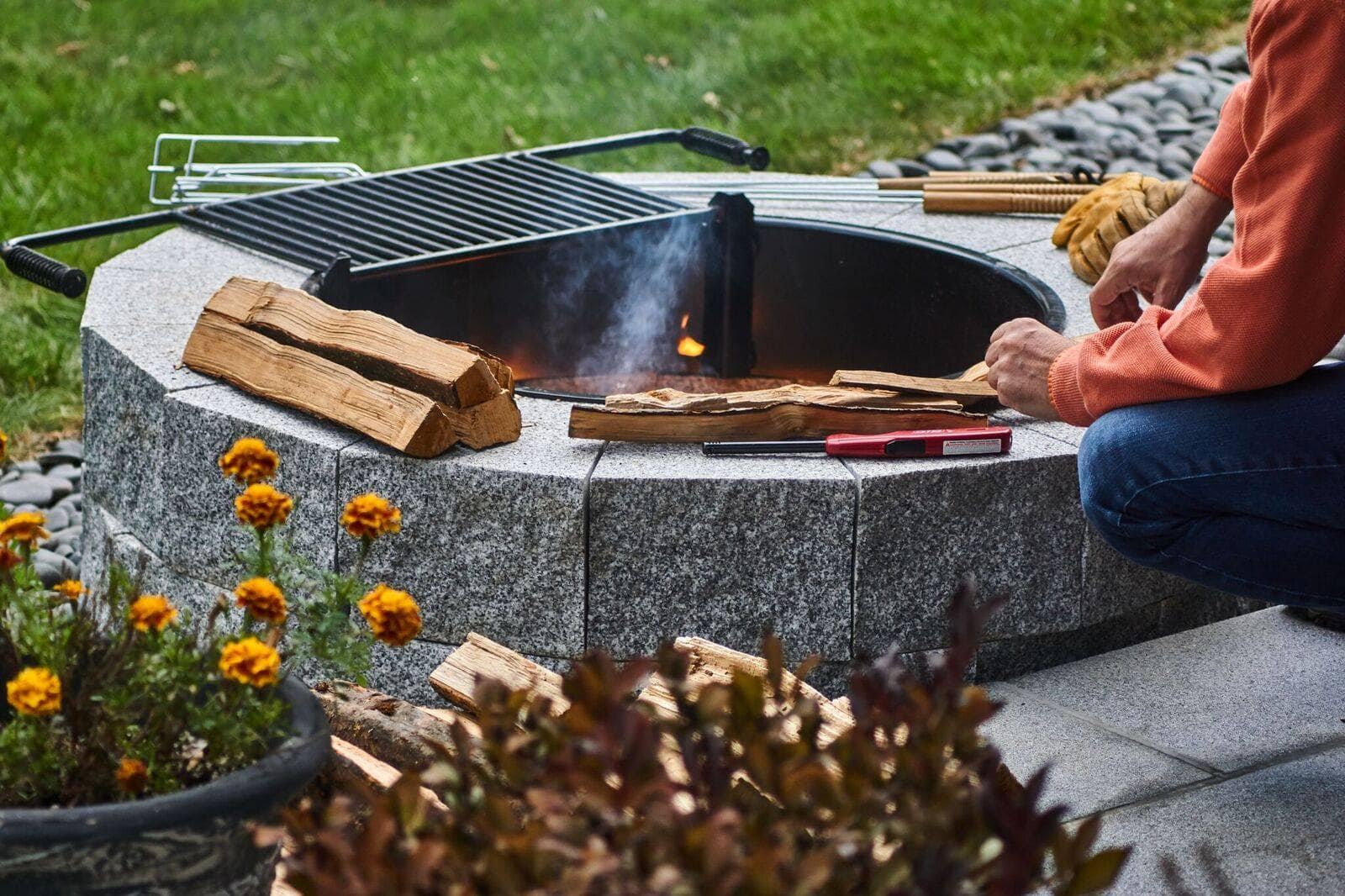 The design of this fire pit is similar to a lot of others, but the difference is that it uses granite rather than pavers or some other stone. 
This particular pit is a kit you purchase to build at home, but you can use it as a guide to make your own granite fire pit. 
Build a Durable Granite Fire Pit from A Wicked Yard
Sleek Concrete Fire Pit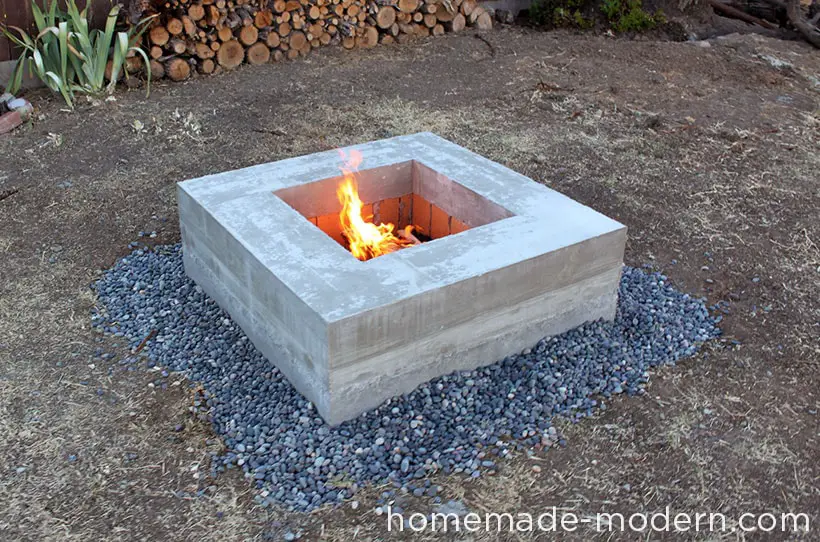 How can something so simple and basic look so cool?!
There's not much to this fire pit, just a square made from concrete. Still, it's sleek and modern design makes it a little more special than the rest. 
Concrete Fire Pit from HomeMade Modern
Conclusion
No matter which design you decide to go with, it will be a fun project with a great final product that you can enjoy on a regular basis. So, grab your tool kit, your fire skewers, and your s'more ingredients and get to work! 
Just remember, safety is important in all DIY projects, this project requires a little extra safety though since there is also fire involved. Other than that, enjoy your new cozy outdoor space!