35 DIY Hammock Stand For A Perfect Lounge Space
Lounging in a hammock is one of life's better pleasures. You can take a nap in one, curl up with a book, or just find shapes in the clouds. But, if you don't have two trees that are close together, it's hard to mount one. 
Store-bought hammock stands are so expensive, and you can get the same quality with a DIY version. Here are some great designs, plans, and tutorials to get you started. 
Easy & Basic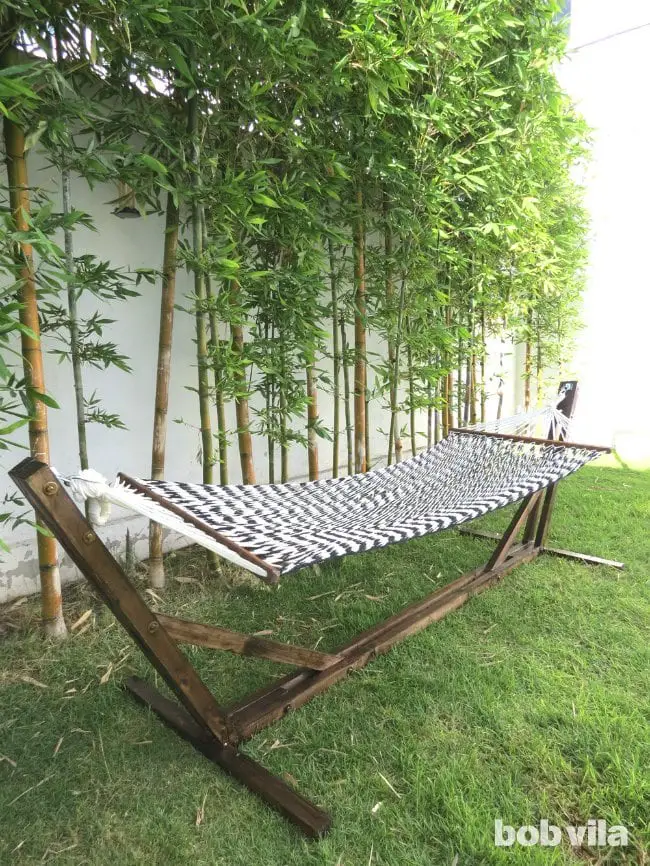 When it comes to designs, this is about as classic as it gets. 
You can learn how to make a hammock stand that will do it's job, look great, and is simple to make from Bob Vila.
DIY Hammock Stand – Tutorial from Bob Vila
Metal Accents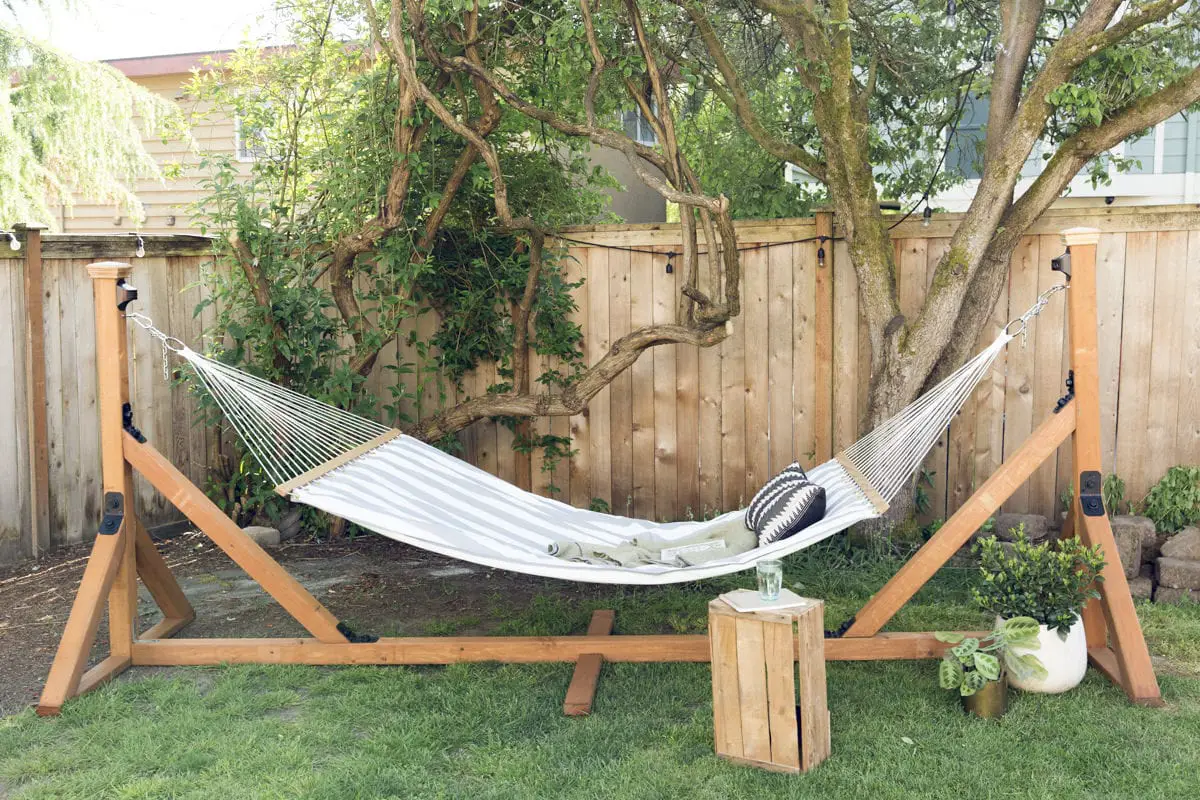 While this stand isn't much different from basic models, it's style is a little elevated thanks to the metal accents. 
Mixing wood and metal will almost always give you a better aesthetic because of the contrast of the materials. So, this style is great for a stylish back yard. 
How to Make a Hammock Stand from Dunn DIY
Arch Stand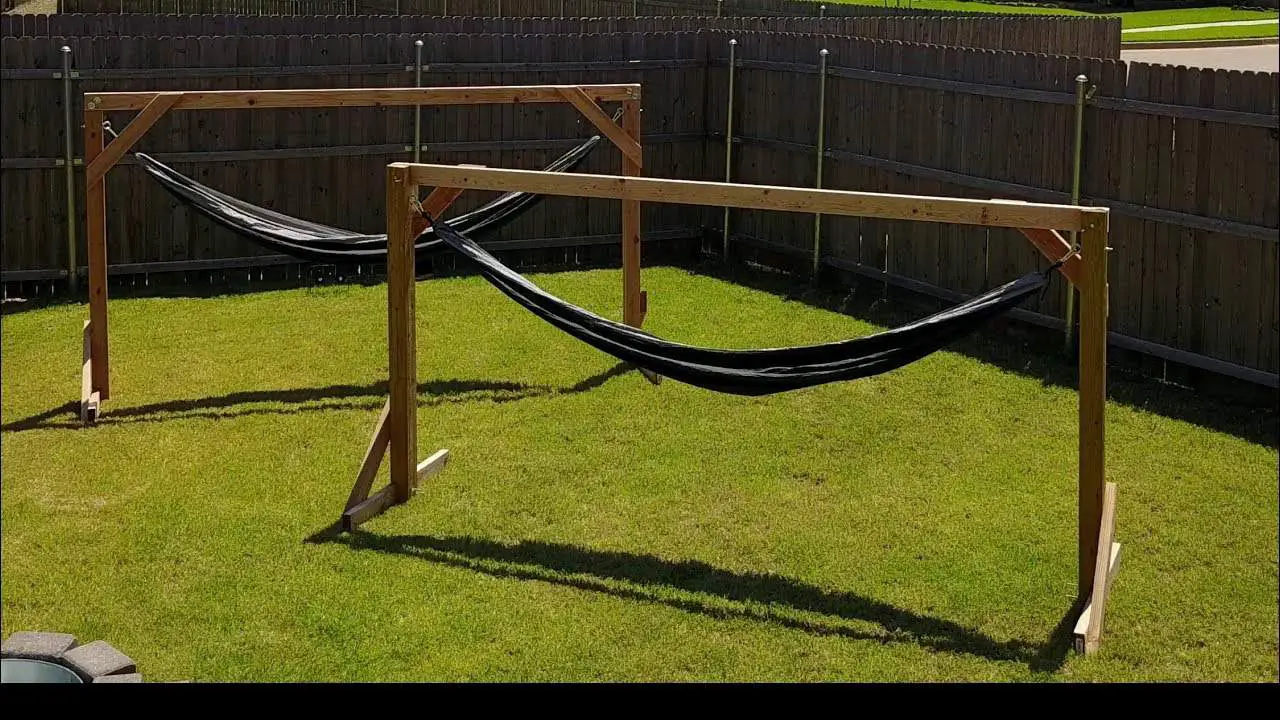 This hammock stand is strong, sturdy, and is a little different than your typical hammock mount. 
As long as it's firmly put into the ground, this is a great, easy DIY option for a cozy hangout spot (just watch your head!). 
$35 Homemade Hammock Stand from Tyler Peck / YouTube
Cris-Cross Style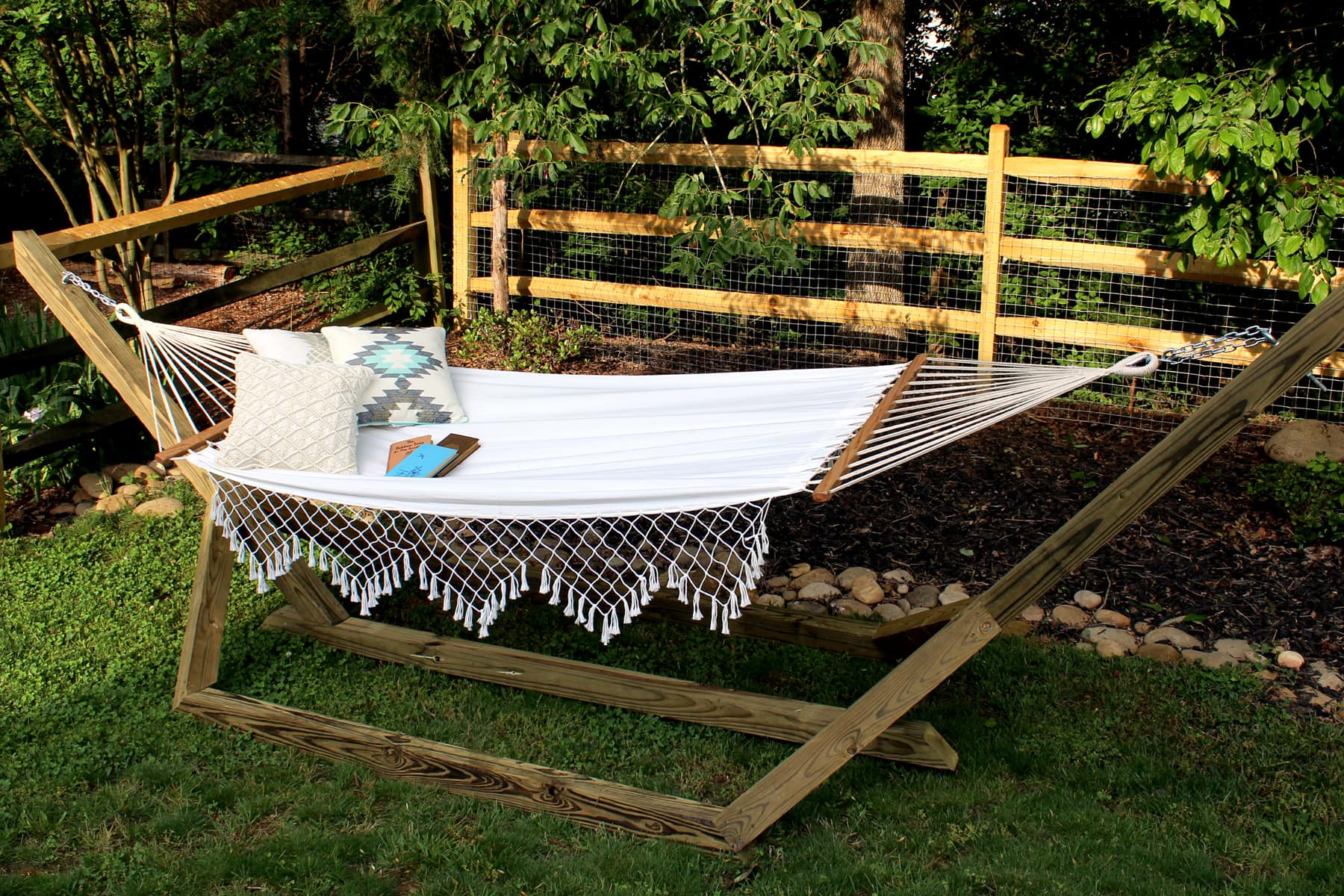 This hammock stand almost looks like you can collapse it in half because of its design. 
You definitely can't collapse this model, but you can still build it yourself. 
DIY Custom Wood Hammock from Tag & Tibby Design
No Woodwork Needed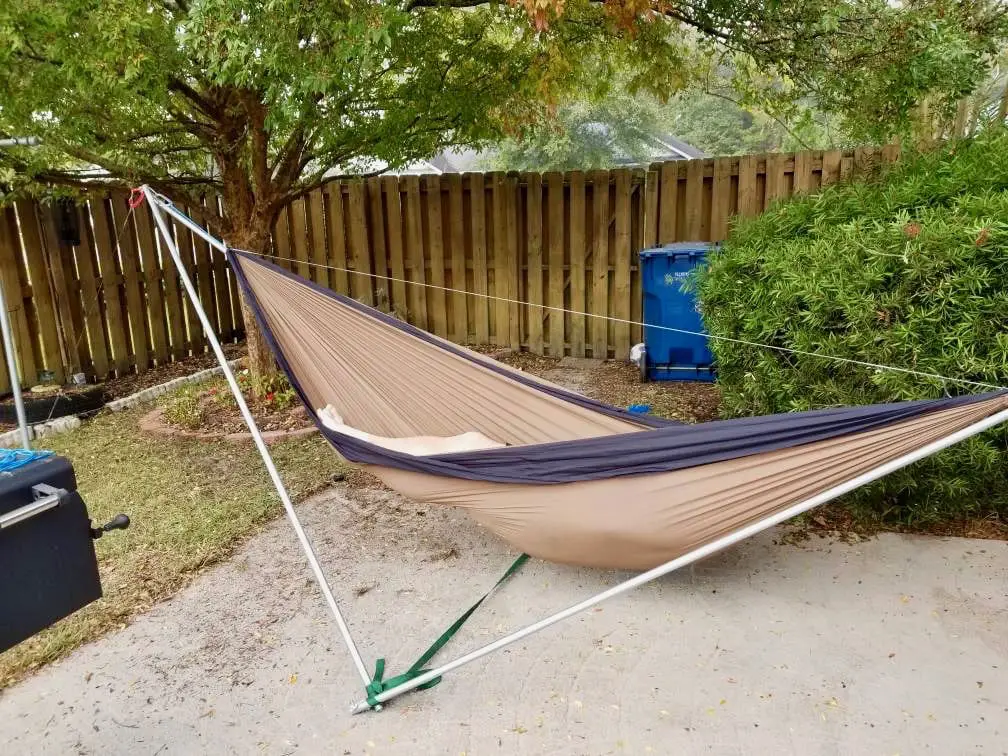 You don't have to know how to use a saw or have any woodworking skills to make this hammock! 
Learn how to make this super simple hammock stand from Tensa Outdoor. 
Make Your Own Tensahedron Stand from Tensa Outdoor
Pergola Inspired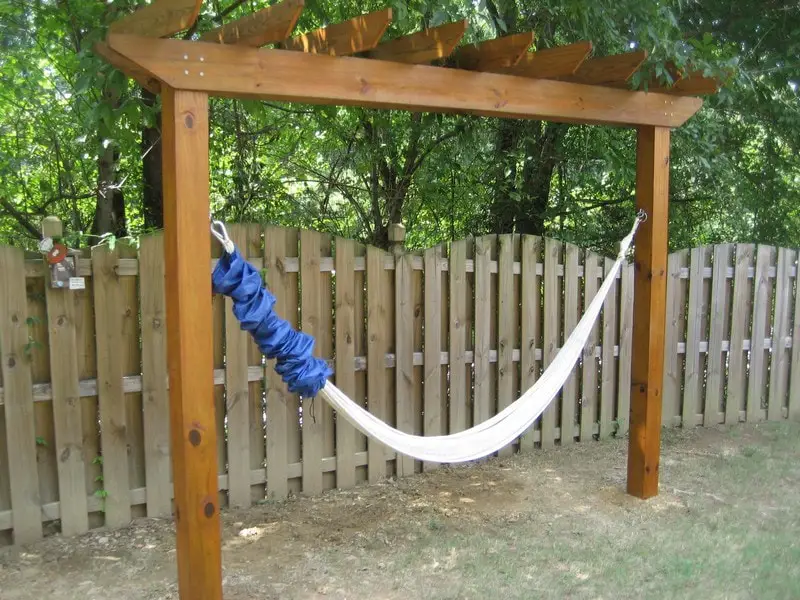 If you love the idea of a hammock in your back yard, but don't love how they can look, this is a great option. 
The pergola style frame elevates the look a little bit and can create a more cohesive look with the rest of your outdoor furniture. 
DIY Hammock Stand from The Owner Builder Network
Shady Spot
This may be the most luxurious hammock stand there is (well, other than two palm trees on a beach, at least). 
You can protect yourself from the sun and relax at the same time with this DIY design. 
How to Make a Hammock Stand from Black and Decker
Three-Person Hammock Stand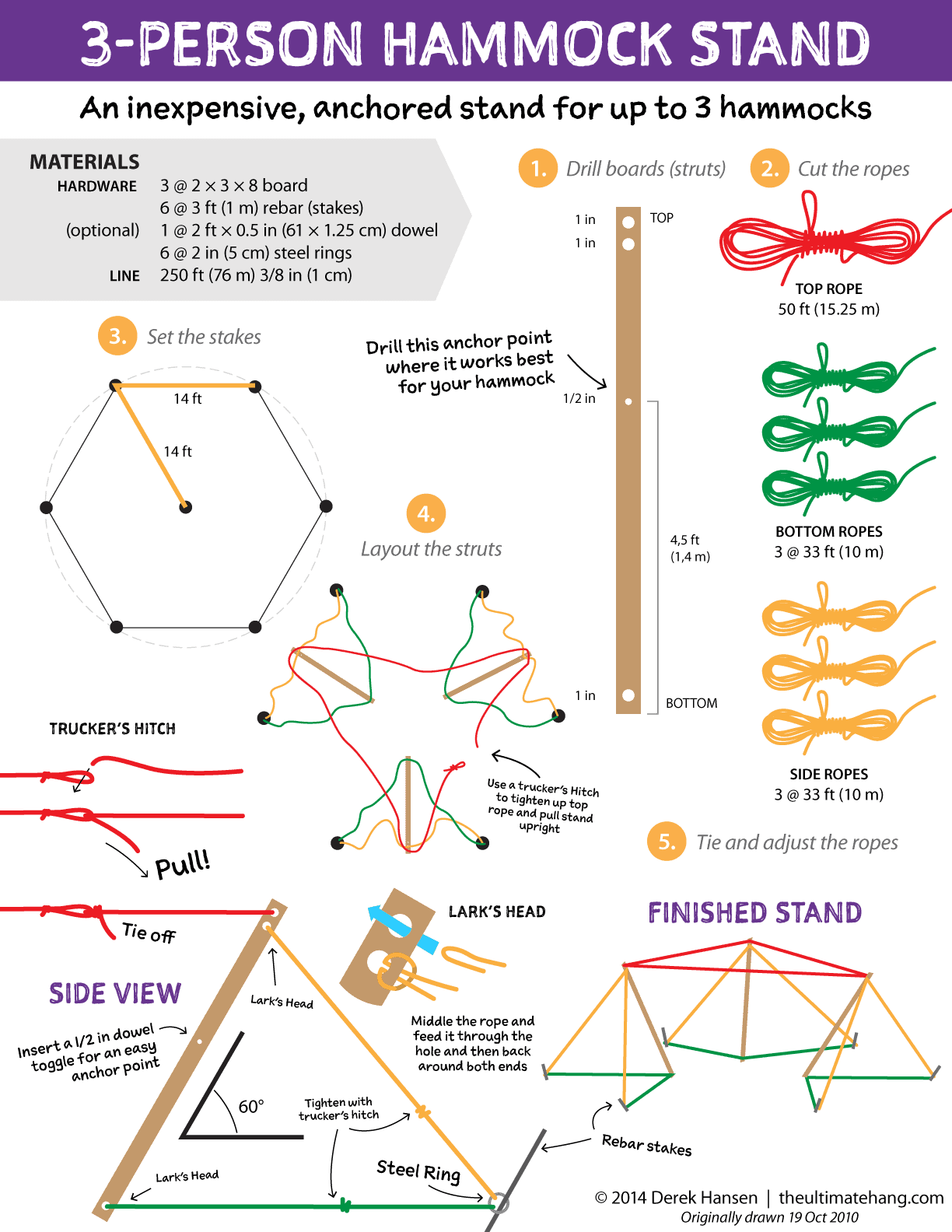 What's better than enjoying your hammock in your back yard? Enjoying it with friends. 
If you don't like to share your hammock with friends or family (no judgment), this stand will let you hang three at once so everyone can participate.
3-Person Hammock Stand from The Ultimate Hang
Curved & Stylish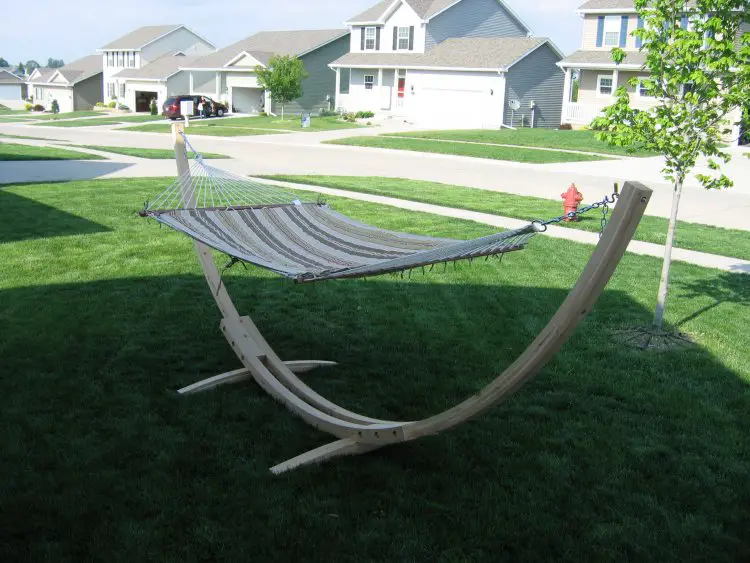 Admittedly, this is not the easiest design to do yourself, but if you're up for the challenge, you could end up with a really cool look. 
The tough part about this design is that you'll need to get the curve just right, but the final product is worth the work. 
Happy Hammock Stand from WOOD Magazine
Rocking Relaxation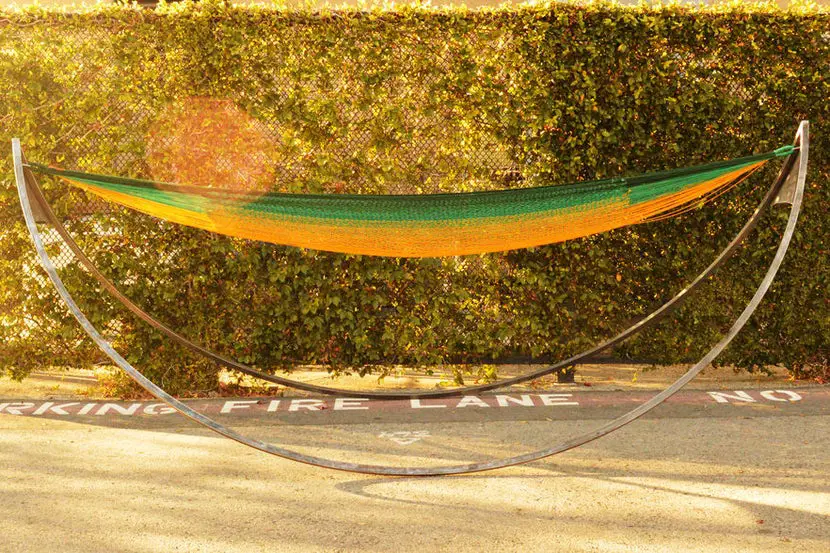 You can take the curved hammock stand to the next level using this DIY guide. 
This hammock stand not only lets you sway in the wind, but it also lets you rock back and forth while doing it. 
Rocking Hammock Stand from Instructables
Portable Stand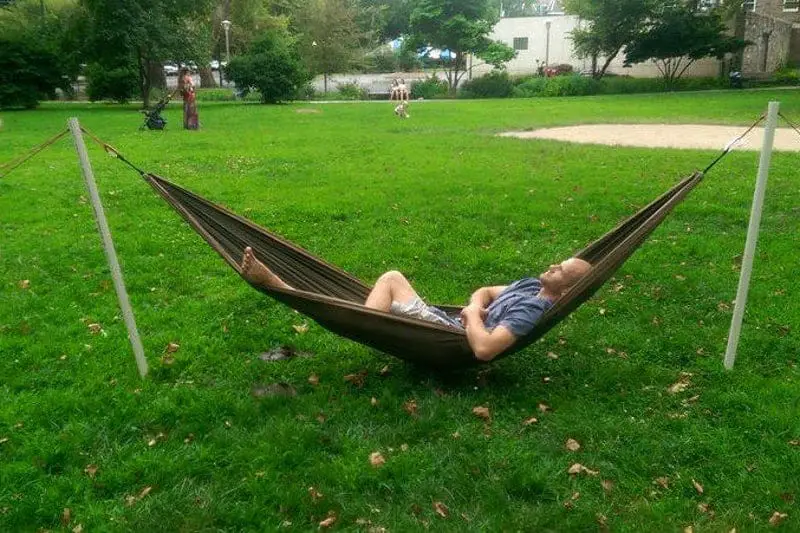 You may not want to have your hammock up all year round, or you may want to move it around your yard. If that's the case, this DIY portable hammock stand is for you. 
You can get step-by-step instructions for this (super easy) hammock stand from Instructables. 
Free-Standing Portable Hammock Stand from Instructables
Single Post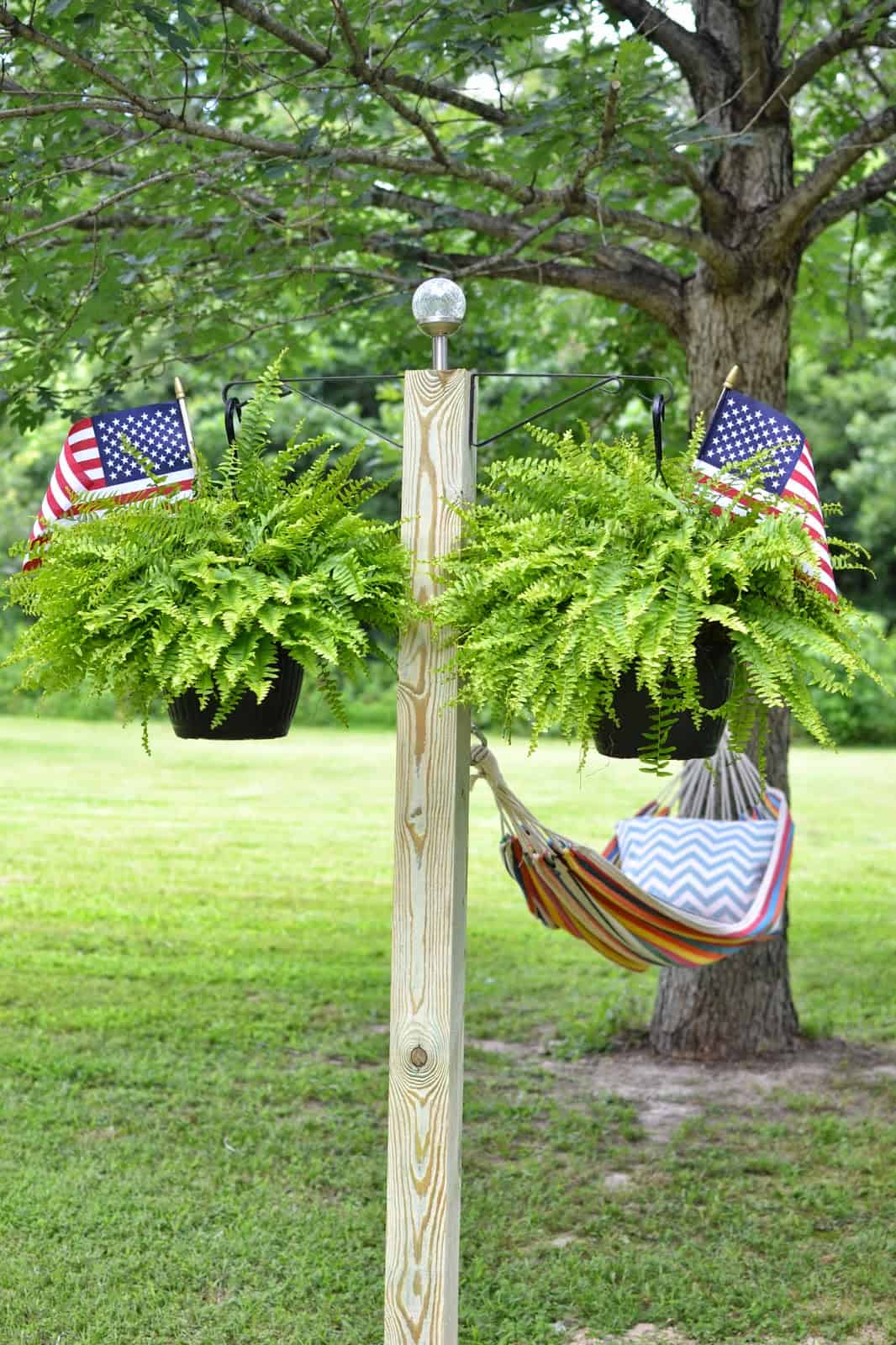 This blogger had a huge, sturdy tree in her yard, but there was nothing on any of its sides that she could attach a hammock to. 
So, she created a decorative post! She added hooks to hang planters and stained the wood to make it look a little nicer than just a wood post. 
Hammocking is All the Rage from See Girls Blog
Hanging Chair Hammock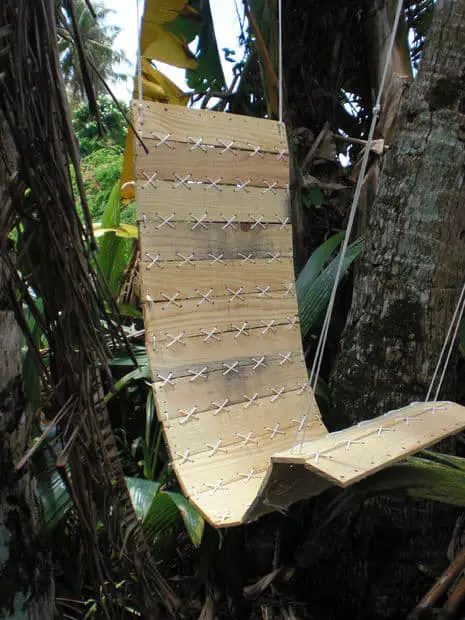 Okay, this isn't a hammock stand, but it's a really cool hammock so it deserves a spot on this list. 
You can make this hanging hammock chair by yourself as one of the coolest DIY projects ever. Learn how to do it on DIY is FUN. 
DIY Hammock Stand: Hanging Chair from DIY is FUN
Tripod Style 
If you go with this hammock stand, you don't have to worry about digging a hole and putting it into the ground because the tripod style posts will leave it steady. 
Plus, since you don't have to dig it in, you can move the hammock around if you want! 
DIY Hammock Stand from jnunniv
Turtledog Hammock Stand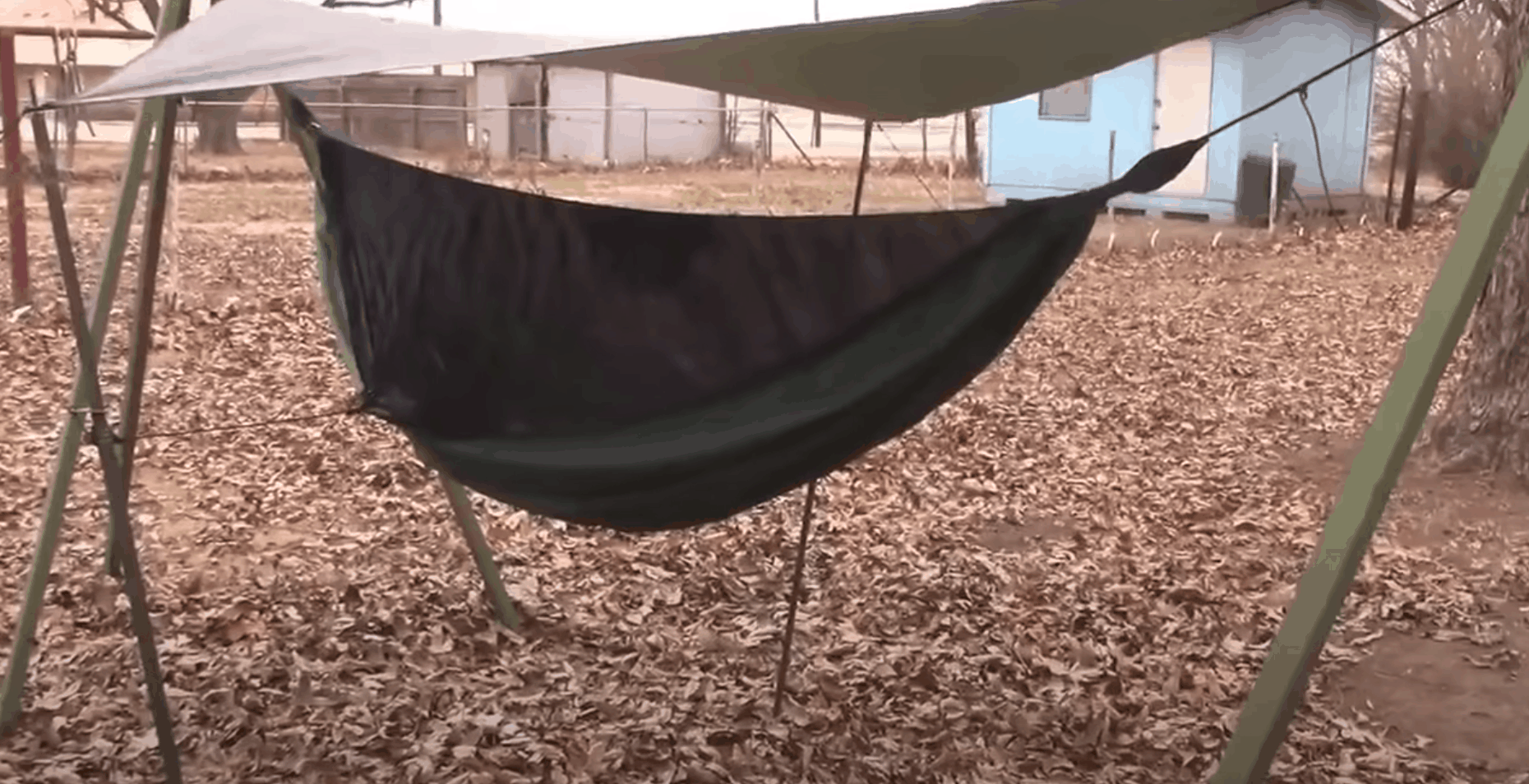 If you've never heard of a turtledog hammock stand before (guilty), this is it! It's a shady spot to camp out for a nap. 
It may seem like a complicated design, but you can learn how to make your own through a video tutorial. 
DIY Turtledog Hammock Stand from Plantbased Outdoors
PVC Pipe Stand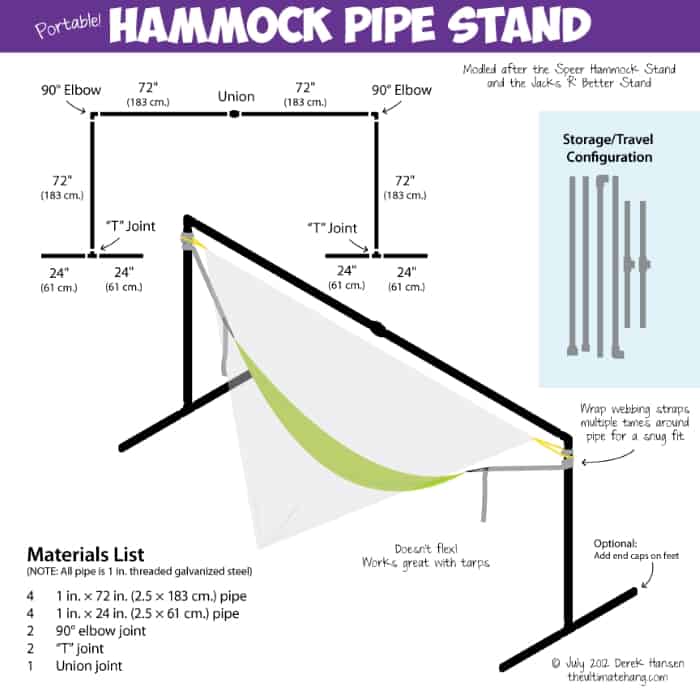 It seems like you can use PVC pipes for just about any DIY project, including a hammock stand. 
You may have to do a little maneuvering to get the pipes just right, but it's a really affordable way to make a hammock stand. 
National Hammock Day – PVC Hammock Stand from PVC Fittings Online
Pallet Hammock Stand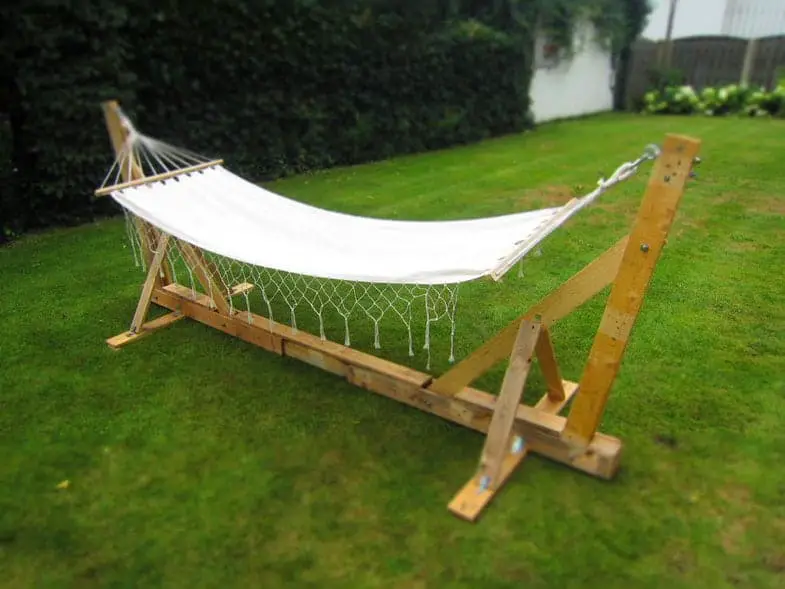 Pallets are one of the best places to get DIY material because you can usually get them for free from a retailer. 
If you have access to a pallet and are a little handy, you can definitely make this easy hammock stand. 
Pallet Hammock Stand from Instructables
Hanging Hammock Chair Stand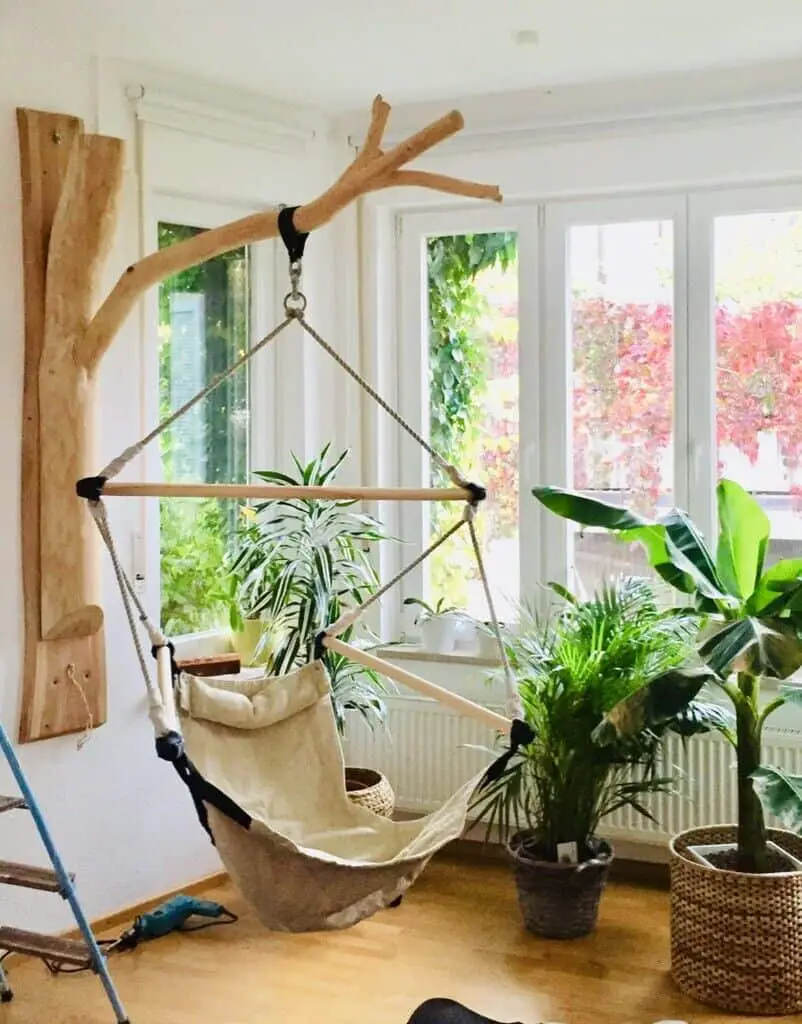 An indoor hammock is a dream for anyone with limited outdoor space, or in colder climates, but hammocks aren't exactly small. 
A hammock chair, however, is compact and easy to hang indoors. This DIY stand is not only useful, but it also looks like a tree which makes it a lot of fun.
DIY – How to Make a Wooden Hammock Chair Stand from Hanging-Chairs
Two-Post Stand
It does not get much easier than this homemade hammock stand. It's literally just two posts.
What makes this particular one so special, though, is the landscaping they did around it to really make it a little oasis. 
How to Build a Durable DIY Hammock Stand From Posts from H2O Bungalow
$40 Stand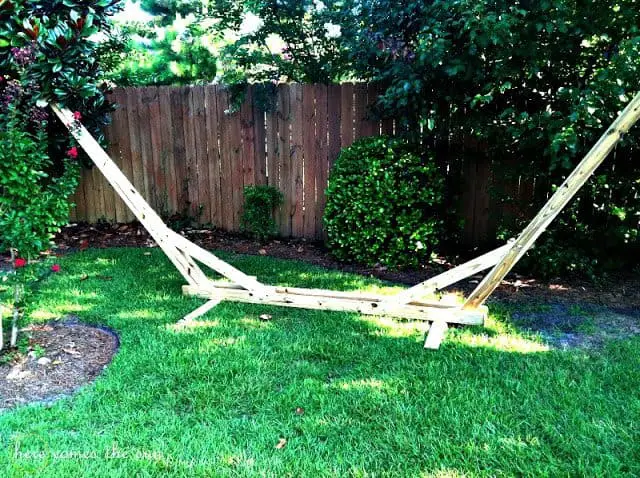 A quality store-bought hammock stand will easily run you $100+, but this DIY version is more than half the cost. 
It only cost this blogger $40 and one weekend to make this super easy and effective hammock stand. 
$40 DIY Hammock Stand That You Can Make This Weekend from Kelly Leigh Creates
Tented Hammock Stand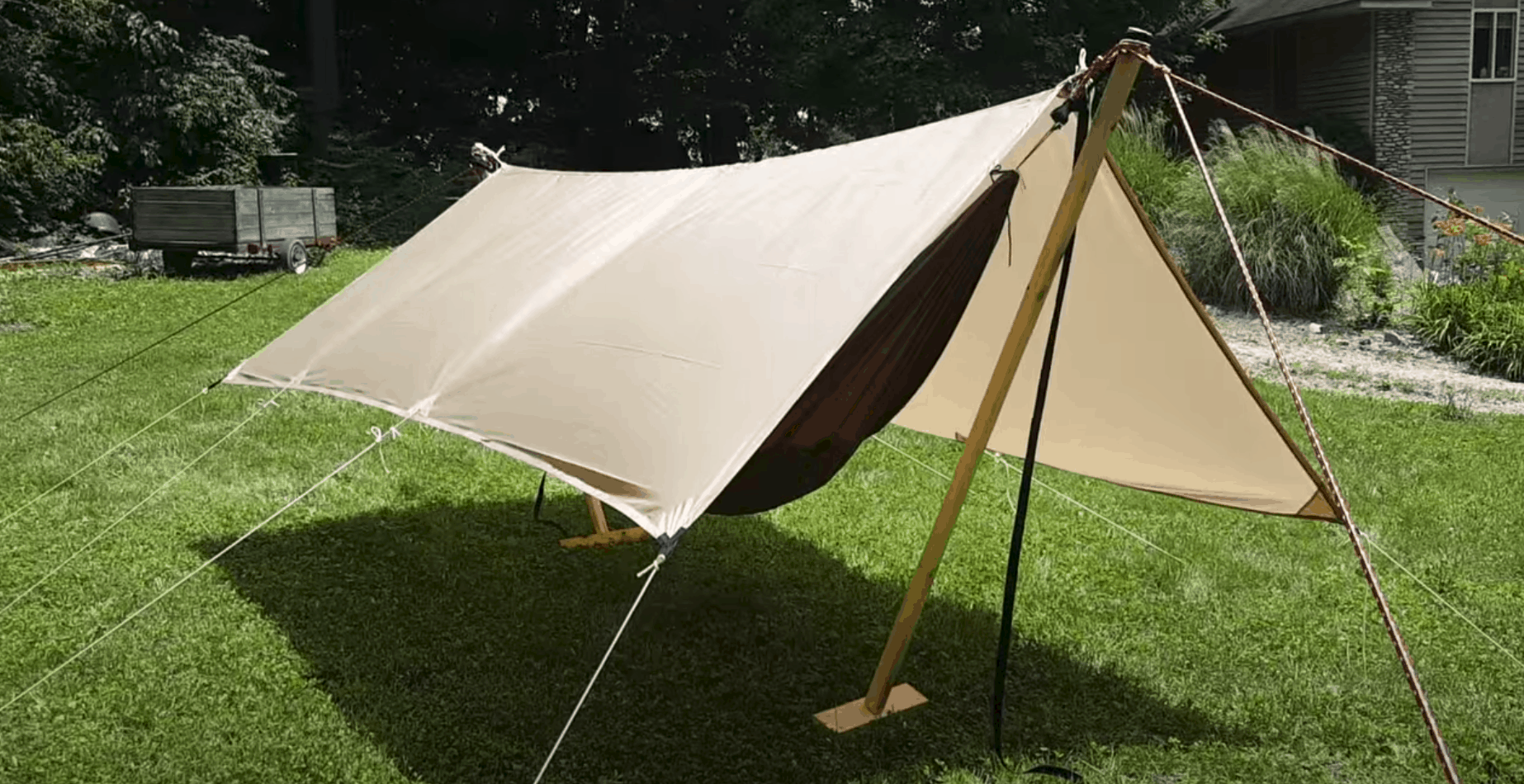 This hammock design is perfect for someone who likes to camp because it is portable and has a cover to shield you from the elements. 
It's also really, really easy to make! Check out the tutorial on YouTube. 
Portable Hammock Stand for Car Camping from Andrew Willis / YouTube
Collapsible Indoor Hammock Stand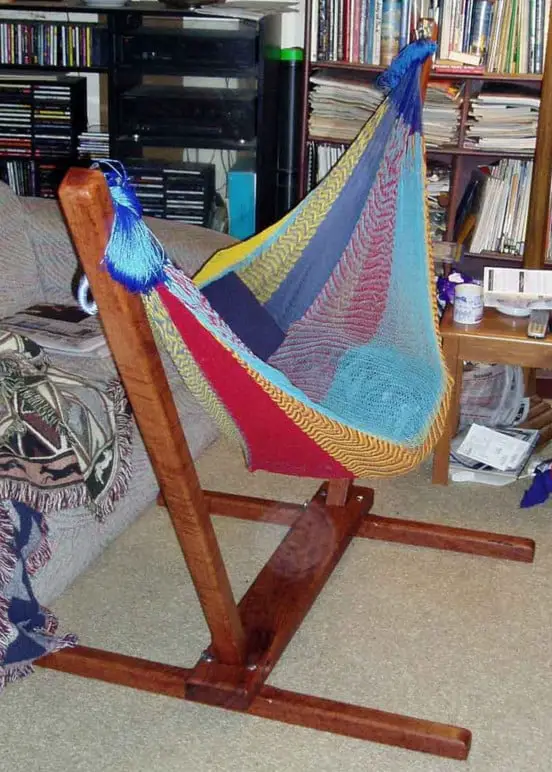 This collapsible hammock stand is easy to make and it is great for anyone who needs to store it away during cold months.
Even if you don't store it away, this is a great option for someone with a smaller back yard who only wants to set it up now and then so it doesn't take up too much space. 
Collapsible Indoor Hammock Stand from Houdes
Double Hammock Metal Stand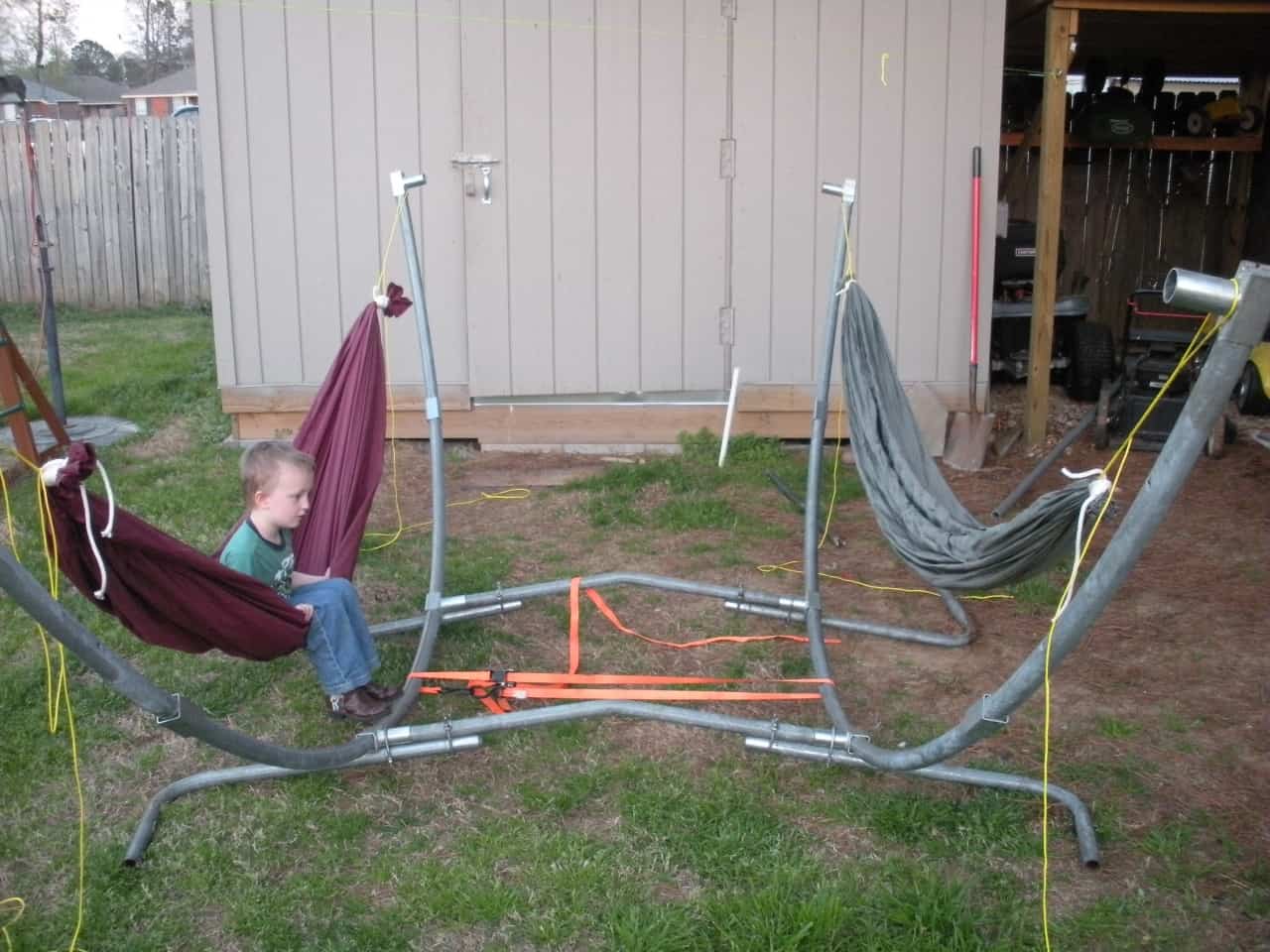 You and your BFF can lounge together with this two-person hammock stand. 
Unfortunately, there aren't DIY hammock stand plans for this particular design, so let it be great inspiration. 
DIY Hammock Stand from Hammock Forums
Hammock Chair Stand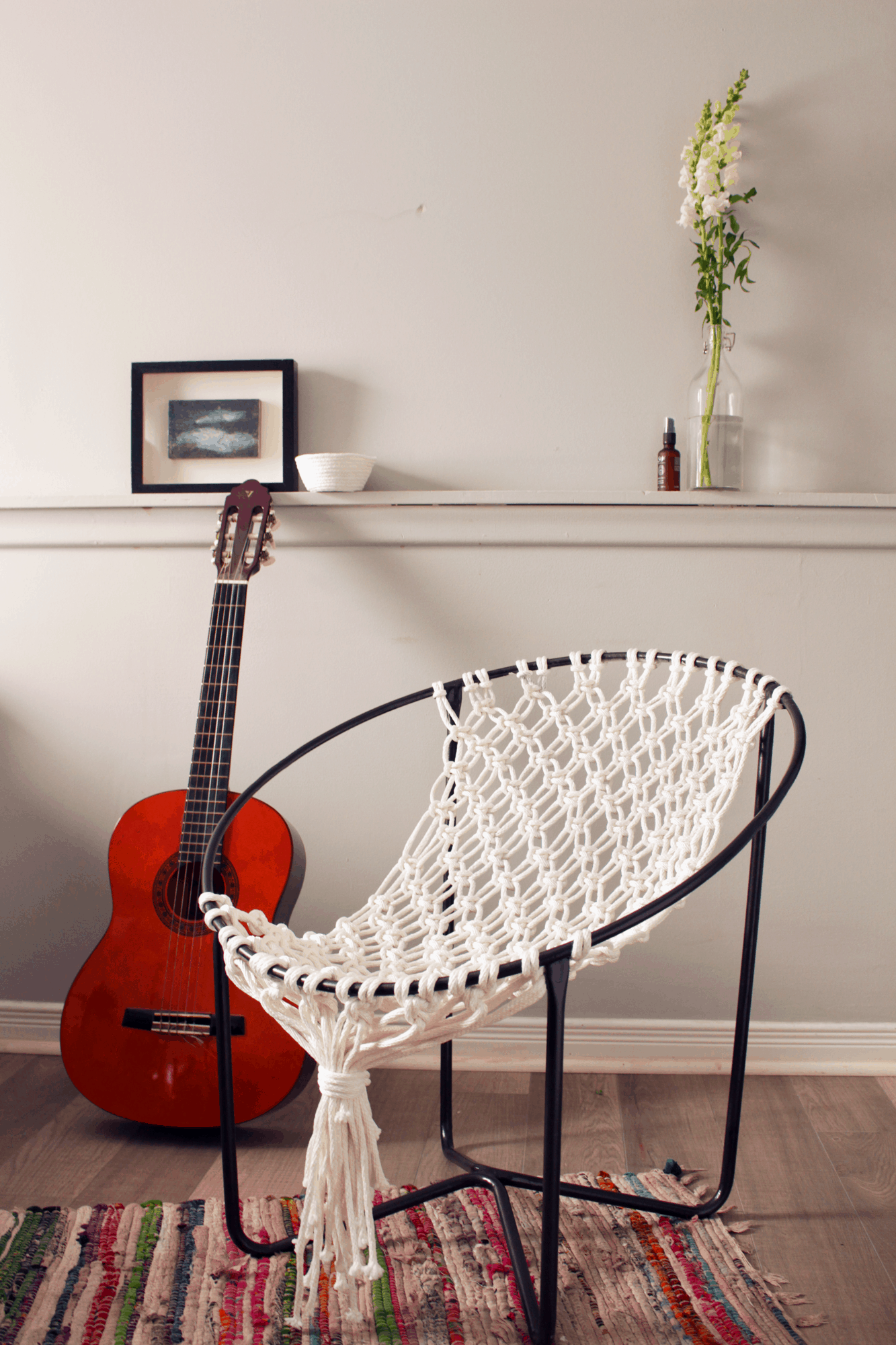 This seriously looks like something you'd buy at a high-end store.
Somehow, it's actually a DIY project. You can learn how to make one of your own from Fish and Bull. 
DIY Macrame Hammock Chair from Fish and Bull
Reclaimed Swing Set Frame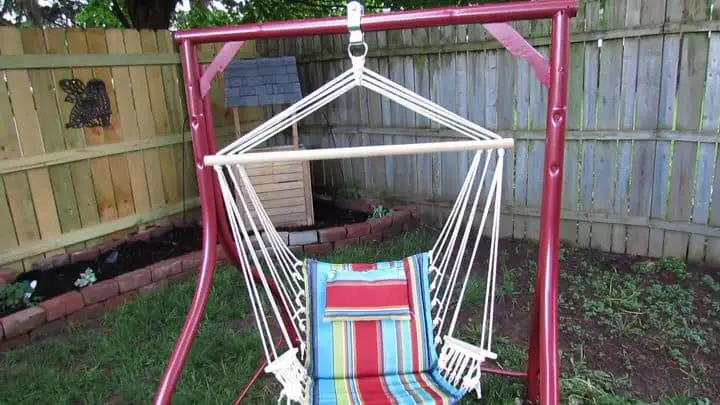 Have the kids outgrown that swing set that's taking up your back yard?
Use the framing as a hammock stand! It's pretty simple to do as long as the frame is made from wood. 
DIY Hammock Chair From an Old Swing Frame from Hometalk
Easy A-Frame Hammock Stand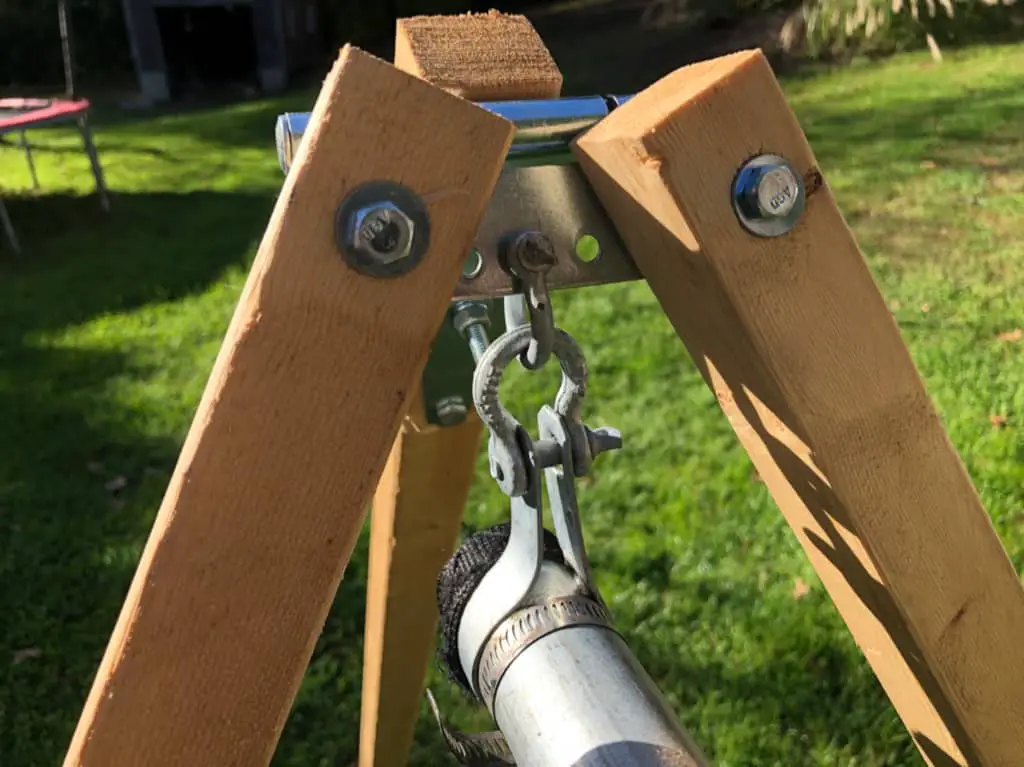 Here is another great example of a DIY hammock stand with the a-frame/tripod style design. 
Doesn't this look like a wonderful place to lounge and take a load off? 
My DIY Hammock Stand from Hammock Forums
Indoor Hammock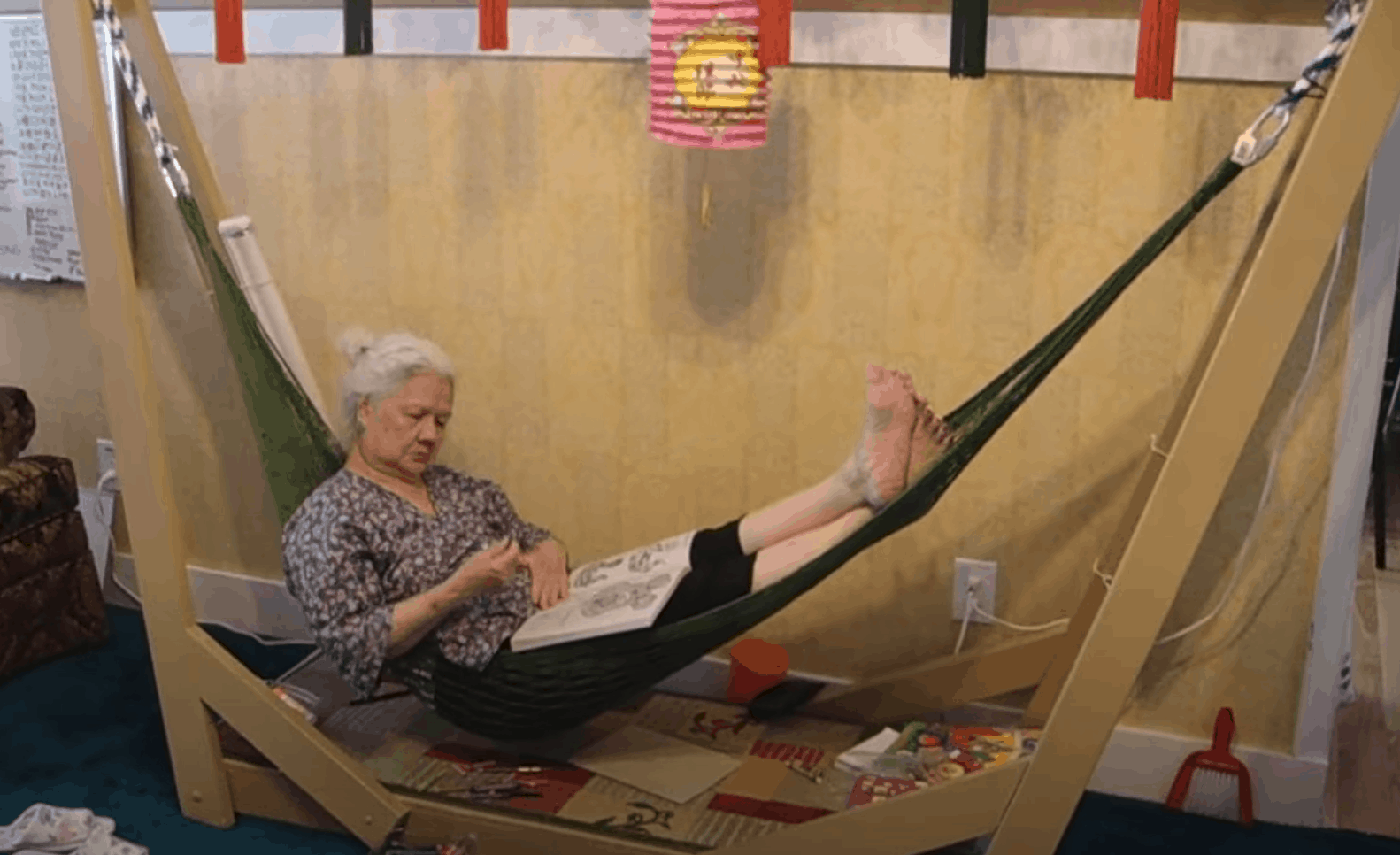 This may be one of the most impressive and amazing DIY hammock stands out there. 
Sure, it's a little over-the-top, but that woman looks like she's never been more relaxed.
Homemade Indoor Hammock from Donngo66 / YouTube
Family Hammock Stand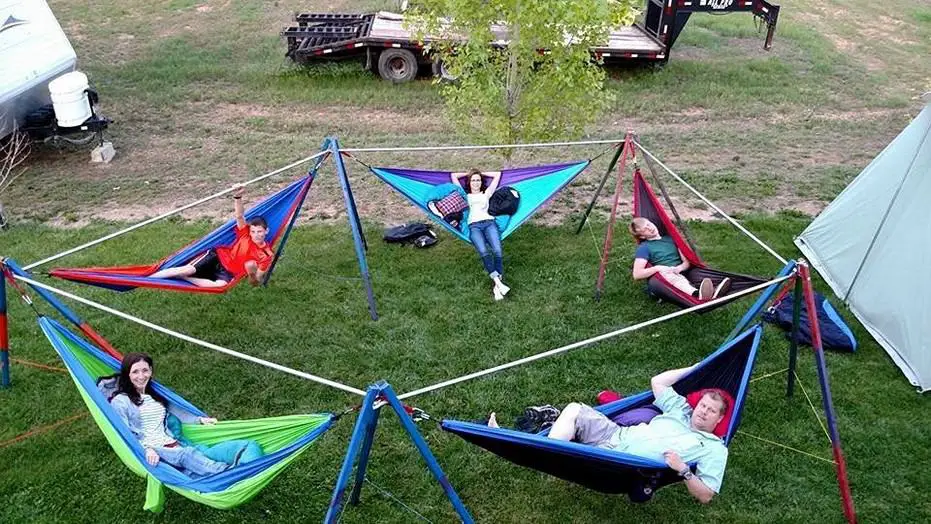 Have the whole family lounge together (but also separately) using this hammock stand design that fits five. 
This is a great option for outdoor movie nights, family campouts, slumber parties, and more. 
DIY Eno Hammock Stand from My Happy Hub
Double Hammock Stand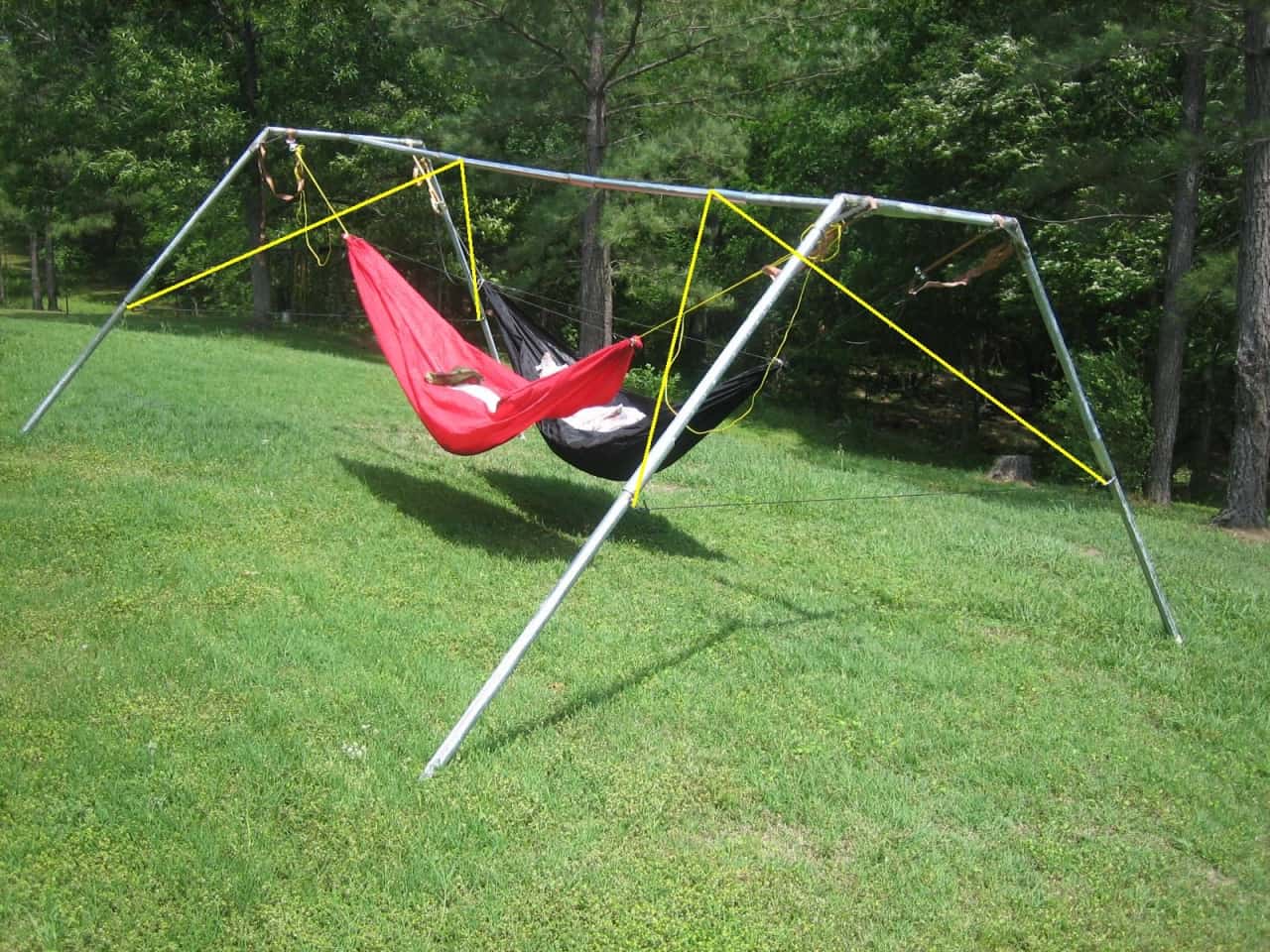 You and your love can sway side-by-side using this double hammock stand. 
It may not be the prettiest option out there, but it's easy and effective! 
DIY 2 Hammock Stand from Hammock Forum
High-End Looking Tripod Stand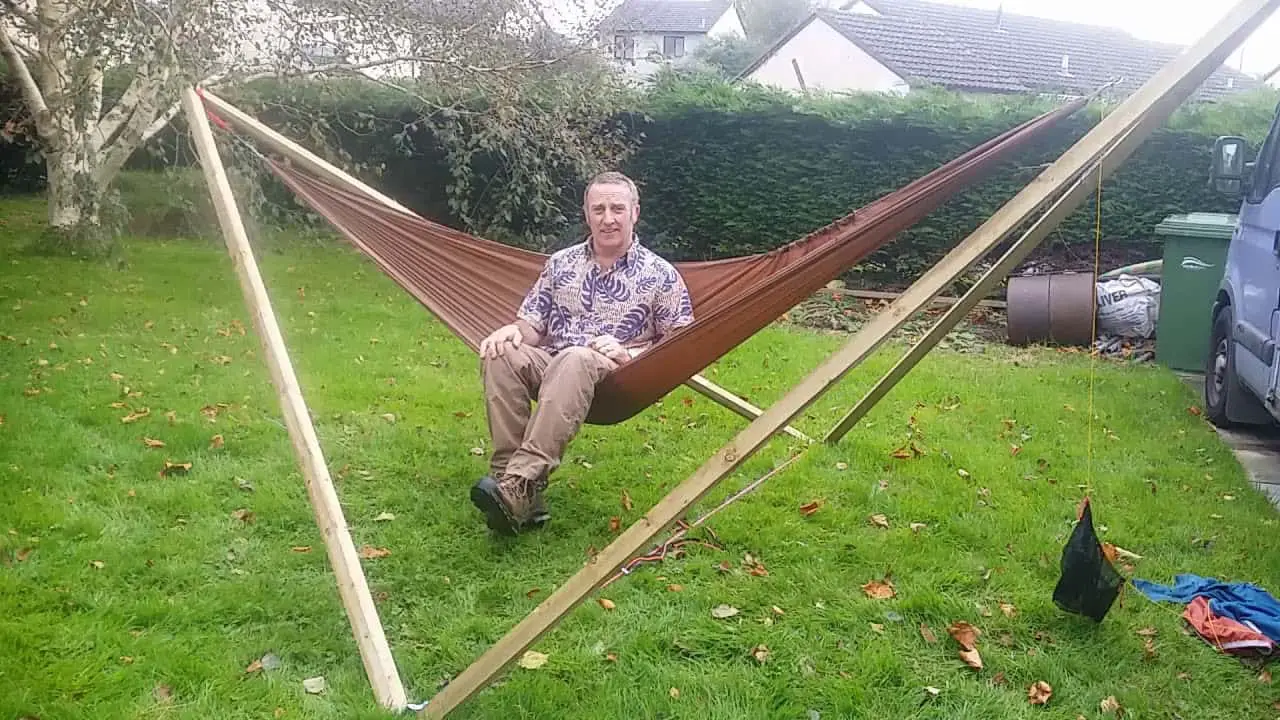 The best part about this hammock stand design is how unique and aesthetically pleasing it is. 
You can learn how to make this stand yourself by wating the video tutorial. 
Tensahedron Stand from Paul Tomlin / YouTube
Double Pergola Hammock (Inspo)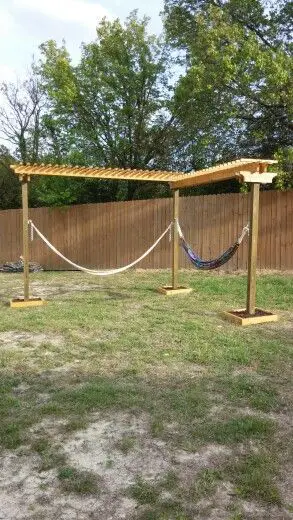 Like many great ideas on Pinterest, this hammock stand is simply a picture to use as inspiration. 
If you're handy, though, you can easily recreate this L-shaped pergola style hammock stand without any plans.  
DIY Hammock Stand from Pinterest
Steel Hammock Stand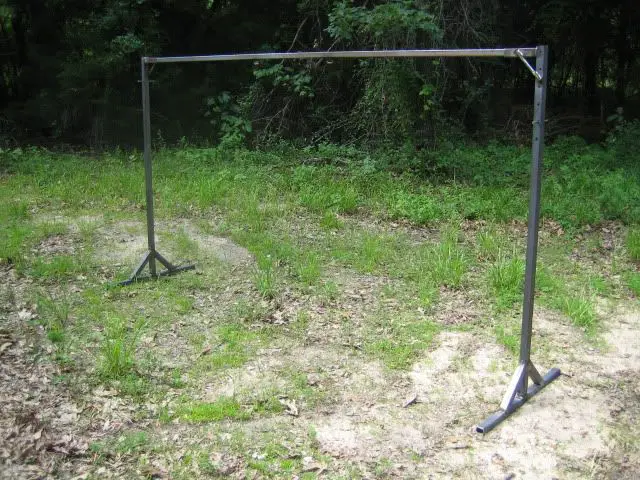 If woodworking isn't your thing, consider this DIY steel hammock stand! 
This is a great project for someone who enjoys welding and, later, hammocking. 
DIY Steel Hammock Stand from Hammock Forum
Ceiling Mounted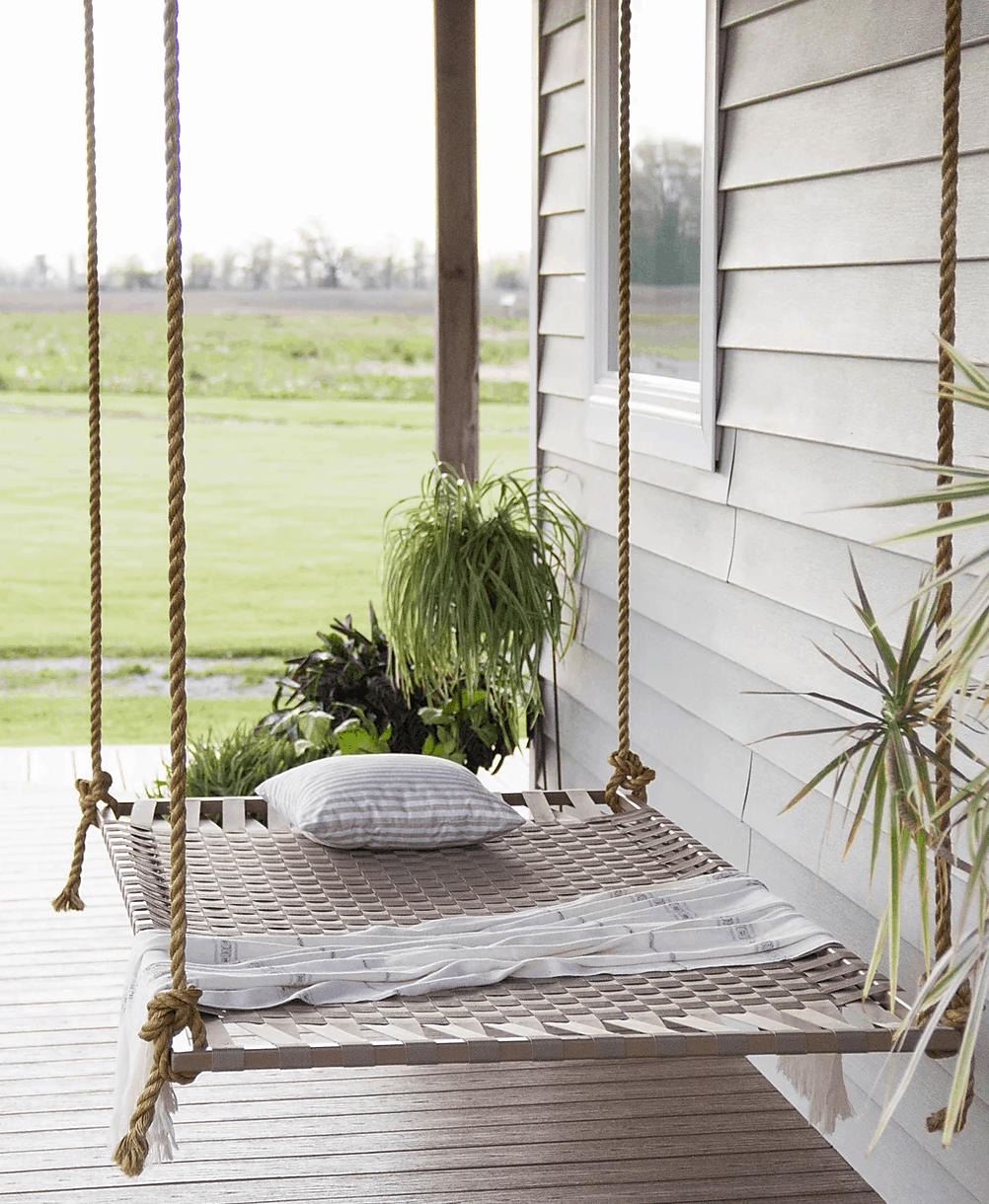 Okay, this isn't technically a hammock stand, but it's a creative way to hang a hammock and an even more creative way to make the hammock itself. 
This is a fun double-DIY project that will still leave you with a relaxing spot. 
DIY Hammock/Swing Bed from An Eclectic Style
Around A Firepit (Inspo)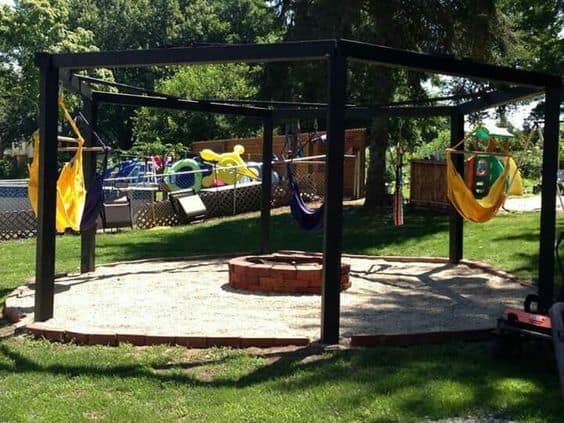 You've probably seen pictures of porch swings mounted in a circle around a fire pit, but have you seen it with hammocks before? 
It's hard to imagine anything more relaxing than swaying in a hammock fireside. 
DIY Hammock Frame from Pinterest
Easy Indoor Hammock Mount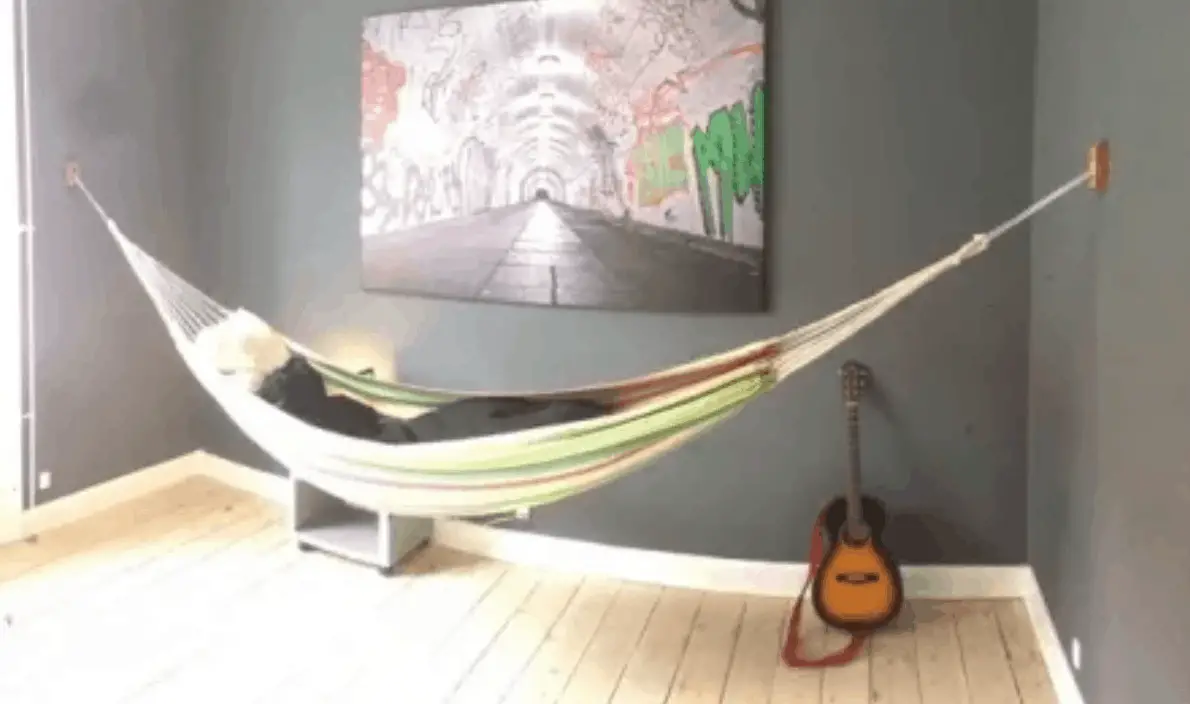 If you have a hammock that can fit perfectly between two walls, all you need is a safe way to mount it. 
These mounts from Life Hacker are easy to make and are still stylish (since you won't just have a metal hook popping out of your wall). 
Build This DIY Hammock Wall Mount from Life Hacker
Conclusion
Hammocks can have all kinds of different looks and purposes. They're perfect for taking a break while on a hike, getting some sleep while camping, lounging in your yard, or just having a nice quiet spot inside your house.
Just like there are so many different hammock styles, there are seemingly endless stands and frames to go with them. Figure out which one is best for you and get to making it so you can start swinging and relaxing.