35 DIY Outdoor Bench Ideas For A Quiet Spot To Rest
If you enjoy sitting outdoors, whether it's in your garden, on your patio, or your front porch, having a comfortable bench to soak up the sun and breathe in the fresh air is a true luxury – one you can DIY.
Sound appealing? Here are some great outdoor benches ideas that you can recreate or use as inspiration for your future little piece of luxury. 
Sleek & Simple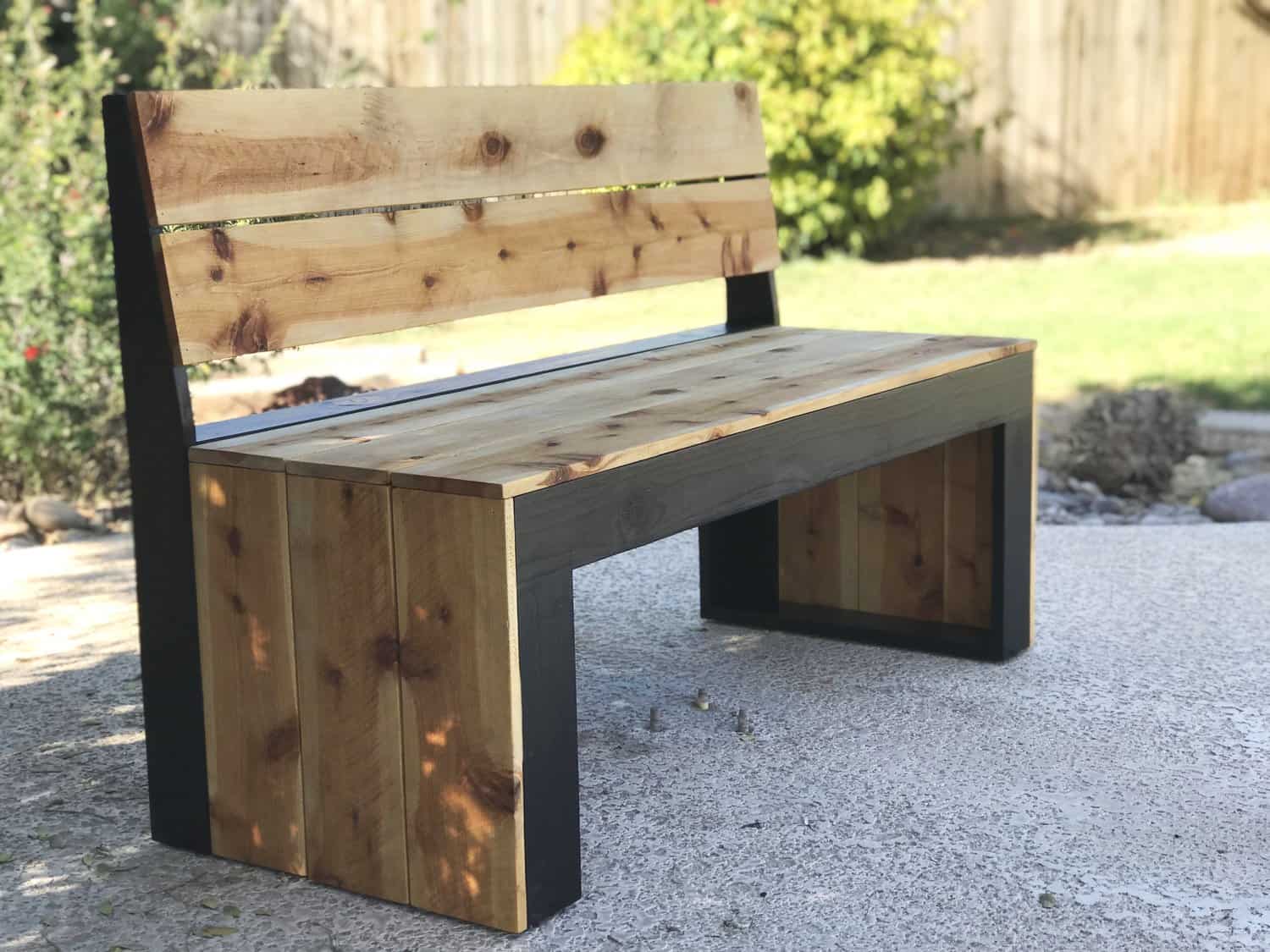 The light wood contrasting with the black on this bench gives it a sleek look but doesn't make it look uninviting. 
It's a great piece for any outdoor area, but it's so pretty it deserves to be in a high-traffic spot. 
DIY Modern Bench with Black by the Awesome Orange
Bench with a Table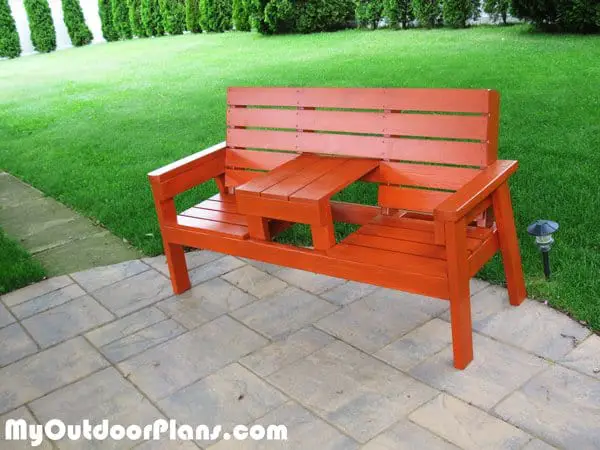 This is the perfect spot to take a break and have a glass of water while you're slaving away in your garden. 
It has seating for two, and the little table is just the right size for a drink and a small snack plate. 
DIY Outdoor Bench with Seat by My Outdoor Plans
High-End Dupe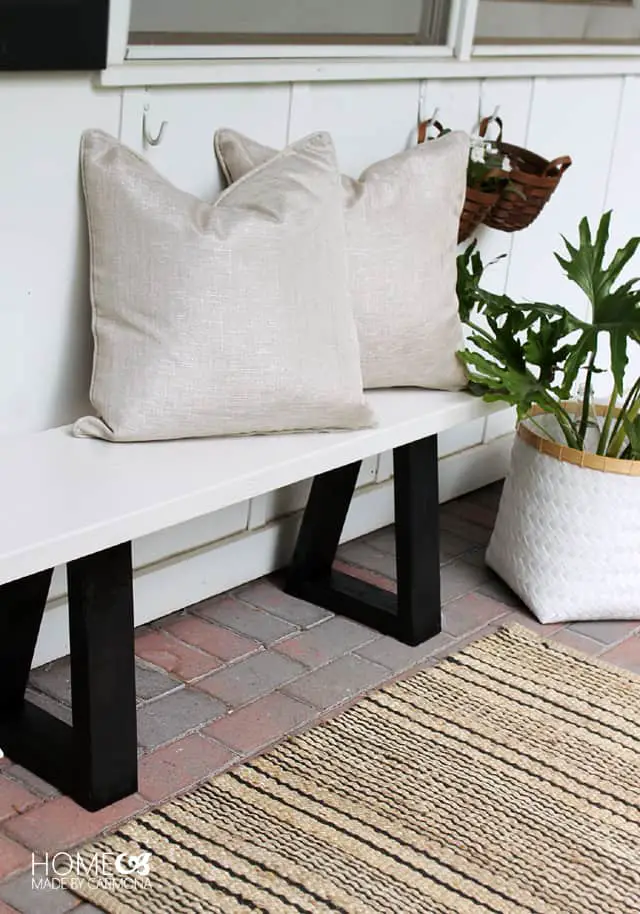 Why spend a lot of money on a bench from a high-end retailer when you can make it yourself?
This blogger built a West Elm lookalike bench for a fraction of the cost without sacrificing style. 
West Elm Bench Knockoff by Home Made By Carmona
Easy DIY Lounge Bench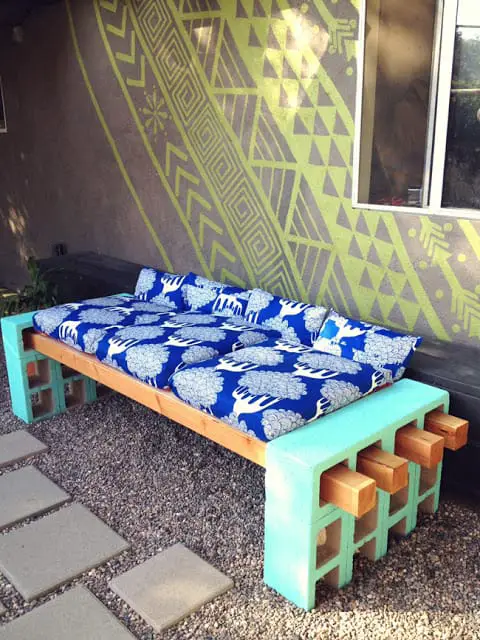 When it comes to backyard bench ideas, this one is perfect for someone who wants to lounge. 
The best part about this bench is that it's super easy to make. You don't need a ton of DIY experience to add to your backyard oasis. 
DIY Outdoor Seating by Lena Sekine
Repurposed Headboard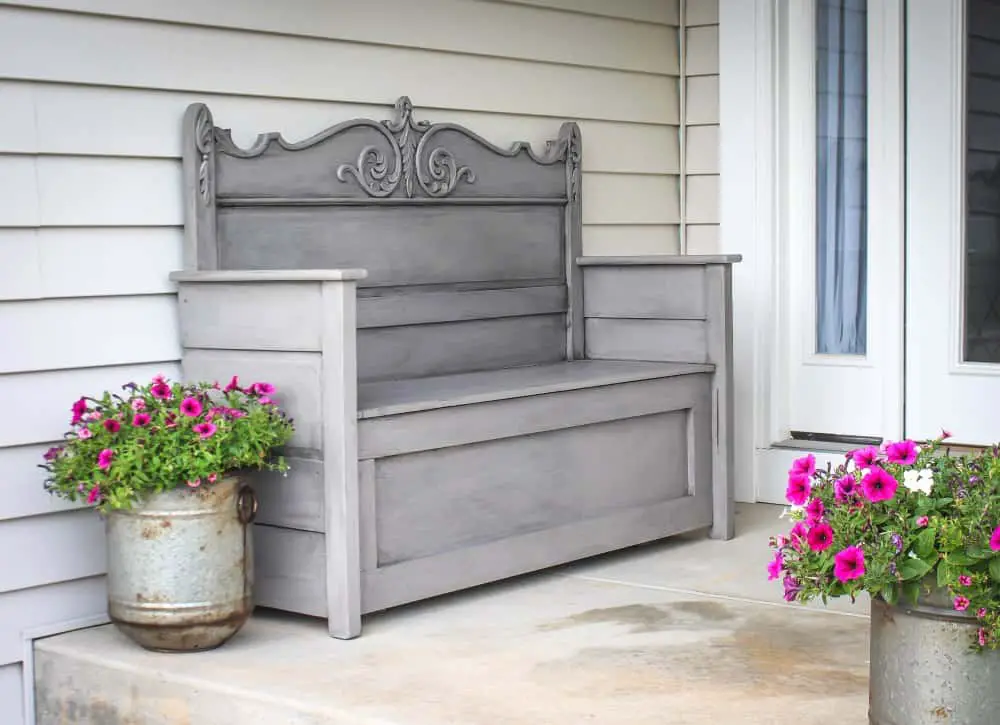 Any time you can repurpose something that would otherwise be tossed makes the DIY project a little extra fun. 
This blogger built a bench using an old wooden headboard as the backrest. It gives it an antique look and makes for a cozy spot to take a rest or read a book. 
Repurposed Headboard Bench by Ruggy DIY
Classic & Stylish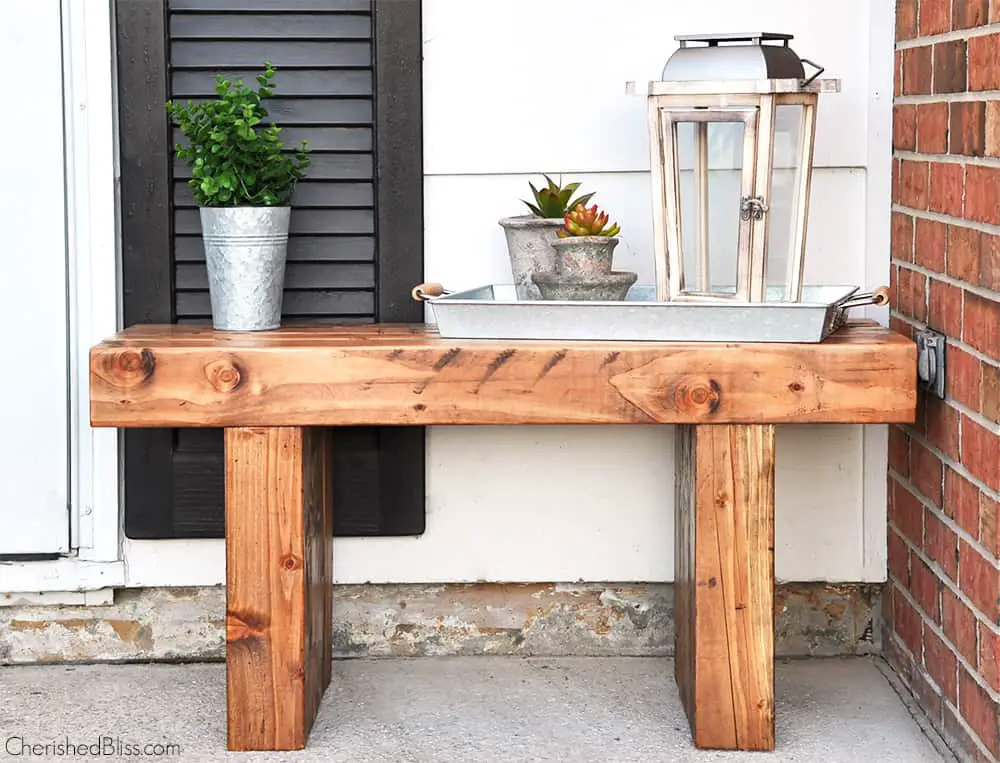 This bench design is about as classic as it gets. It's very straightforward and easy to replicate. 
What this blogger did to elevate the finished product a bit was to work really hard on the bench's stain to give it just the right hue. 
DIY Outdoor Bench Plans by Cherished Bliss
Stone Bench
You don't even have to know anything about woodworking to make this patio bench. 
All you need is a sturdy piece of wood to serve as the seat and some pavers you can stack to serve as legs. 
DIY Stone Outdoor Bench by Lina pa Landet
Multi-Colored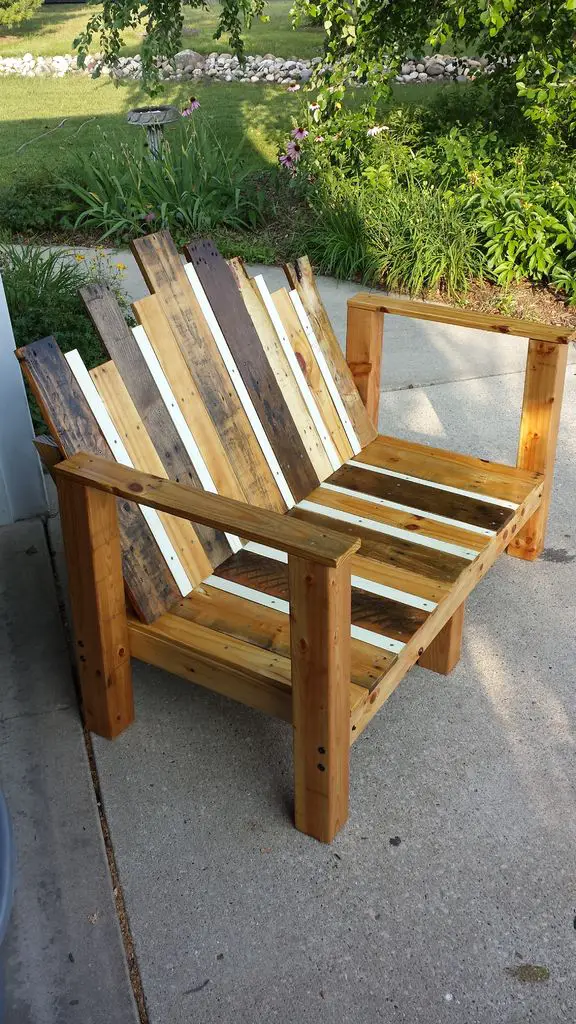 If you want something that looks like a pro made it, try your hand at this DIY bench. 
Despite its finished look, the bench is actually built using the same wood throughout, but the builder spent extra time staining it to give it the multi-colored look. 
Outdoor Bench by Instructables
Rainbow Bench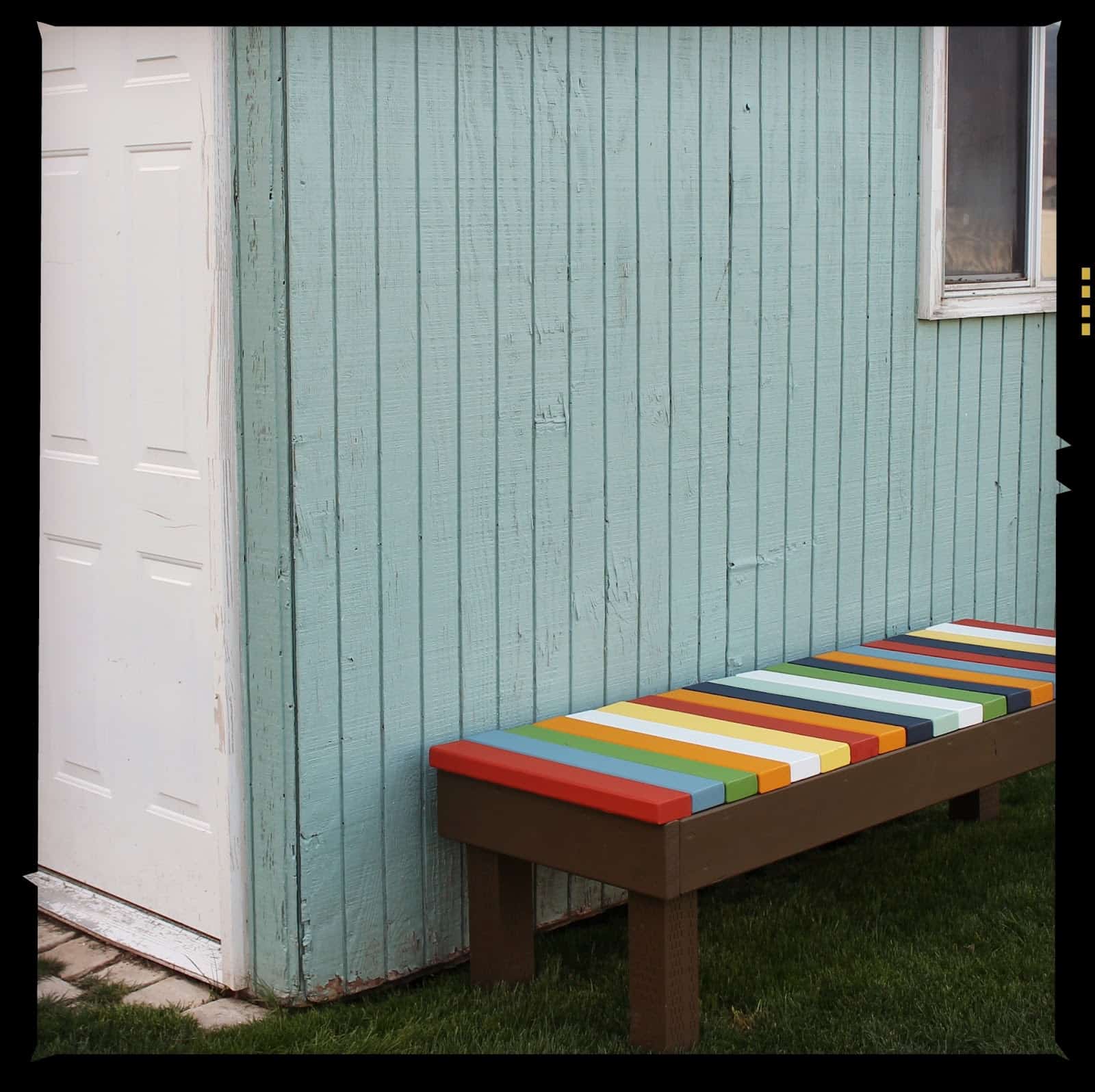 The overall design of this bench is sleek and stylish, and is definitely built to last and withstand a good amount of weight. 
You could recreate the bench by just focusing on its blueprint, but it wouldn't be the same without the colorful touches. 
Rainbow Colored Bench by Aristocrafty
Garden Box Bench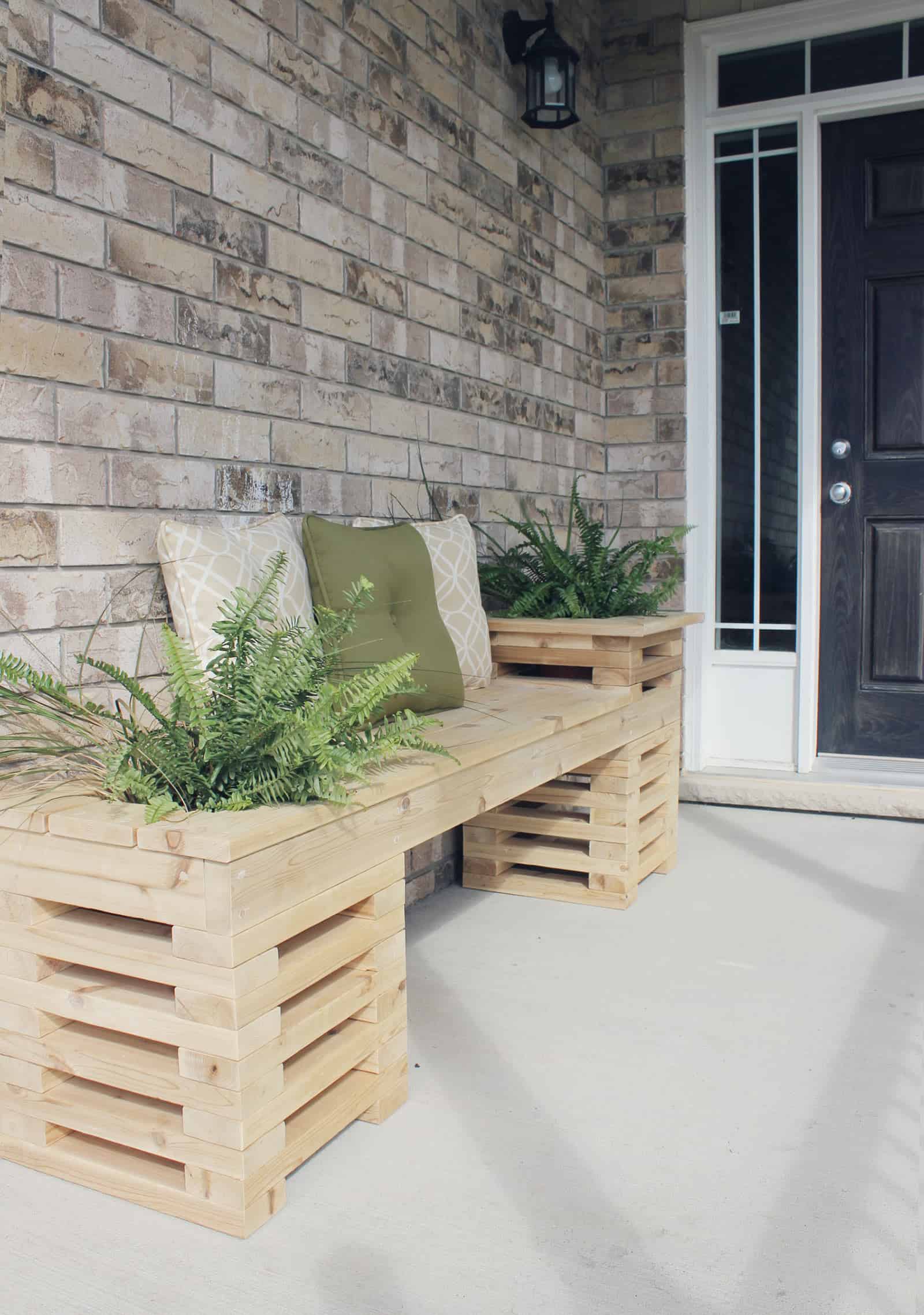 Sandwiching the bench between two planters is an easy way to give it a little more character.
What sets this design apart, though, is that the planters on either side aren't actually planters at all, they are just serving as a coverup for planters so you can switch things out easily. 
Garden Box Bench by Brittany Stager
Relaxation Perfection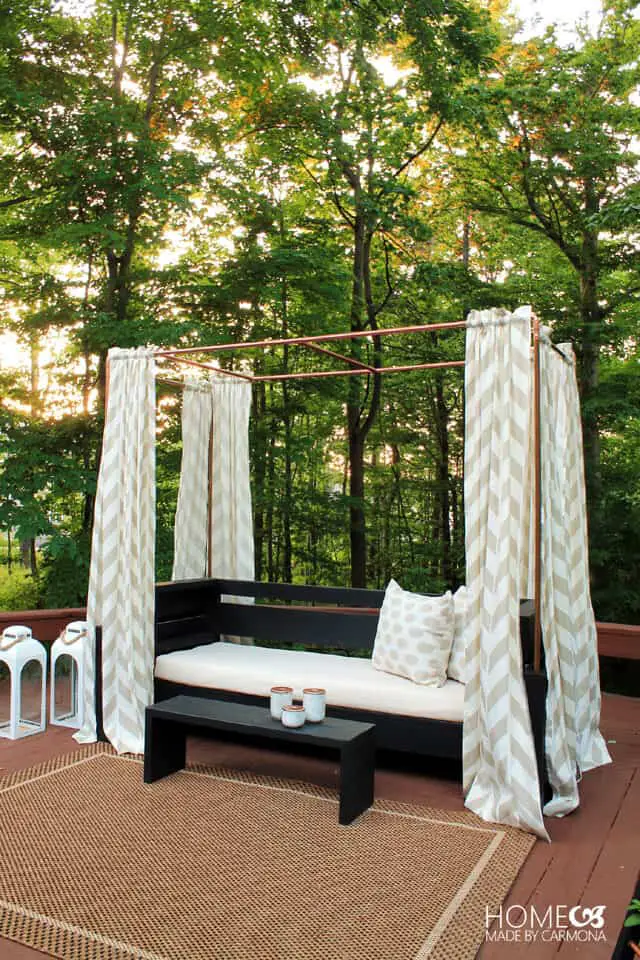 Four-poster beds are peak relaxation (especially when you pull back the curtains), and this blogger took that idea to her outdoor bench. 
The curtains allow you the opportunity to get some shade if you need it, or to keep things bright. 
Outdoor Furniture Build Plans by Home Made by Carmona
Fire Pit Bench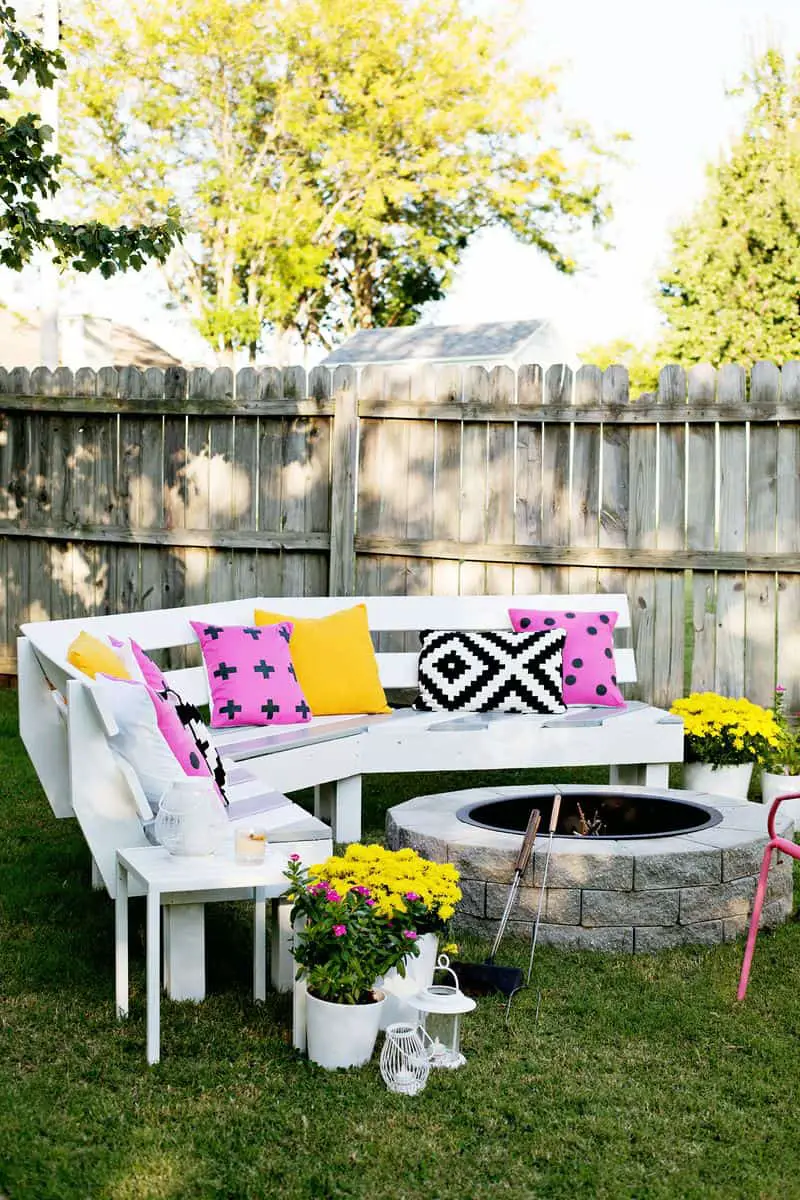 Putting benches around your fire pit looks good and provides your guests with a spot to sit instead of having to lug a lawn chair out to the fire. 
If you like this style but don't know about the curved design, you can always build traditional benches to surround the fire pit to make it a little easier. 
Curved Fire Pit Bench by A Beautiful Mess
Extra Long & Inexpensive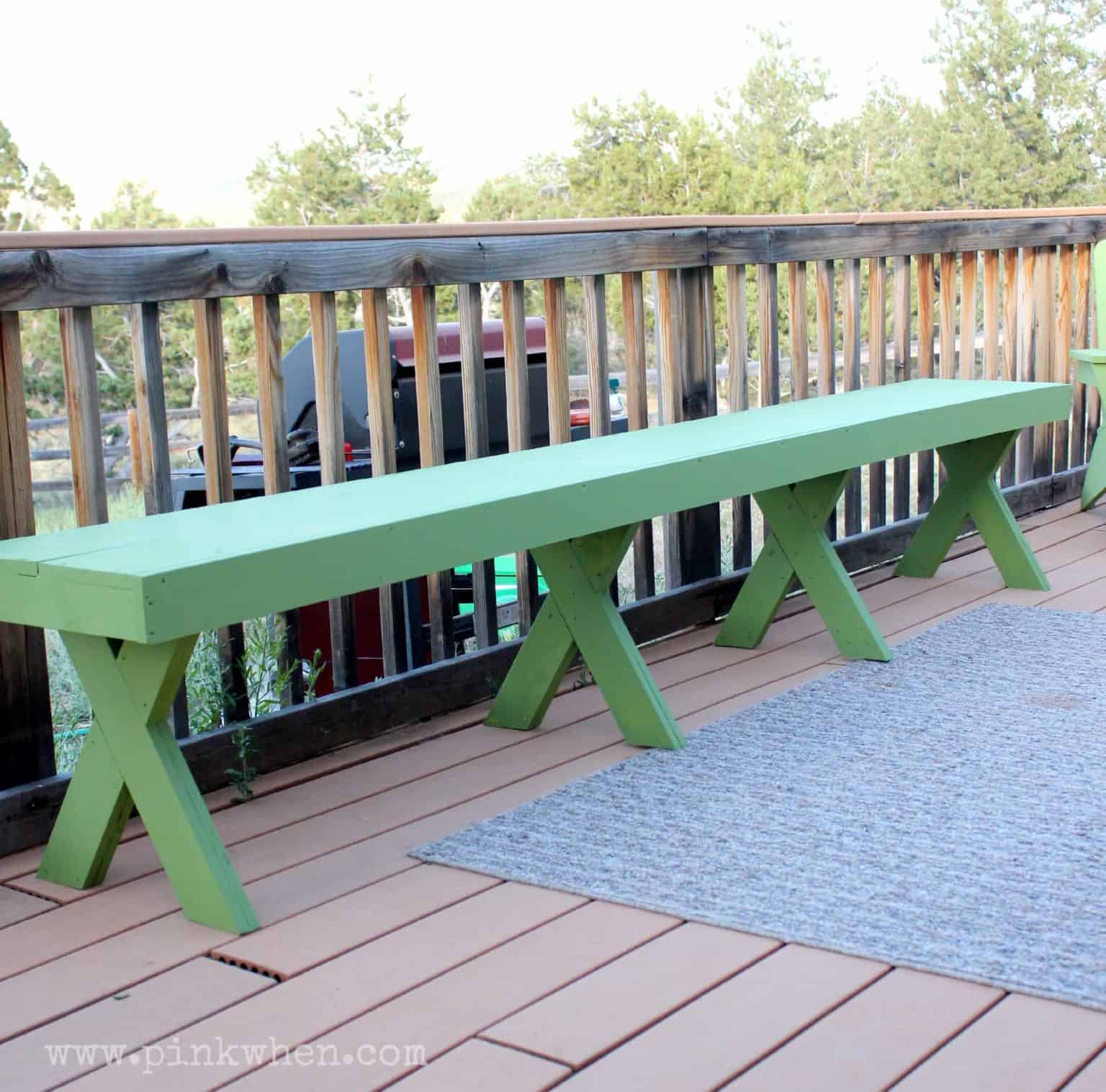 This bench could easily fit four adults or could serve as a place to lay down to take a rest. 
The most amazing part about this bench is that it only cost about $20 to make. Check out all the details on the PinkWhen blog. 
DIY $20 Outdoor Patio Bench by PinkWhen
High-Back Bench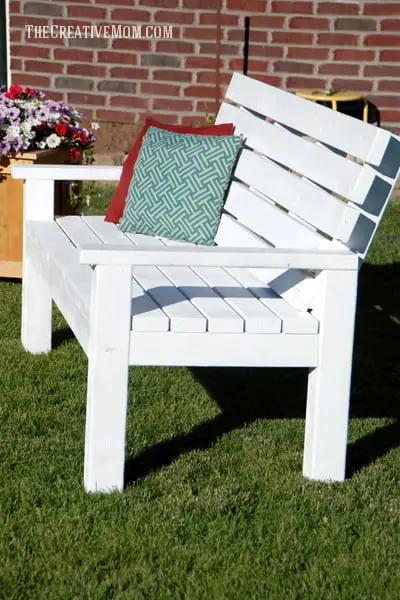 This clean and simple DIY porch bench is the perfect spot to sip some coffee and relax in the morning. 
The arm rails and white finish make it look high-end, so your neighbors won't mind seeing it on your porch when they're out for a walk. 
DIY Sturdy Garden Bench by The Creative Mom
Repurposed Chairs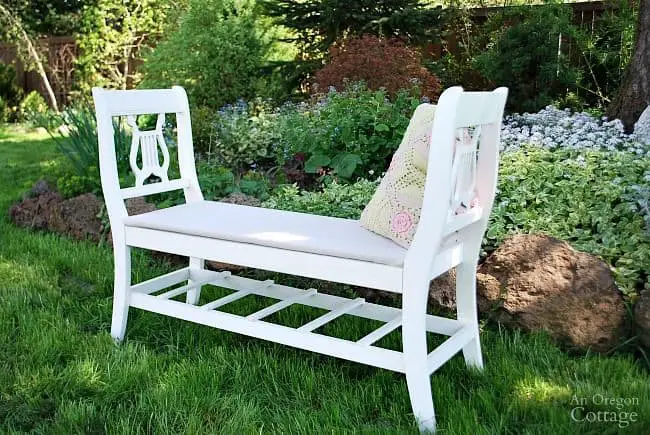 If you have two old dining chairs on hand (or can find some at a thrift store) you can recreate this unique garden bench. 
The backs of the chairs give the bench a more stylized look that's perfect for the garden. Just make sure you cover the cushion with outdoor-safe fabric.
How to Make a French-Style Bench From Old Chairs by An Oregon Cottage
Pergola Bench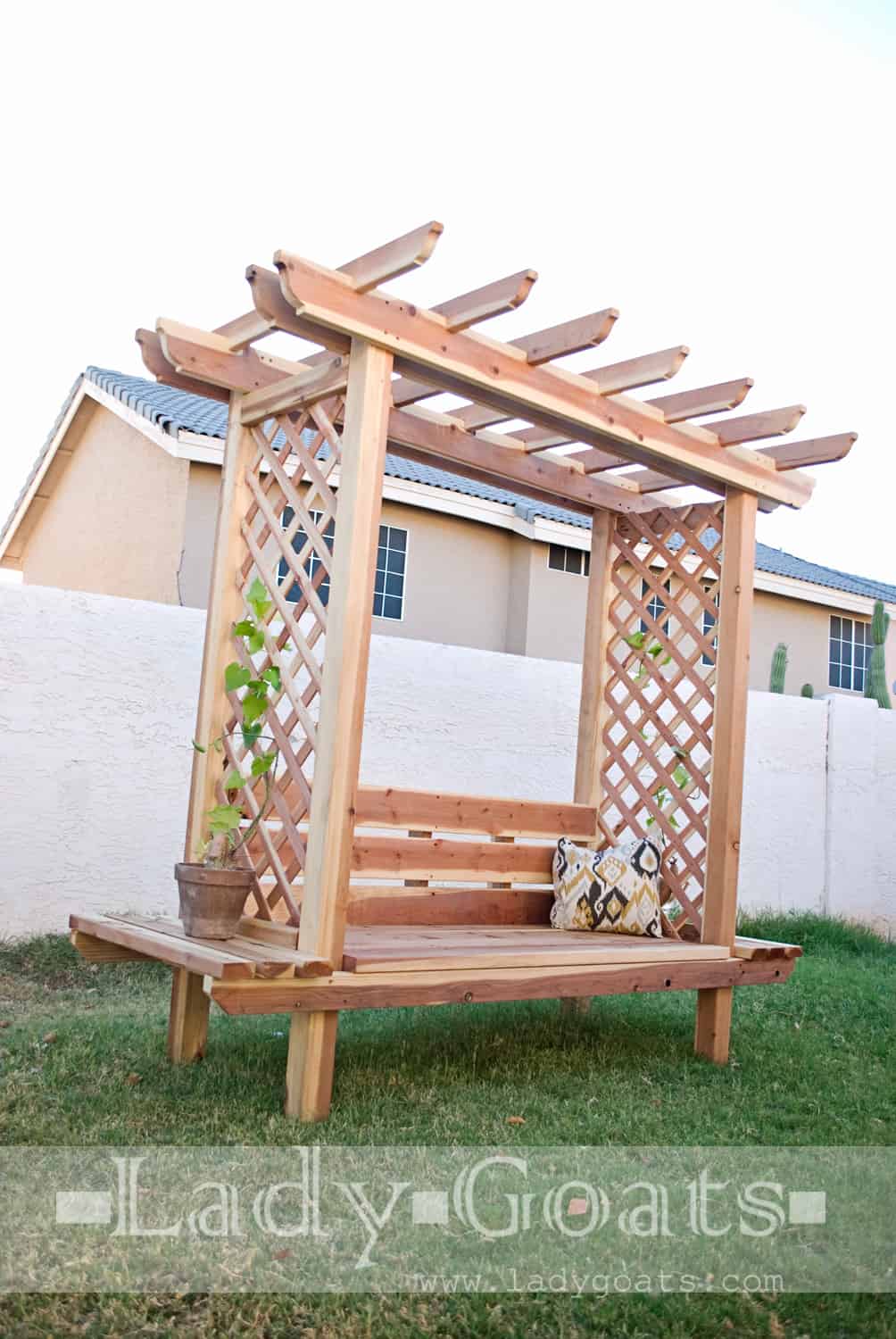 With this, you get a bench, a lattice, and a pergola. It's an all-in-one backyard oasis. 
This definitely won't be a quick DIY project, but the final product will be well worth the work. 
New Favorite Spring Project by Lady Goats
Old Door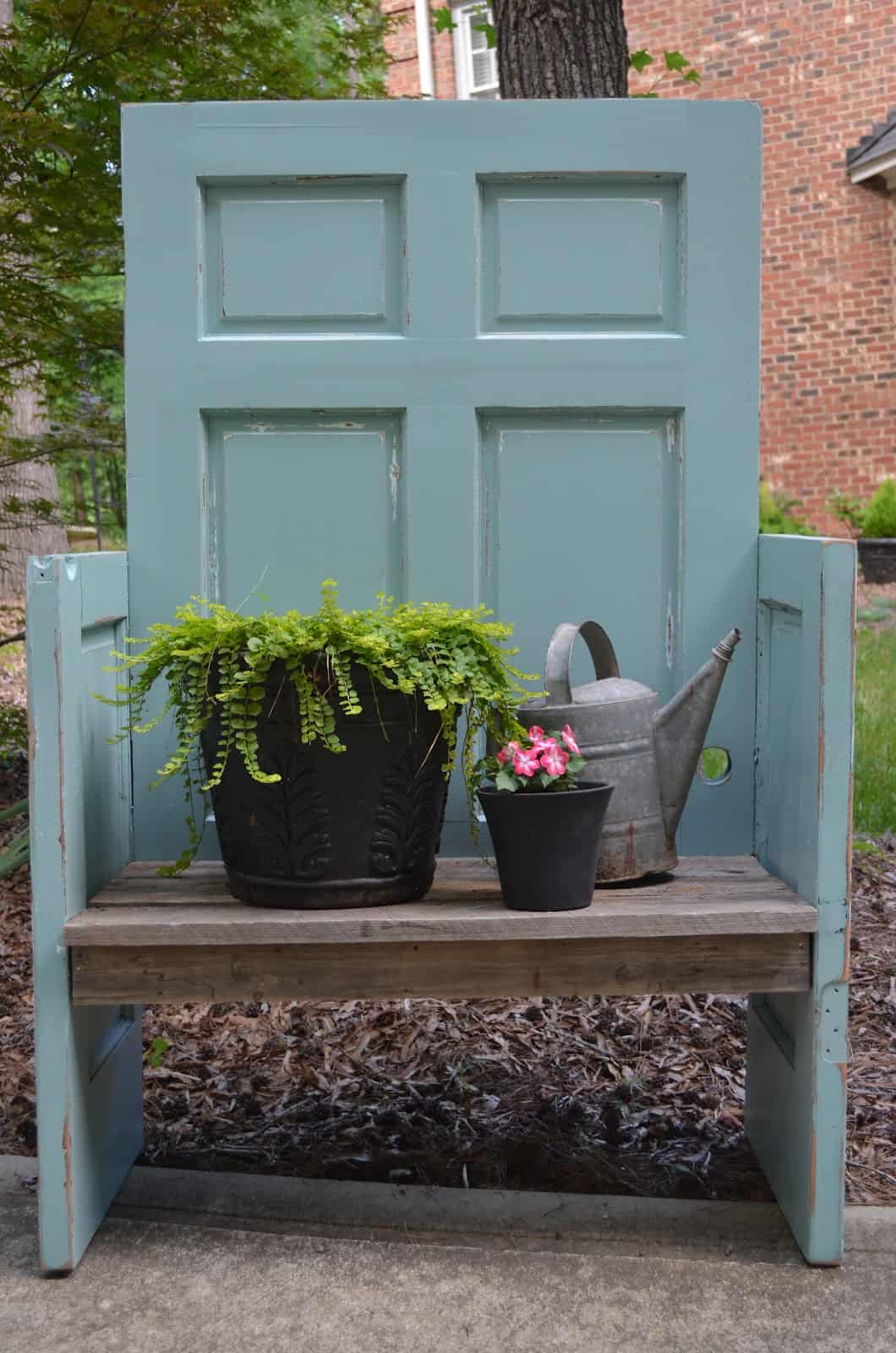 Here's another way to repurpose something that would otherwise end up being thrown out. 
This blogger used an old door to create this bench. Check out the Dumped and Discovered blog to get more details on the project. 
Repurposed Door Bench by Dumped and Discovered
Easiest Bench Ever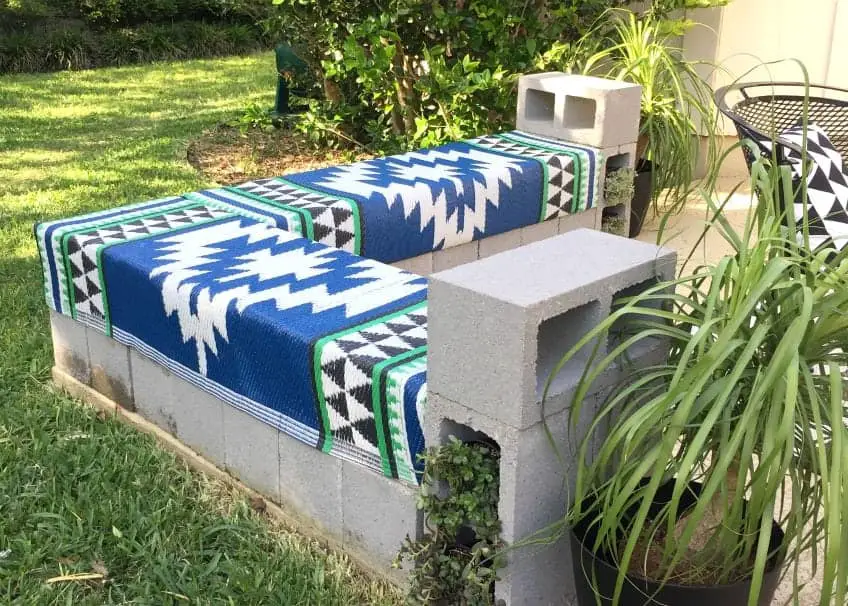 The bulk of this bench is just strategically placed cinder blocks. The hardest part will be carrying and lifting them into place. 
To give the block some style, this blogger attached an outdoor fabric that provides a more comfortable spot to sit. 
DIY Cinderblock Bench by Jennifer Perkins
Tree Stump Bench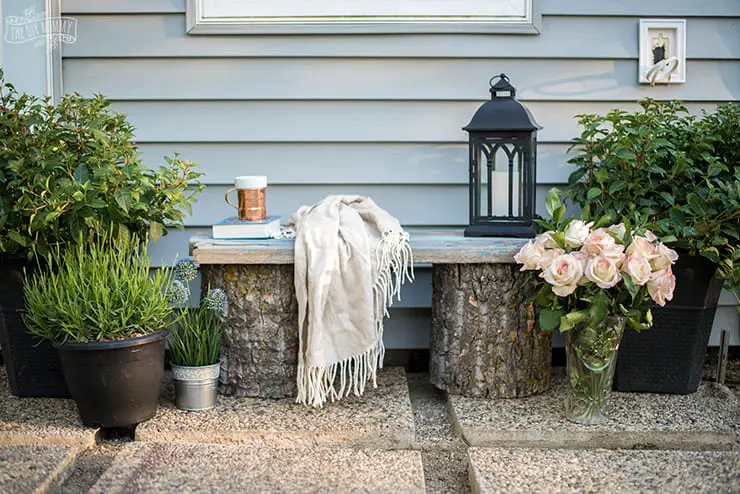 The tree stumps for legs make this a perfect DIY garden bench that will blend right in with its surroundings.
All you need to recreate this is two stumps and a solid piece of wood that won't easily lift and can hold your weight. So easy. 
Easy DIY Rustic Bench by The DIY Mommy
Log Cabin Inspired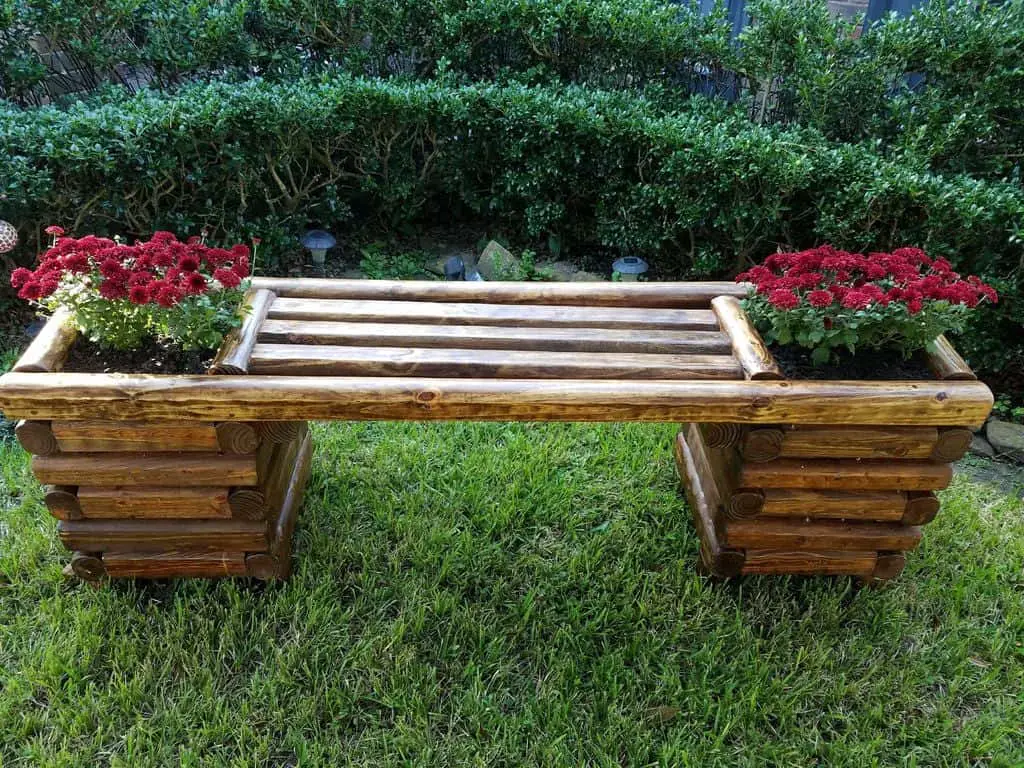 Doesn't this bench-planter combo look like it belongs outside a log cabin in the mountains?
Even if you don't have a mountain cabin, you can still enjoy this bench and its style by following the step by step tutorial from Instructables. 
DIY Log Bench by Instructables
Convertible Bench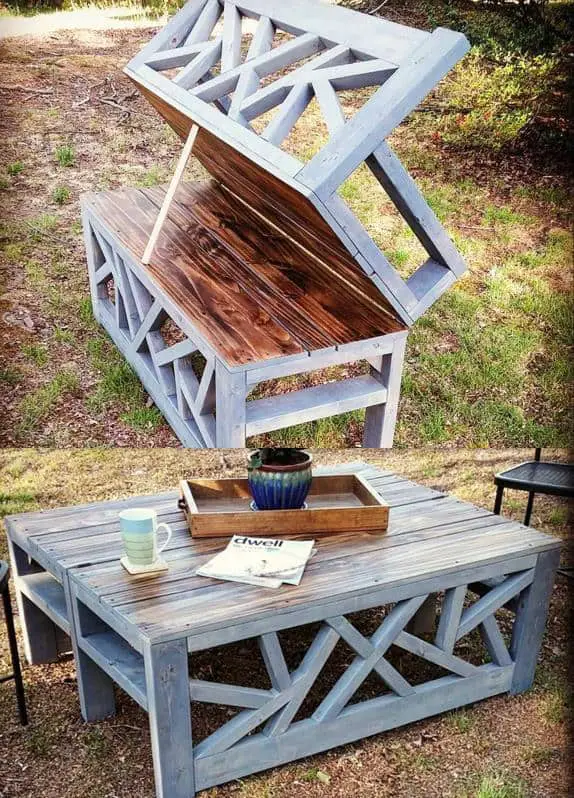 If you're someone who enjoys hosting a group of people, this convertible bench is a great DIY project. 
When it's folded up you get a solid and sturdy bench, but you can unfold it into a coffee table when you need a little table space. 
Outdoor Convertible Coffee Table and Bench by Handmade Haven 
Hexagon Shaped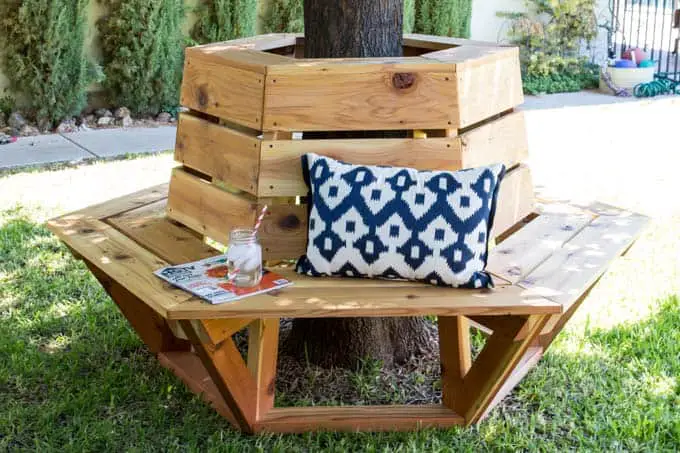 Have you ever wondered how people put benches around a tree trunk? It's actually pretty easy. 
Check out the steps for making this hexagon-shaped bench so you can read or relax under a shady tree. 
How to Build a Hexagon Cedar Bench by Addicted 2 DIY
Crate Bench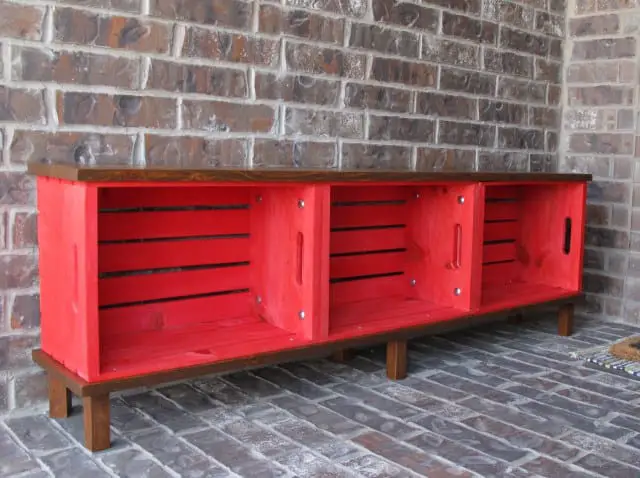 You can get these crates at just about any craft or hardware store, and they're really inexpensive. 
This blogger painted hers and then attached them using a board for the top and bottom of the bench. You may want to put this one under an awning because the crates may not be able to withstand rain. 
DIY Crate Bench by HomeTalk
Repurposed Metal Headboard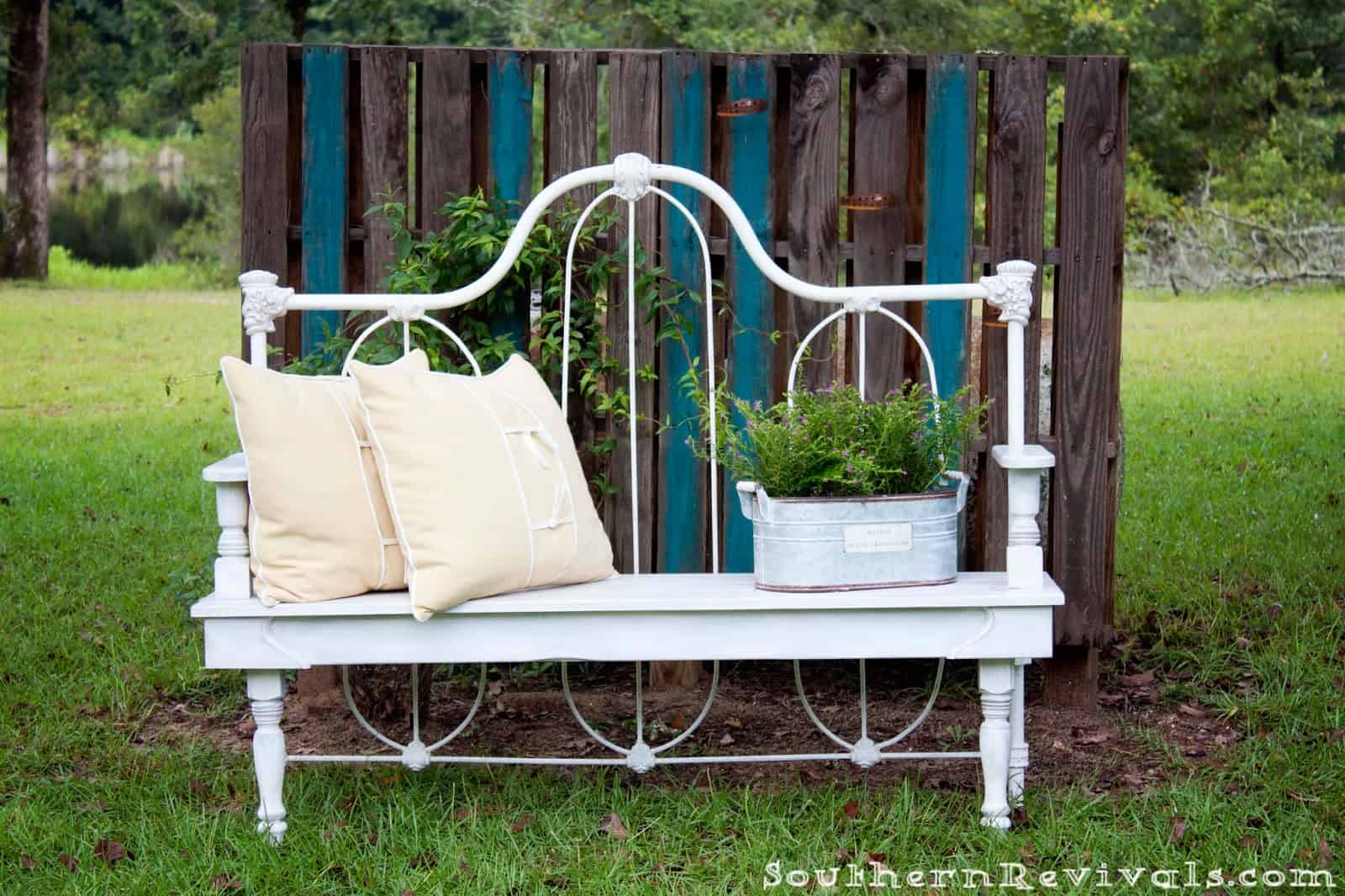 This blogger took the headboard bench a step further by using a metal piece that creates a totally different (but equally good) look. 
Since the headboard is made from metal, you don't even have to hand paint it thanks to spray paint. 
DIY Repurposed Metal Headboard Bench by Southern Revivals
Patio Block Bench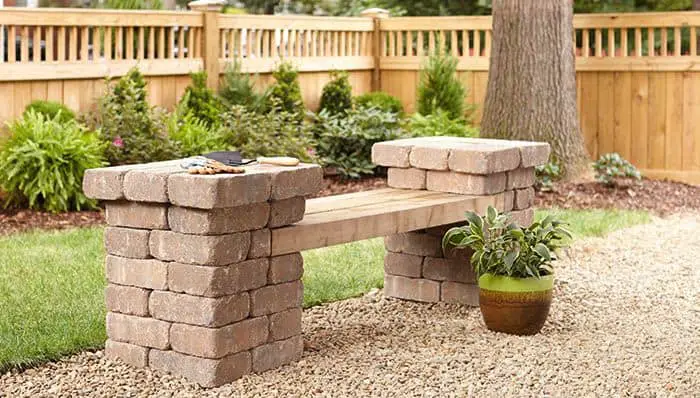 All you need are some pavers and wood to recreate this DIY patio bench. 
The stones are really easy to stack and make the final result look like a lot of work went into it. 
Build a Patio Block Bench by Lowes
Storage Bench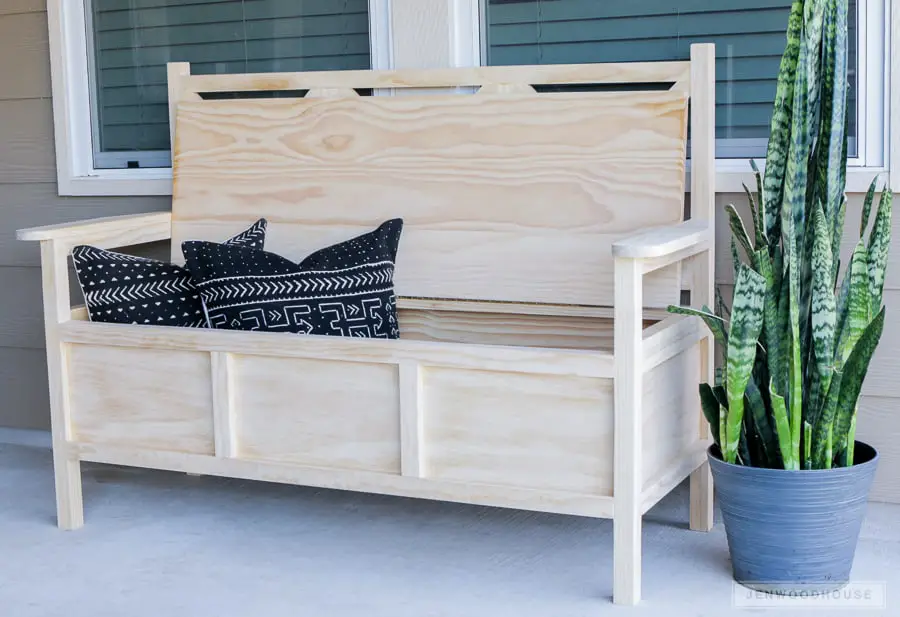 Pillows and cushions make for a really cozy outdoor space, but they need to be stored away when they aren't in use to keep them in good shape. 
This bench by Jen Woodhouse has built-in storage so you can easily put the cushions away and pull them out without having to drag them to and from a shed or garage. 
How to Build a DIY Outdoor Storage Bench by Jen Woodhouse
Easy Rustic Bench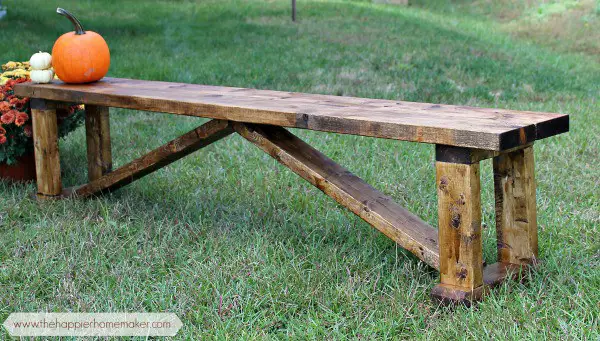 It's incredibly easy to get that rustic, worn-in look on a piece of furniture that's brand new. 
The Happier Homemaker gives step by step instructions for making a distressed-looking outdoor bench for under $20. 
Rustic $15 DIY Bench by The Happier Homemaker 
Concrete Bench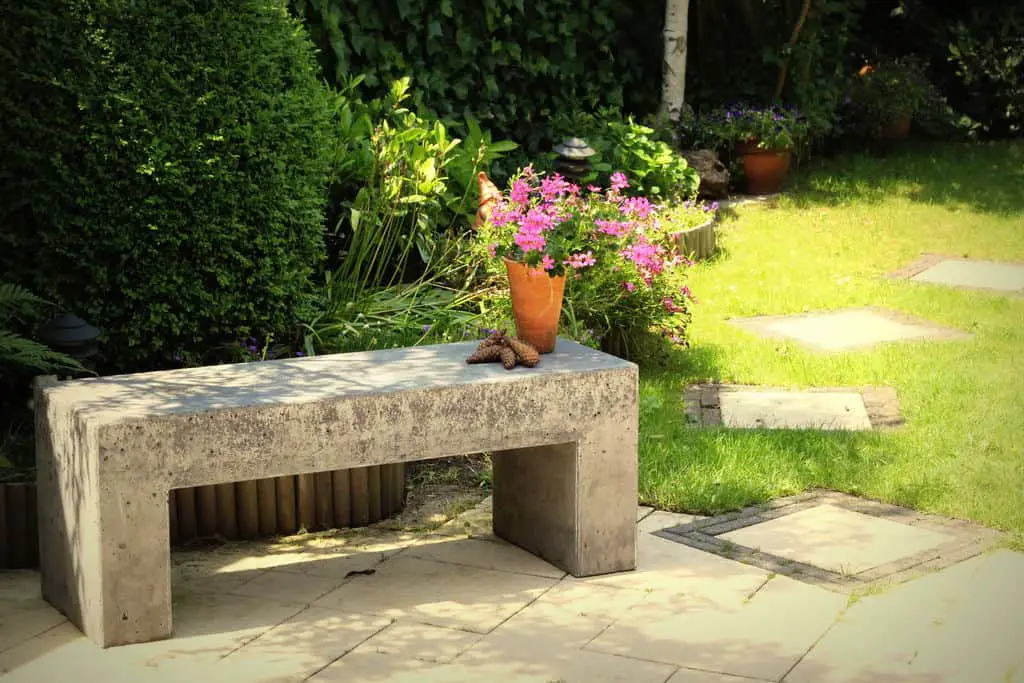 Using concrete to make an outdoor bench is a great way to ensure it will hold up no matter the weather. 
This bench is actually three separate pieces of concrete that were then molded together with more concrete to give it the sleek look. 
Concrete Garden Bench by Instructables
Funky Style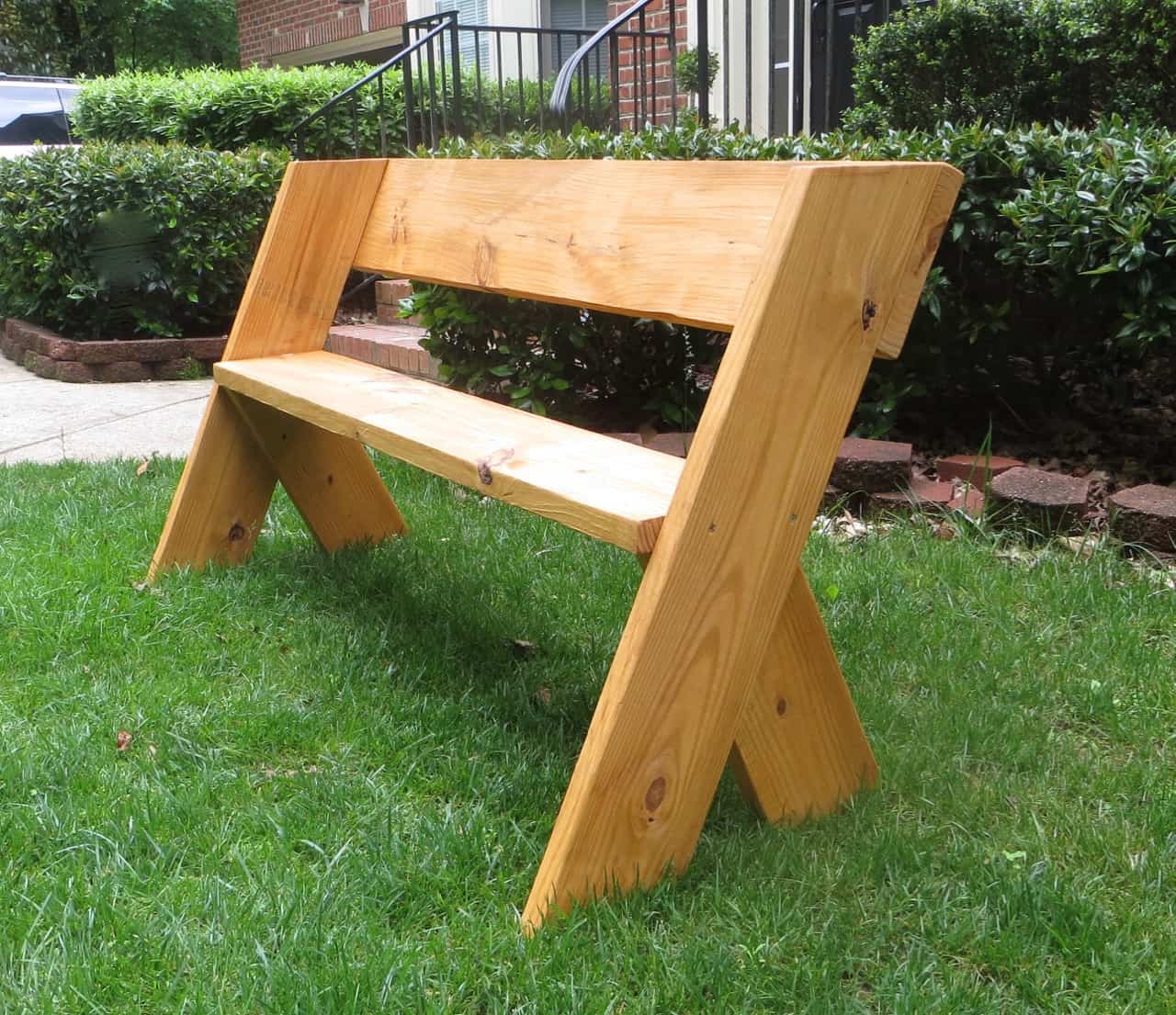 This small outdoor bench has a mid-century modern feel and cost less than $20 to make. 
Not only is it inexpensive, but The Project Lady says it was also super easy to make. 
$16 Simple Outdoor Wood Bench by The Project Lady
Simple Standard Bench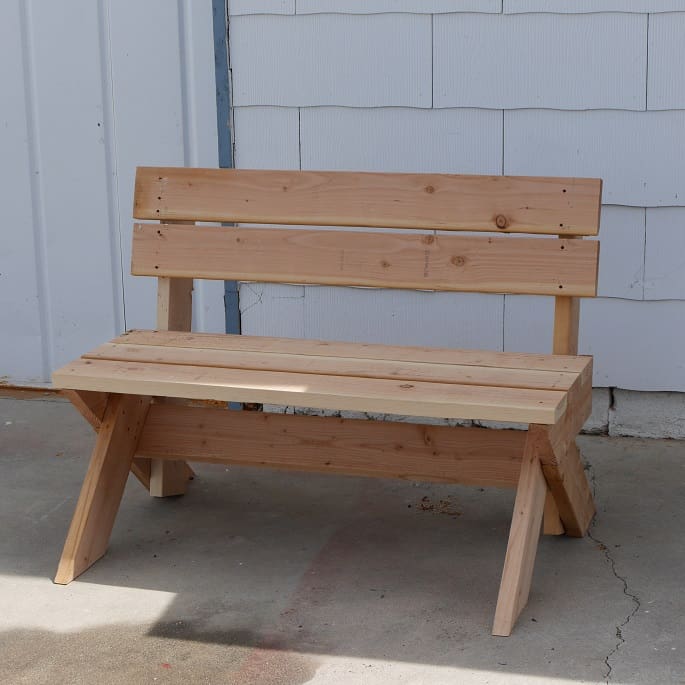 If you were to go to a park and see a bench, chances are good it would look something like this. 
Fans of this classic style can make their own version using the plans and tutorial from Construct 101. 
2×6 Outdoor Wood Bench Plans by Construct 101
Double 'X' Bench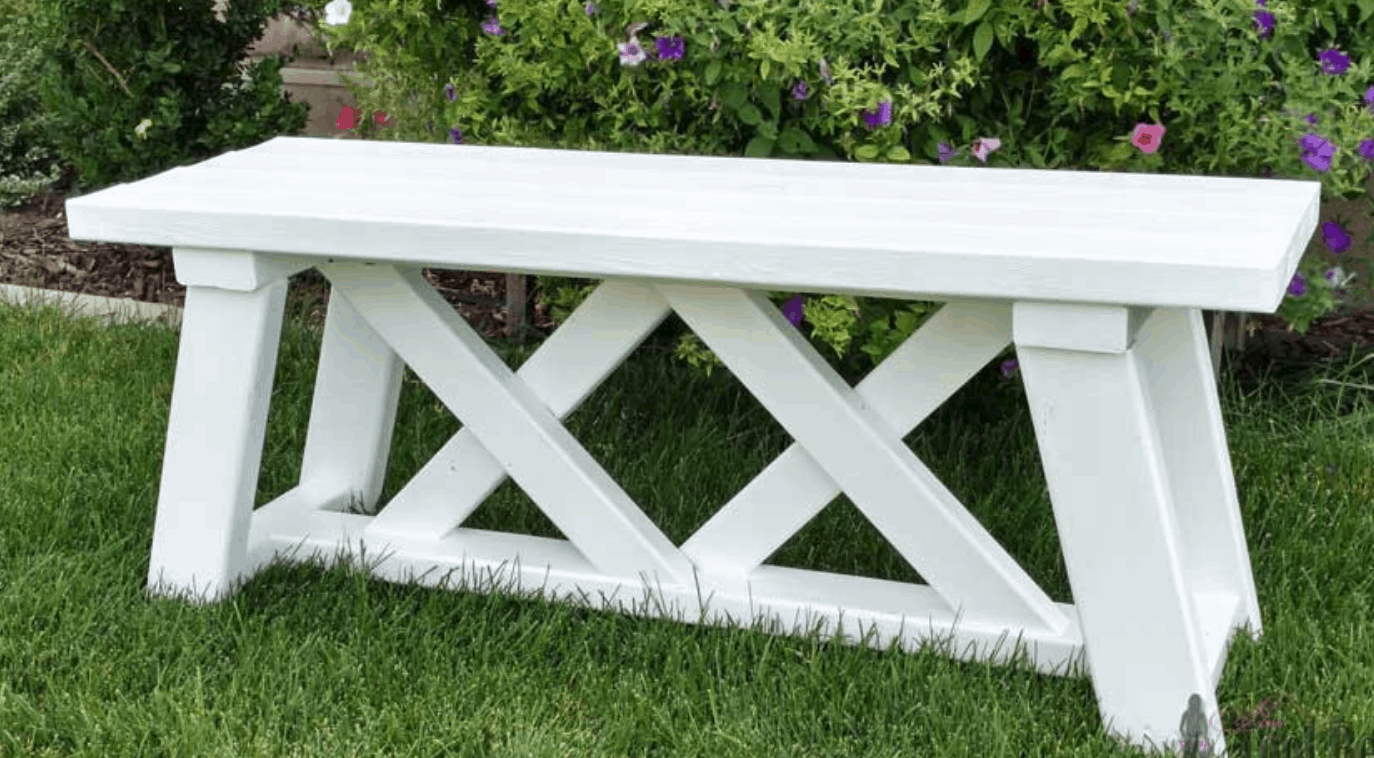 The small detail of the double 'x' design on this bench makes a fairly standard piece of furniture look a little more high end. 
This blogger opted to make hers look distressed, but it would be just as great with a solid stain or bright, fun color. 
Double X Bench Plans by Her Tool Belt
Mid-Century Modern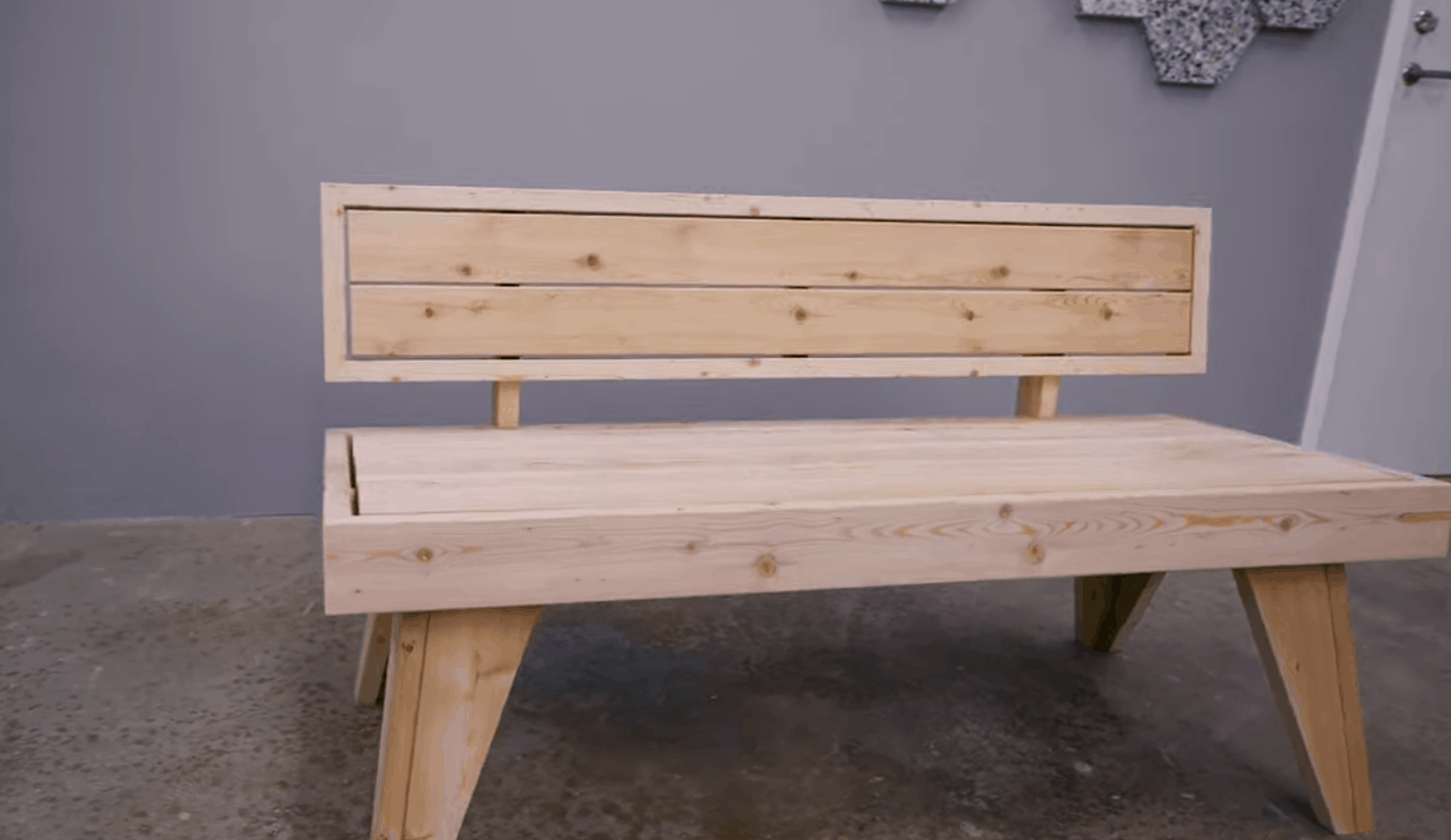 This is a true mid-century modern bench, and it's absolutely gorgeous. 
If you're interested in recreating it, check out Alexandre Chappel's YouTube tutorial (just make sure you take notes throughout so you can DIY). 
DIY Outdoor Bench by Alexandre Chappel
Repurposed Door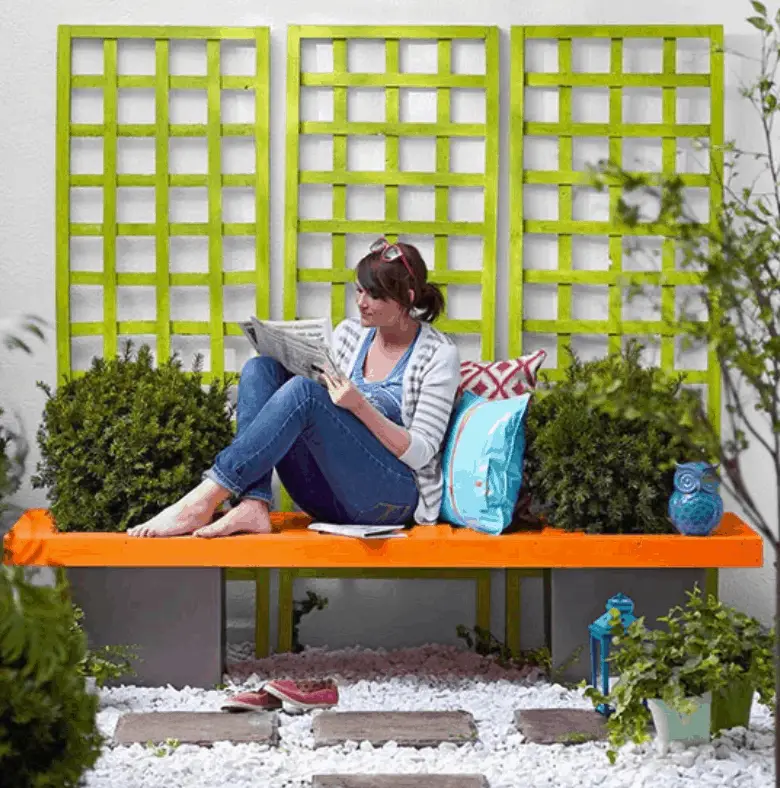 This is our second bench that was made using a repurposed door, but this one includes two planters. 
The only drawback to this design is that there isn't a ton of space for people to sit, but if you just need a spot for one or two people, this is a great option. 
How to Build a Garden Bench by Better Homes & Gardens
Ski-Back Bench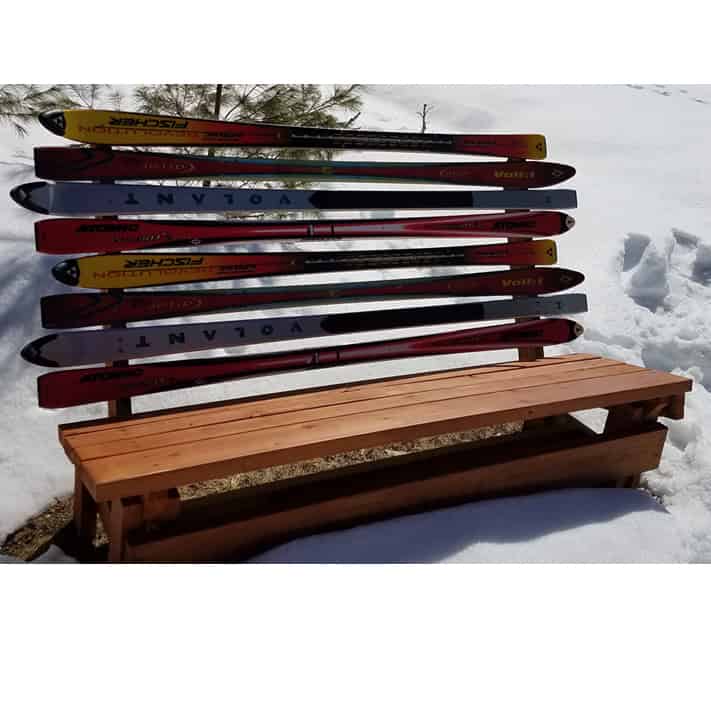 In all fairness, this isn't one of the easiest bench designs simply because it requires you to have skis on hand or have access to buying some. 
But, it can also serve as some fun inspiration for a similar model using something else you do have on hand that's personal for you. 
DIY Ski-Back Bench by The Family Handyman
'L' Shaped Bench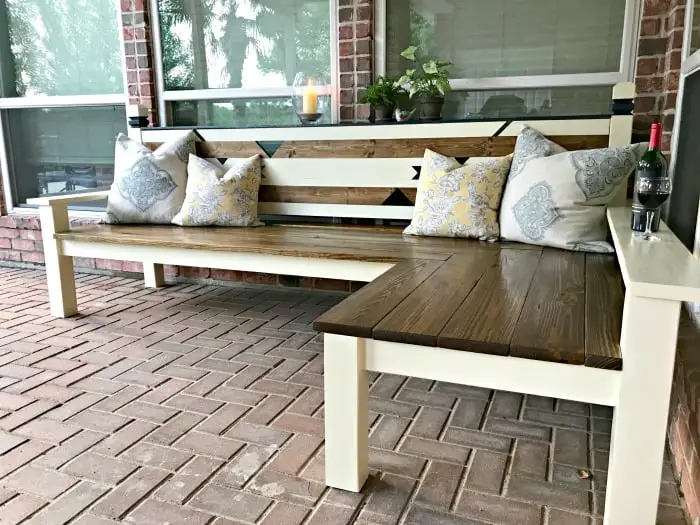 This is basically the "sectional" version of a bench, and it's gorgeous! 
It's a great project for someone who likes to host or with a big family that likes to sit outside together. 
L-Shaped DIY Backyard Bench by Abbotts At Home
Conclusion
Whether you want a simple spot to clear your mind, a cozy place to lounge, or something that's big enough for you and your friends to enjoy a bonfire, there is no reason you can't DIY. In fact, you may even be able to use up some of your scrap wood on the project. 
By making your own outdoor bench, you're creating a custom one-of-a-kind piece that will serve whatever purpose you need it to perfectly.