23 DIY Wood Stoves To Keep You Warm
Whether you love to camp, want to keep your tiny home toasty, or just want one for your own backyard, a homemade wood stove is a fun project with a big reward. 
Wood burning stoves can help you save energy and they can give your food a delicious wood-oven flavor (if you're using one to cook). They may seem intimidating, but a good DIY wood stove is worth the time and effort to make.  
Budget-Friendly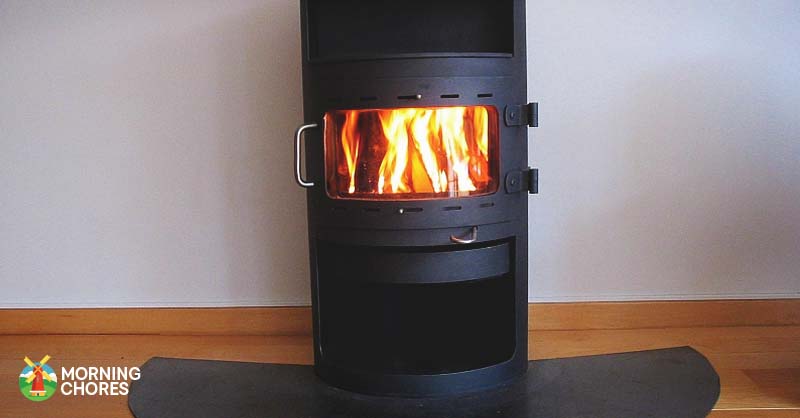 Upon first look, you wouldn't think this stove would be easy on the wallet, but it actually is. 
This blogger found that he was able to make his stove for significantly less than the average wood stove retails for (he found it to be around $300). 
How to Build a Wood Stove Inexpensively by Morning Chores
Recycled Gas Tank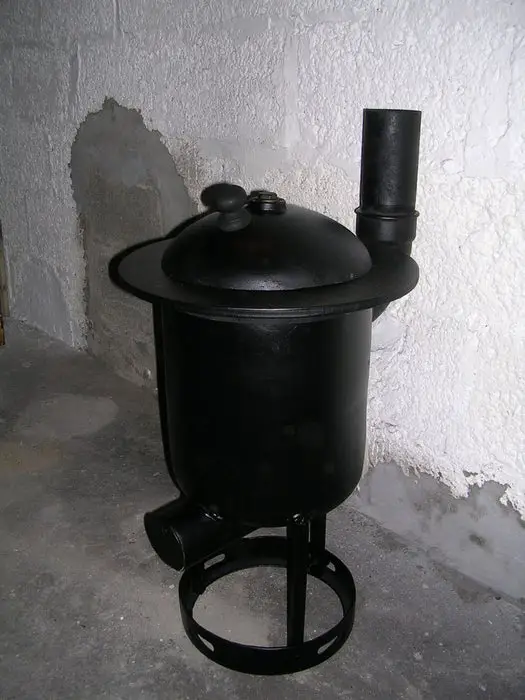 If you have an old propane tank, you have the makings for a DIY wood burning stove. 
Check out Instructables to get step-by-step instructions to recreate this professional-looking DIY project. 
DIY Wood Burner Pot Belly Stove by Instructables 
Scrap Pieces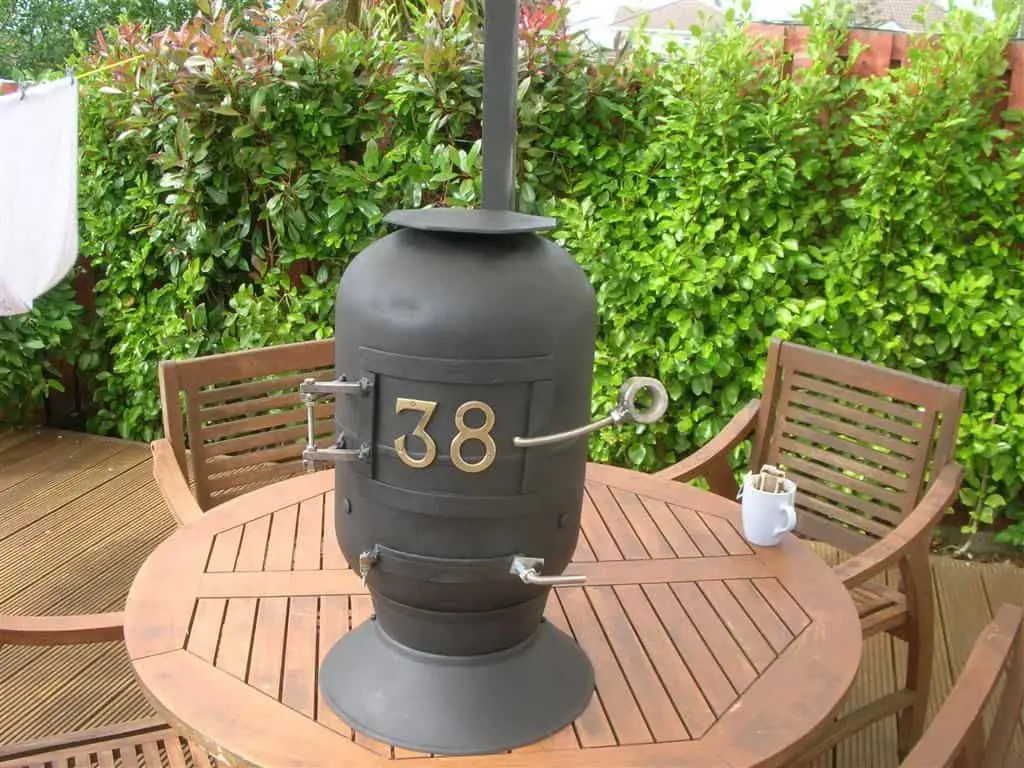 According to this DIYer, he was able to create a nice little outdoor wood stove for around $20! 
He used scrap metal he found around his garage, a lot of which you probably have somewhere around your home, too. 
Wood Stove Made From Scrap by Instructables 
Tire Rims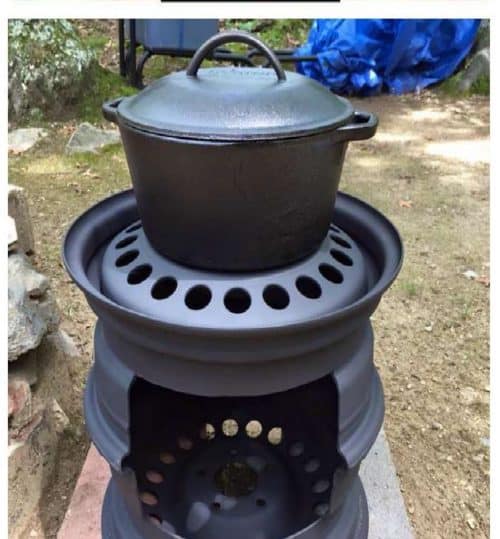 Who knew you could make a wood stove out of discarded tire rims? 
The blogger who made this stove uses it outdoors, but says it's best for a permanent spot (rather than for camping) because it's pretty heavy. 
DIY Wood Stove From Tire Rims by The Prepared Page
For The DIY Pro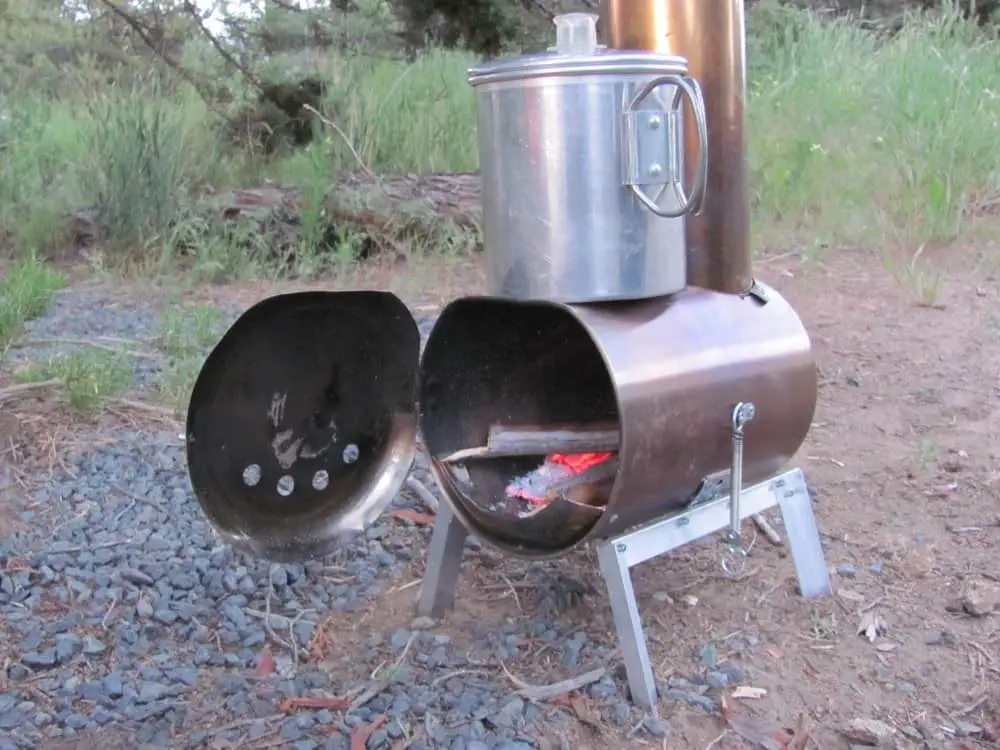 There's no way to sugar coat this, you're going to be pretty skilled at DIY in order to make this wood burning stove. 
But, if you have the skills, it's totally worth it! The end result not only looks great but is efficient and reliable as well. 
Make Your Own Wood Stove by Hill People Gear
Small & Mighty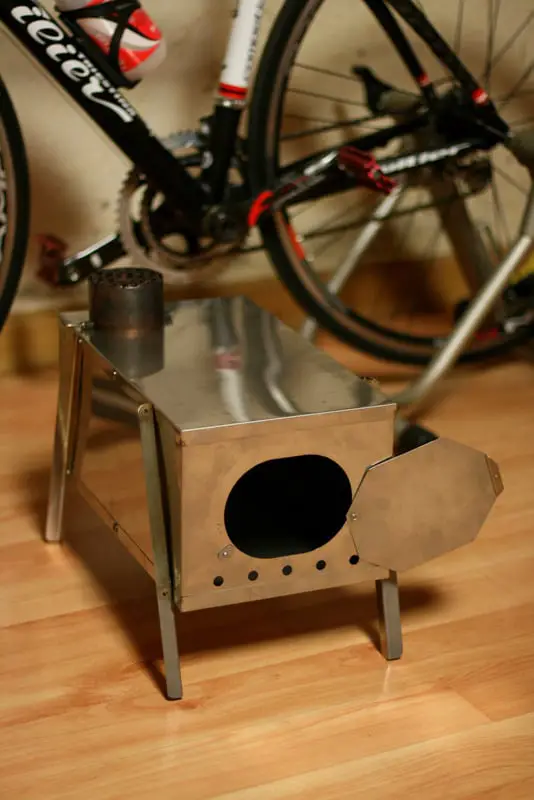 The best thing about a small heater is that, if it's built right, it can heat a really large space despite its size. 
This blogger created a small heater that packed a serious punch. His project serves as some good inspo for the aspiring DIYer. 
DIY Wood Stoves by Manta Bushcraft Blog
Mass Heater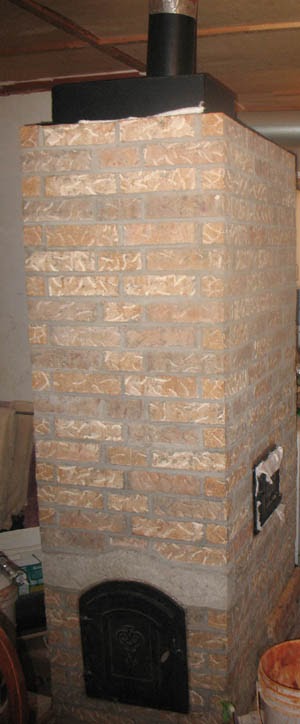 The harsh truth about this homemade wood heater is that it's not a project for just anyone. It requires a lot of skill to get those hand-crafted results. 
If you're up for the challenge, this blogger made this heater for around $600 but it keeps the family cozy even during frigid 20-degrees nights. 
Homemade Mass Heater by Permies
Sheet Steel Stove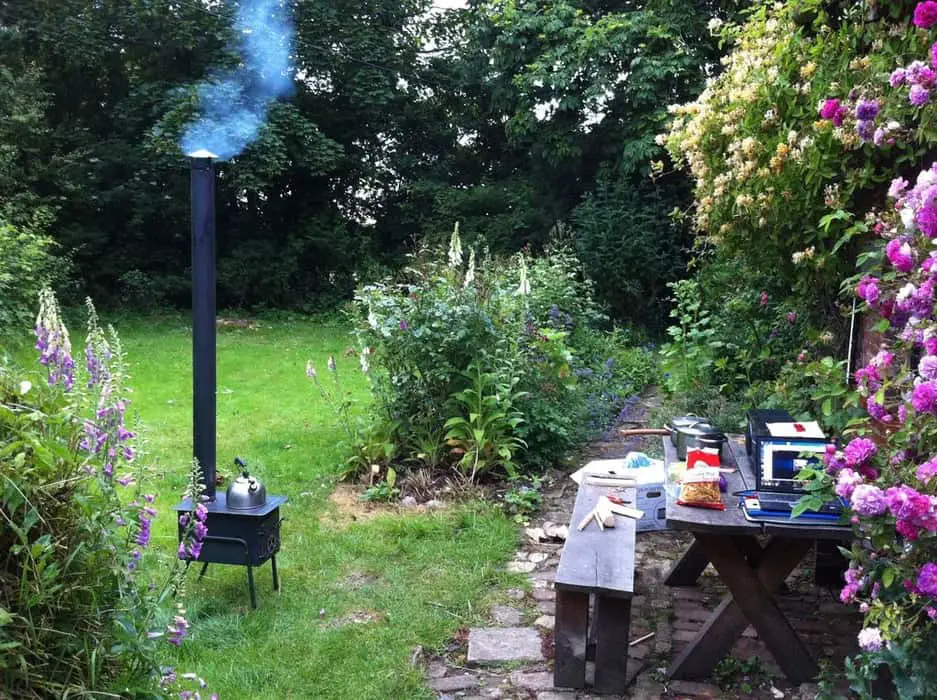 This stove is made out of sheet steel and looks beautiful. The person who made it says he's not a professional, just a person with a workshop. 
It's unclear just how easy it is to make this wood burning stove, but it's worth a shot because it's effective and looks great. 
Wood Burning Stove from Sheet Steel by Instructables 
Wood Stove Plans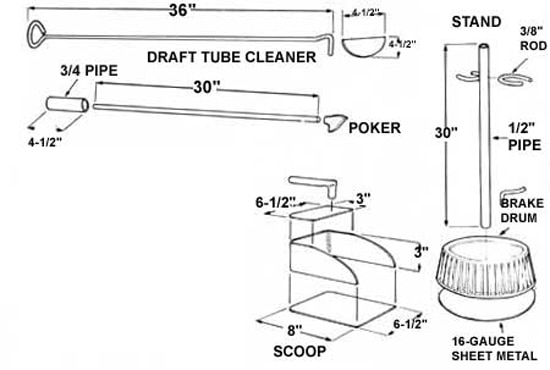 If you're already on board with the idea of making your own stove, but just need some plans on how to do it – here you go!
Going this route, you can get a little creative and put your own style on the design. 
Homemade Wood Burning Stove by MOTHER
High Quality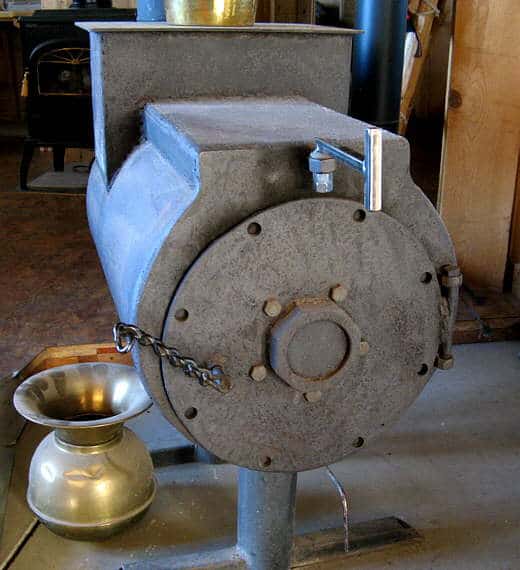 This is not a flimsy, small-scale DIY wood burning stove. This one means serious business! 
The blogger who created this stove laid out all the steps he took to build it. You can check out his tutorial and see if you're up to the challenge of making one of your own. 
Build a Wood Burning Stove by Purple Sage Trading Post
Gas Bottle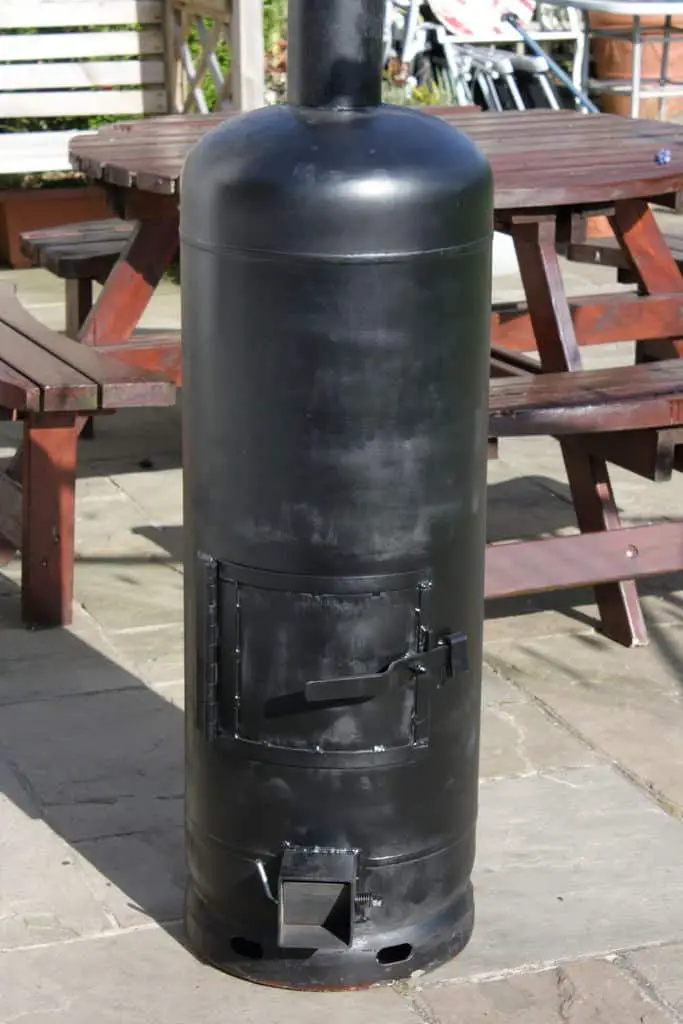 For this wood burning stove, you need an old gas bottle and a handful of other smaller materials. 
For the most part, this is a pretty straightforward DIY and you will be up and running with your new wood burning stove in no time! 
Gas Bottle Wood Burner by Instructables
Compact Wood Burning Stove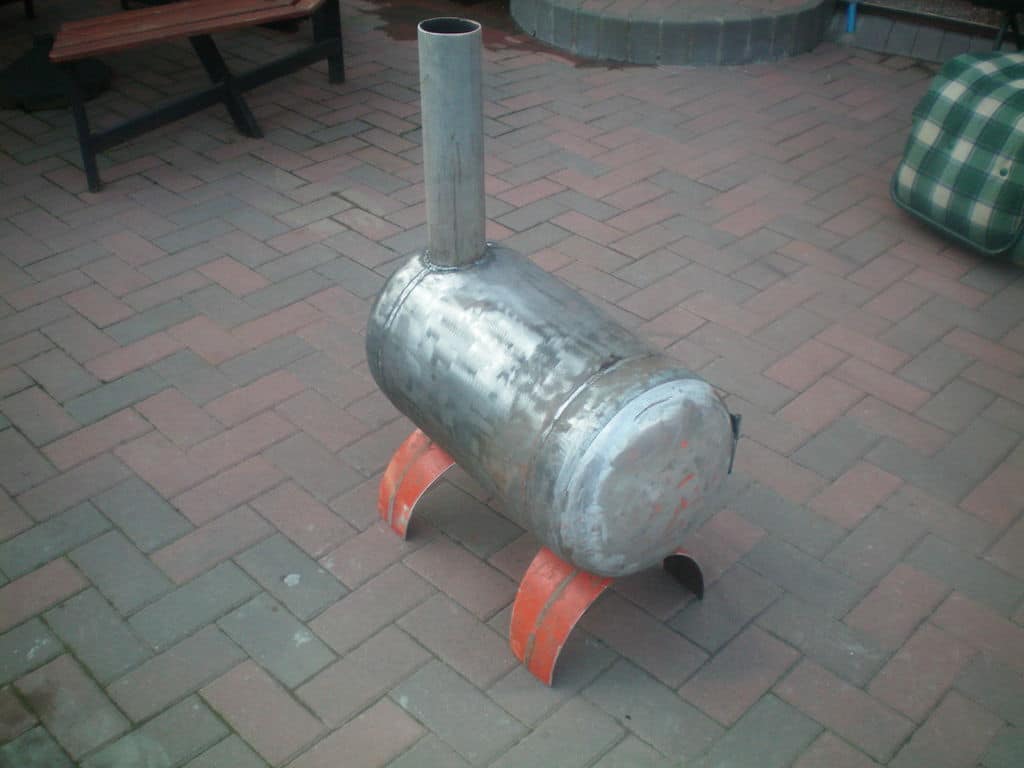 This isn't the smalled DIY stove on this list, but it's still compact and produces a lot of heat!
To make it, you'll need a gas bottle to put on its side rather than upright. The blogger ran into some airflow problems during the initial build but if you read through community comments you can learn from his mistakes to make yours right the first time around. 
Gas Bottle Wood Burner by Instructables
Beautiful and Timeless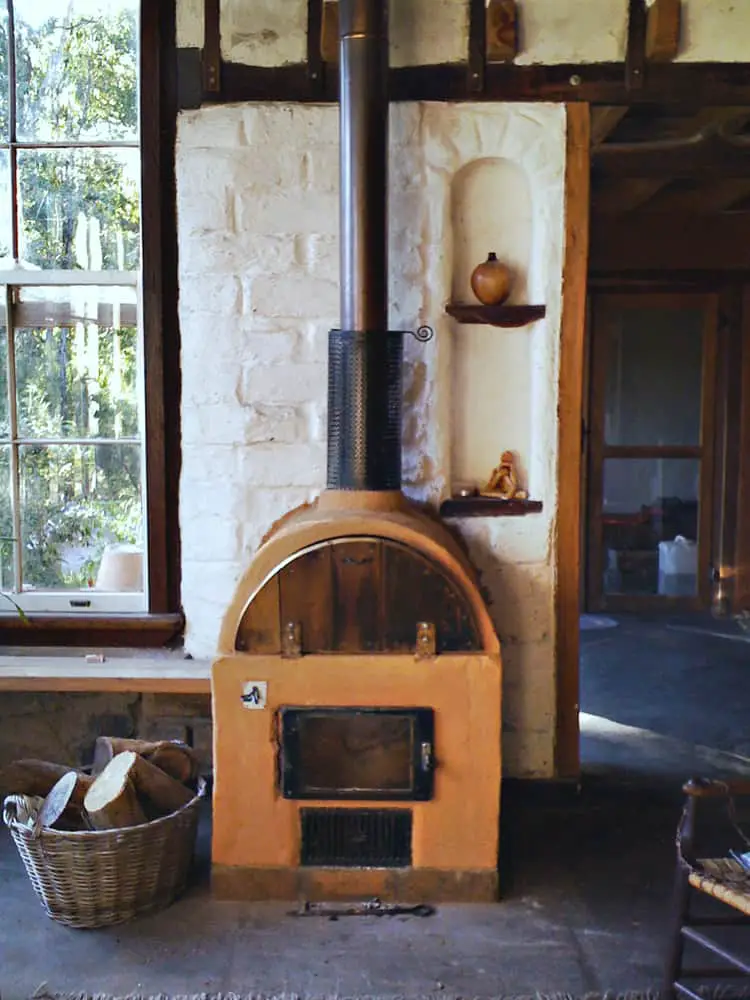 It's hard to believe that this stove was built for under $200! It's gorgeous, functional, and apparently even makes a good cake!
There aren't any step-by-step instructions for recreating this model, but it can serve as some great inspiration for someone wanting to get a little extra with their DIY wood stove.
Homemade Wood Heating Stove by Natural Building Blog
DIY Rocket Stove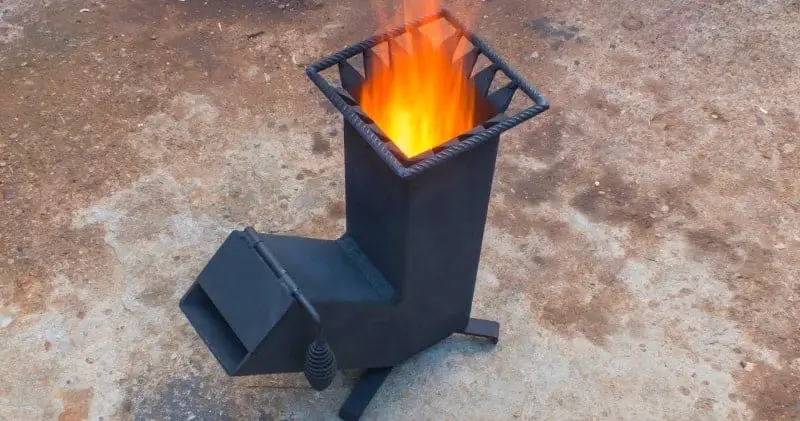 This wood heater not only works great but it also just looks really cool. 
This is a "rocket" style wood burning stove, and it can be easily made at home. 
DIY Homemade Rocket Wood Burning Stove by Sia Magazin
Upcycled Propane Tank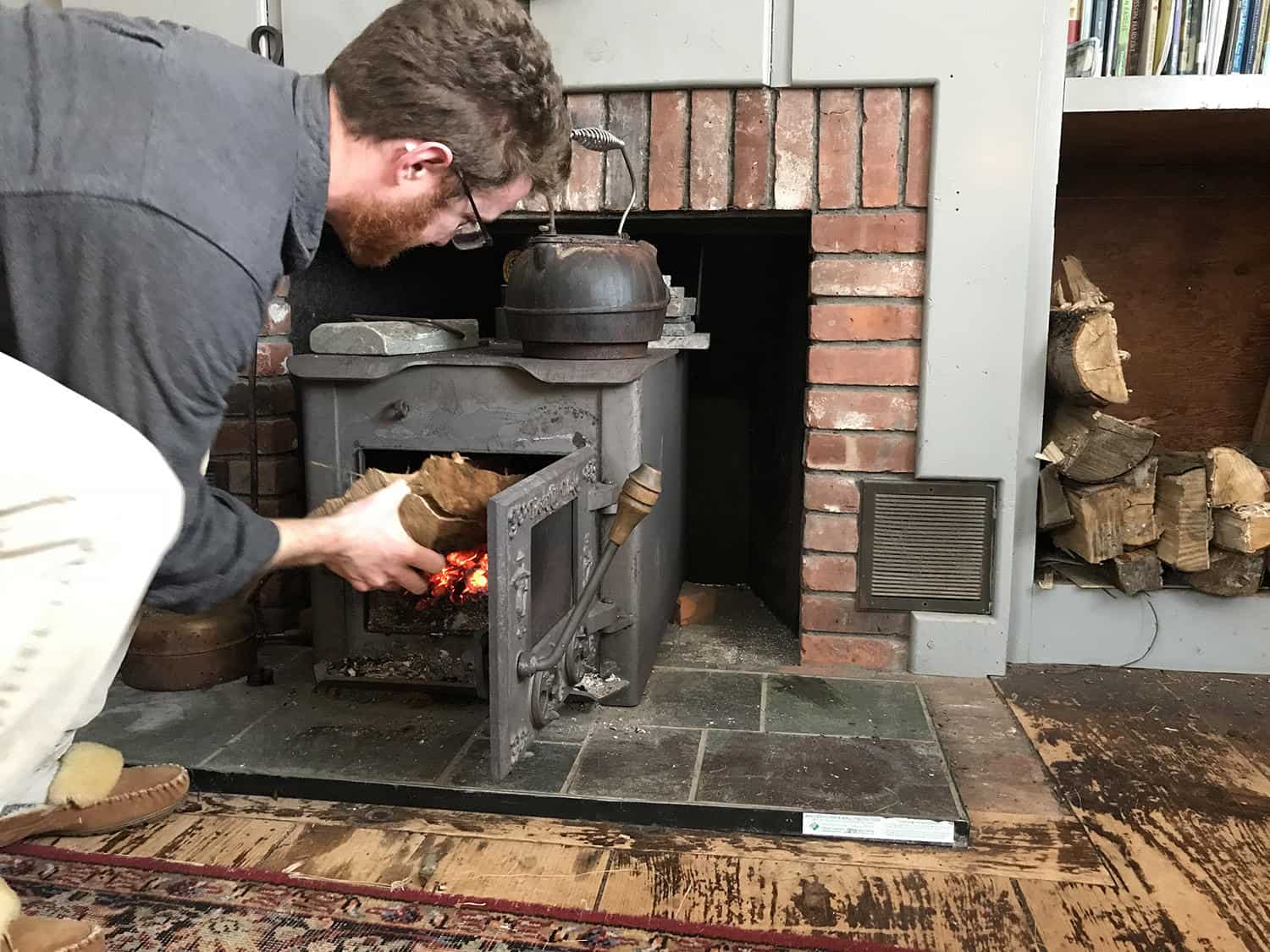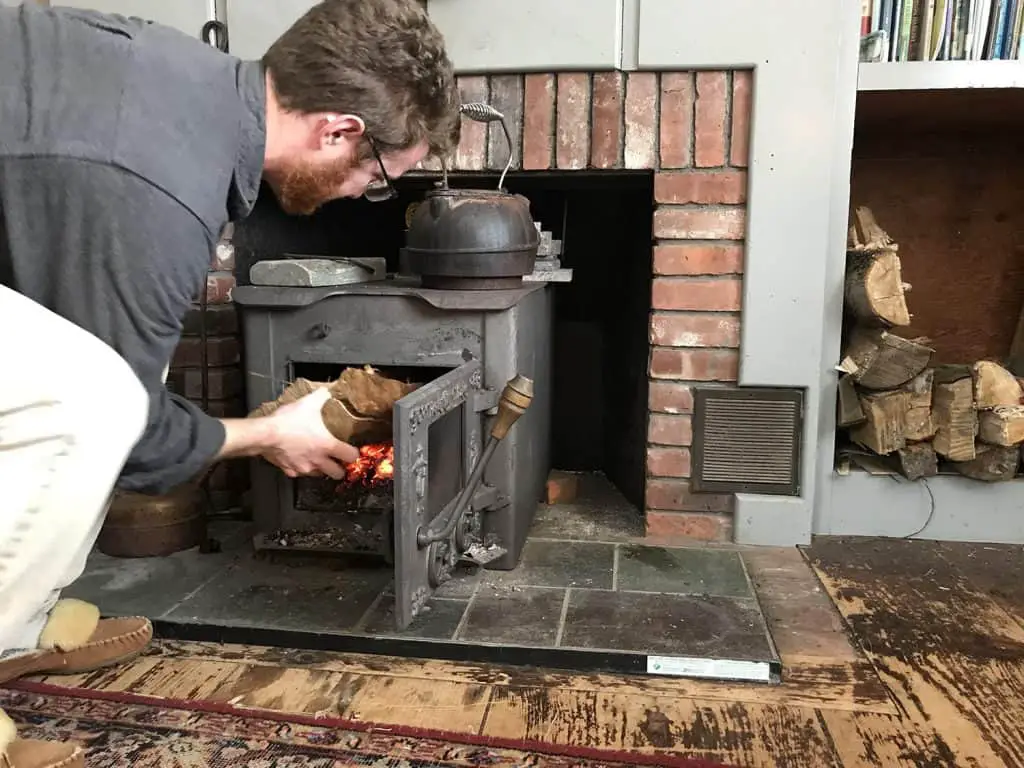 Here are some more examples of wood burning stoves that you can make from a discarded propane gas tank. 
The technique may be similar in all of them, but the design is a little different. This is a project you can put your own touches on to make it your own. 
Propane Tank Made Into Wood Stove by Expo Cafe Peru
Garage Wood Stove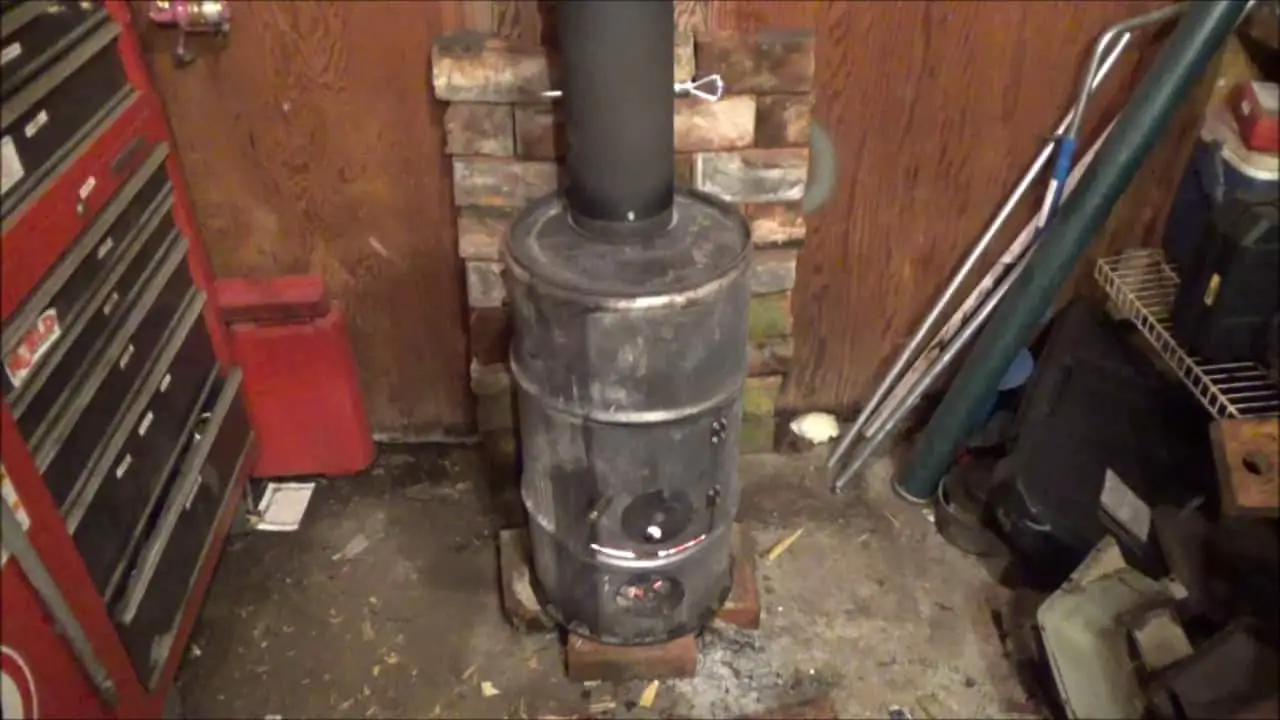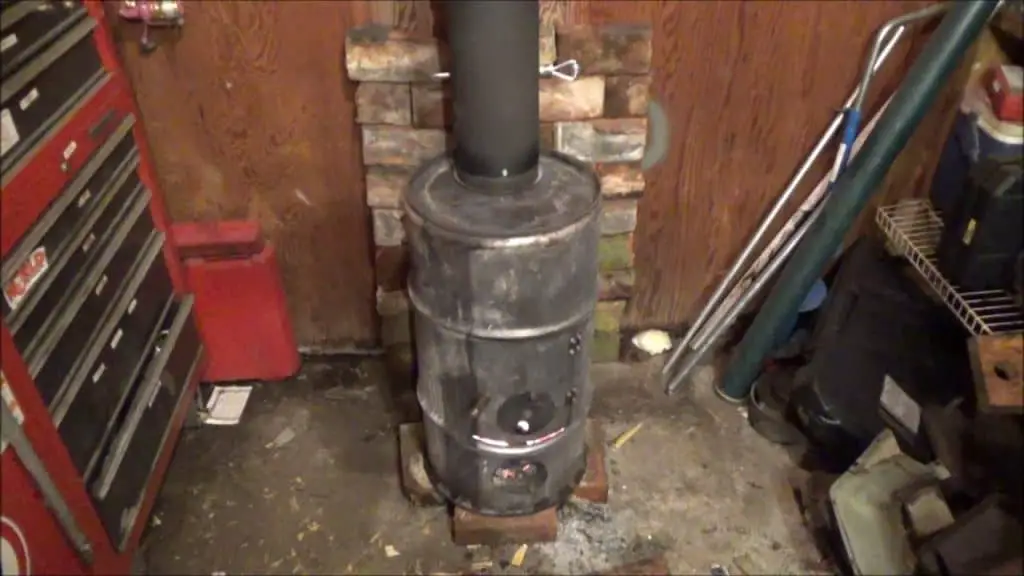 If you've never looked up a YouTube tutorial video to get you through a project, have you ever even done a DIY project? 
This video isn't going to give you step by step instructions to recreate this garage wood burning stove, but it does give you an overview to help you get started.
My Super Cheap DIY Wood Burner For The Garage – YouTube
Camp Stove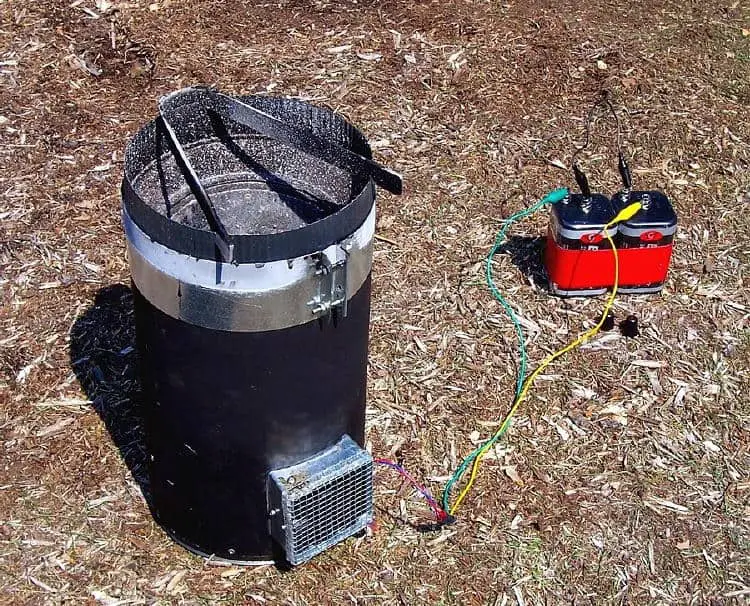 You still have to eat when you're camping, right? You can make yourself a wood burning stove to help you cook delicious meals while you're roughing it. 
It does require a little wiring work, but it's portable and will allow you to eat well even in the woods! 
Doc's Smity Camp Stove – Homemade Wood Burning Stove by Backpacking
Mailbox Wood Stove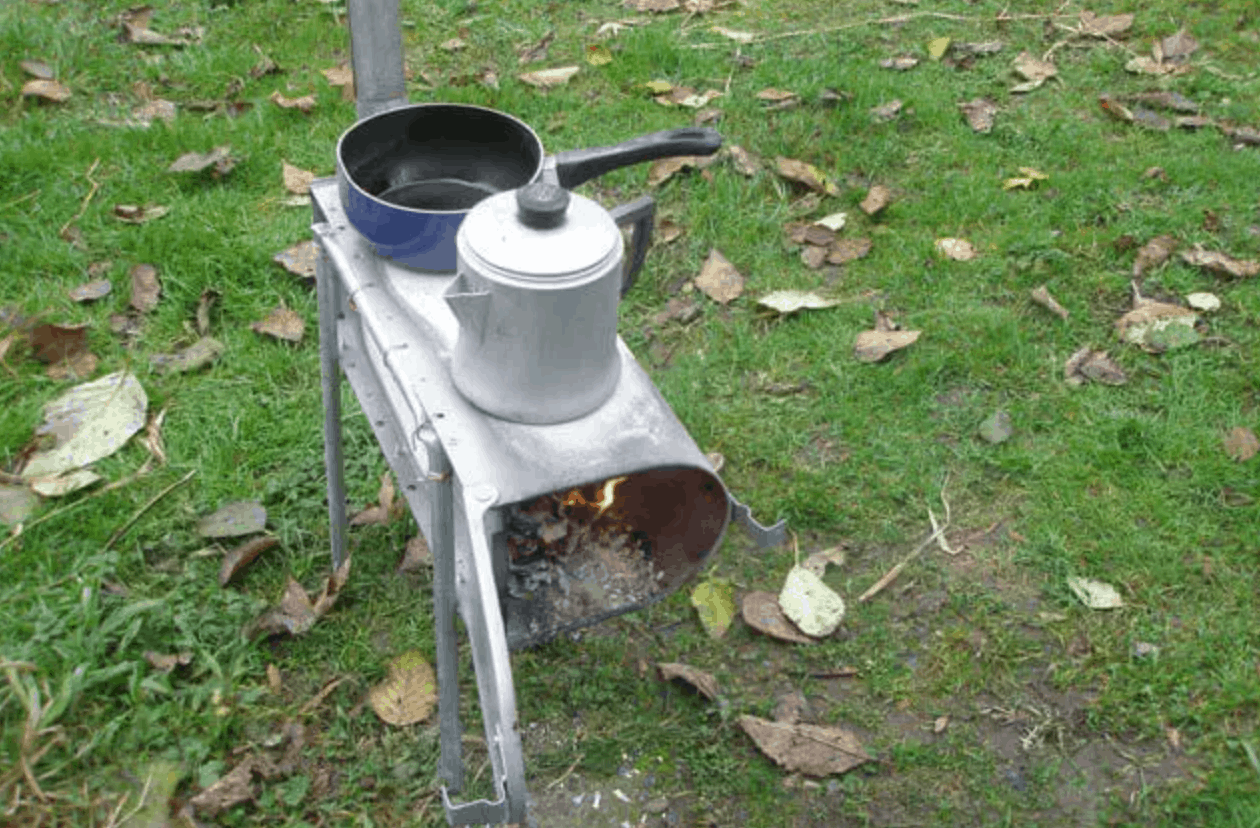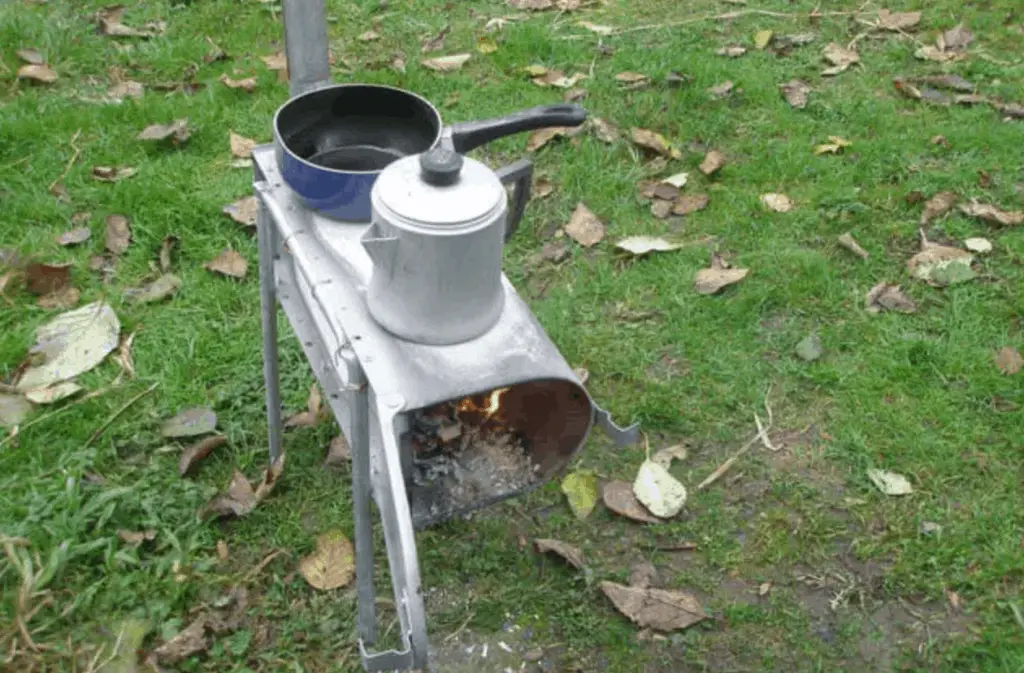 Do you have an old mailbox that you aren't using anymore, but don't want to throw out either?
You can use it to make a homemade wood stove! Just turn it on its side, attach some piping for ventilation, and you have a functional DIY wood stove. 
Build a DIY Mailbox Wood Stove by Knowledge Weighs Nothing 
Wood Burning Grill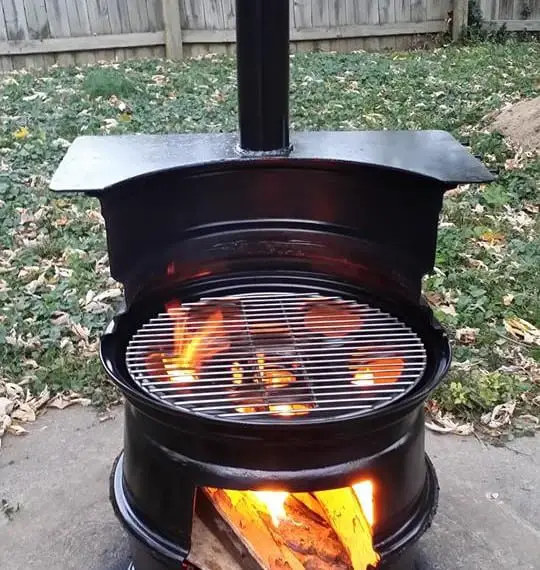 So this isn't technically a stove, but a wood-burning grill is definitely worth having! 
You can make hot dogs, hamburgers, pizzas, kababs, and so much more on a grill. This project is a no brainer. 
How to Make a BBQ/Grill Out Of Old Wheel Rims by Eco Snippets
Cook Top Stove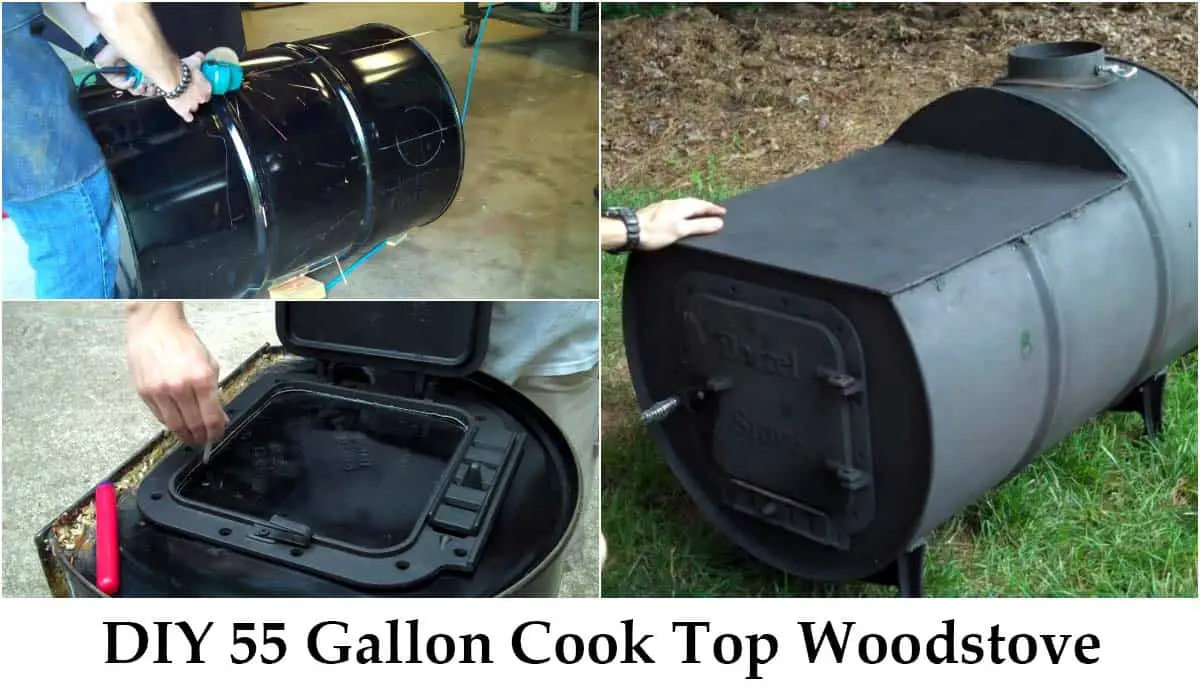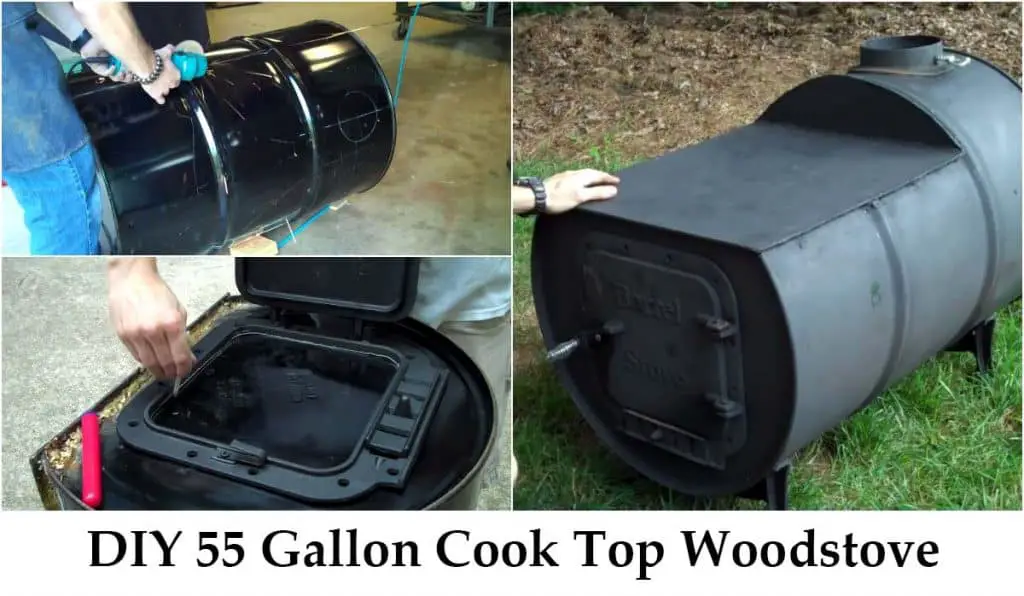 This wood burning stove has a top that makes it easy to actually cook on it, so it's not just about heat. 
Think of all the meals you can make using this! Plus, it's big enough for you to cook for yourself and some guests. 
DIY 55 Gallon Cook Top Wood Stove by Home and Gardening Ideas
Easy As It Gets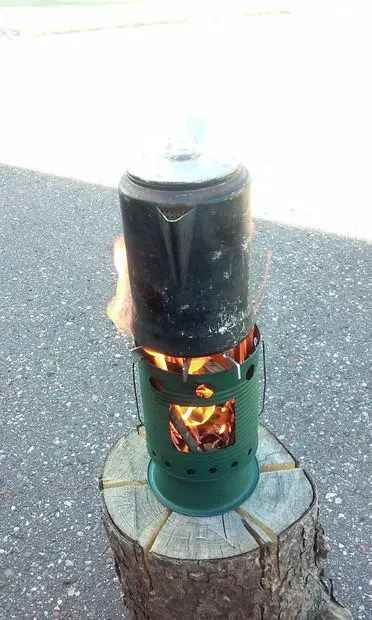 Okay, this isn't the most aesthetically pleasing wood burning heater on this list, but it is probably one of the easiest.
All you need is an old coffee can, some twigs, and some imagination and you have all the makings for this little project. 
DIY Wood Stove by DIY Idea Center
Perfect Outdoor Stove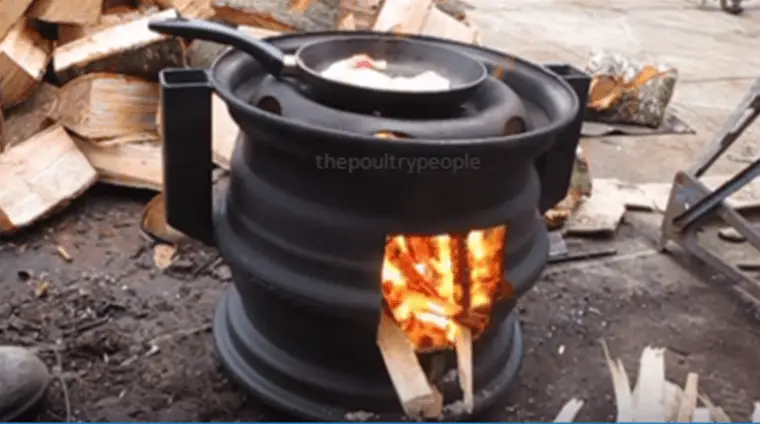 What's great about this DIY wood burning stove is that it can be used to cook or to simply warm you if you want to enjoy the outdoors on a chilly night. 
It has a flat top that allows for easy cooking, and an opening meant to keep you warm (which also happens to be large enough to cook a marshmallow in, just saying). 
DIY Wood Stove by Brilliant DIY
Electric Water Heater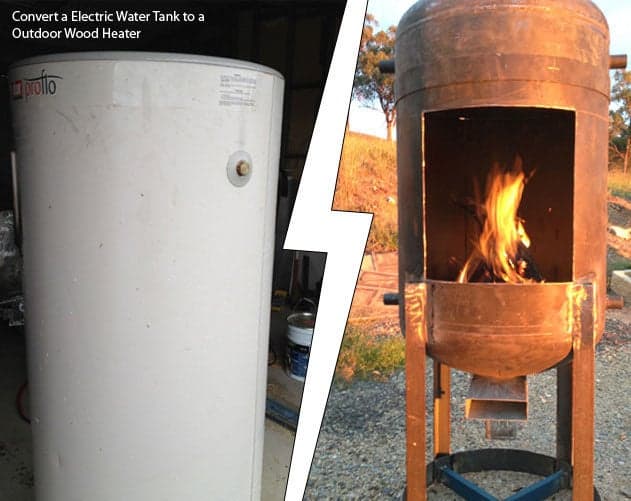 Admittedly, not everyone has an old water tank laying around their house that they can convert into a wood burning stove, but you never know what you can find in a salvage yard! 
Since it's so big, the person who originally made the model ultimately modified it to turn it into an outdoor woodfire pizza oven. 
Convert An Electric Water Tank to an Outdoor Wood Heater by Instructables
Conclusion
Making a DIY wood burning stove likely won't be one of those projects that you have all the materials necessary just laying around the house. That doesn't mean it's not worth trying. If you're a novice DIYer, this is a great opportunity to jump to that next skill level. 
No matter the scale or purpose, a wood burning stove will provide you with warmth and, if nothing else, a spot to cook a really good marshmallow.