35 DIY Trellis Ideas To Spruce Up Your Garden
If you're trying to grow lush vines, delicious tomatoes, or you just want a little privacy from your neighbors, you need a trellis. Learning how to build a trellis is easy and makes for a simple DIY project for beginners.
There are a ton of different styles and types of trellis options depending on what you want to use it for, too. Here are a few of our favorites that you can definitely DIY. 
Stick Trellis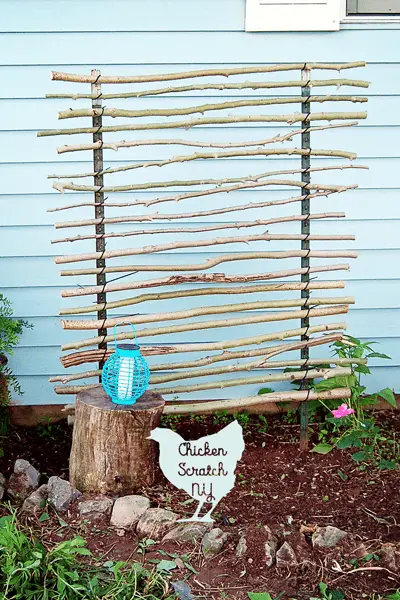 This is about as simple, and as inexpensive, as they come. 
For this trellis, all you need are two posts and then some sturdy sticks or branches you can find nearby. So easy! 
Cheap DIY Garden Trellis by Chicken Scratch NY
Honeycomb Inspired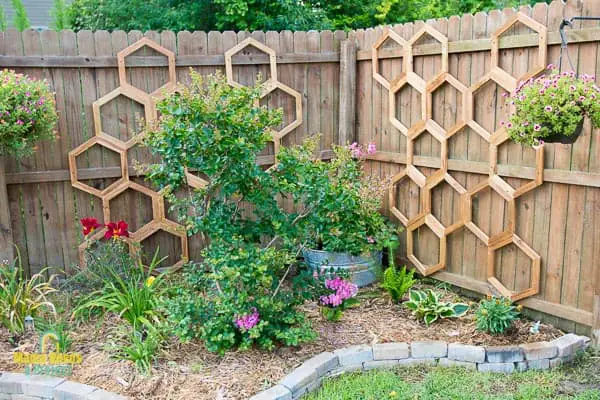 For this design, you'll need a miter saw to get the angled cuts just right. But, just look at what it creates! 
This blogger hung these honeycomb trellises on her fence to liven things up a bit, and they look fantastic.
Honeycomb Garden Trellis by Mama Needs a Project
Funky Design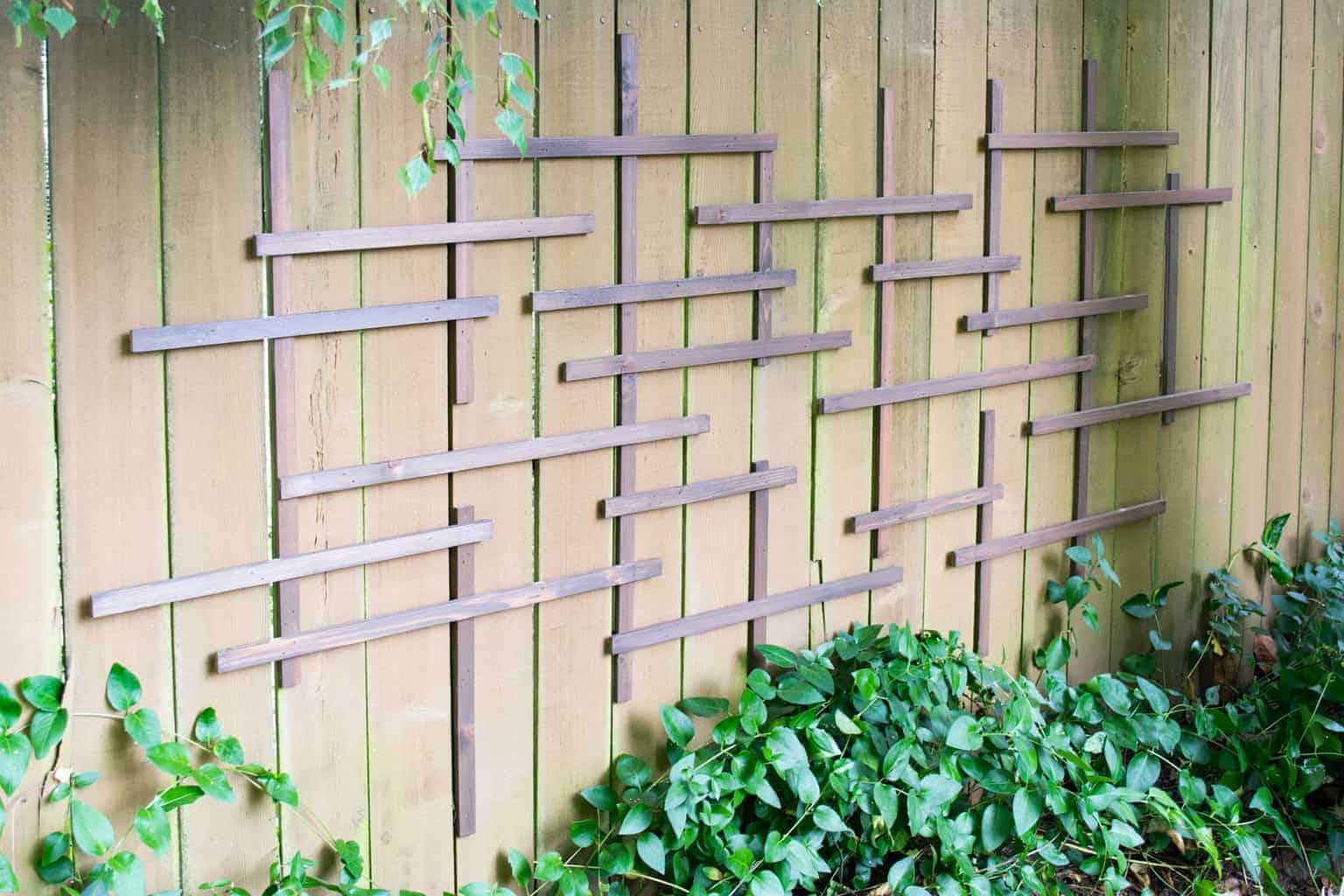 What's great about this trellis is that it looks really unique, but doesn't require much DIY skill at all. 
This blogger just strategically placed her cross-sticks to give her trellis a different look, but the same functionality. 
Add a Clematis Trellis to Your Boring Flat Fence by The Handyman's Daughter
Arched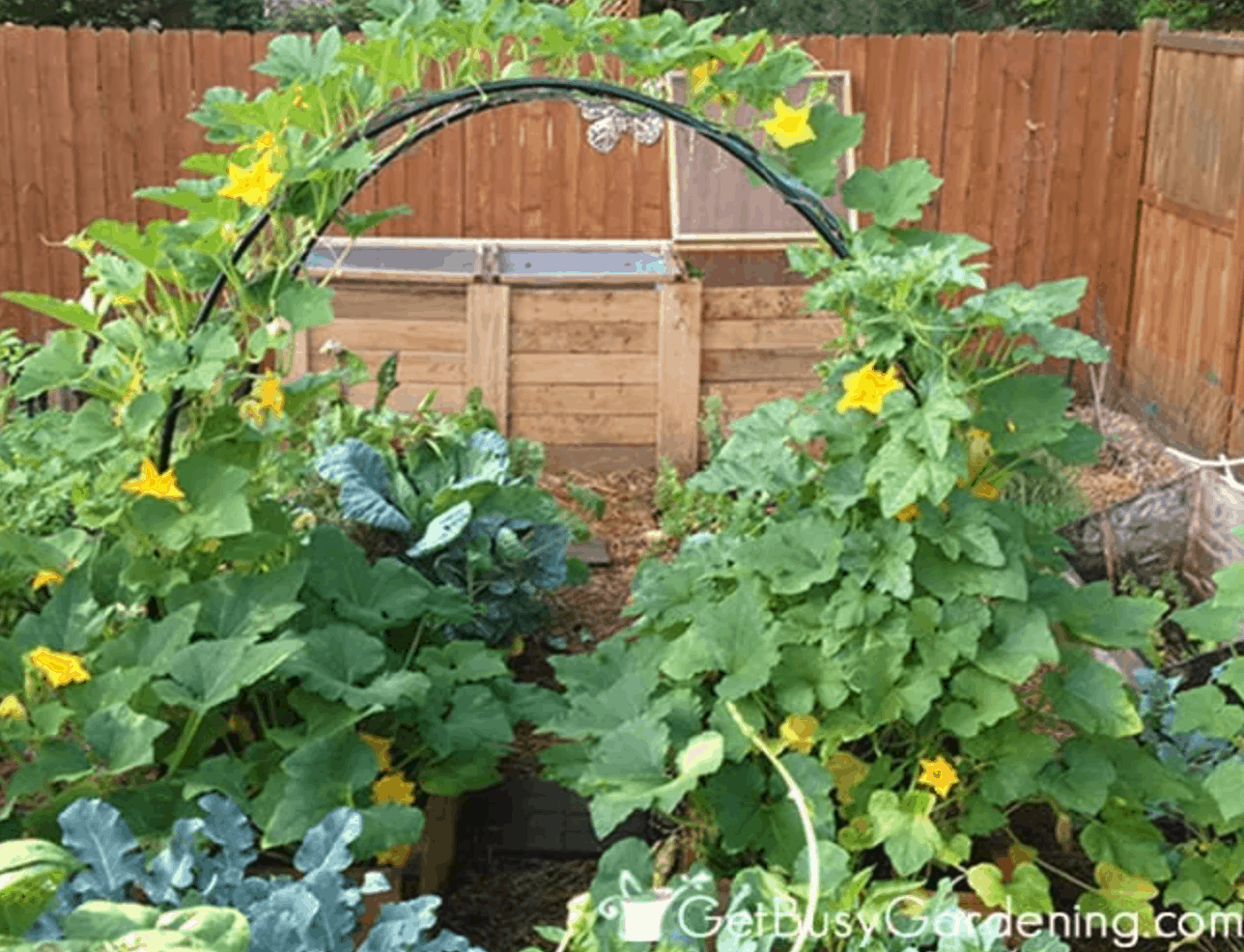 Some things grow better on arched trellises, like squash. 
You can recreate this blogger's squash arch very easily, and you'll have a stylish garden and great crops out of it. 
How to Build a Squash Arch For Your Garden by Get Busy Gardening
Upright Copper Trellis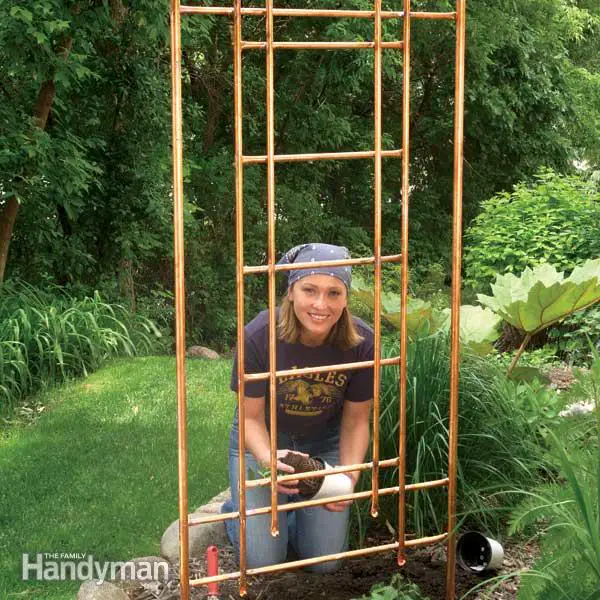 This copper beauty is one of the best garden trellis ideas, ever. 
The metallic copper gives the trellis a little but of style, so it's more aesthetically pleasing but doesn't take away from the functionality. 
How to Build a Copper Trellis for your Garden by Family Handyman
Potted Trellis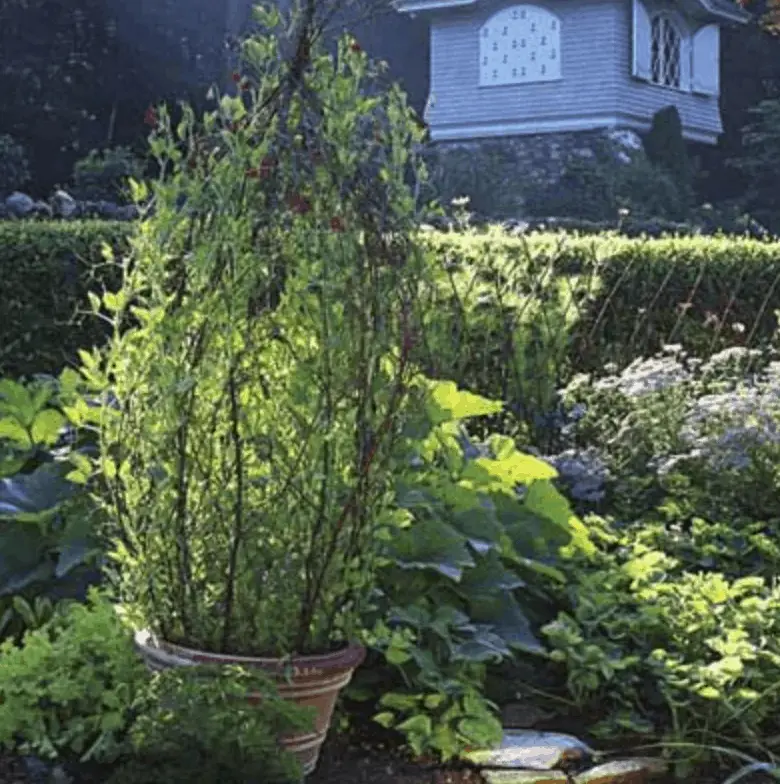 If you don't have a fence wall or other space to put a large trellis, a planter and some sticks can work! 
This Old House's potted trellis idea is a really unique solution to a small space. 
How to Build a Branch Trellis in a Pot by This Old House
Pallet Trellis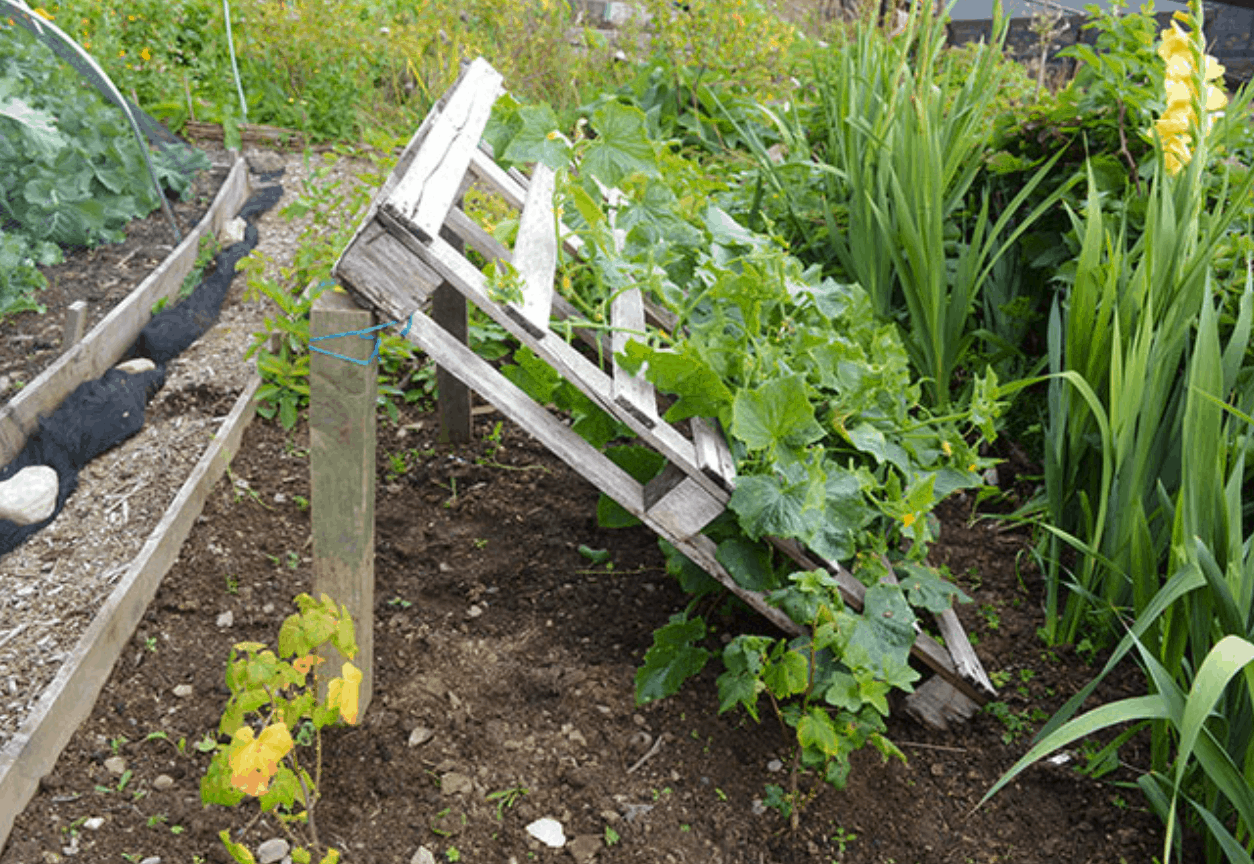 For every DIY project, there is a way to execute it using a discarded pallet. 
There's not much DIY needed for this pallet trellis, though. All it takes is a little engineering to get the pallet to stand up just right. 
DIY Pallet Trellis for Cucumbers by Lovely Greens
Basic Cedar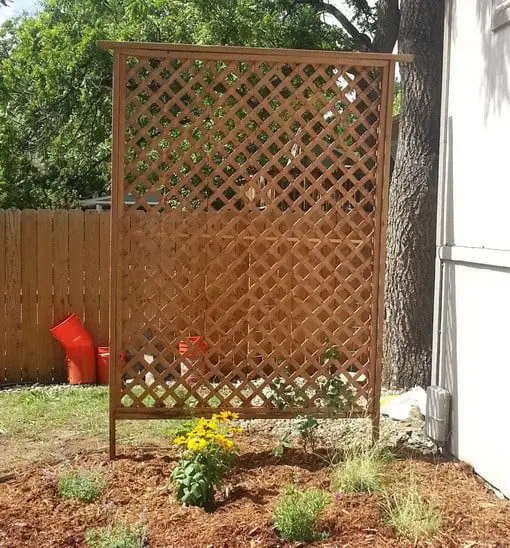 In terms of wood trellis designs, cedar is one of the best materials to use because it's natural properties keep insects away and prevents decay. 
This is one of the most basic and straightforward trellis designs out there, but you can elevate its performance by investing in good materials to make it last. 
How to Get Added Privacy To Your Backyard With a Trellis by Remove and Replace
Upright Triangle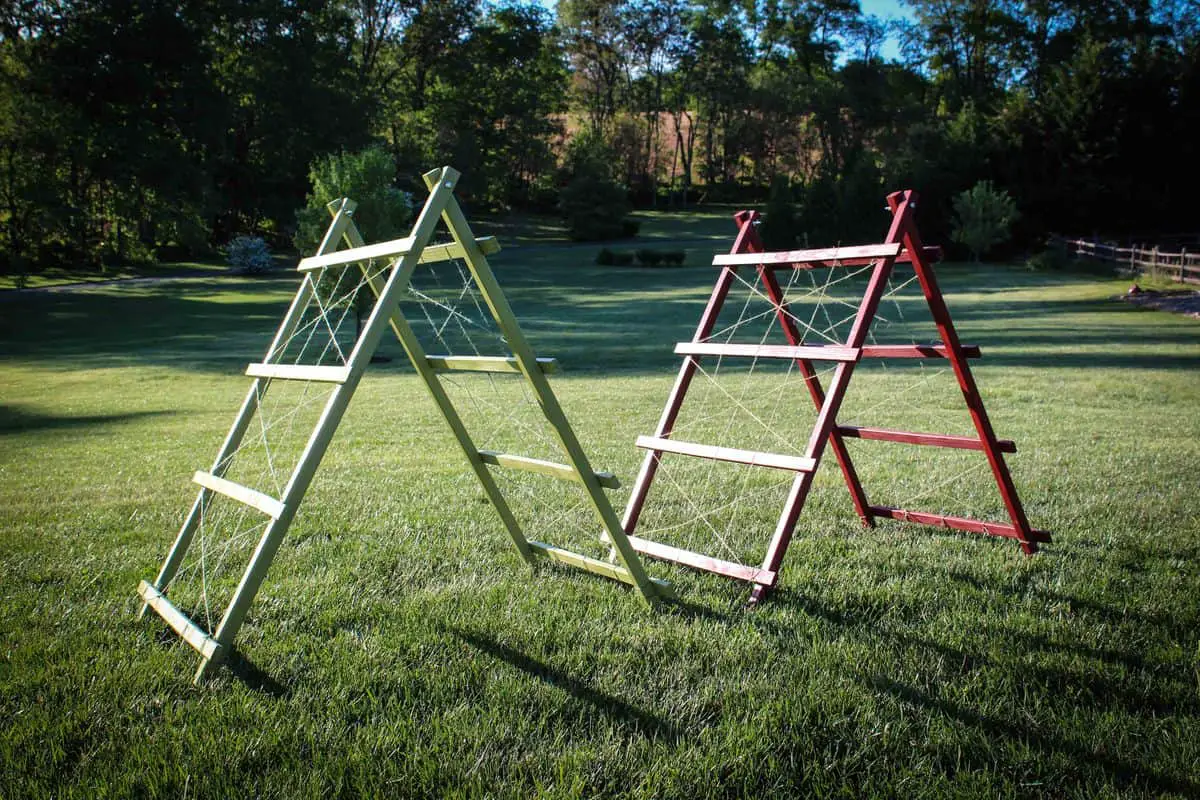 This trellis design isn't just cool to look at, but it's also really easy to make. 
You can get the step by step tutorial for this project from the Ana White website. 
Garden Trellis by Ana White
Minimalist with a Planter Box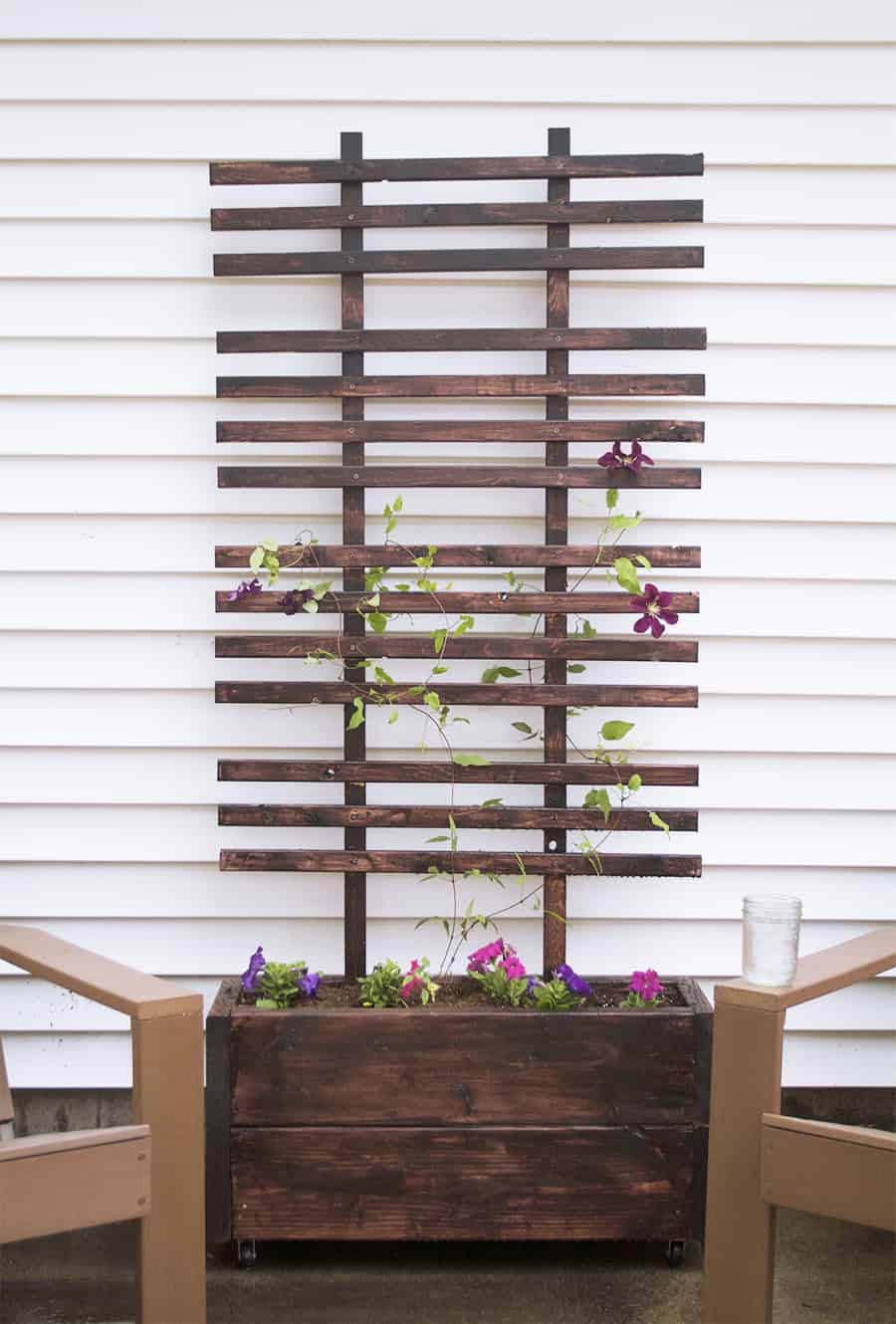 To make this gorgeous piece, you just need to know how to use a saw and a hammer. 
All of the cuts are straightforward, and the end result is clean, stylish, and effective. 
DIY Trellis Planter Box Tutorial by Deuce Cities Hen House
Hanging Plant Trellis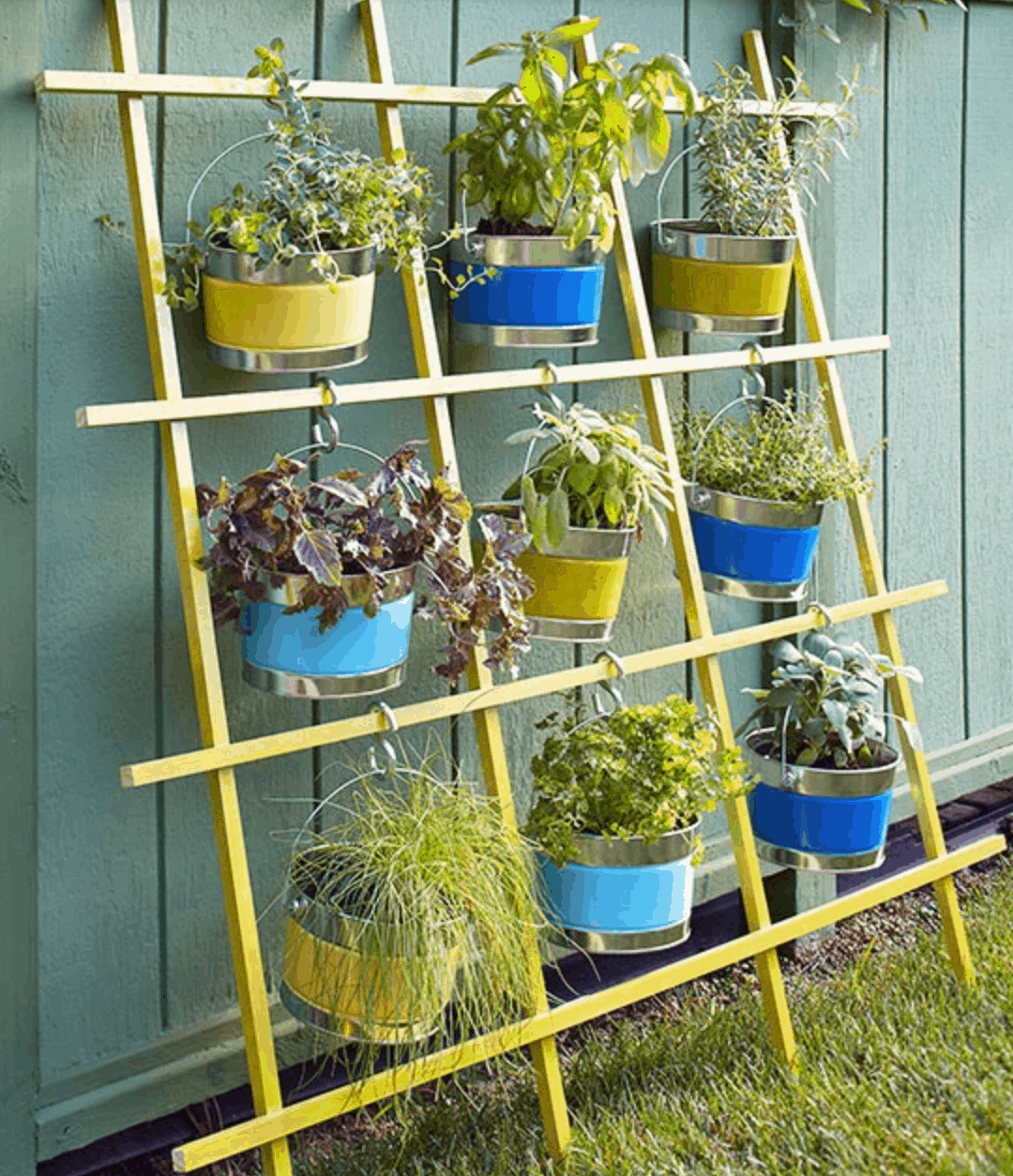 Outdoor space isn't always easy to come by, but this trellis design helps you maximize your space by accomodating hanging plants. 
If you build this trellis, just make sure everything is reinforced and capable of holding the weight of the plants.
Trellis Vertical Container Garden by Better Homes & Gardens
Pergola Inspired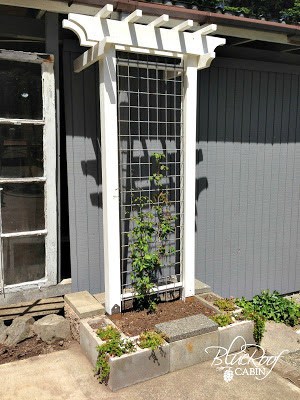 You can get a more finished, polished trellis by designing it similarly to a trellis. 
This example has straight edges and angles which gives it a really clean look. 
DIY Garden Trellis by Blue Roof Cabin
Chevron Pattern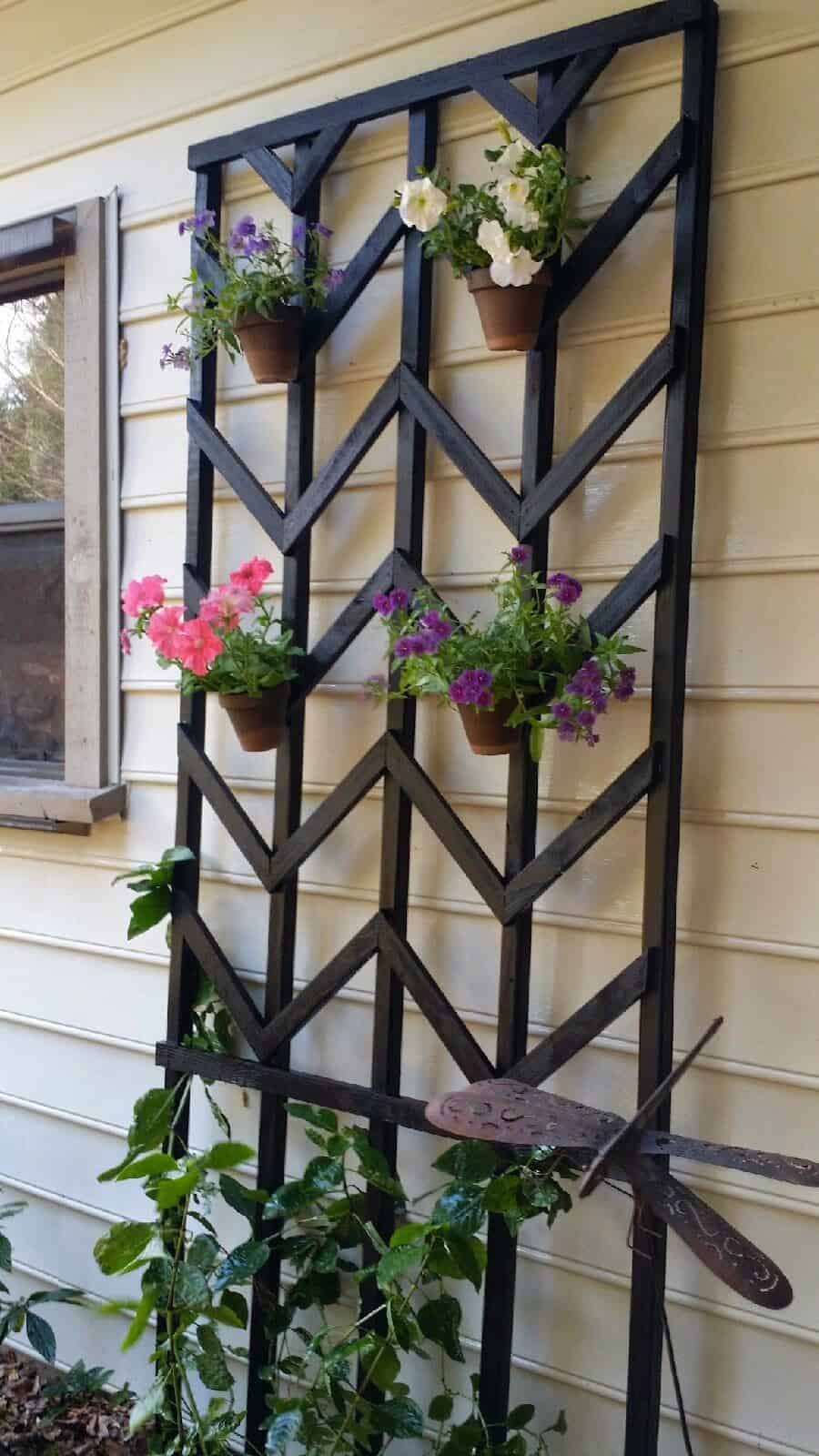 One of the more unique trellis designs is this chevron pattern. 
It comes out looking really great, but it's not nearly as complicated to make as the finished product makes it look. 
DIY Chevron Lattice Trellis Tutorial by Remodelaholic 
Garden Bed Roof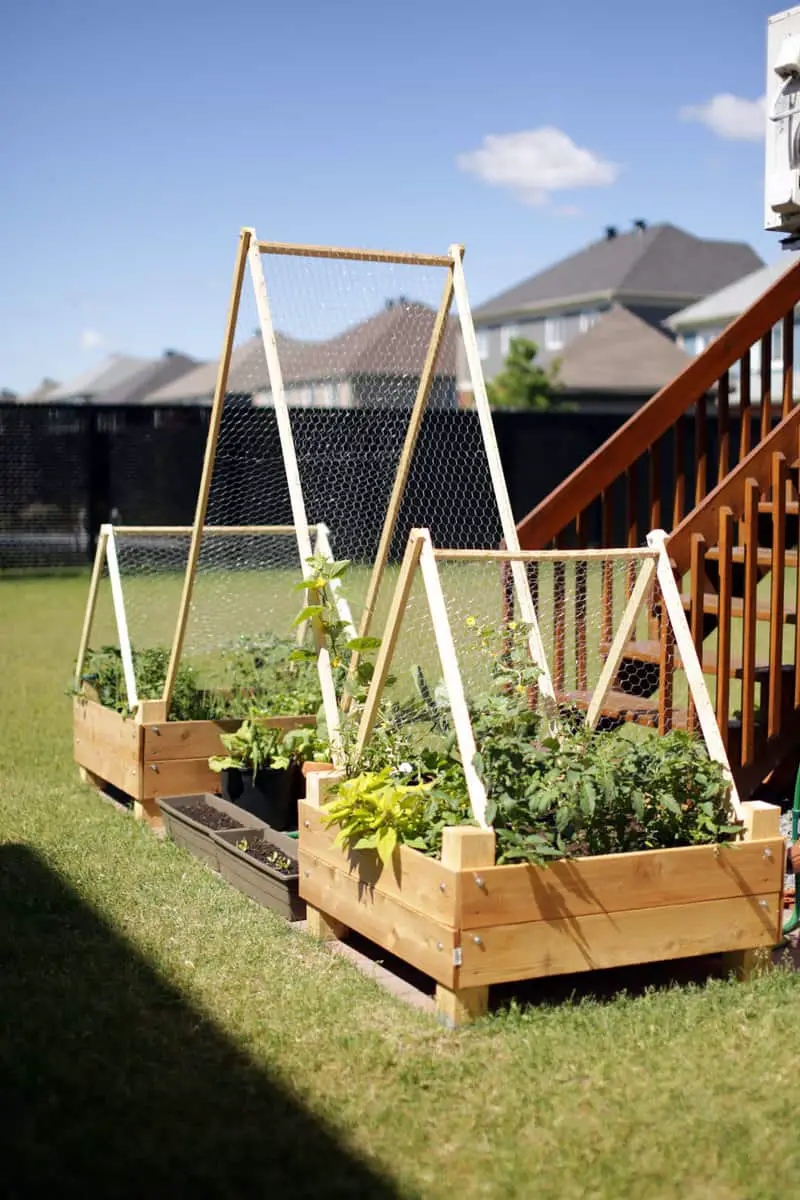 If nothing else, this is one of the most aesthetically pleasing trellis/garden bed combos. 
This design has two garden beds and three different trellis peaks which provide ample room for growing all things beautiful and delicious. 
DIY Garden Box with Trellis by Ana White
Diamond Wire Trellis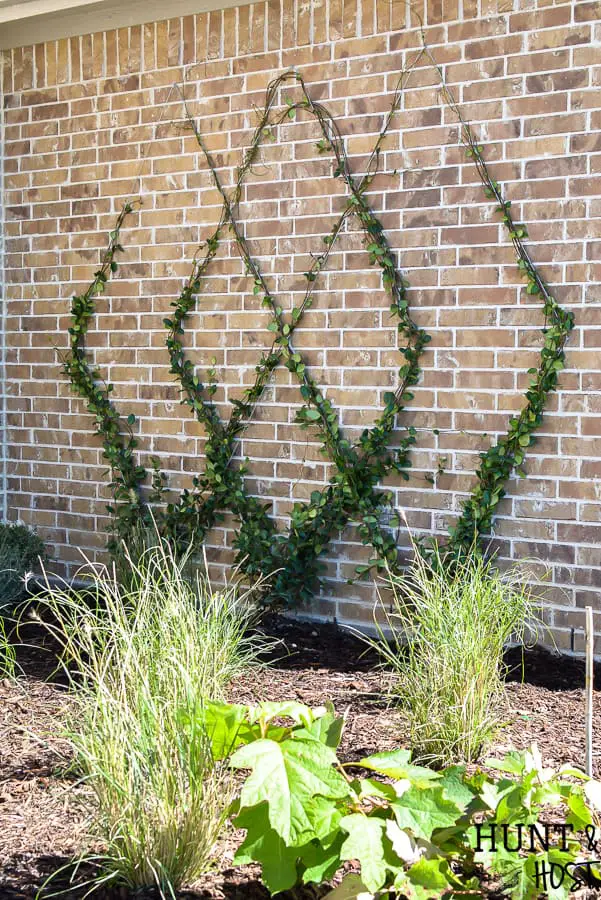 You don't have to be a woodworker to have a cool trellis, this one is made from metal wire! 
By hanging the wire in the diamond pattern, this blogger created a gorgeous living wall that is as gorgeous as it is easy. 
How to Build a DIY Wire Trellis on a Brick Wall by Salvaged Living
Teepee Trellis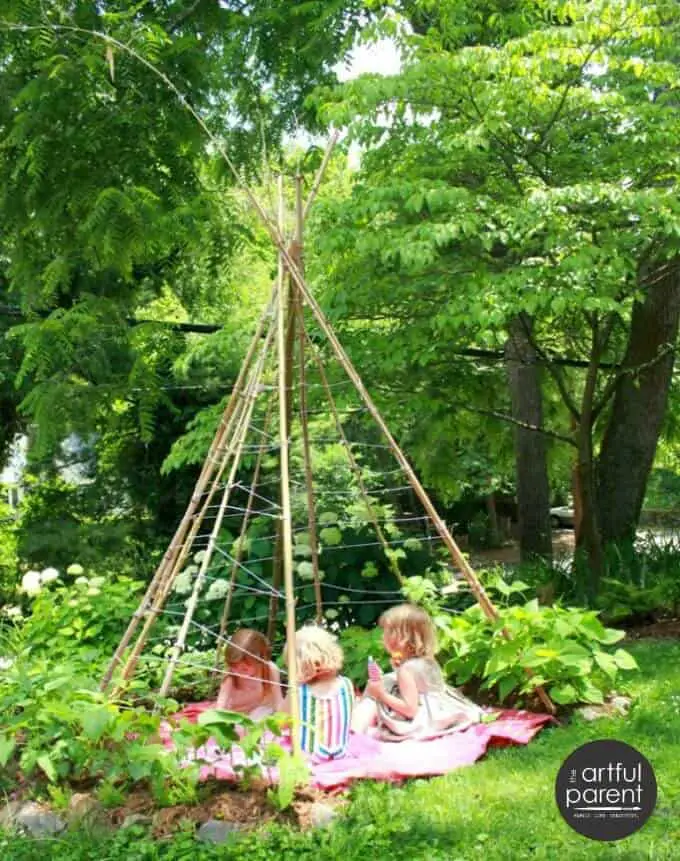 What little kid wouldn't want to have a picnic under this teepee trellis?
It will take some time to get the sides covered in lush vines, but once this structure grows out it will be a great little hideaway. 
How to Make a Bean Pole Teepee for a Kids Garden by Artful Parent
Tiered Planter Box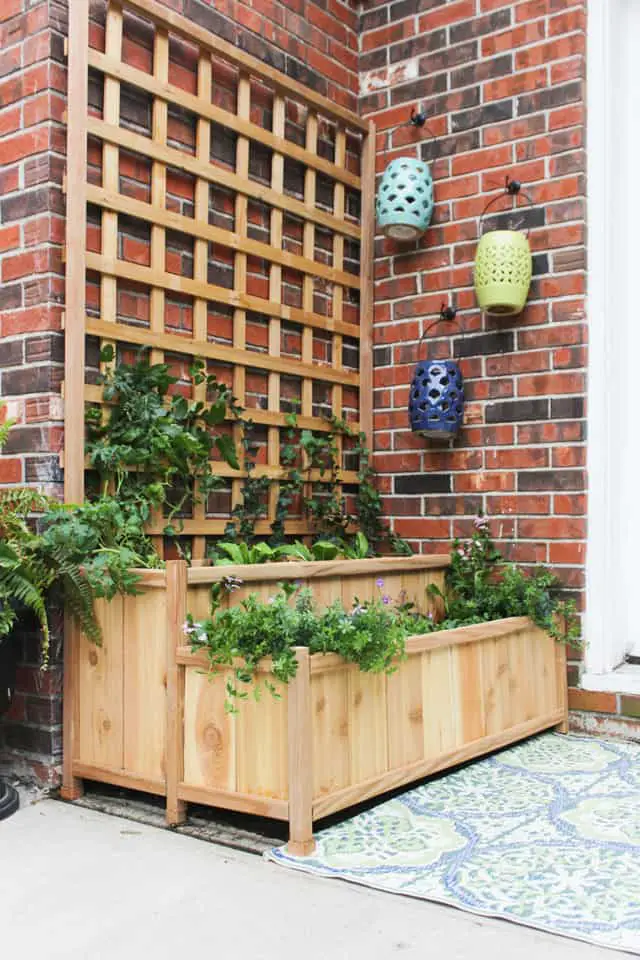 This two-tiered planter-trellis doesn't take up more room than a traditional planter, because each of the two tiers is narrower than a typical one. 
You can get the plans and step by step tutorial to recreate this beauty from the Ana White website. 
Tiered Planter Trellis by Ana White
Freestanding Flower Trellis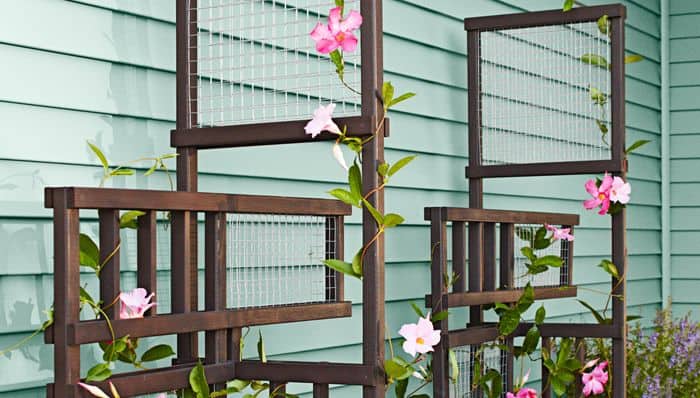 A flower-covered trellis is a gorgeous backdrop (in general, not just for Instagram pictures). 
Recreating this flower trellis design is much easier than it might seem, no professional woodworking skills necessary. 
Freestanding Trellis by Lowes
Trellis Panels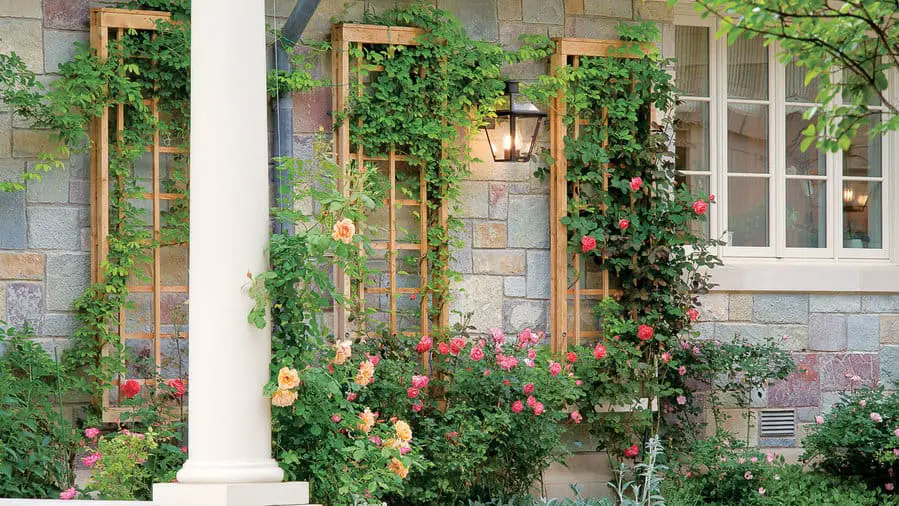 It's not easy to mount things onto a brick home, but a giant bare brick wall isn't the prettiest thing to look at. 
Sunset Magazine not only built these trellis panels, but also mounted them to a brick wall to add some character (and there's a tutorial for how to do it yourself). 
How to Build a Trellis by Sunset Magazine
Copper Tower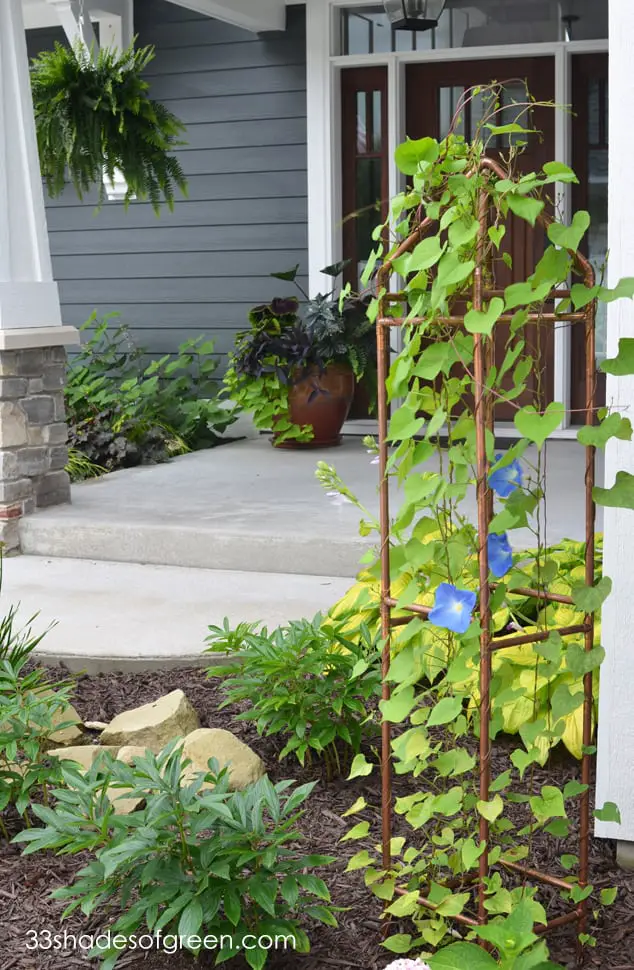 Here's another great use of copper! The metallic sheen really pops with the greenery all over it. 
You can learn how to make your own on the 33 Shades of Green blog. 
DIY Copper Trellis Tutorial by 33 Shades of Green
Tomato Trellis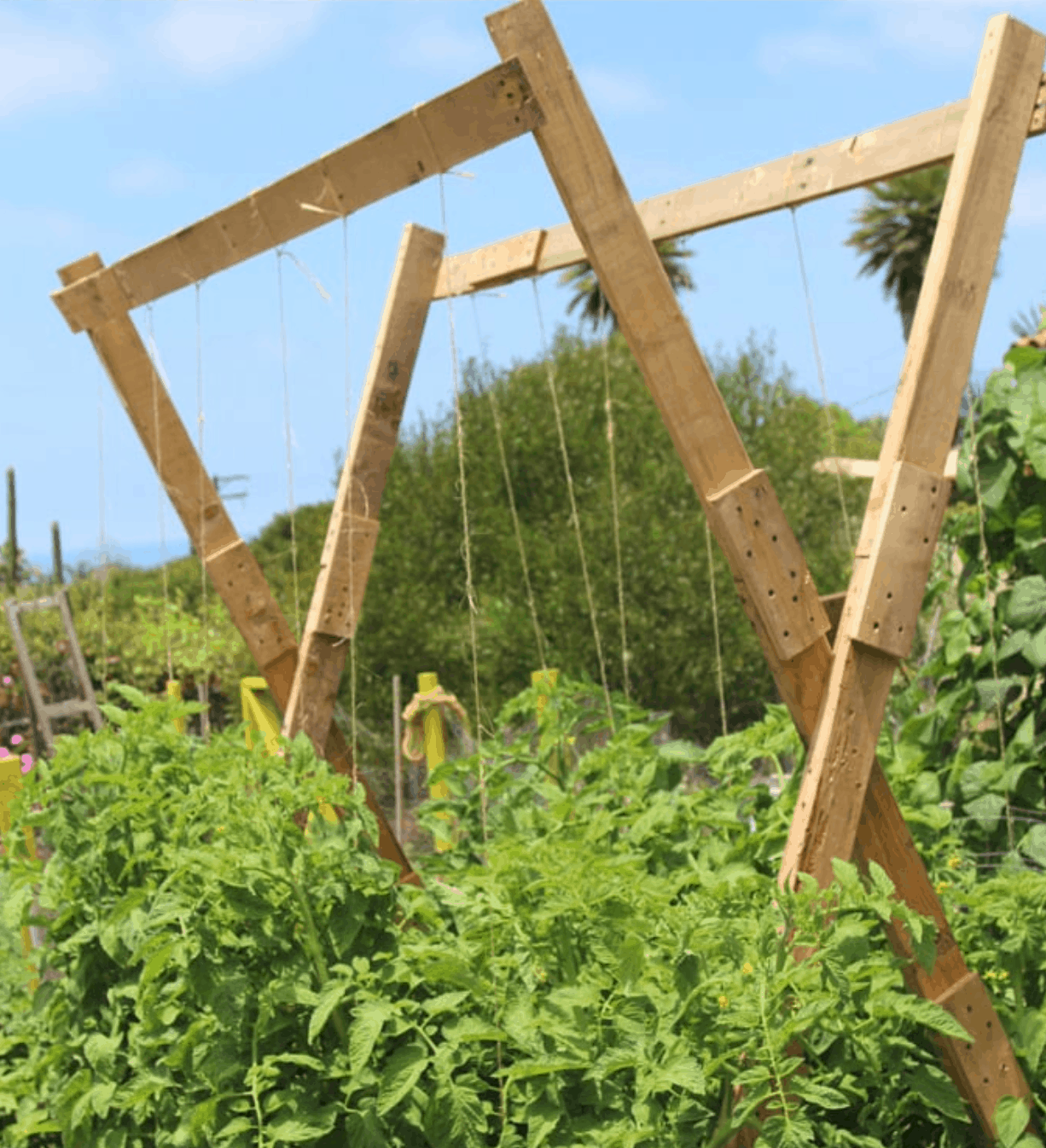 This blogger swears that one of the secrets to growing the best tomatoes is this trellis design. 
It's tall and strong, but it's a cool statement piece. Check out the details on A Piece of Rainbow. 
5 Secrets to Grow Tomatoes by A Piece of Rainbow
Decorative Towers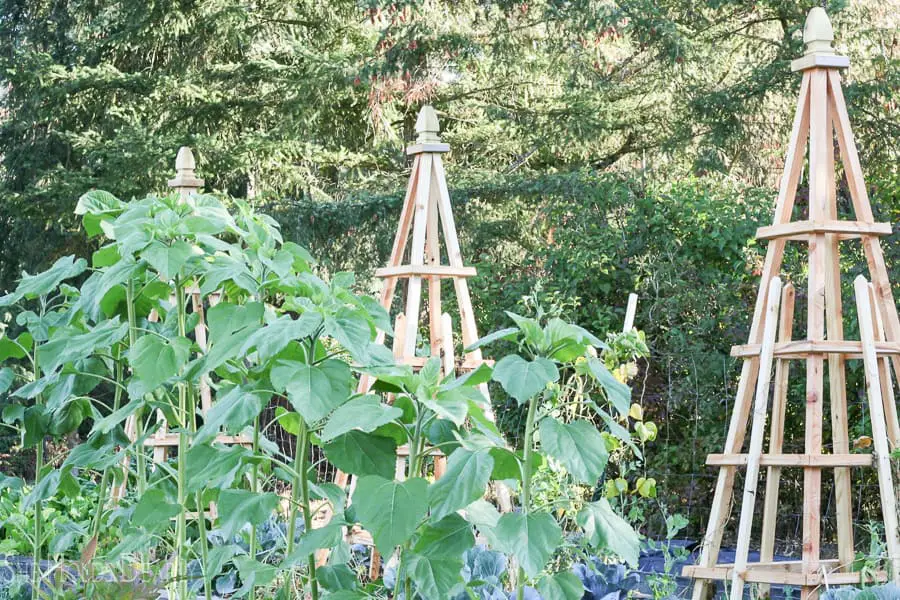 Here's another great example of how adding little touches can really elevate something as simple as a trellis. 
This blogger added some extra wood and decorative toppers to her towers to make them look a little less utilitarian. 
DIY French Tuteurs for the Garden by She Holds Dearly
Modern Framed Trellis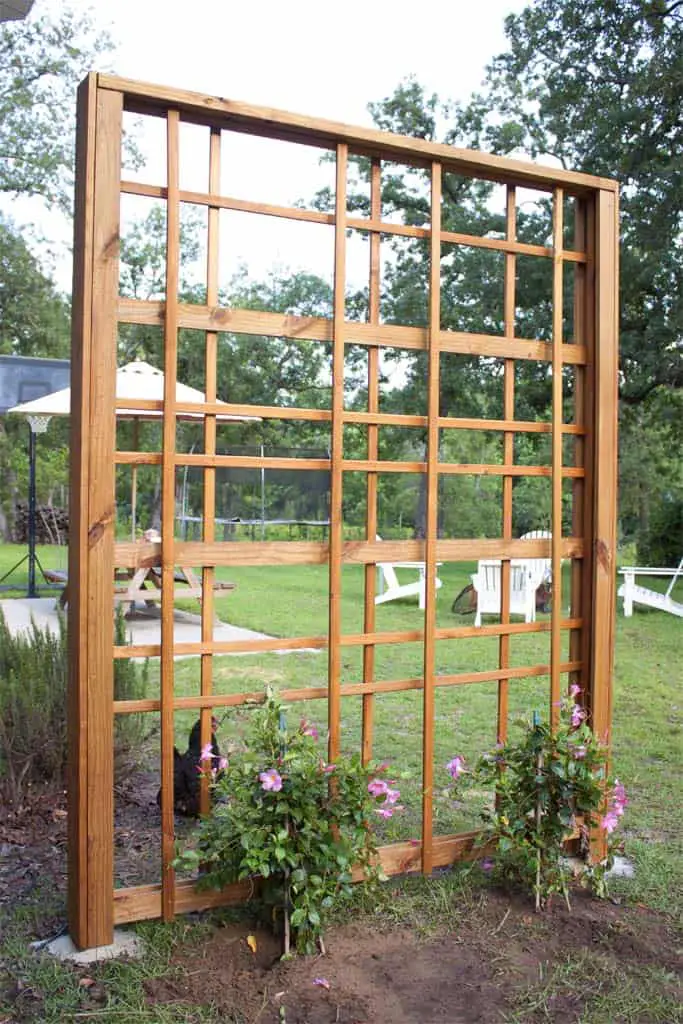 It's hard to believe this is a homemade trellis because it's designed so beautifully.
The secret to this trellis is using different width boards and making a grid that varies in size. Otherwise, it's a really easy design to recreate. 
How to Build a Modern DIY Garden Trellis by Southern Revival
Corner Trellis
Putting a trellis in a corner is a great way to use up space that may otherwise be wasted. 
This design has a small footprint but is still effective. Not to mention, it livens up a dark corner a bit. 
Ladders in Decor by Ashbee Design
Easy Modern Trellis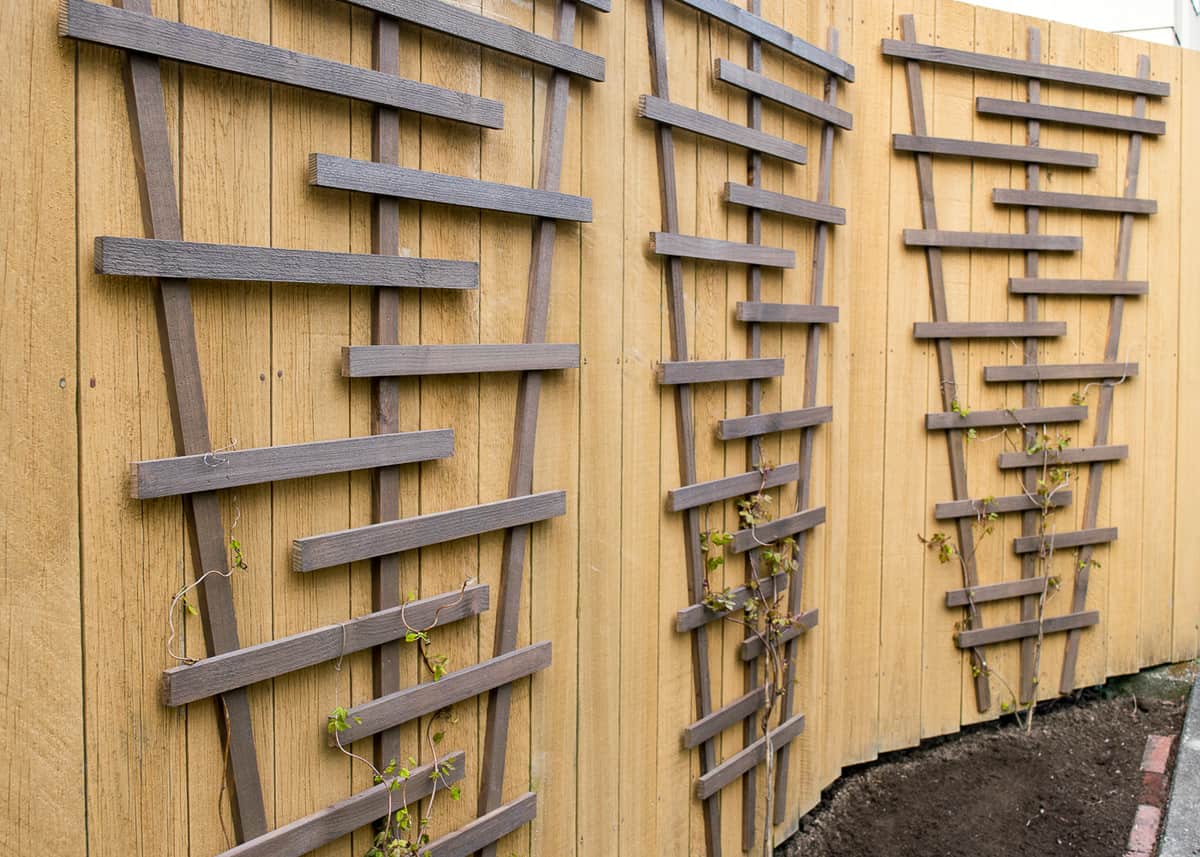 This is yet another example of how easily you can make a high-end looking trellis with just some strategic design. 
You can learn how to recreate this trellis from Ana White, or you can just use the picture as inspiration to make your own design. 
Modern Garden Trellis by Ana White
Mid-Century Modern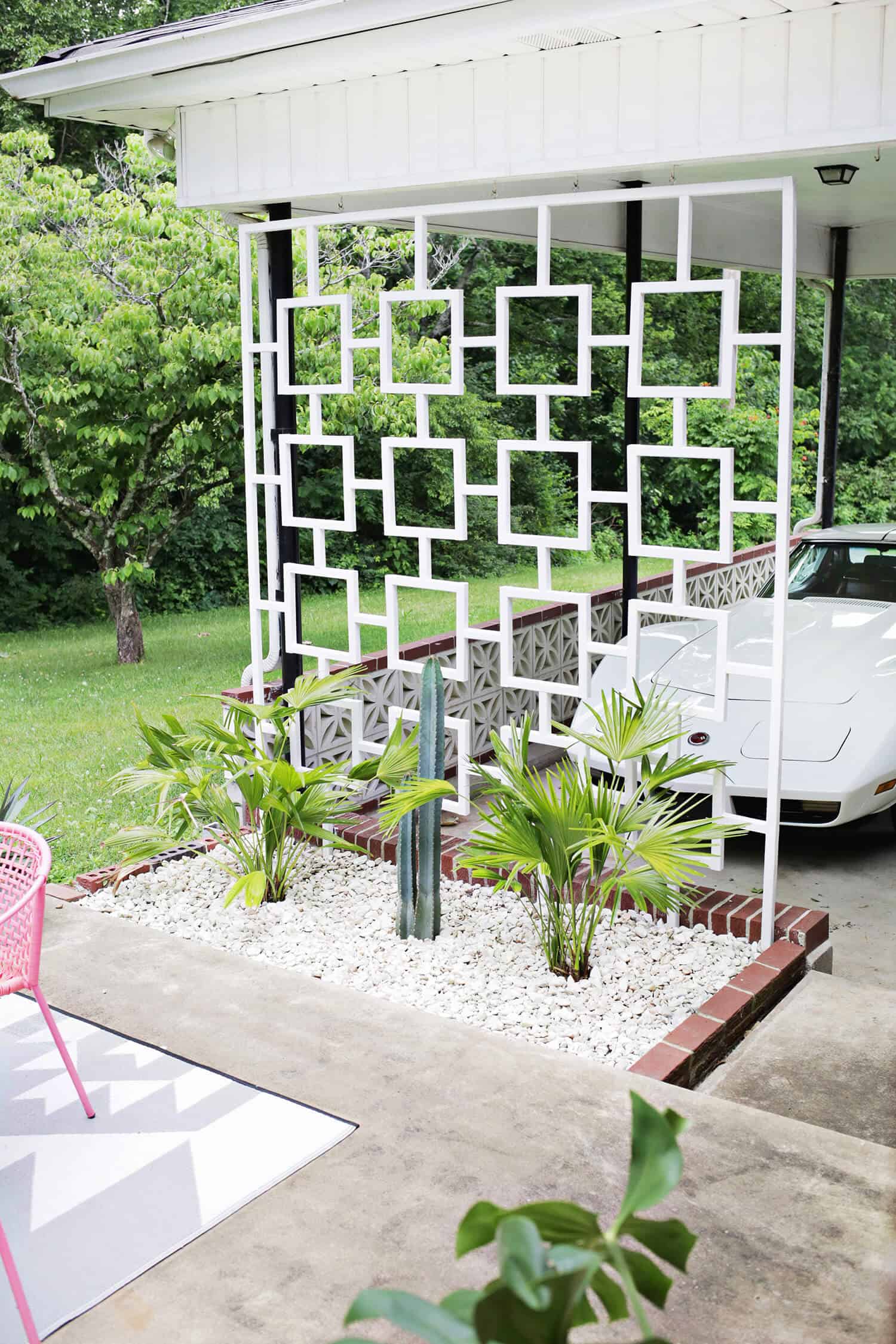 If you are in the market for a large trellis, this mid-century modern one is a great option. 
The design of the trellis itself is very easy to execute, it's the size of the project that makes it a little more complicated. But if you have the time you should absolutely make this one. 
Mid Century Trellis DIY by A Beautiful Mess
Herb Garden Trellis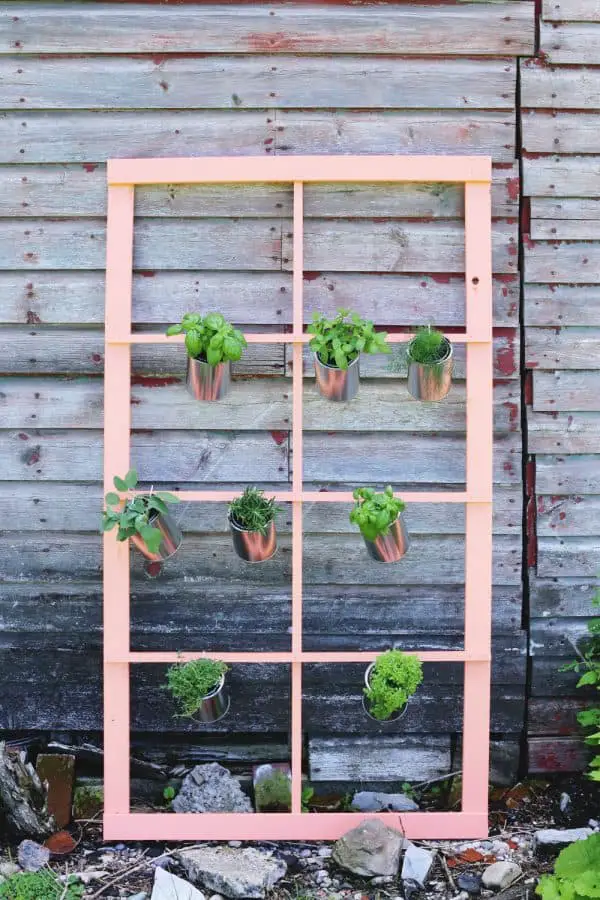 You might not automatically think trellis when you're considering an herb garden, but this design makes it work! 
Since this trellis design is just a big grid, it doesn't take much work or knowledge at all to customize it to your garden. 
DIY Trellis Herb Garden by The Sweetest Occasion 
Trellis-Bench Combo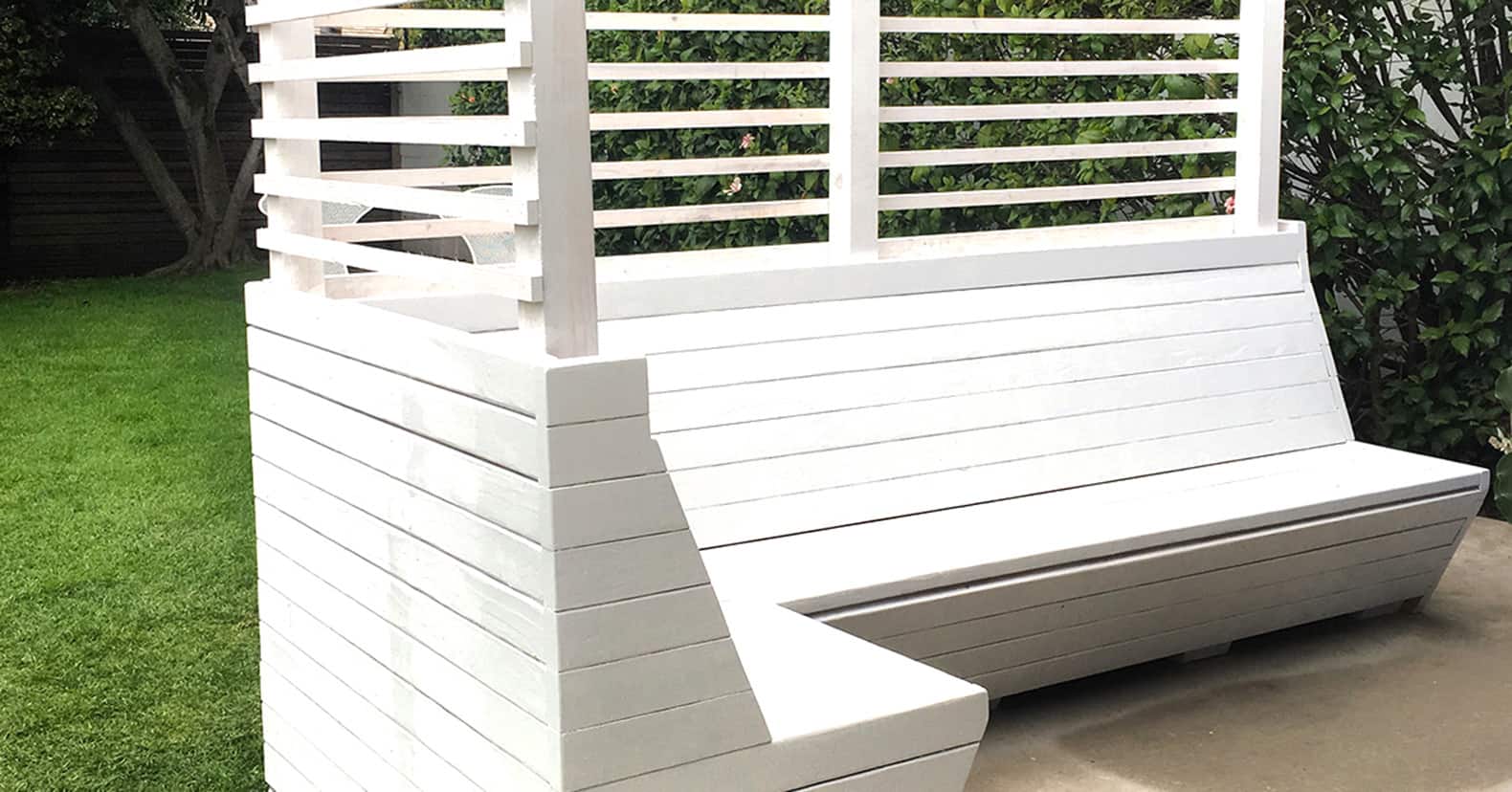 If you're looking for a swanky backyard trellis, this is it. 
The trellis is built right off an L-shaped bench to provide privacy and, if nothing else, a really cool place to sit and enjoy. 
DIY Trellis Doubles As Private Oasis with Seating by Inhabitat
Diamond Trellis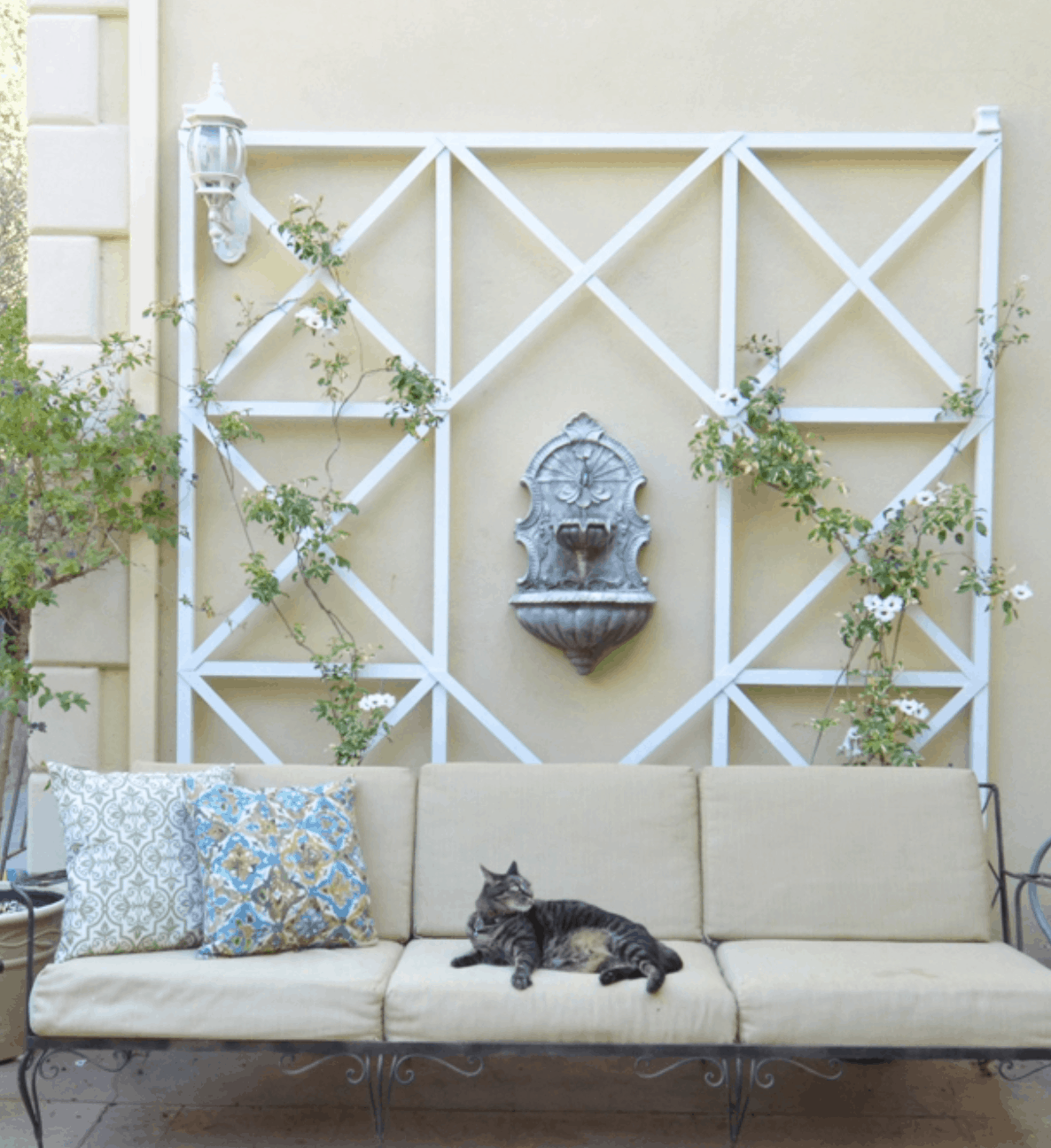 This blogger created a trellis that is unique and works specifically with her space. 
She planned out this design to fit around her fountain and outdoor light. It adds so much style and texture to her outdoor space. 
DIY Criss Cross Wall Trellis by Centsational Style
Crochet Trellis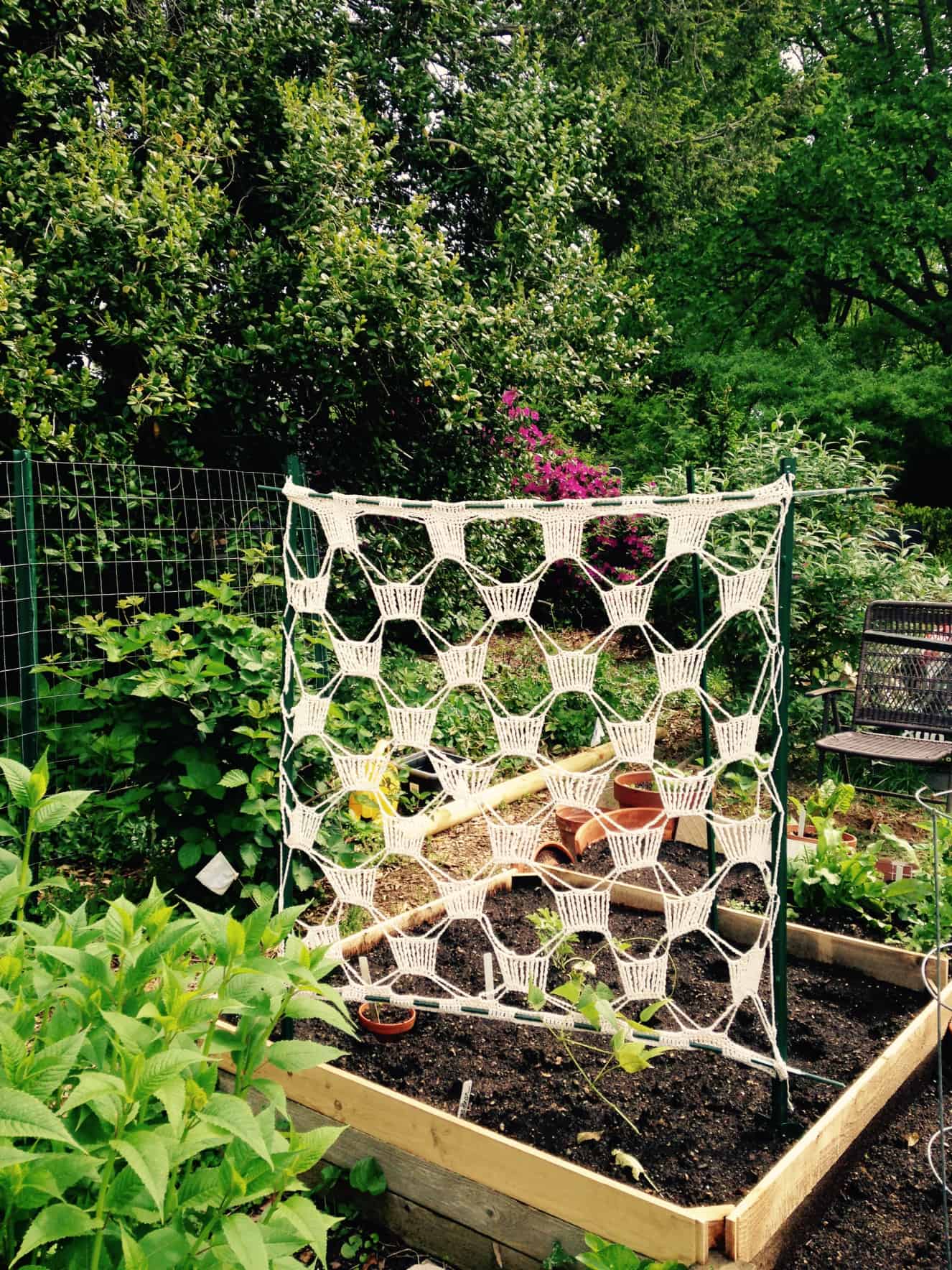 This may be one of the coolest trellises ever, but it definitely isn't the easiest. 
You'll need to have some crochet skills and some time in order to recreate this design, but the end result will be amazing. 
Lima Bean Crochet Trellis Plan by Frogging Yarn Over
Wavy Edge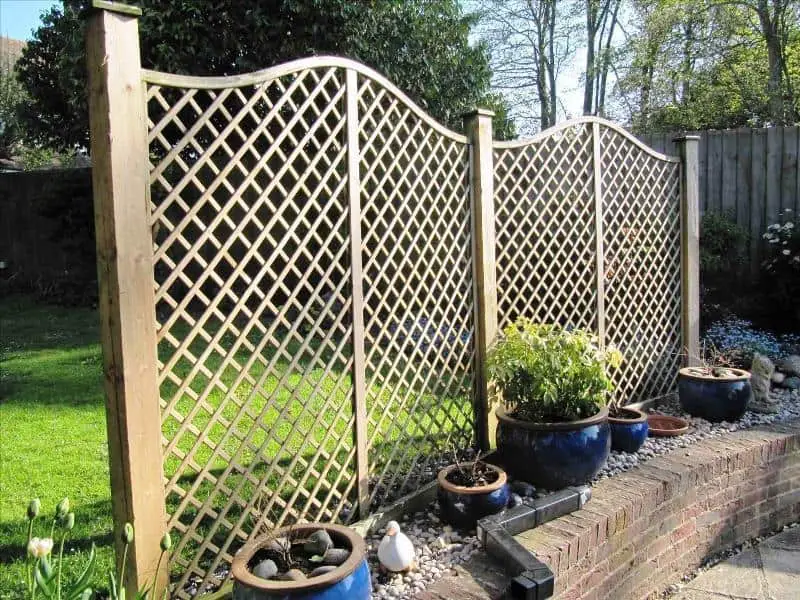 There isn't anything overly special about this trellis, it's pretty straight forward. But, the attention to detail at the top makes it stand out. 
By cutting the top into the wavy design, this blogger took an otherwise standard trellis and gave it a more sophisticated look. 
DIY Trellis Screen by OSATEST Decor
Bright and Bold Wood Tower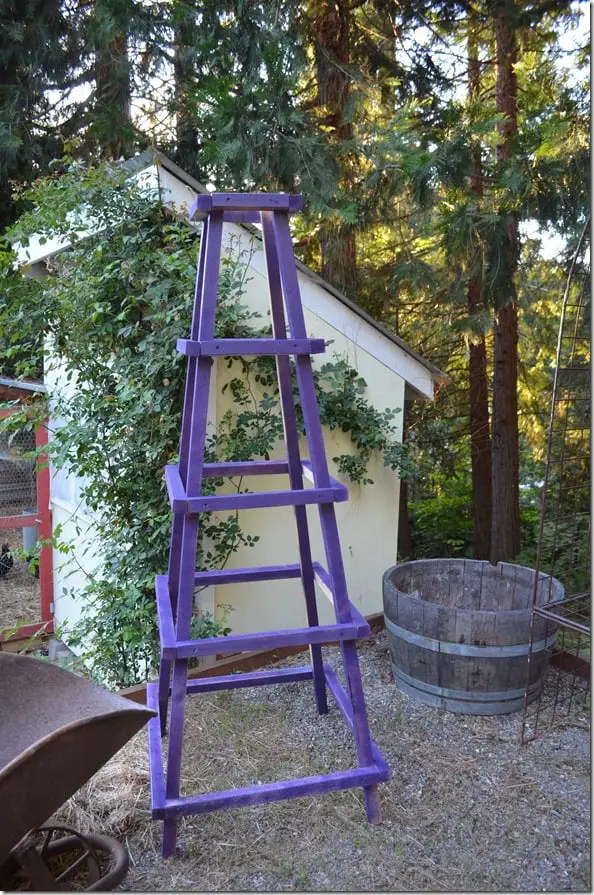 A trellis tower isn't anything new, but it is a design that works really well and delivers great results. 
What is different about this one is the extra time spent on painting it purple. The trellis doesn't work any better because of the paint, but it certainly looks a little more fun. 
Easy Garden Obelisk by Flower Patch Farmhouse
Tree Trellis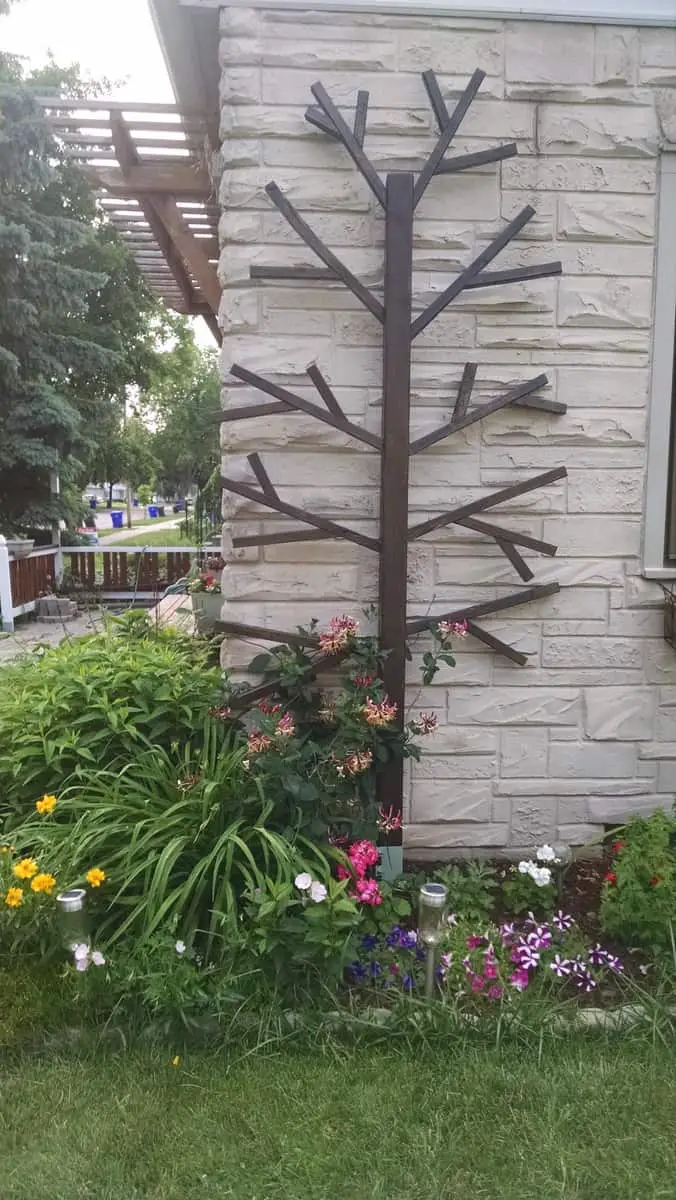 Here is another creative way to design and mount a trellis – make it look like a tree!
This design was inspired by a coat tree, and you can learn how to do it yourself on the Ana White website. 
Tall Trellis From Coat Tree by Ana White
Farmhouse Chic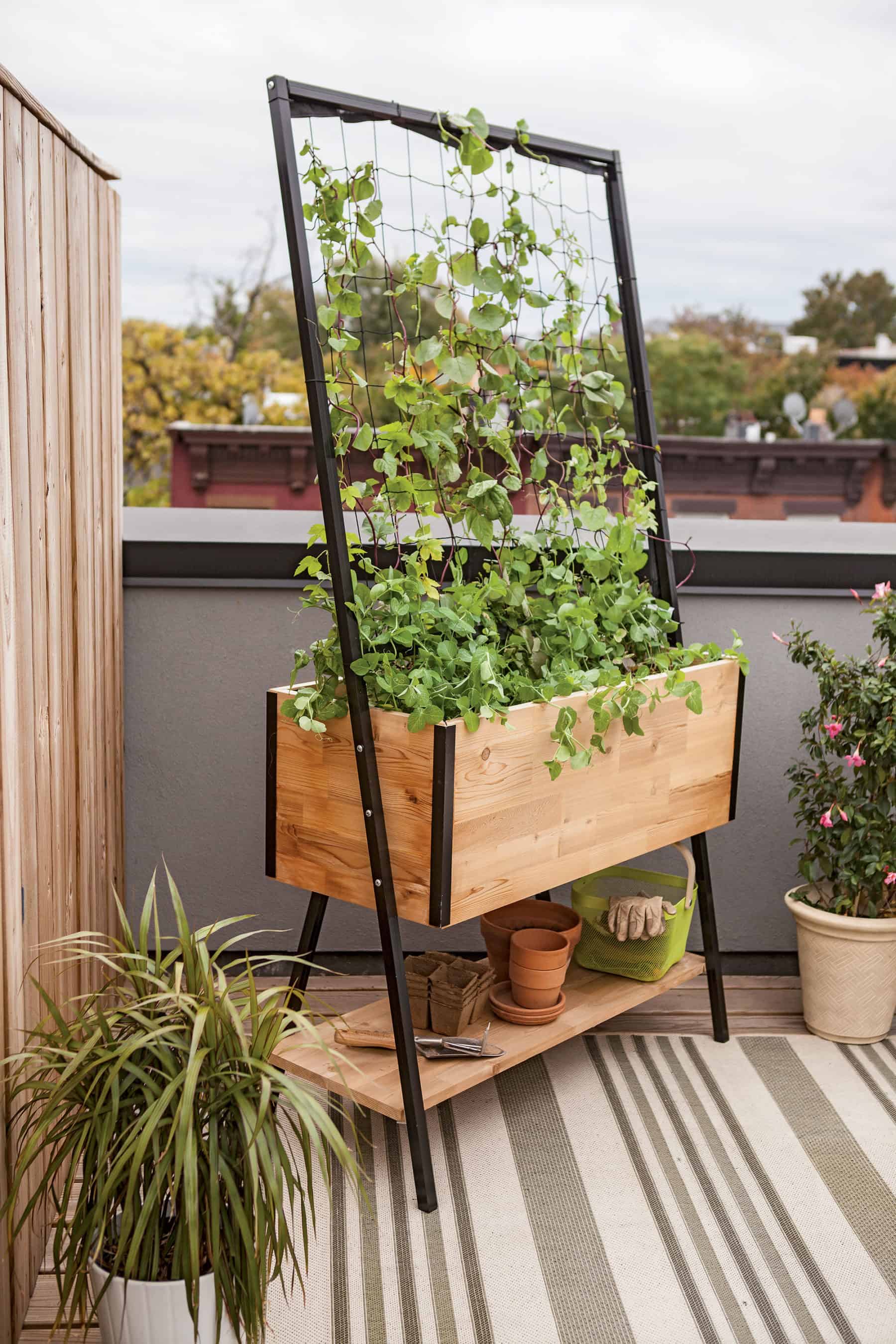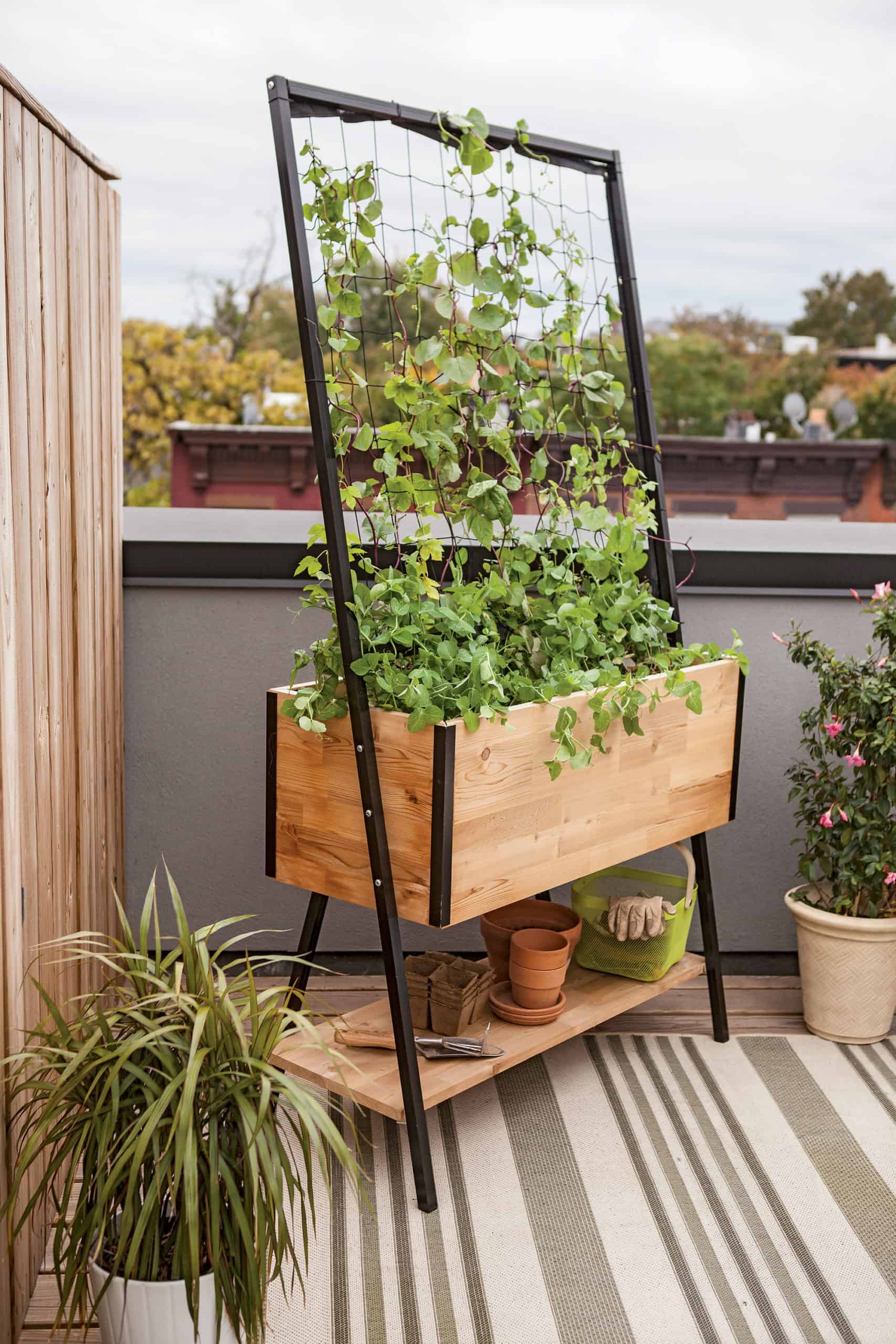 This gorgeous planter-trellis combo is some great inspiration for your own version of it. 
What's great about this design, in particular, is that even if you don't have as much outdoor space as you'd like, you don't have to sacrifice a garden since this bed is elevated. 
DIY Trellis Ideas for your Beautiful Garden by Core DIY
Kid-Friendly Pea Trellis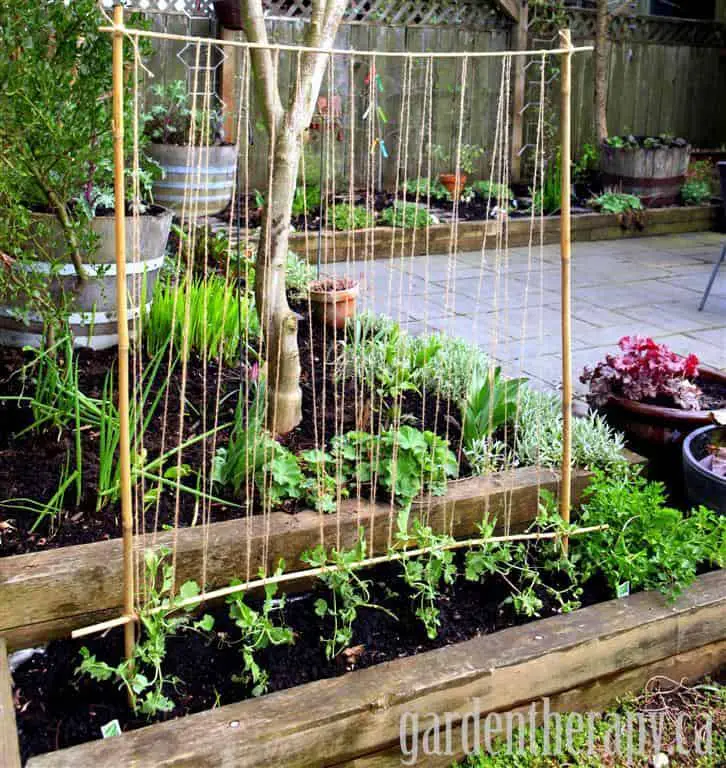 You can get your kids involved in the DIY process of this pea trellis because it's so easy. 
It's just bamboo stakes (which doesn't have to be bamboo) and twine. It's something basically anyone can recreate. 
Making a Pea Trellis with Kids by Garden Therapy
Conclusion
Just because a trellis is a functional piece of a garden doesn't mean it has to be boring, and a stylish trellis doesn't have to cost a fortune. You can create the garden of your dreams with a simple DIY project. 
The best part about a trellis DIY is that there is a realistic option for anyone, no matter their skill level. So, newbies will get some more experience and have a better garden. Win-win.