35 DIY Planter Box Plans & Tutorials To Spruce Up Your Garden
If you are someone who regularly gardens, whether it be food or flowers, a planter box is an effective and aesthetically pleasing way to grow and maintain your garden. 
Making a planter box by yourself is really easy. Even if you don't have a ton of experience with DIY projects, there is no shortage of free plans and tutorials online to walk you through the process. 
Planter With Trellis 


There are so many planter box designs to choose from, but if you're looking for something to provide privacy or a spot to grow tomatoes, a trellis is helpful. 
You can make this planter for around $30
$30 Cedar Planter With Trellis by Inbetween Chaos
Elevated Planter Plan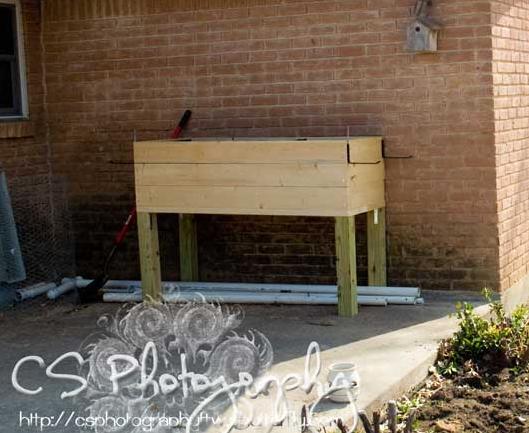 This is about as basic as they come in terms of planters, so not a lot of experience is needed to recreate it. 
A raised planter will help you keep weeds and (some) pests out of your garden, so 
Elevated Planter Box by Ana White
Chicken Coup Planter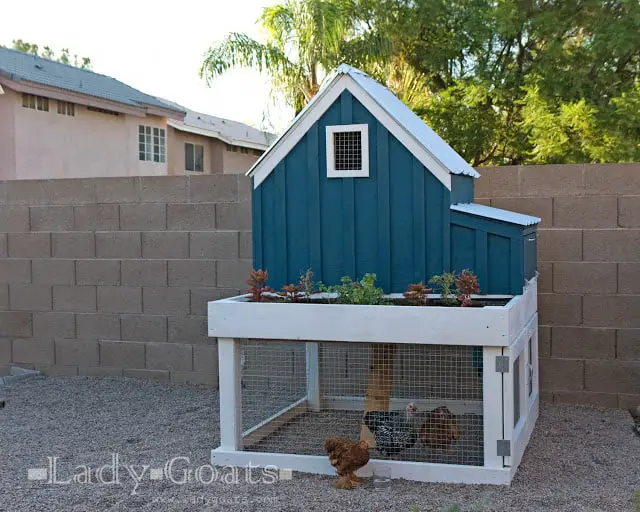 If you have chickens and want to grow some things in a raised bed, this covers both. 
You can recreate this unique planter/coup using the guided tutorial on the Lady Goats blog. 
Building a Chicken House by Lady Goats
With Irrigation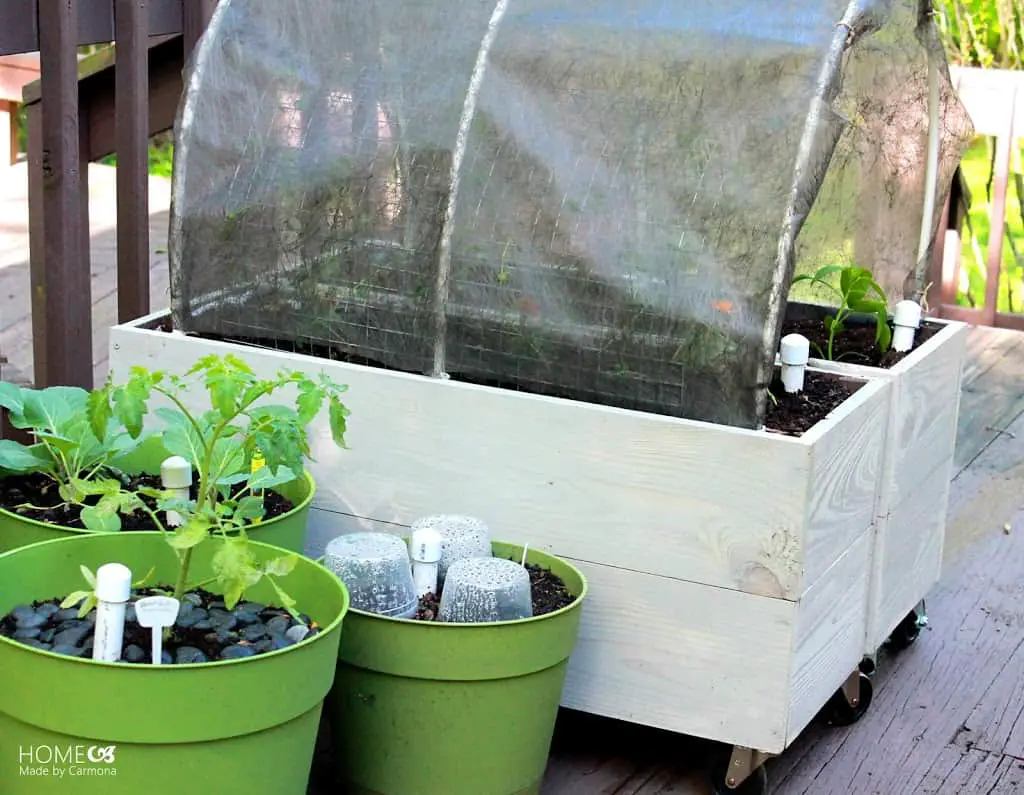 One of the most important things to focus on when trying to grow a healthy garden is ensuring you don't over or under water your plants. 
This raised bed has a built-in irrigation system (well, not completely, but mostly) that will help you handle that delicate task. 
Building Raised Sub-Irrigated Beds by Homemade by Carmona
Three-Season Planter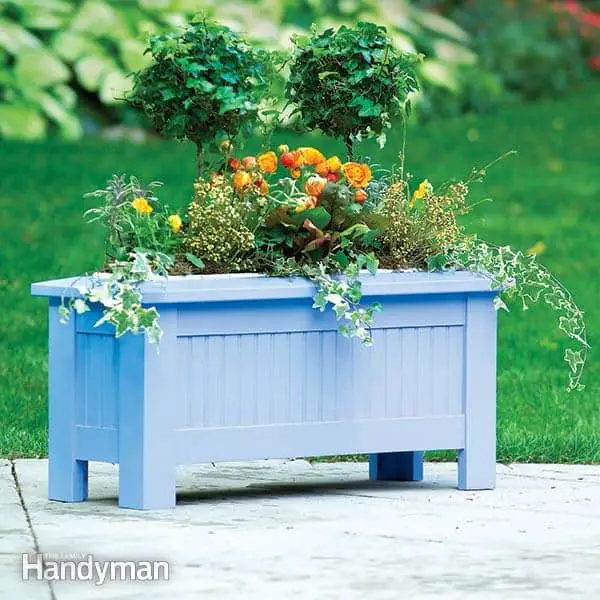 If you live somewhere that gets really cold in the winter, this DIY planter box will last you through spring, summer, and fall.
It's pretty basic but the beadboard and paint job gives it a little more of an elevated look, without much extra effort from you. 
3-Season Wooden Planter Box Plans by Family Handyman
Raised Flower Box Plans
For anyone who is lacking green space to plant flowers, this raised garden bed with a lower shelf is a handy solution to that problem. 
You can get the plans and a step-by-step tutorial for setting up the planter on the FixThisBuildThat website. 
DIY Raised Planter Box by FixThisBuildThat
Three-Tiered Planer Box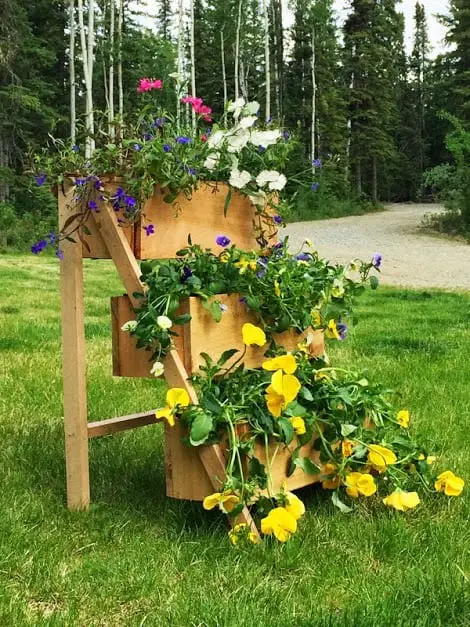 This planter box is great for someone who wants to grow flowers and display them. It has three tiers that are arranged like steps to help all the flowers get the sun and water they need. 
Check out the three-tiered cedar planter box plans from Ana White. 
$10 Cedar Tiered Flower Planter or Herb Garden by Ana White
With Compost Bins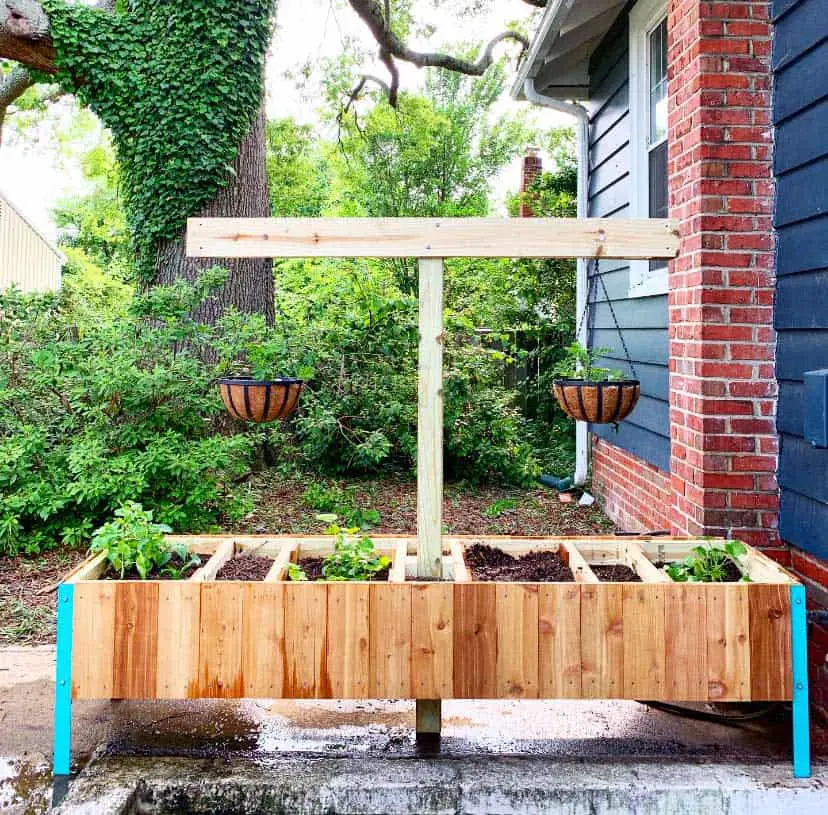 In all fairness, this project looks pretty intimidating, but if you want a vegetable garden and are trying to compost, you can do both with this. 
Each half of the raised planter has a compost bin with small gardens on either side. For added fun, you can also include some hanging plants. 
Raised Vegetable Garden with Compost Bins by Lazy Guy DIY
Stacked Planter Boxes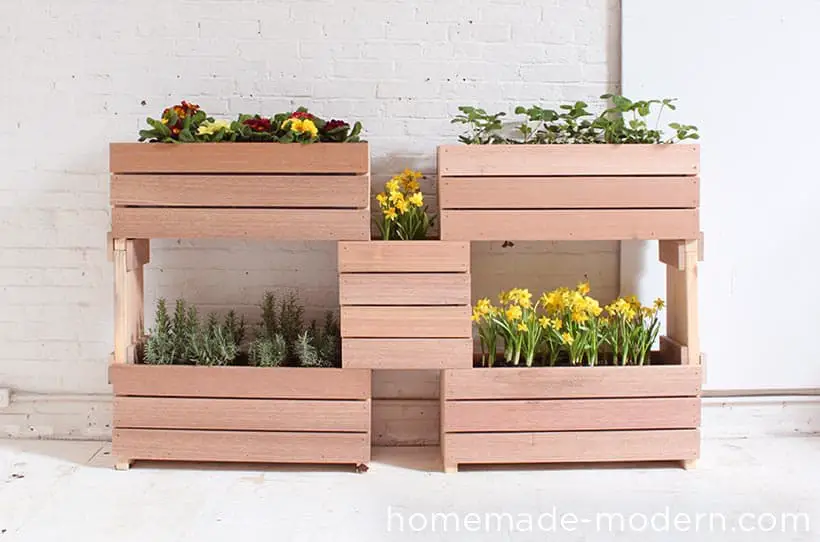 This DIY wood planter set up is both visually appealing and functional.
Not to mention, it's relatively easy to do because it doesn't require a lot of angled or difficult cuts. It's a great project for a beginner who wants something to show off. 
Homemade Modern EP60 Stackable Planters by Homemade-Modern
Deck Planter Box Plans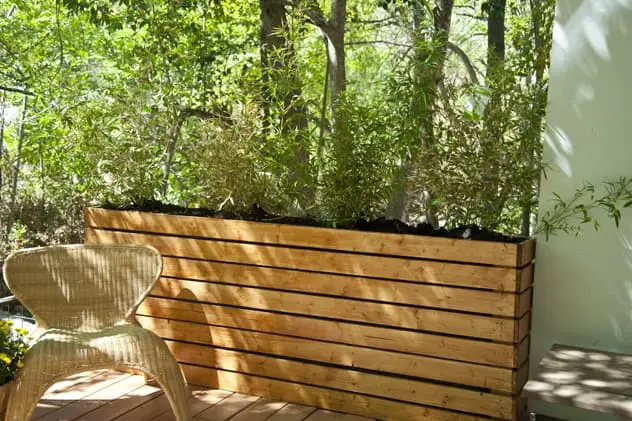 You can build this long, thin, and tall planter to nestle onto the deck for privacy or just for style because it will work either way. 
Not much DIY knowledge is needed for this project and you can recreate it using the in-depth tutorial on Georgia Pellegrini's blog. 
How to Build a Planter Box by Georgia Pellegrini
Rolling Planter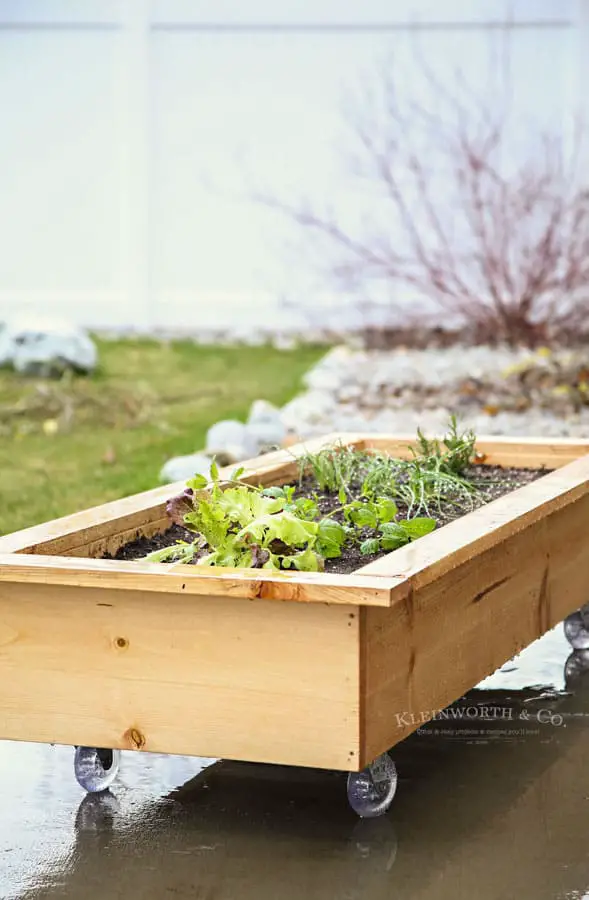 One of the most important things for a lot of plants is getting direct sunlight, which isn't always easy to do if you don't have a giant yard. 
A solution to that problem is a planter box with wheels. You can drag it out of the shade as the sun moves to ensure your plants are getting the proper amount of light. 
DIY Rolling Planter Box by Kleinworth & Co
Tapered Tree Planter Box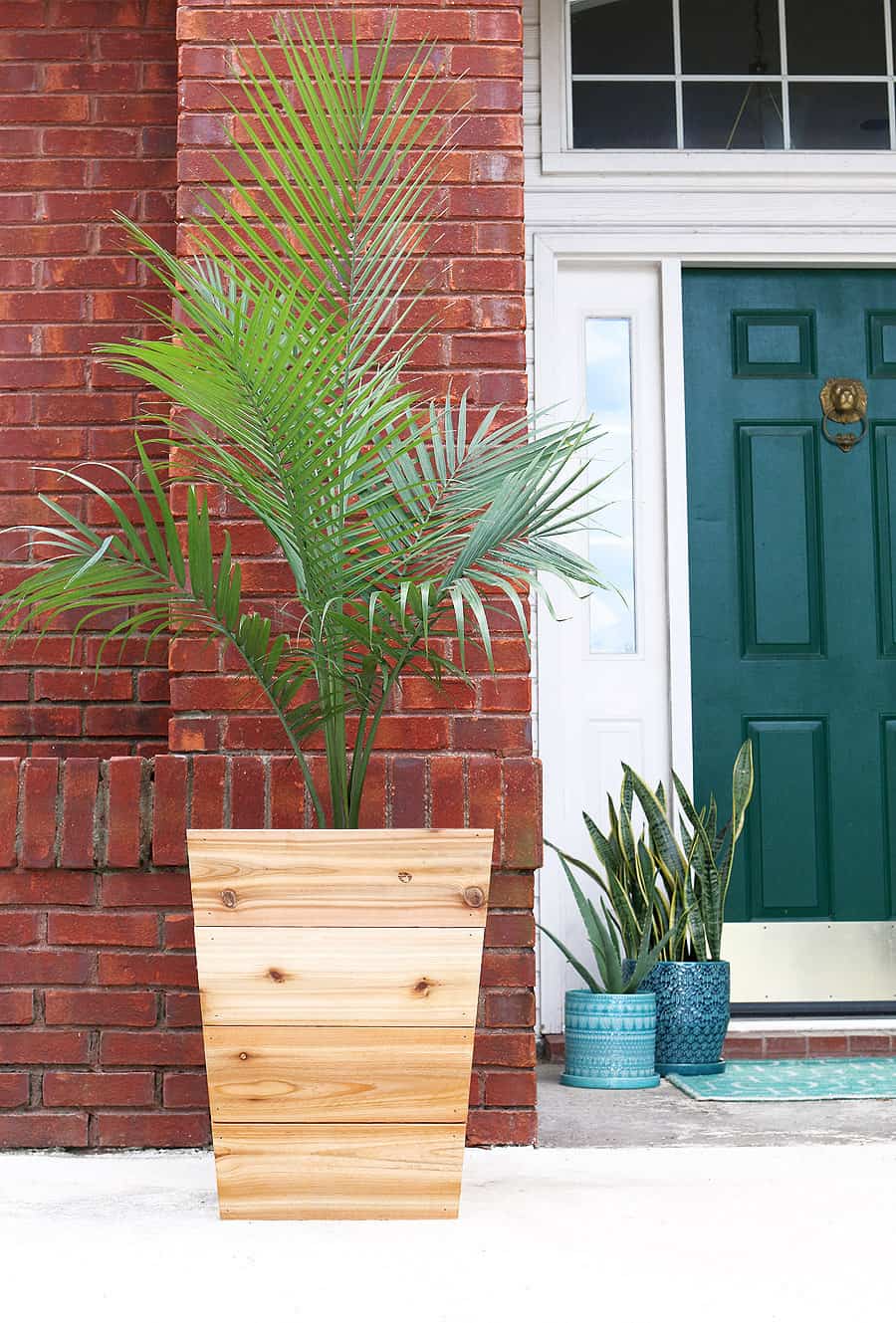 Planter boxes don't only have to house large gardens, they can also make trees look really good. 
This tapered planter would cost a lot of money at any garden center, but you can make it yourself using the plans provided on Jen Woodhouse's blog. 
How to Build a DIY Tapered Cedar Planter by Jen Woodhouse
Criss Cross Square Planter Box Plans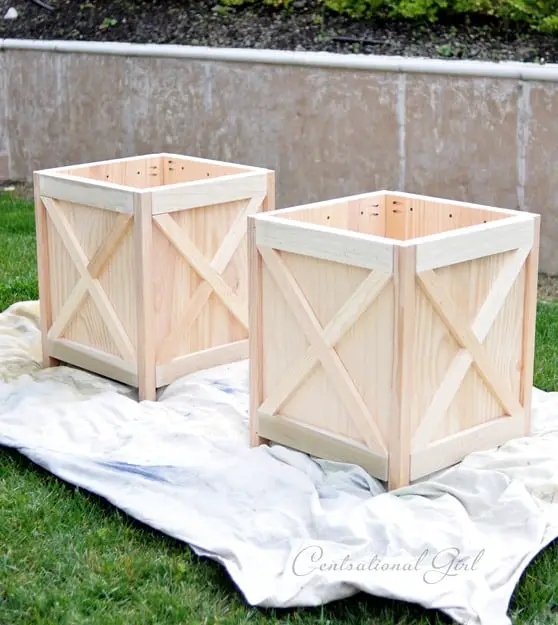 Crates or boxes with a giant 'X' on them are about as classic as they come. 
Knowing they won't go out of style any time soon (or possibly ever), you can make a planter of your own with the criss-cross design. 
DIY Criss Cross Outdoor Planters by Centsational Style
Planter Made From A Wood Pallet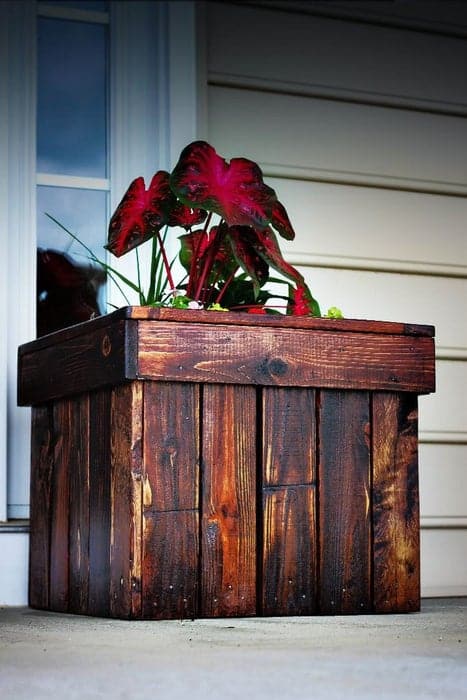 Wood pallet projects seem to be all over the place, which is great because they use up scrap would that would otherwise be thrown out. 
You can upcycle a pallet by cutting it down to make a square planter box for a small plant. It will look great on the porch or inside the house. 
Planter Box From Pallets by Instructables
Fence Picket Garden Bed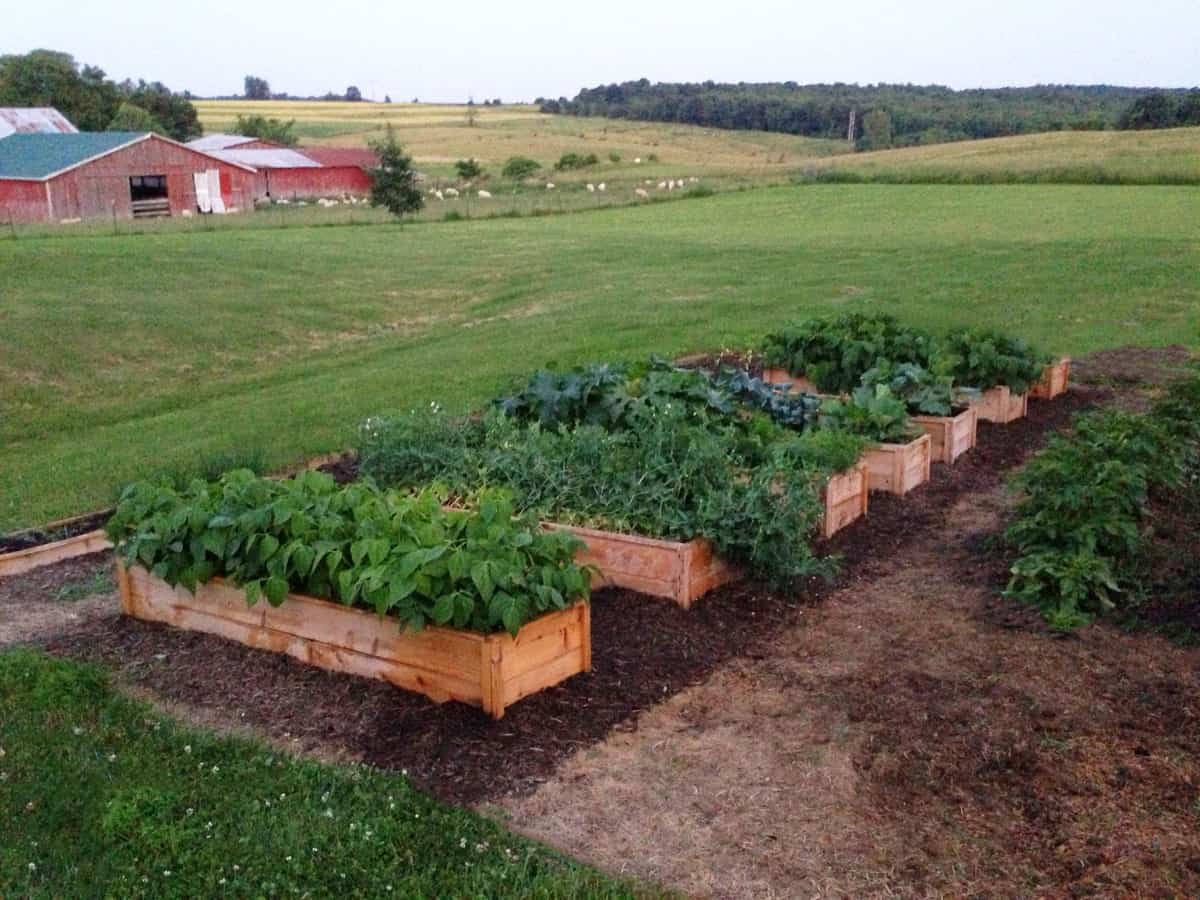 For a different take on making a raised garden bed, try using fence pickets as your wood. 
Doing this will not only give your planter box a different look, but it will also save you money on materials. 
Cedar Raised Garden Beds Made From Fence Pickets by Ana White
Deck Rail Planters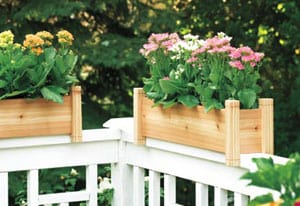 One of the best things about having a deck is being able to sit outside, relax, and enjoy your surroundings. 
To add to that experience, you can make a cedar planter box that sits right on top of your deck rail where you can plant some colorful and fragrant flowers. 
Arrange Spring Blooms in Cedar Planters by Canadian Home Workshop
Address Planter Box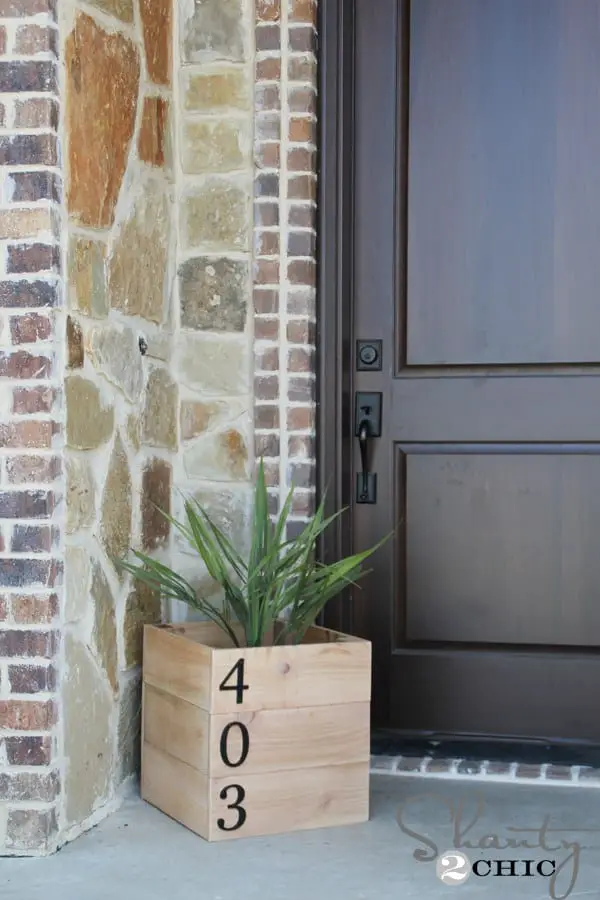 If your front porch could use a little character or your house numbers are difficult to see from the street, this planter box will do the trick. 
It's made from cedar and, as far as the woodworking goes, is really simple to make. If you don't want to spend extra money on iron address numbers, you can always paint them on yourself. 
DIY Cedar Planter Box by Shanty 2 Chic
Capped Planter Box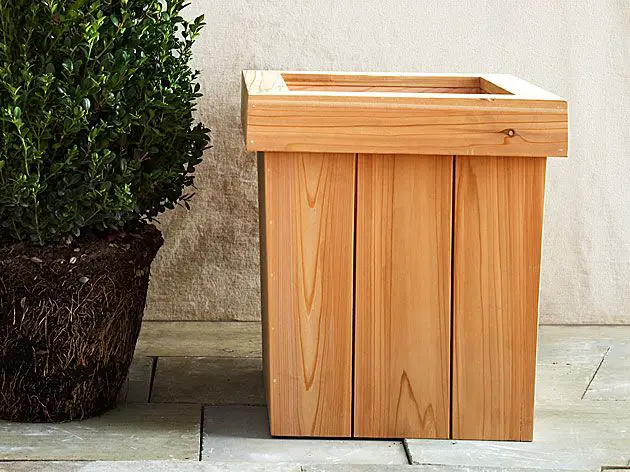 Adding a little cap to a planter box gives it a more sophisticated look, kind of like crown moulding does in a home. 
This planter still only requires simple cuts but has the added cap on it to elevate its style a little more. 
How to DIY a Planter Box by Popular Mechanics
Metal Raised Garden Bed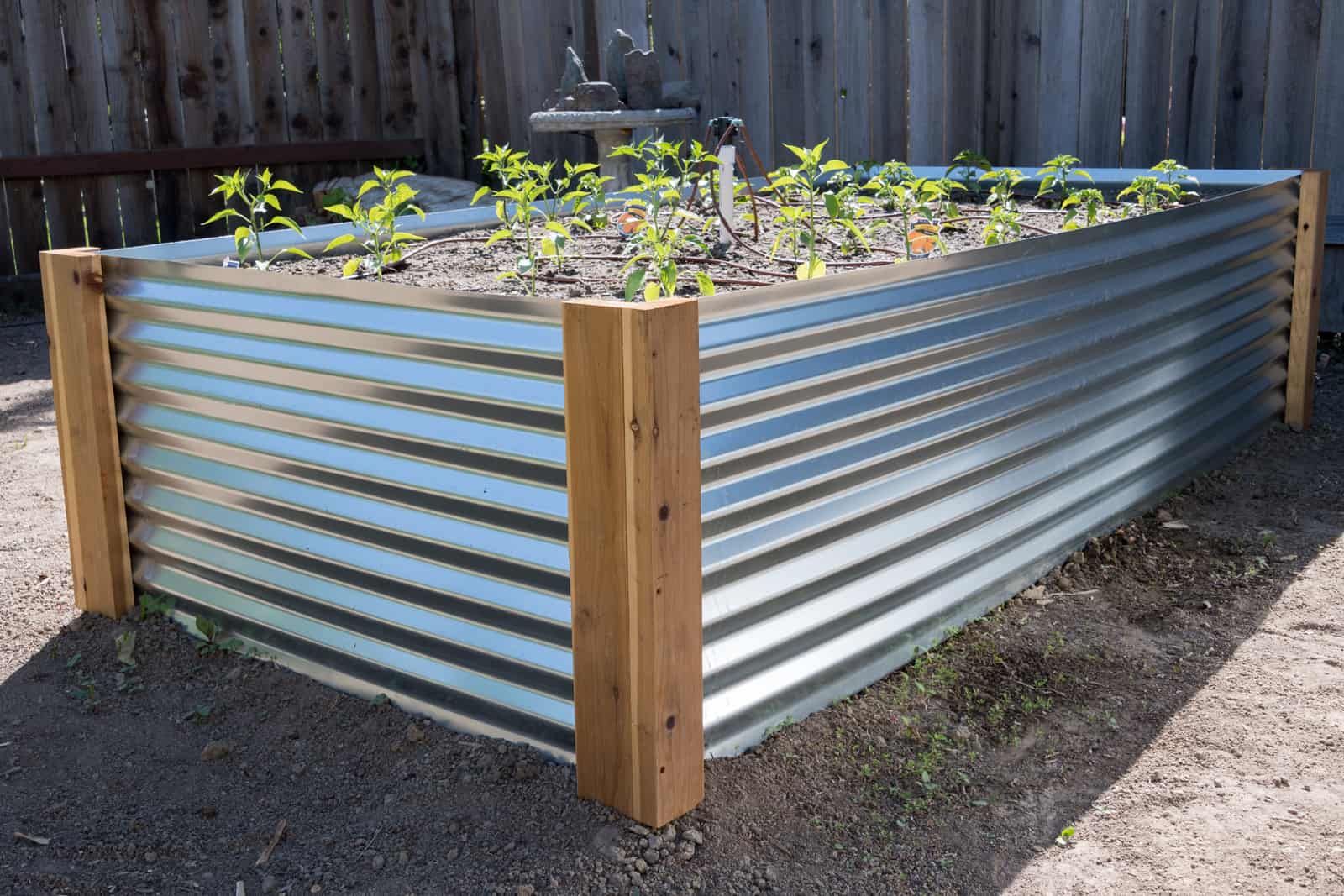 Not everyone loves the wood look, so if you're into the mix of metal and wood, try out this raised garden bed. 
The website doesn't have plans but has a thorough how-to tutorial that even includes information on adding irrigation if you'd like. 
How to Build a Metal Raised Garden Bed by MK Library
Chevron Planter Plans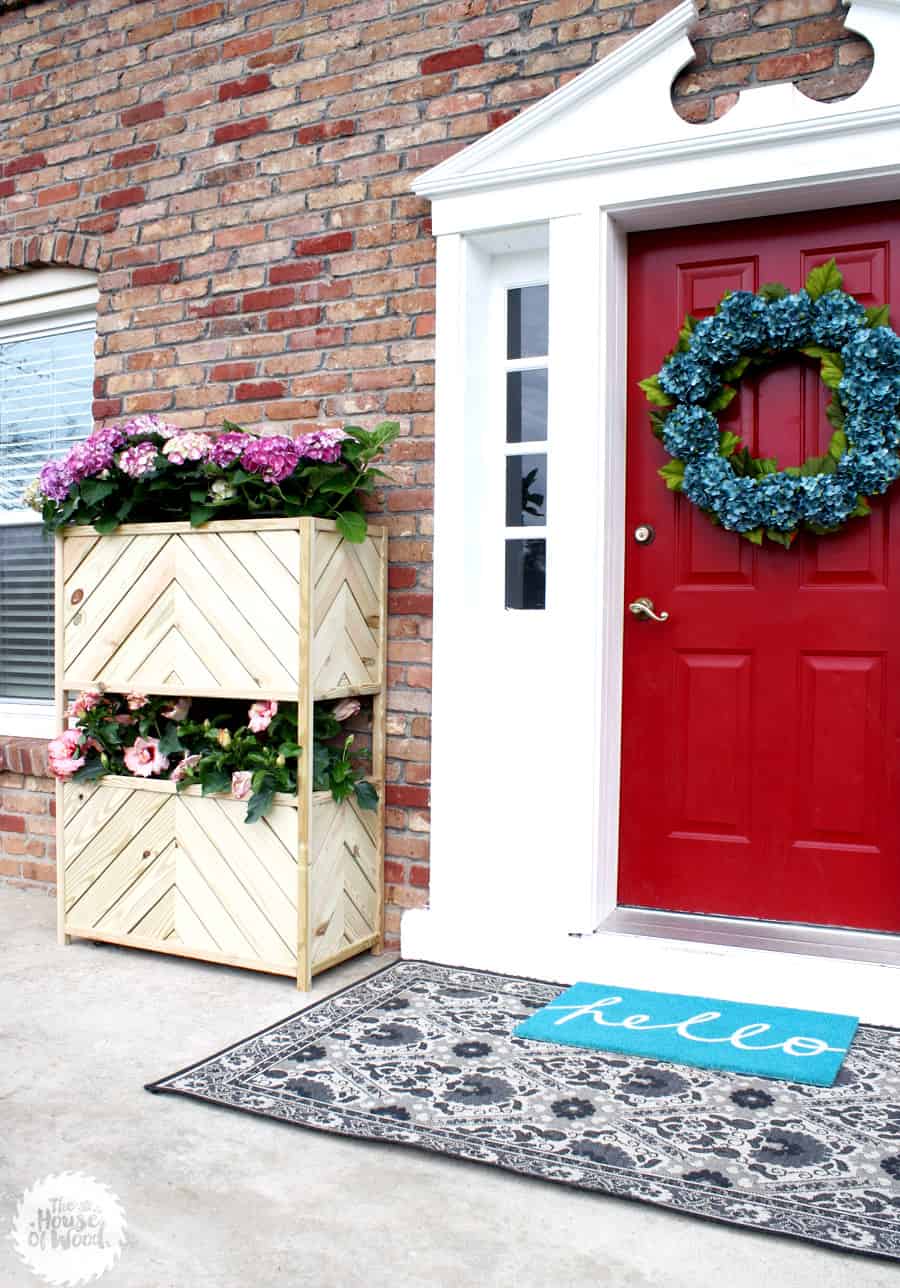 Adding chevron patterns to just about anything makes it look a little more stylish. 
This double-decker planter looks like something from a high-end store, but is a DIY project. You can recreate it using the plans from Jen Woodhouse. 
DIY Two-Tiered Planter by Jen Woodhouse
Hexagon Planter Plans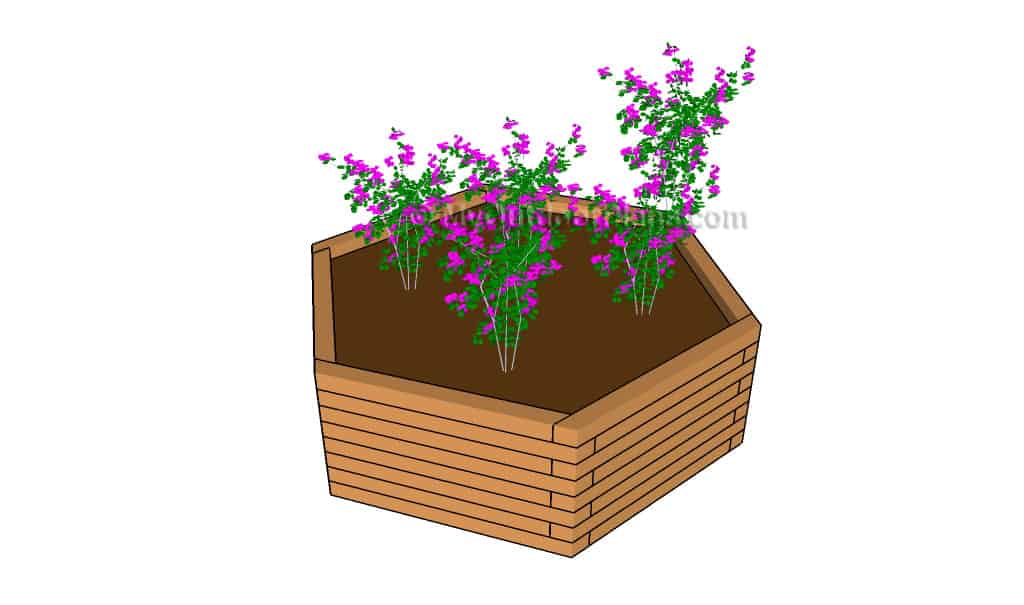 Planter boxes don't have to be square or rectangular, as proven by this hexagon-shaped bed. 
There is a little more to this DIY project because it requires more detailed cuts, but if you're up for the challenge, the end result will be unique (and gorgeous). 
Hexagonal Planter Plans by MyOutdoorPlans
Planter Bench
Like the look of planters, but have a small outdoor space that needs seating? Here's your solution. 
Check out the plans to recreate this planter/bench combo from the Shanty 2 Chic website. 
DIY Planter Box Bench by Shanty 2 Chic
Cape Cod Style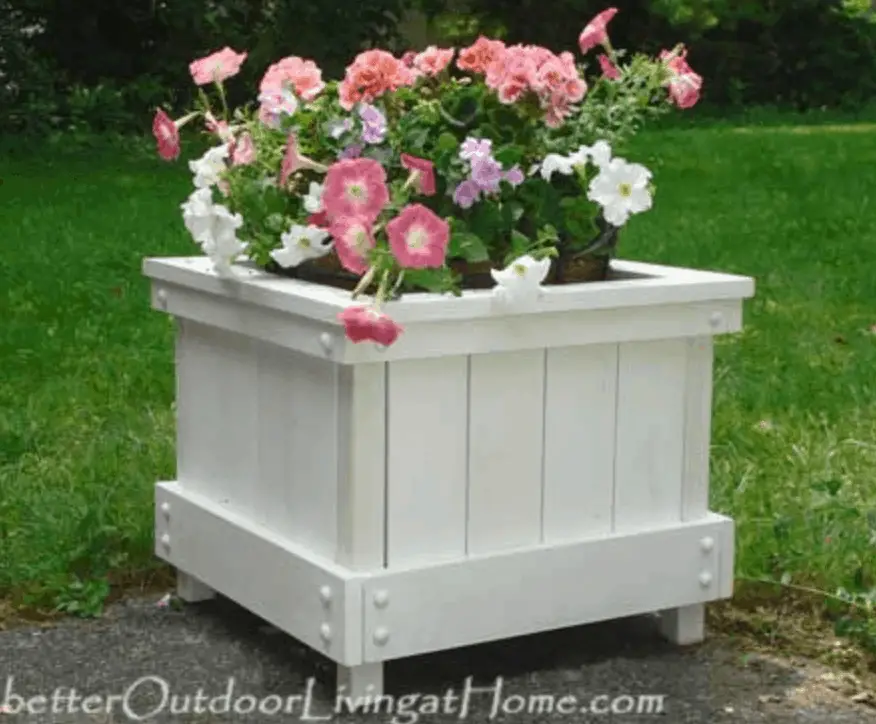 Spending a little extra time to add some small touches to any DIY project will be well worth it in the end, as demonstrated by Cape Cod planters. 
The planter box itself is straightforward, you'll just need to allow some time for the extra trims and details. 
How to Make a Planter Box by Better Outdoor Living at Home
Privacy Planter Box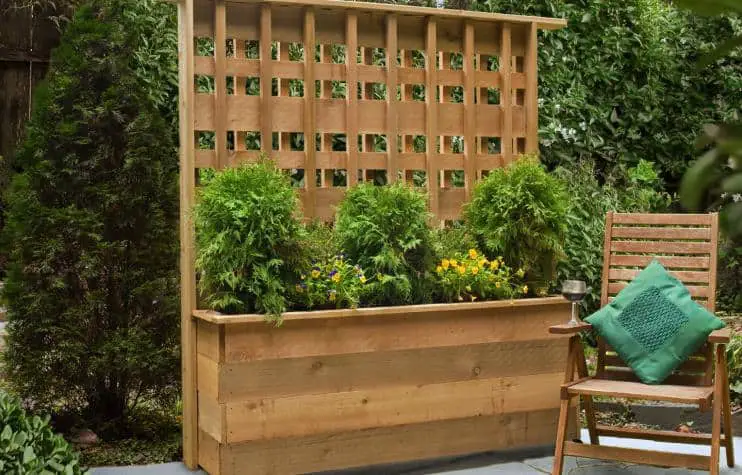 For anyone who lives in close proximity to their neighbors, this planter will help you at least feel like you have some privacy (even if they can still hear your entire conversation). 
You can plant veggies in the planter box or flowers with vines to add to its overall aesthetic. 
How to Build a Privacy Planter by This Old House
Raised Planter Trio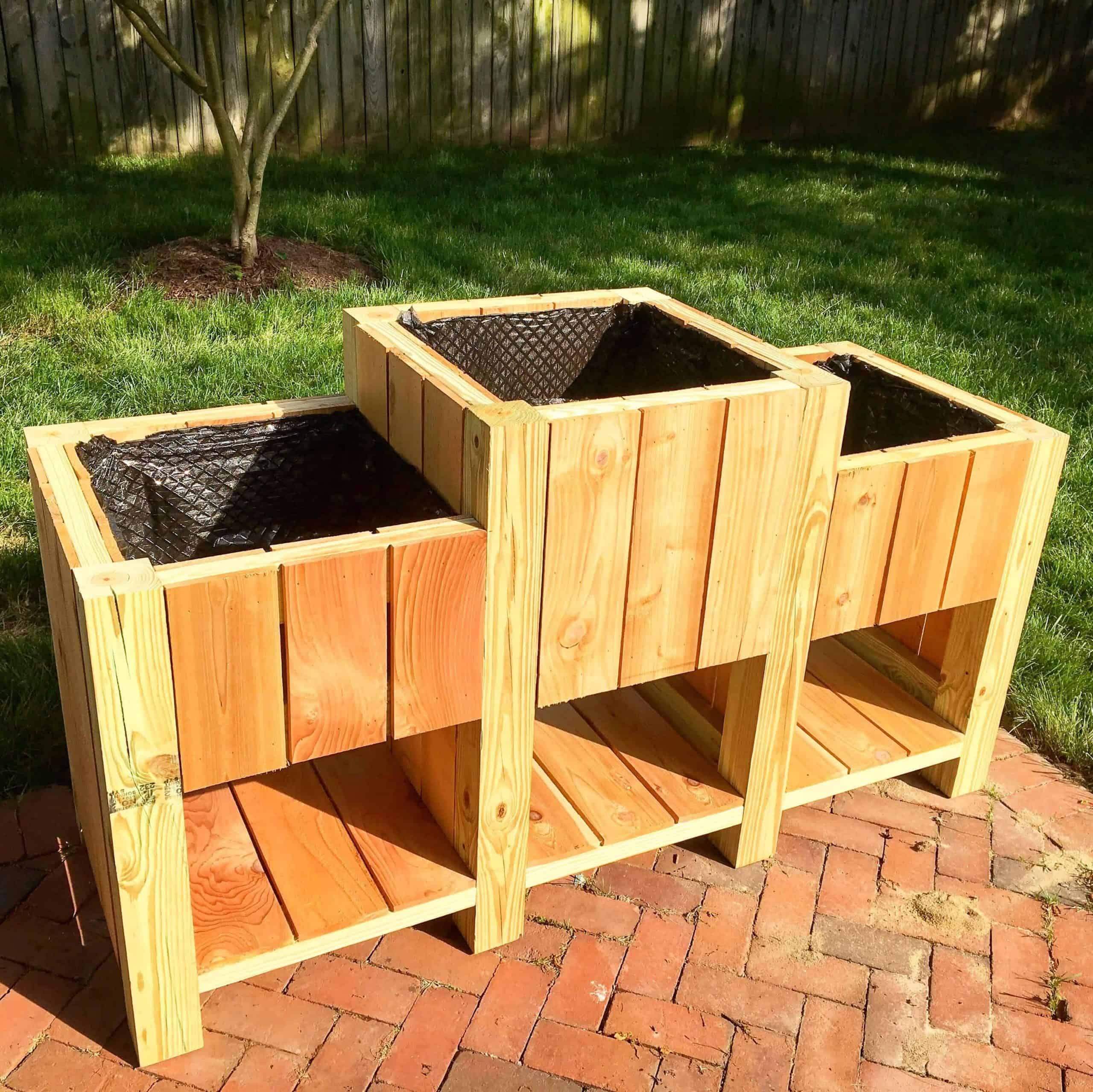 This tiered planter has a little different look than a lot of others because the middle section is raised higher with the planters on either side are level with each other. 
It's another planter that looks complicated but is actually pretty simple to DIY. 
Jones Tiered Raised Veggie Garden by Lazy Guy DIY
Simple Raised Garden Bed Options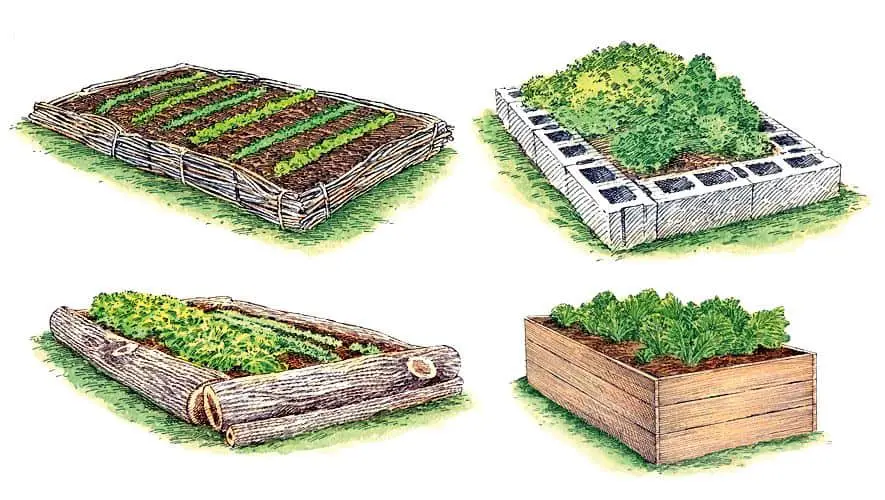 If you're not looking for anything flashy, a simple planter box is for you. 
You can get plans to make a variety of basic planters from Good Housekeeping. 
How to Build a Raised Garden Bed by Good Housekeeping
Lattice Planter Box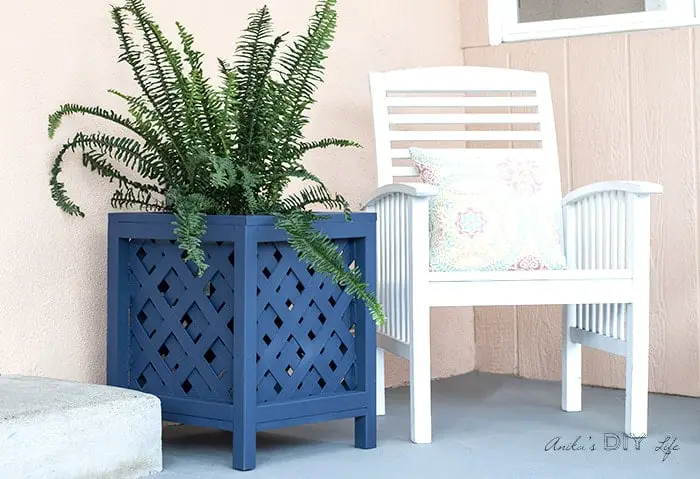 Using lattice for the sides of a planter is a unique and stylish approach. 
This blogger provides plans to recreate this planter for yourself – but if you're going to do it be sure to include a fun paint color like she did. 
DIY Lattice Planter Box by Anika's DIY Life
With Iron Legs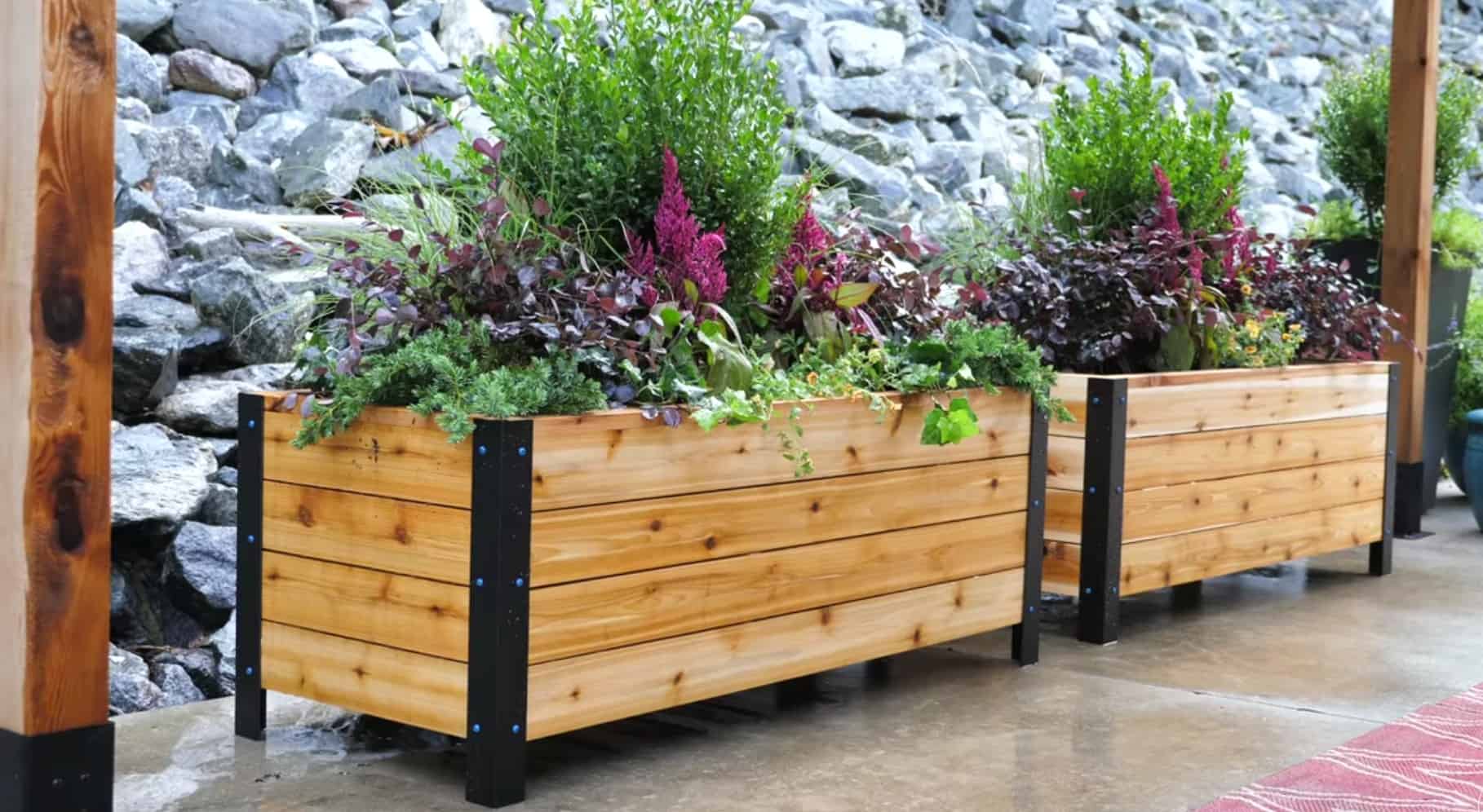 Mixing metal and wood continues to be a big trend because the soft and hard pairing complements each other and go with the farmhouse chic style that so many are into. 
You can give a planter box that look using the plan and tutorial from Crafted Workshop. 
How to Build a DIY Modern Raised Planter Box by Crafted Workshop
Two-Tone Box
In terms of actually building this planter, it's pretty basic and doesn't require much DIY experience. 
What makes this planter box stand out is the two-tone finished product. All you need are two different color stains to get the same look. 
Wood Box Planter Plans by My Outdoor Plans
Raised Bed With Benches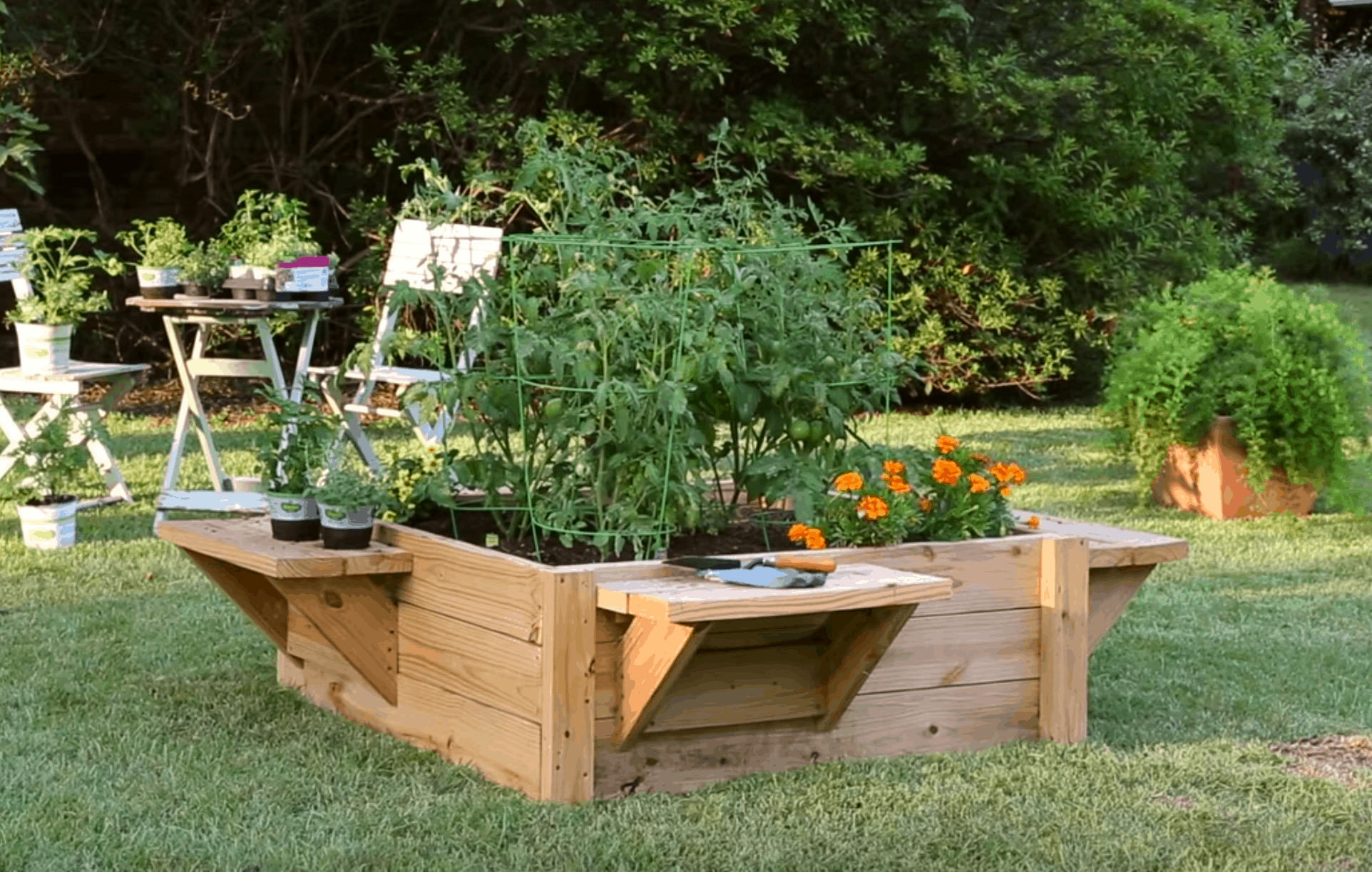 Here is another planter/bench combo that maximizes space – and looks good doing it.
The Bonnie Plants website has in-depth instructions and plans to help you recreate this unique planter at home. 
How to Build a Raised Bed with Benches by Bonnie Plants
Basic & Straightforward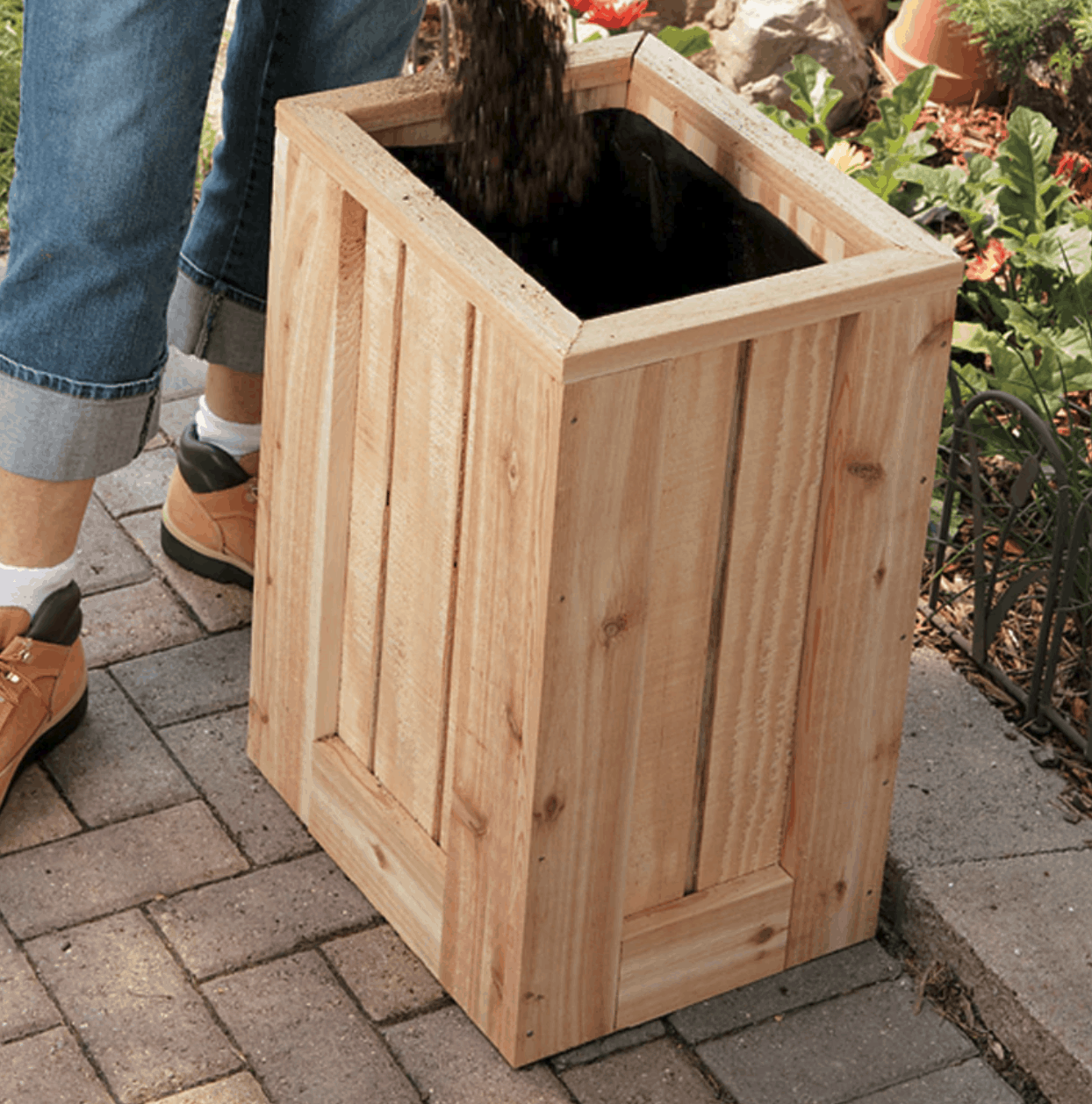 If you like to mix and match pieces, but also don't have a ton of DIY experience, you can still get the look you love. 
Black and Decker has plans and instructions for three similar, but not the same, planters that are easy to make and complement each other when they're done. 
DIY Planter Box by Black and Decker
Tiered Row Planter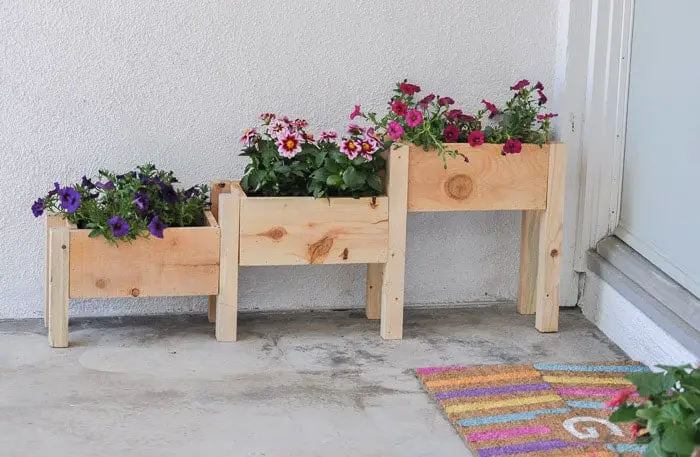 Don't have much of a front porch (or outdoor space in general)? You can still have planters. 
This plan has three separate boxes that can be nestled up against a wall without taking up much space. Plus, this blogger made hers for only $10. 
$10 DIY Tiered Planter Boxes by Anikas DIY Life
Tall Planter Box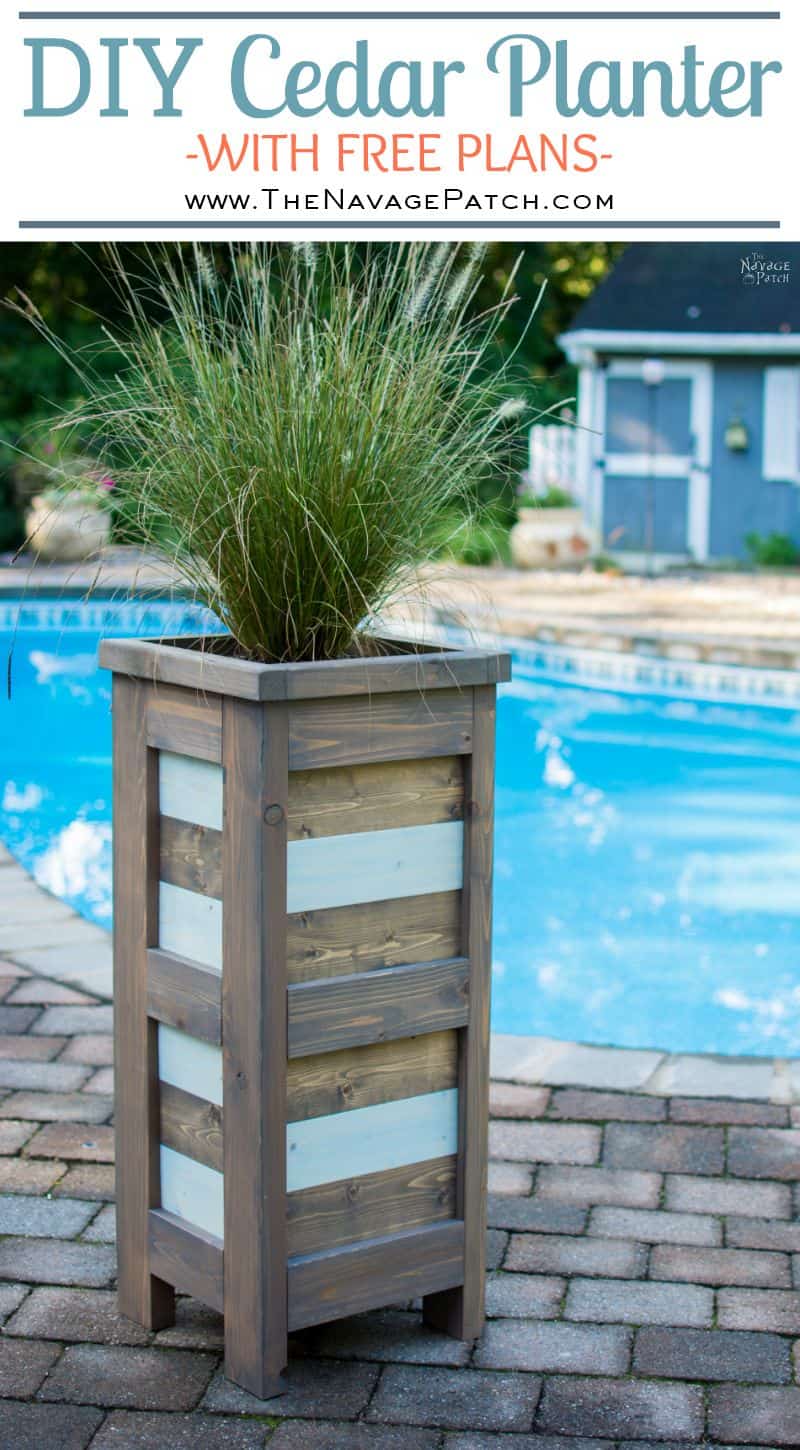 Planters don't have to sit low to the ground if you don't want them to, you can build them up and still put small plants in them.
A perfect example is this cedar planter that's raised tall but has an elevated shelf so you can still put a smaller plant into it. 
DIY Cedar Planter by The Navage Patch
Stacked Wood Planter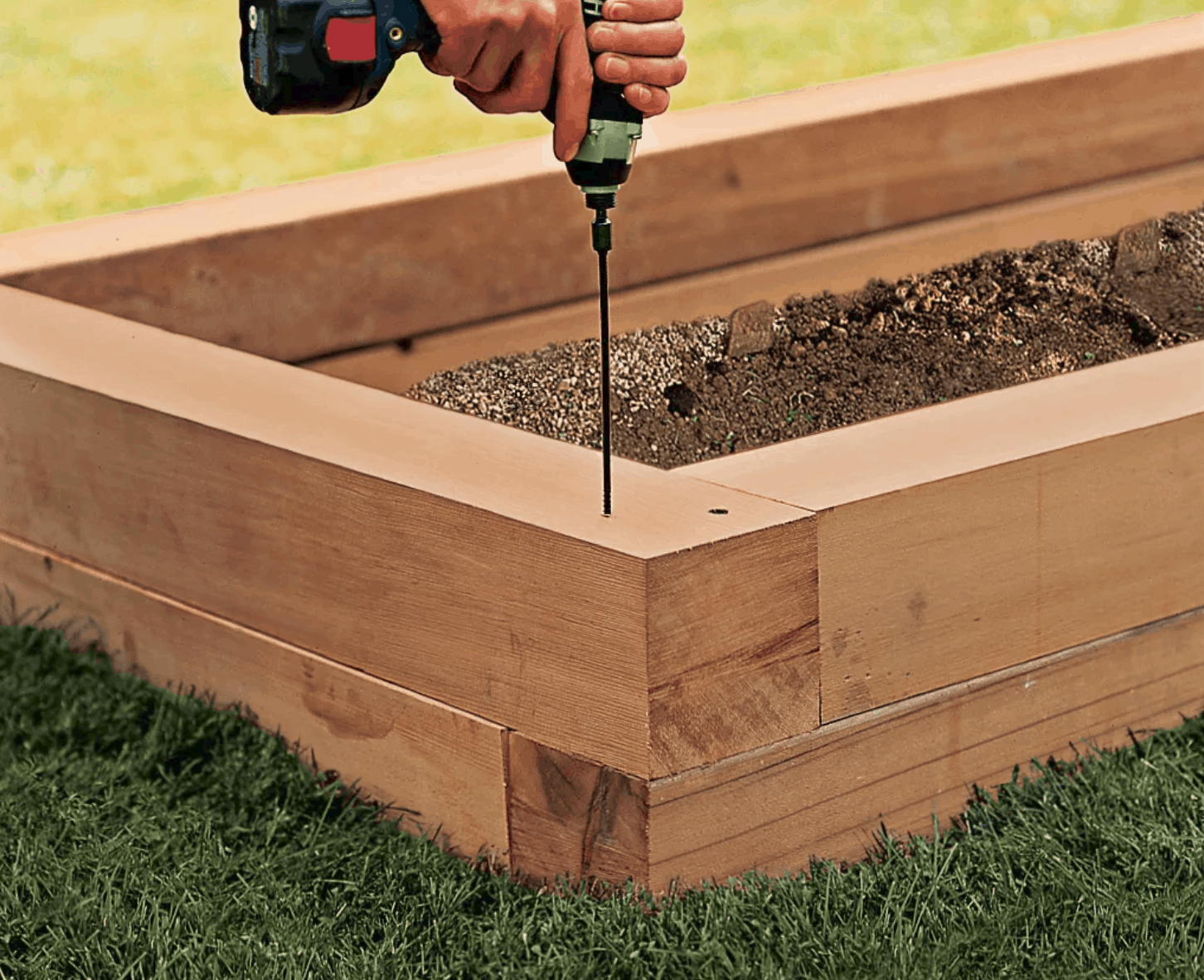 In general, most planter boxes look pretty much the same, but a lot of them have small differences that help them stand out just a little. 
This planter is still pretty basic, but it has a "stacked wood" look that gives it its own unique style. 
How to Build a Raised Planting Bed by This Old House
Recycled Pallet Planter Box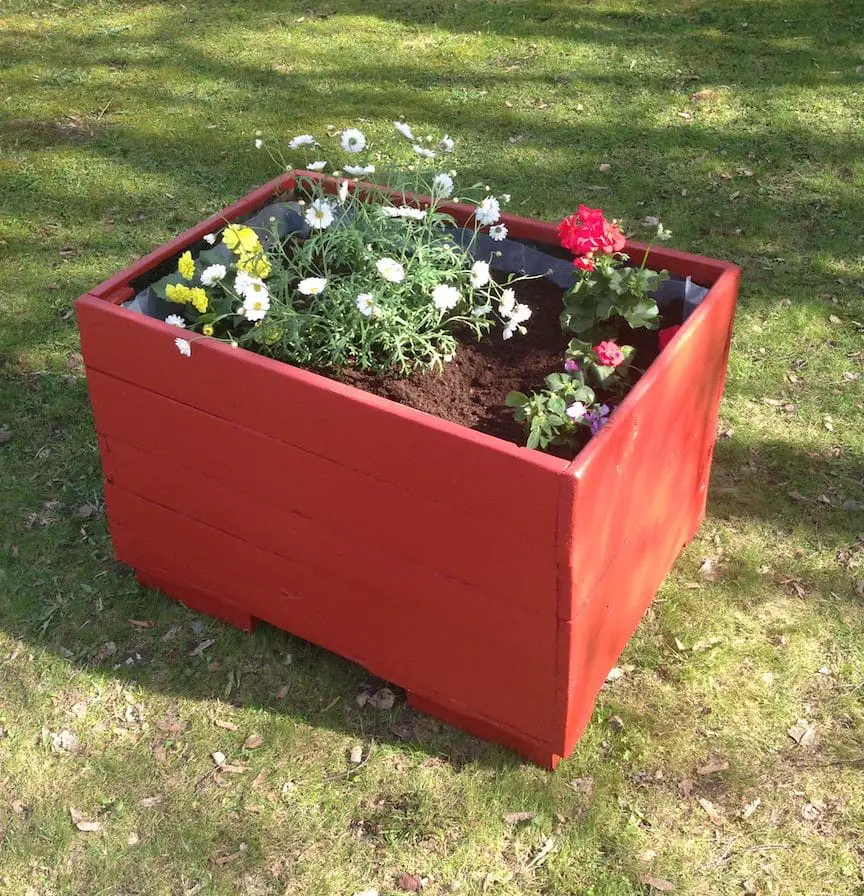 Here is another opportunity to make use of that old wooden pallet you have hanging around the garage. 
Nick Power has all the plans you need to recreate this planter using a wood pallet. Feel free to paint yours fire-engine red, too!
DIY Pallet Planter Box by Nick Power
Conclusion
From planter boxes made out of scrap wood or pallets to those with intricate cuts or designs, there are plans and tutorials for everyone and every style. Planter boxes are a fantastic way to ensure your plants are growing in good soil. 
Not to mention, planters are visually appealing and look great as decor outside (or inside) the house, and making one of your own will allow you to cut it and stain it in a way that matches your decor and aesthetic.