14 Amazing DIY Hot Tub Ideas
One of the most relaxing things you can have at home is a hot tub. It's great for easing the mental strain after a rough week (or day), a great way to reduce tension in your muscles, and, generally, just an enjoyable way to unwind.
But not everybody can afford to buy a fancy hot tub. Others don't want to spend the extra money. And yet others don't want to contribute to more things being manufactured when they could upcycle or make their own.
So, if you're one of those folks who wants to build your own hot tub, you'll want to check out this list of unique ideas for doing just that.
Cheap, Easy One-Person Hot Tub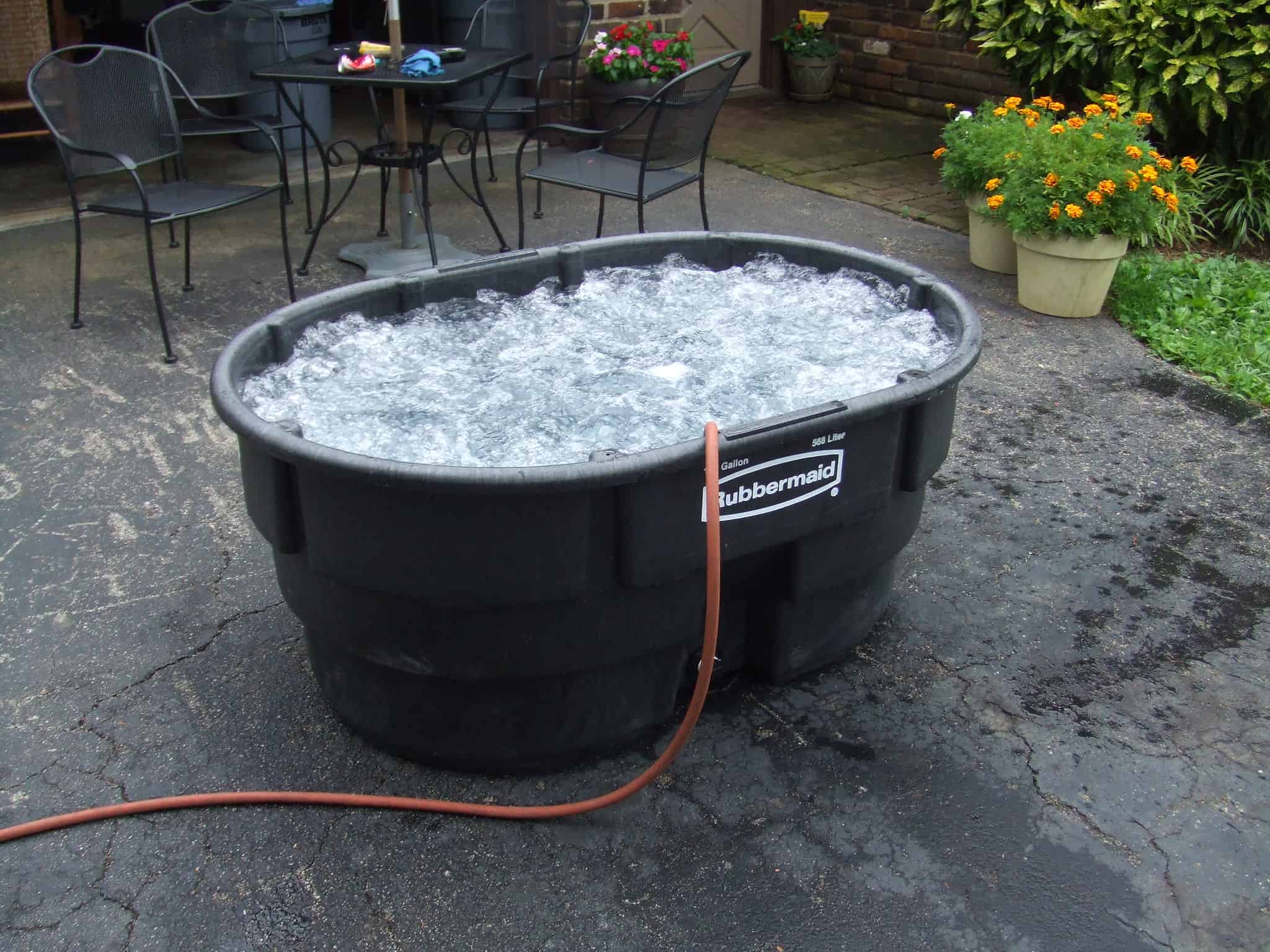 If you're more looking for small hot tubs that you're not expecting to share at the same time, this is a super easy, cheap option. It's also really easy to put together, so just about anybody can do it, even those who are a little handy.
You'll need an air compressor, a small stock tank (the original poster used a Rubbermaid brand tub), an electric heater, a hose, and a few other things. If you're short on space but have multiple people who'd want to use it, you can reuse it within an hour for relaxer number two.
Look for the notes in the descriptions below the photo to learn how these folks put it together.
Via  Flickr
$75 Wood-Fired Hot Tub
For those looking for inexpensive hot tubs, this one is your go-to. It's about $75 total for the whole thing – which is pretty darn good for a wood fired hot tub! Plus, it's kind of a folk art style tub that works for up to three people who will enjoy getting personal.
The creator of this one used a bulk liquid tank, stainless tube, and gas bottle to create this relaxing spot. You can create your own from similar salvaged supplies from the local junk yard, thrift store, or similar locale. Plus, it won't take you more than a weekend to put together.
You'll need about 9 feet of stainless tube, an LP gas bottle like you'd use for barbecue grills, a liquid storage tank, some corrugated iron to cover the tank, scrap polystyrene packaging, closed cell foam camping mattress, soft narrow gauge binding wire, scrap metal (if you want to decorate the tank), and a canoe paddle.
Check out the Instructables for more details on the tools you'll need along with the step-by-step guide.
Via  Instructables
Salvaged Bathtub Turned Hot Tub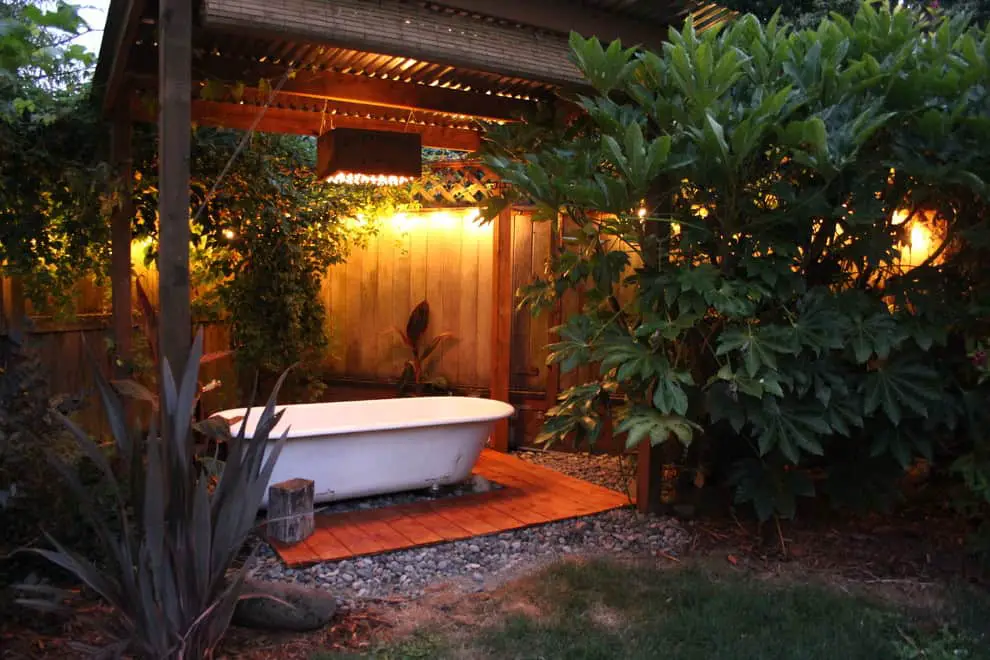 Bathtubs are designed to hold water, right? So, this poster designed an outdoor bathtub DIY tutorial on salvaging an old bathtub and turning it into a hot tub for use in the backyard. It's a fairly simple project that works great for someone on a budget.
Overall, the project cost the original creator about $750, with all labor and materials included. You may or may not be able to do it for less, depending on where you salvage the tub from and how much of the work you can do for yourself.
Via  Houzz
The Ultimate Outdoor Hot Tub Oasis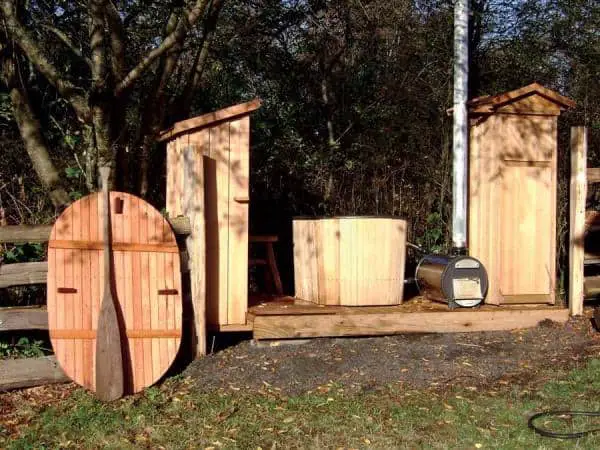 For those looking for more than just a DIY soaking tub, this is a great tutorial for ideas and notions. The whole DIY has so much more than just a hot tub – it's an oasis for the backyard. You'll be able to store everything you need outdoors with the soaking tub as well as add some aesthetics that improve the experience.
The creator of this tutorial didn't like the idea of the often-unattractive hot tubs made from stock tanks. So, they put together a beautiful set-up decked out in stunning wood – all for under $1000.
Wood Fired Cedar Hot Tub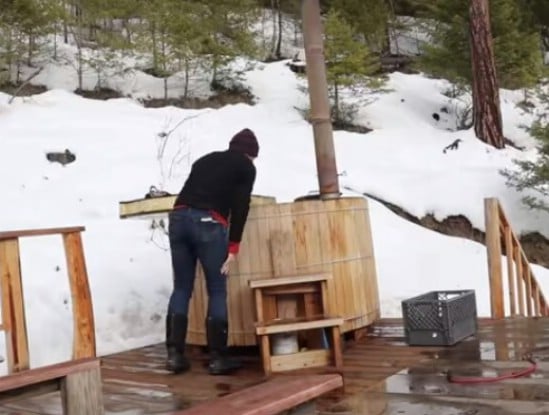 Another beautiful alternative to the expensive store-bought hot tubs is this cedar wood hot tub that works on  wood fire energy. You can safely and easily use this in most environments suitable to an outdoor setup.
The tub is fairly easy for any woodworker to build and, when sourced properly, the cedar boards won't cost a fortune. It's perfect for an off-the-grid setup or any other backyard platform.
You can check out the building plans on the website as well as watch along through the series of  Youtube videos outlining every step of the process, including finding the cedar boards for very little money.
Solar Powered Hot Tub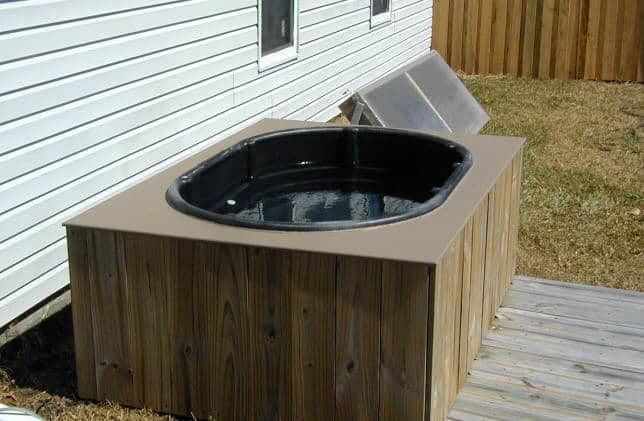 Want a hot tub but don't want to use grid power or a wood burning stove? Then try solar power. This design has exactly this in mind with all the instructions, materials lists, and everything else you need to construct your own solar-powered hot tub in just a few days' time.
The creator didn't take photos of each step but does provide information for everything, including where each component of the project was purchased, how everything went in and came together, and practically everything else you could need to know. And it's all for under $400.
Via  Build it Solar
Custom Stone Pool Hot Tub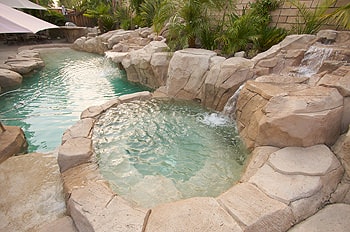 For those who have more space for installing their hot tub and want to include it into their landscaping in the yard, this beautiful custom stone pool hot tub is perfect. It's absolutely gorgeous and will blend in almost naturally to just about any landscaping style.
You will need to be pretty handy to pull this off, though, as it's a lot more extensive than the previous projects. You'll be digging holes, installing stones, building walls with Thermalite blocks, etc. It's not impossible for someone less experienced, but it will be a big challenge.
And whatever you do – and no matter your experience – you should definitely read through the instructions several times before you start gathering your materials and starting construction. Check weather forecasts and plan for when you've got a few days straight that you can devote to the project.
Via  The Cover Guy
Steel Barrel Hot Tub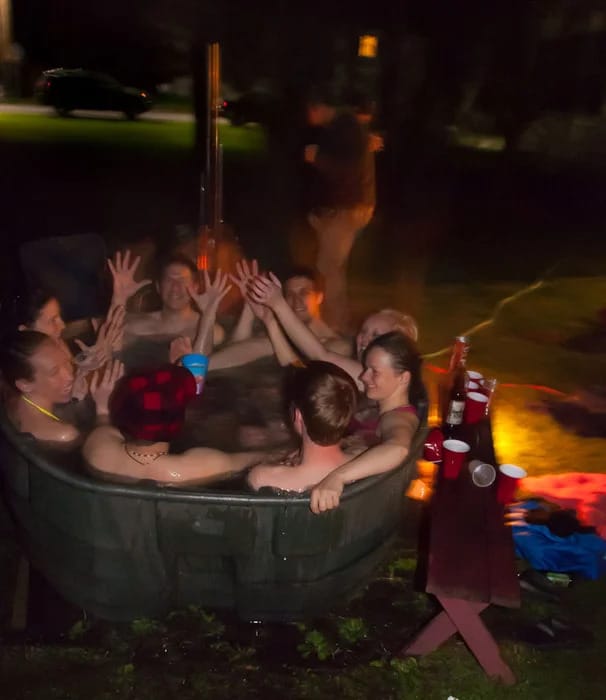 If you're looking to build a large hot tub – holding up to 10 people – but don't want to sink the $1000+ into the project, this steel barrel tub is a great option. It will still be several hundred dollars, but way less than buying one prefab.
It's also a super easy to make option, which means you don't have to be super handy with the tools. You'll need a pickup truck for the supplies, though.
To make it, you'll need about three hours and the following supplies:
55-gallon closed steel barrel
10 1/2 inch straight pipe fittings
14 2″ x 4″ x 8″ firebricks
10 feet of 1/2 inch rigid copper pipe
50 feet of 1/2 inch flexible copper pipe
Barrel stove conversion kit
2 2-foot sections of 6 inch black stove pipe
10 1/2 inch elbow pipe fittings
plumbing solder and flux
Rubbermaid 300 gallon stock tank
1/2 horsepower centrifugal water pump
10 foot garden hose
1 foot 3/4″ CPVC pipe
assorted fittings to connect tub to pump and stove with garden hoses
ground fault switch to turn on pump
Via  Instructables
Upcycled Pallet Hot Tub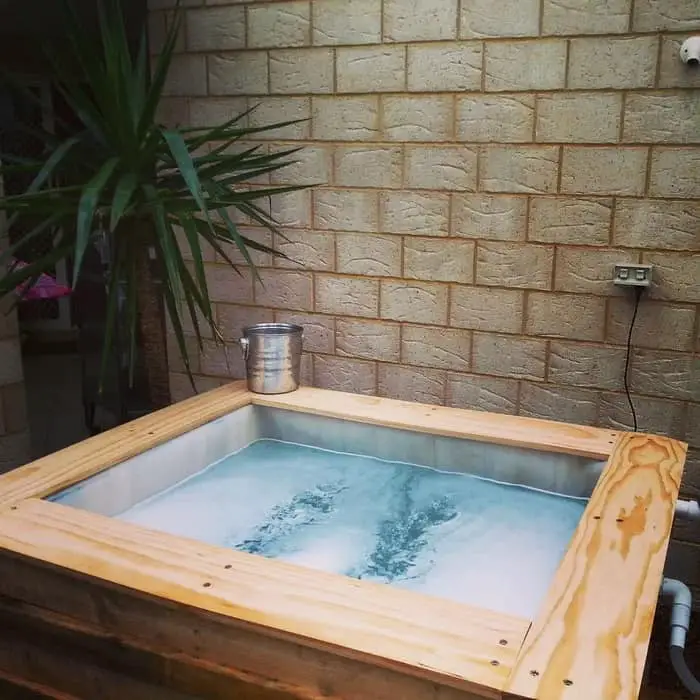 For those looking to do some recycling while they're making their relaxing space, this upcycled pallet project is a great choice. The result is a gorgeous rustic hot tub that a couple people can share for less than $100 or so.
It's a simple build, which also makes it great, and doesn't take loads of time, though you will need to let everything set fully before use.
When you're done, you'll have a beautiful, jetted hot tub that you'll enjoy using over and over all year long.
Via  Instructables[RP1] 
DIY Concrete Inground Hot Tub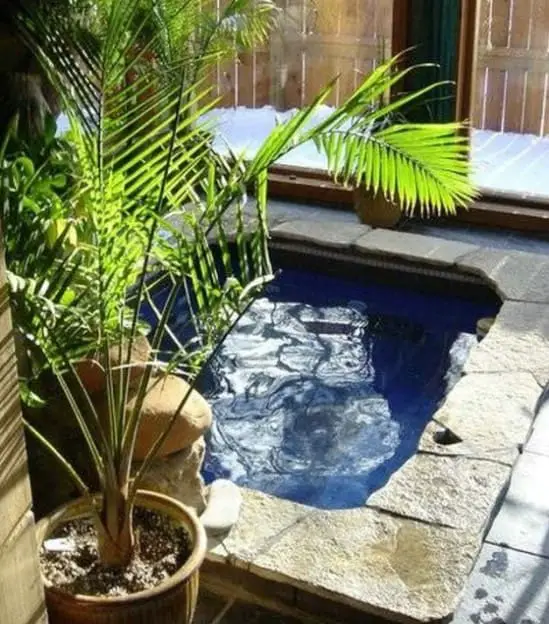 This beautiful hot tub is perfect for any backyard with a little space. It looks professionally built, works great, and is technically portable – though being so easy to build (if you have experience), you can always just another one if you move at some point.
Follow the step-by-step instructions, which are pretty thoroughly laid out by the creator of the plans.
Via  Hunker
Solar Hot Tub With Fountain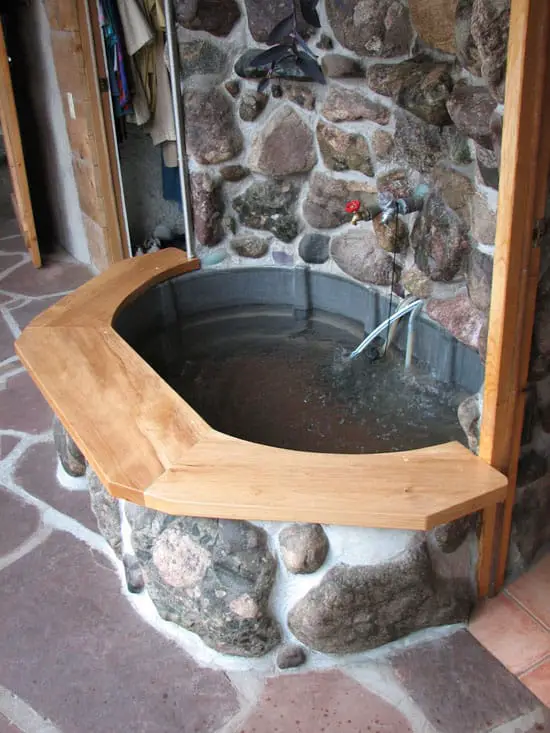 This homemade hot tub is a beautiful addition to any yard. The stonework and fountain make it absolutely gorgeous, while the solar power source makes it friendly for the environment and easy to locate just about anywhere.
The project is complex but not terribly difficult. So, someone who has basic knowledge and a bit of patience could put it together in a reasonable fashion without fear of failure. It will take anywhere from two or three days to a week, depending on your skill level and the amount of time you can devote to the project, as well as the climate and drying times.
Round Wood-Frame Wood-Fired Hot Tub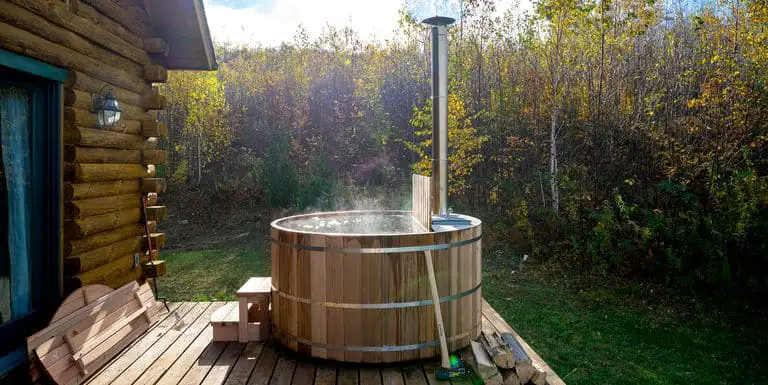 This beautiful wood-frame hot tub is another wood-fired tub design that works well for most outdoor settings. The instructions provided are a step-by-step plan, so read ahead to know what you've got going on as you build.
The images are pretty details and the steps are well-laid out for a fairly easy build, though you'll probably need to be a little more than "beginner" in experience level to finish the project without a lot of hassles and frustrations.
It would make for a great group or family building project.
Concrete Hot Tub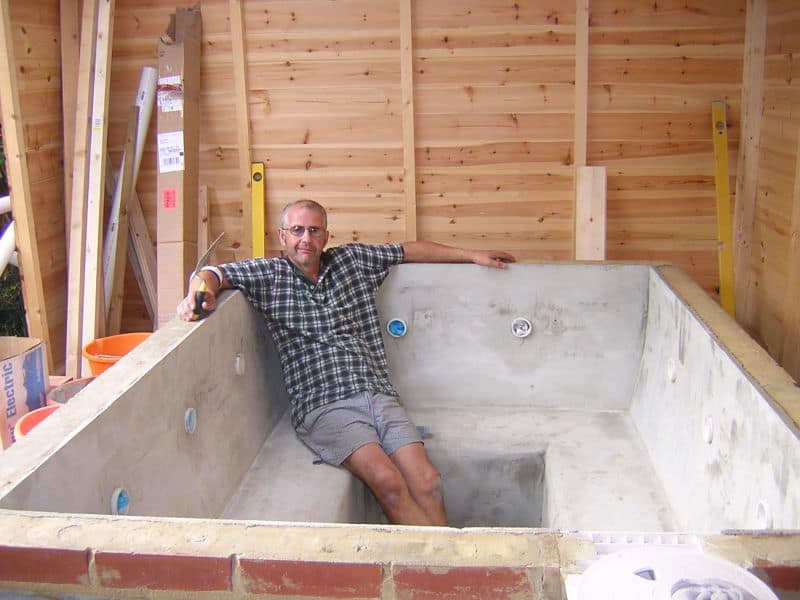 This is a fairly large  concrete hot tub that's a beautiful above ground option for folks with a larger space to add in this relaxation oasis. The plans are pretty extensive, so take some time, read through several times, and then gather your supplies.
We'd also recommend studying the photos carefully before gathering supplies. They're quite helpful and really take you through the entire process, leaving very little room for confusion. It's a complex process, but if you've got the knack for home projects, the photos will make it much easier, even for the less experienced folks who love this build.
Via  Build A Tub
Wooden Wood-Fired Hot Tub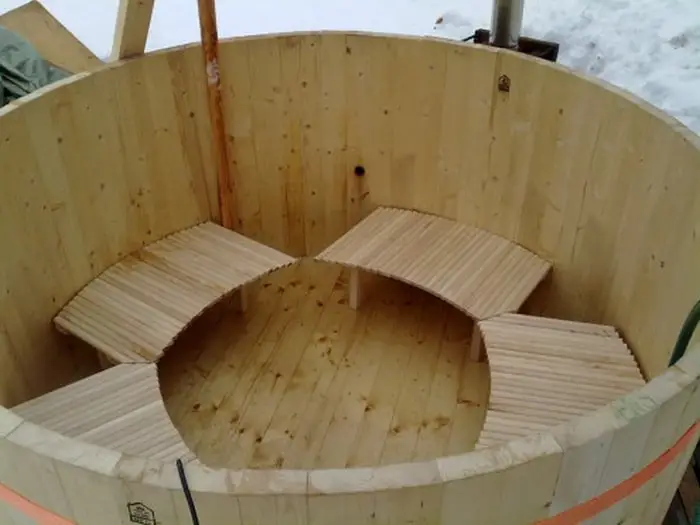 This final hot tub option is one of our favorite wooden structures – thanks to the beautiful built-in benches. It's a fairly large hot tub, too, so it's great for families, folks who do a lot of entertaining, or maybe even a glamping site.
This tutorial is pretty comprehensive, offering all the information, materials lists, step-by-steps, and additional tips you'll need for building this DIY hot tub in a reasonable time without wasting money on extra materials.
To build it, you'll need pine lumber, a wood-fired sauna stove, water pipes, natural wood oil, a chimney, metal sheets, silicone caulking, and deck screws. You'll also need these tools: a measuring tape, pencil marker, panel saw, web clamp, jigsaw, disc cutter (with polishing disc), and a cordless drill.
The Right DIY Hot Tub for Your Home
Among these choices, you'll find just about any hot tub design you could make on your own. Some options are super easy and cheap while others are more works of art – but whatever you choose, you'll love the end result: the perfect place to relax.
Just be sure to read the instructions several times before going out and gathering supplies and starting the project.