25 Wood Shed Plans & Tutorials
Whether you need a spot to store your garden tools, firewood, or a mixture of both, a wood shed is a must However, there are a lot of things to consider before committing to one, like size, durability, and overall design.
Since there are so many specifics in finding the right one, a DIY wood shed is the best way to go. You'll know for sure it will meet all of your unique requirements.  
Small Wood Shed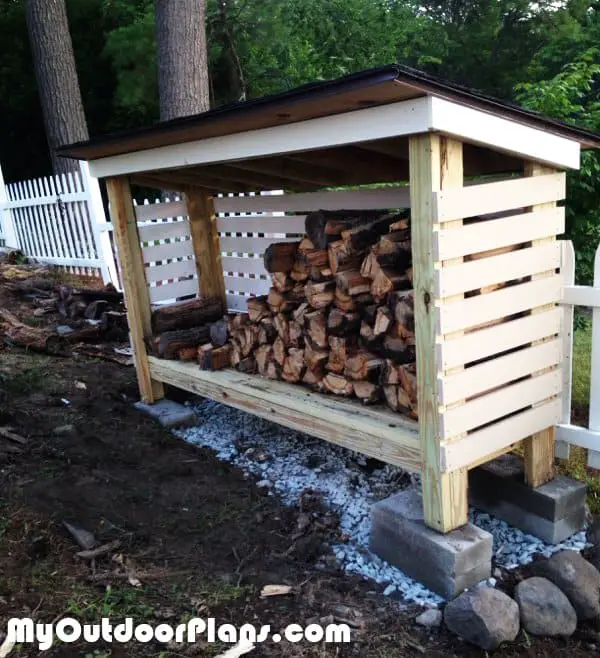 If you're looking for a spot to store your firewood, you don't need much. 
This small wood shed provides everything you need, a strong structure, protection from being saturated by rain, and a small footprint. 
DIY Backyard Firewood Shed from My Outdoor Plans
Portable Wood Shed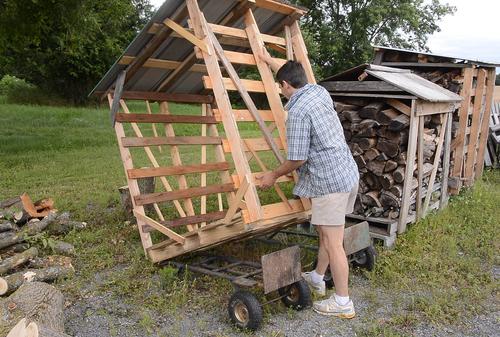 A lot of people only need wood for bonfires and firepits, so it's nice to be able to store the storage shed during the months it's not being used. 
This wood shed is portable so you can stow it away as needed, or just move it around if you want to protect your grass. 
Moveable Firewood Shed Build from Wood Gears
Cedar Double-Door Wood Shed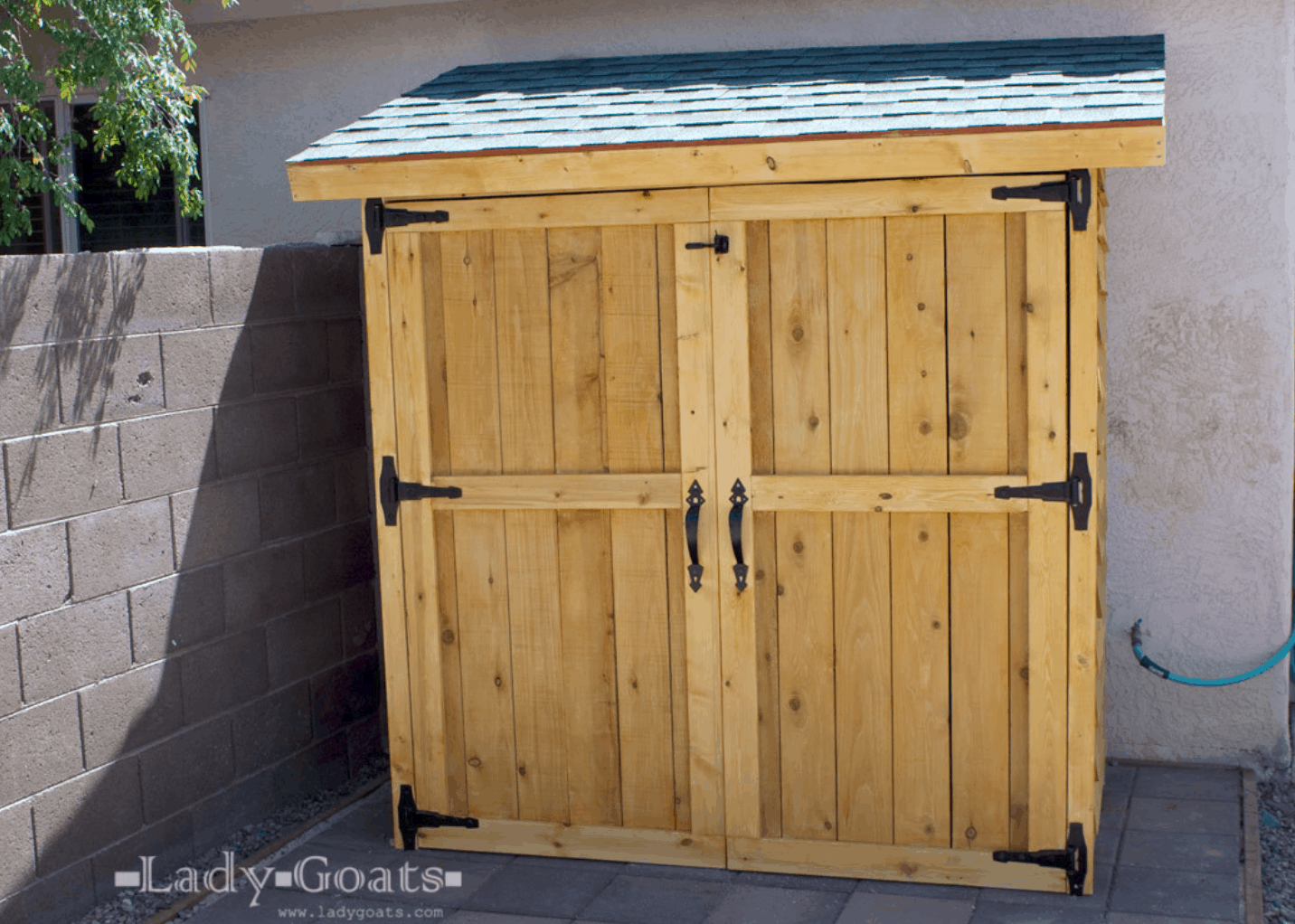 This may be one of the most attractive wood sheds, ever. 
The cedar is simply gorgeous, the double doors cover up any mess, and it's really easy to make thanks to the plans on the Ana White website. 
Small Cedar Shed from Ana White
Homemade & High-End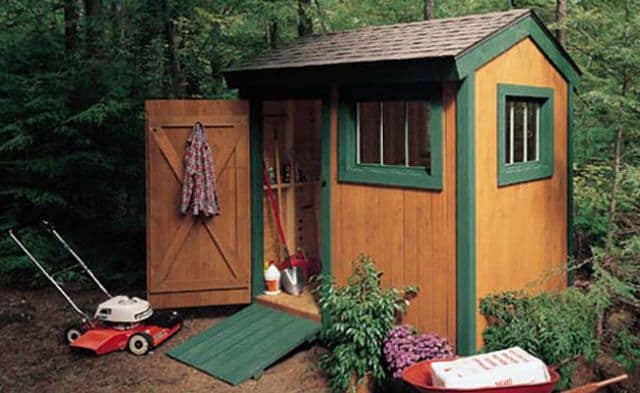 It's hard to believe that this shed is homemade because it looks so high-end. 
The difference between this shed and a lot of others is simply the extra time spent on details like window trim and painting. Your HOA will definitely approve. 
Super Shed from Popular Mechanics
Pallet Shed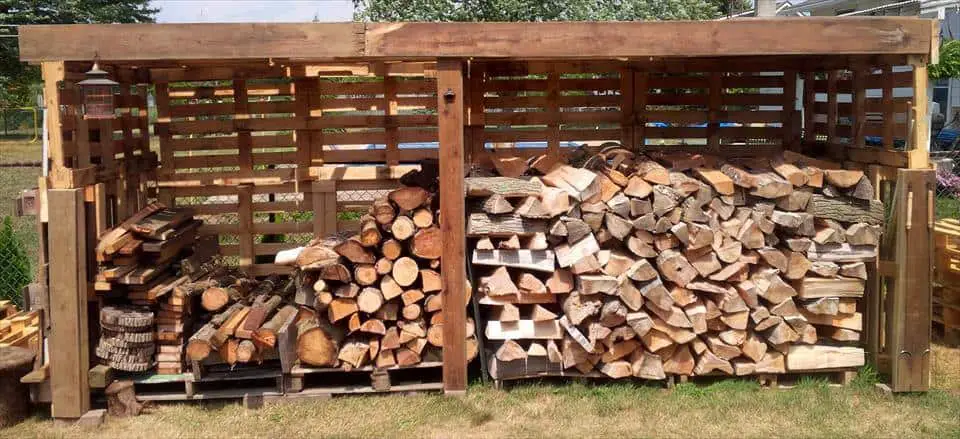 Pallets are the main material used in a lot of great firewood shed plans because they're sturdy and inexpensive. 
This pallet shed is definitely for a lot of storage, but if you don't need to stow away that much wood, then you can easily scale the design down. 
Pallet Firewood Shed from Easy Pallet Ideas
Two Level Shed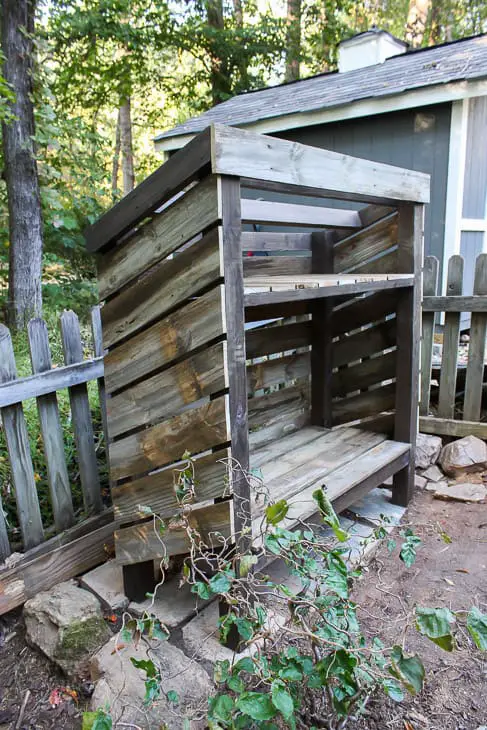 What's nice about this wood shed is that there is a second firewood rack for more organized storage and easy access.
Not to mention, the finished product is easy on the eyes! 
How to Build a Wood Storage Shed from Pretty Handy Girl 
Reclaimed Wood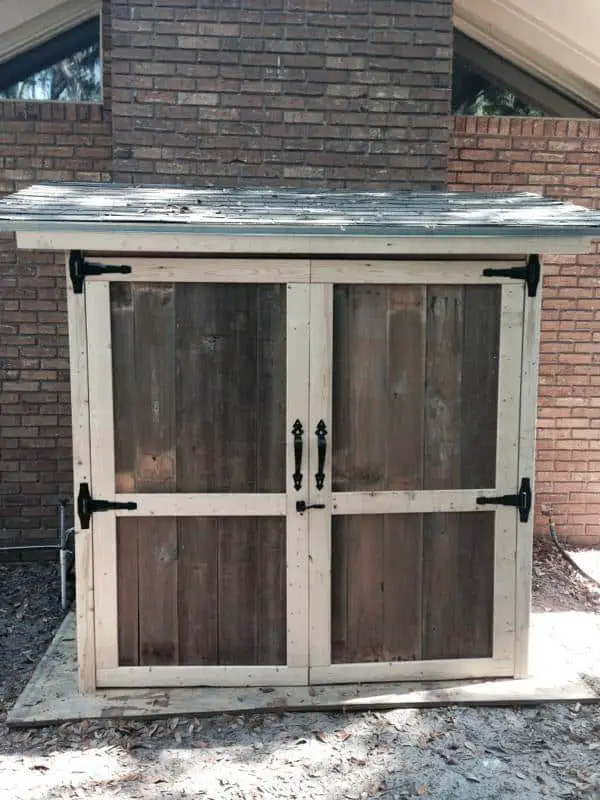 This blogger used Ana White's wood shed plan to build their own using reclaimed wood. 
Obviously, not all wood is created equal if you want to use it outdoors, but this is a great opportunity to use up some scrap pieces you have laying around. 
Reclaimed Wood Outdoor Storage Shed from Ana White
Narrow Shed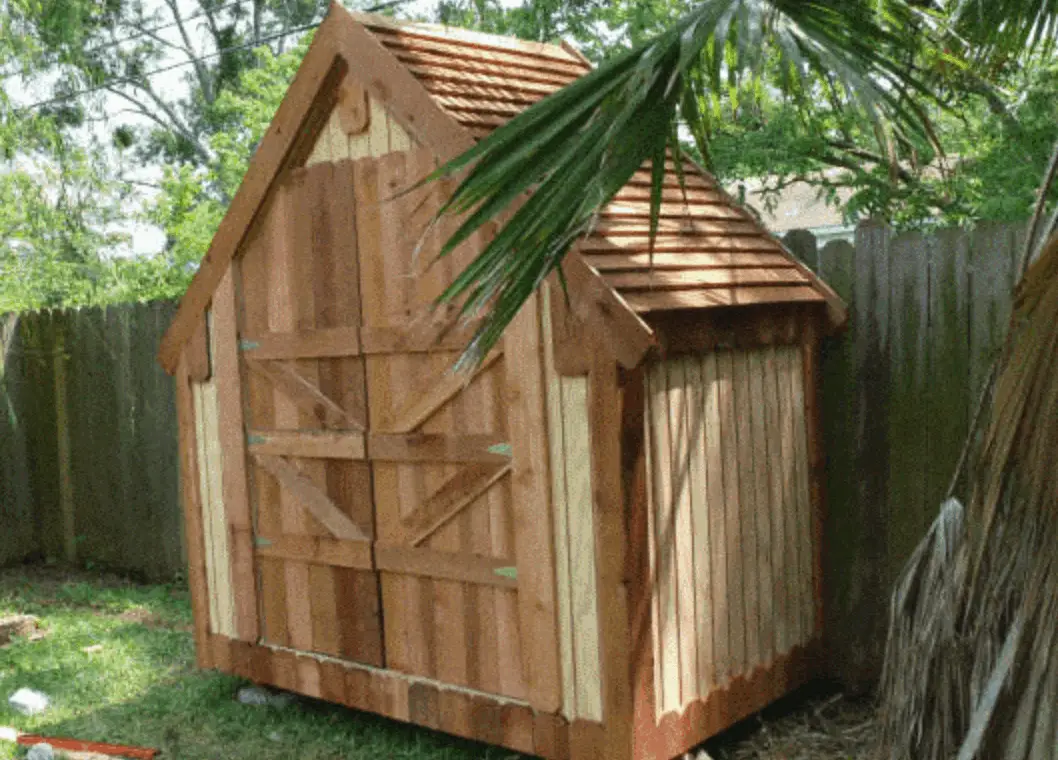 Outdoor space can be a serious barrier in building storage in the backyard, but this shed has you covered. 
It's designed to be narrow to still do its job without taking up a lot of your limited space. 
Narrow Shed Plans from Build Eazy
Simple & Straightforward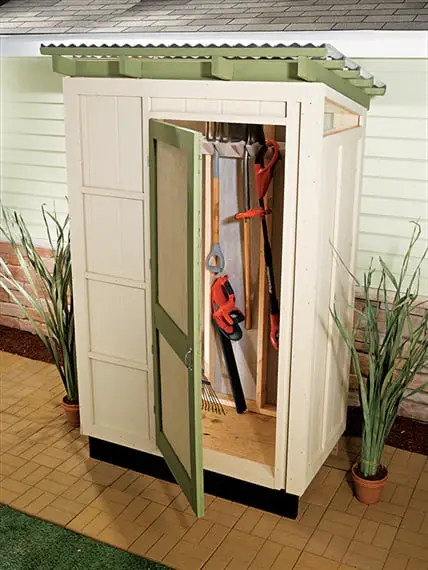 This is the most simple and straightforward firewood storage shed design there is. Even better, you can get the plans for free. 
Check out the plans and tutorial from the Black and Decker site to learn how to make your own. 
Storage Shed from Black and Decker
Triangle Wood Shed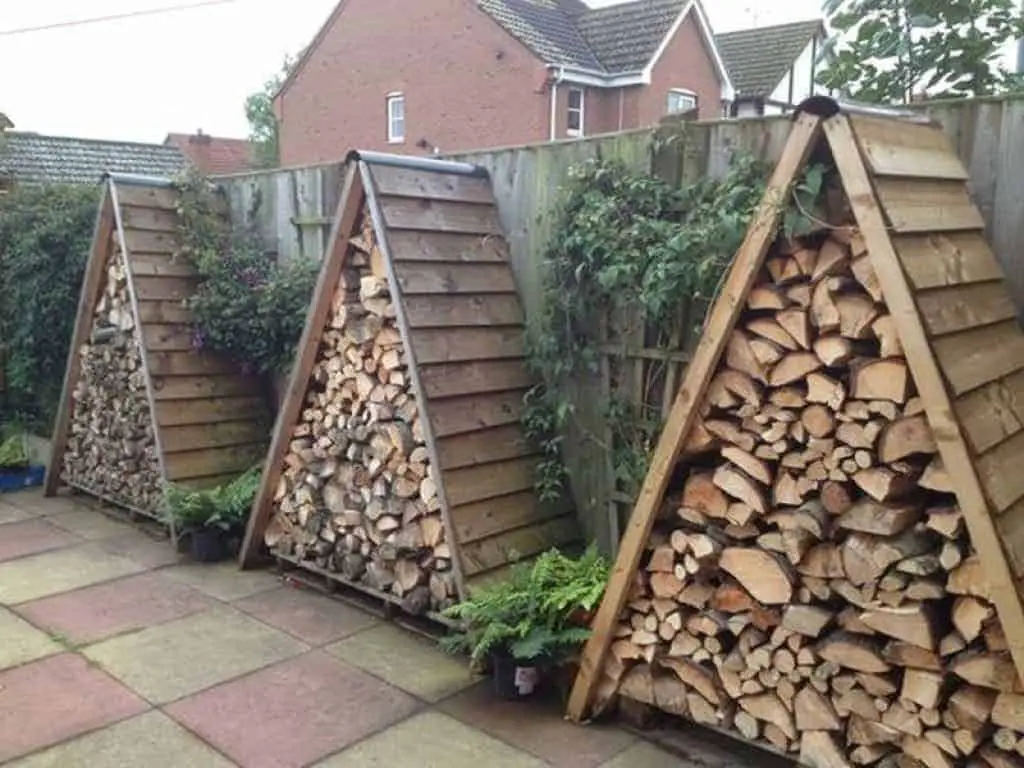 Yes, there are a lot of standard wood sheds, but they don't have to be boring if you don't want them to be. 
You can add a little character to your wood shed by designing it like a triangle/pyramid like these ones! 
Good Firewood Storage Ideas from We Are Found
Large Three-Sided Shed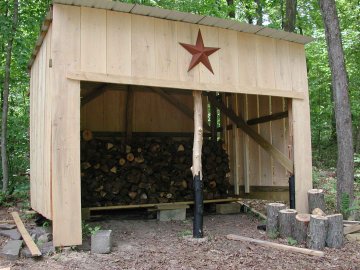 If you have a lot of wood to store, you need a large storage shed to keep it all in one place.
This three-sided wood shed will keep things neatly stored but still give you easy access to the wood any time you need to grab it. 
Plans for a Funky Wood Shed from Wood Heat
Log Store Shed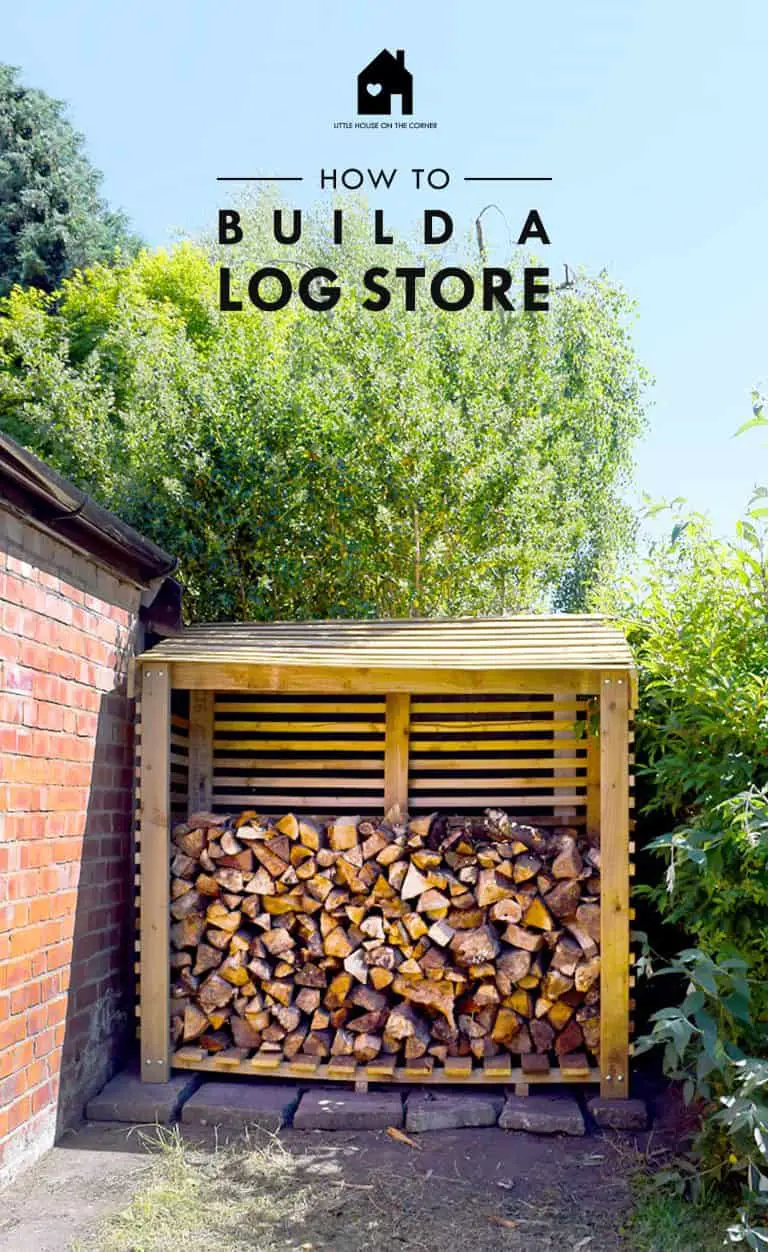 You don't have to have a lot of DIY experience to make this wood shed, because it's all straight cuts and easy assembly. 
Learn how to make this simple shed from the Little House on the Corner blog. 
How to Build a Log Store from Little House on the Corner
Massive Wood Shed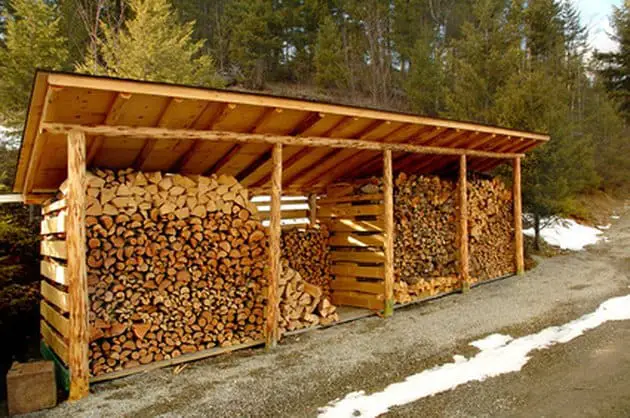 Okay, this is one of the largest wood storage sheds, ever. But, it's a great design if you have the need. 
Obviously, this isn't a great design if you have limited outdoor space or don't have the volume of wood to fill it, but it can be scaled down if you need a third of it. 
Designs to Build a Wood Shed to Store Firewood from Hunker
Speedy Build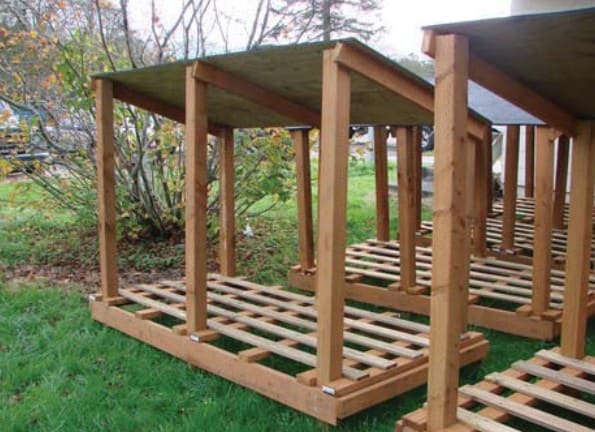 If you're looking for a DIY wood shed that is easy and can be done quickly, this is it.
It hardly requires any materials and, bonus, the ones that it does need are very inexpensive. It's a one-day project, for sure. 
Wood Shed Diagram from PG Air Quality
Easy Firewood Shed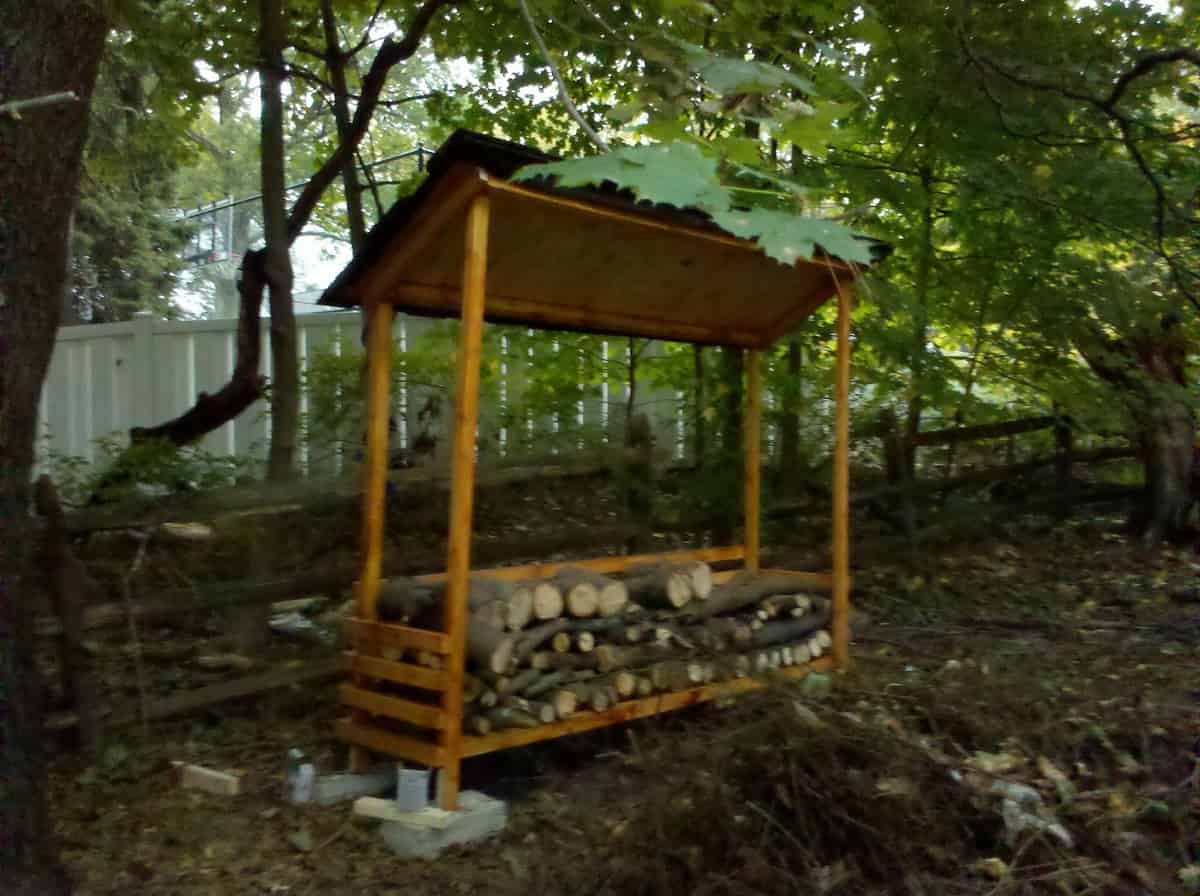 You don't need a lot of experience to build this super-easy firewood shed. 
Depending on the size of wood you're trying to store, you might need to scale this down a little since (for the most part) there are no sides to the structure. 
Firewood Shed from Ana White
Drive Through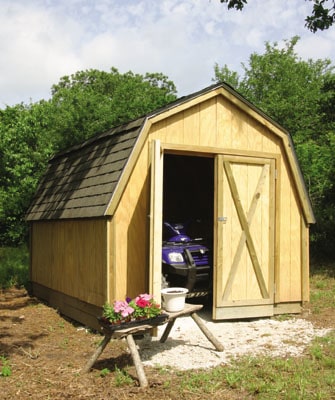 This is basically the Cadillac of wood sheds, because you can store your firewood and park a lawnmower or portable log splitter in it, too. 
Building this shed isn't much different than building any other structure, it just requires two sets of doors instead of one. 
Building a Drive-Thru Backyard Shed from Extreme How-To 
Short Shed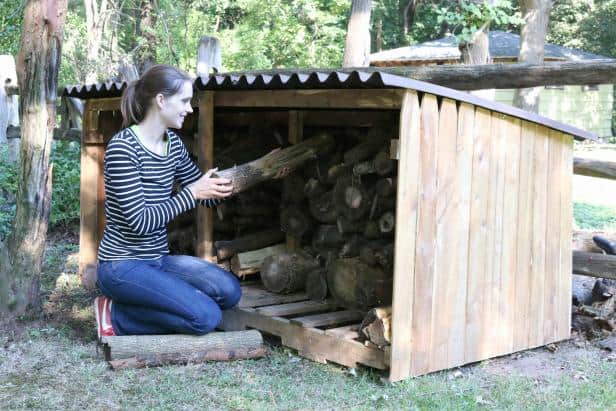 This short shed is perfect for someone who just needs a few logs for their firepit, not a ton of firewood to keep their home heated. 
It's really no bigger than a dog house, but can still hold a lot with its compact design. 
How to Build an Outdoor Firewood Storage Shed from DIY Network
A-Frame 
Instead of a one-piece slanted roof, this wood shed has an A-frame to give it a little more character. 
It's not really any harder to make this version, it's just a matter of what style you like the most. 
Build a Backyard Firewood Holder from Canadian Woodworking Magazine
Firewood Box
If you don't want a full-on shed with doors, but also don't want an open wood shed, this is a happy medium. 
You can store your wood in this box to keep it covered, but out of sight without having a large structure in your backyard. 
Firewood Box Plan from RunnerDuck
Home Extension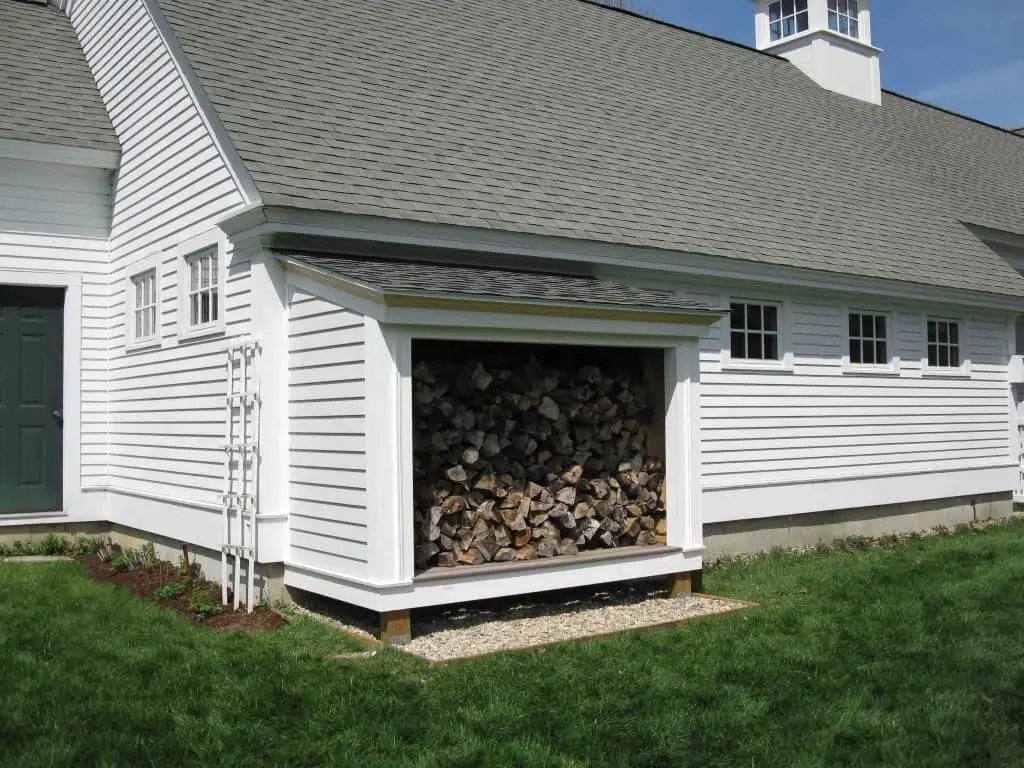 If you want a wood shed that will really blend into your home – make it an extension! 
This is obviously a project for a more experienced DIYer, but the final product is definitely worth it. 
Building a Firewood Shed from A Concord Carpenter
Reclaimed Wood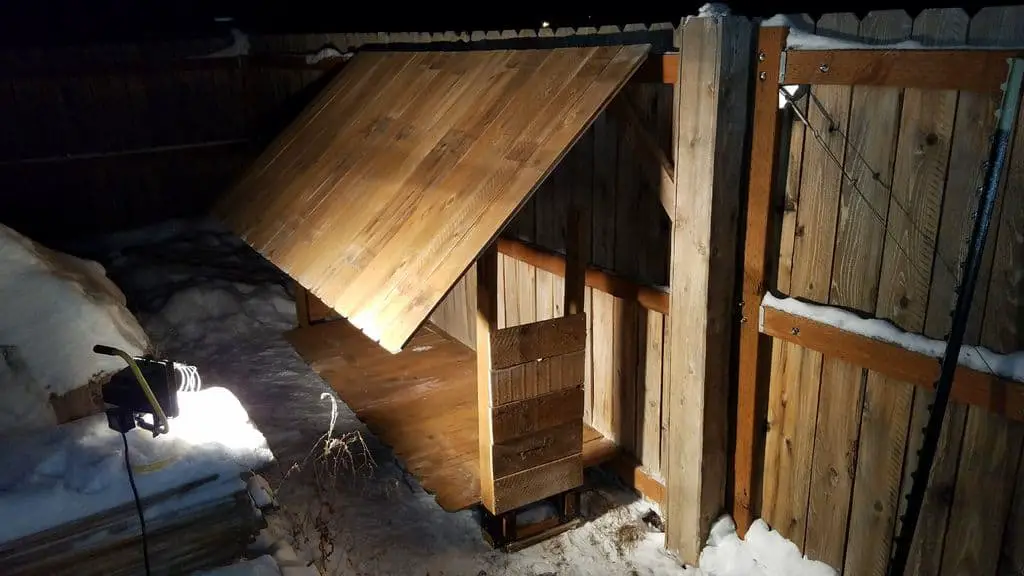 Do you have some old wood lying around the garage that you don't know what to do with? Turn it into a wood shed. 
You can learn how to make this wood shed out of reclaimed wood in seven steps on Instructables. 
Reclaimed Firewood Rack from Instructables
Angled Roof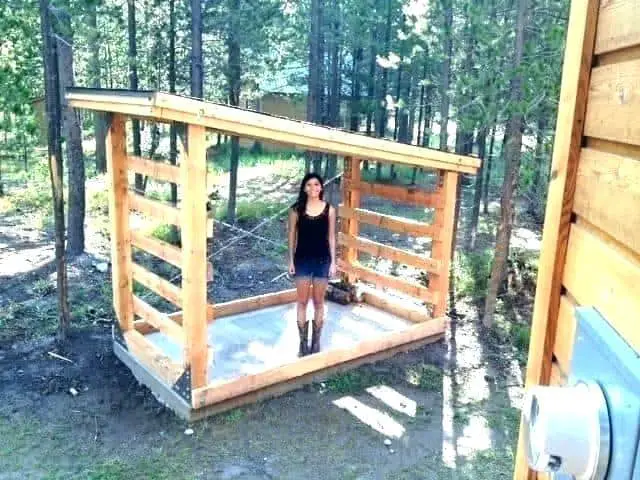 This is a different take on the slanted roof, and it looks really cool!
If you want something a little more unique, but that still does its job, this is the wood shed plan for you. 
Free DIY Wood Storage Shed Plans from GESIOZ Blog
Large Log Storage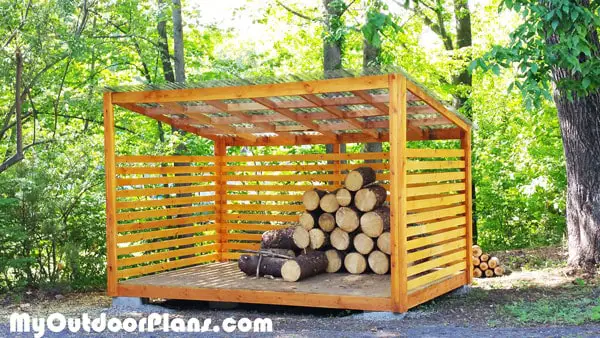 If you have a lot of wood to store, and the space to store it, check out this wood shed. 
This thing is the size of a small house! You can store just about everything you need in it – and then some. 
Wood Storage Shed from My Outdoor Plans
Pergola Style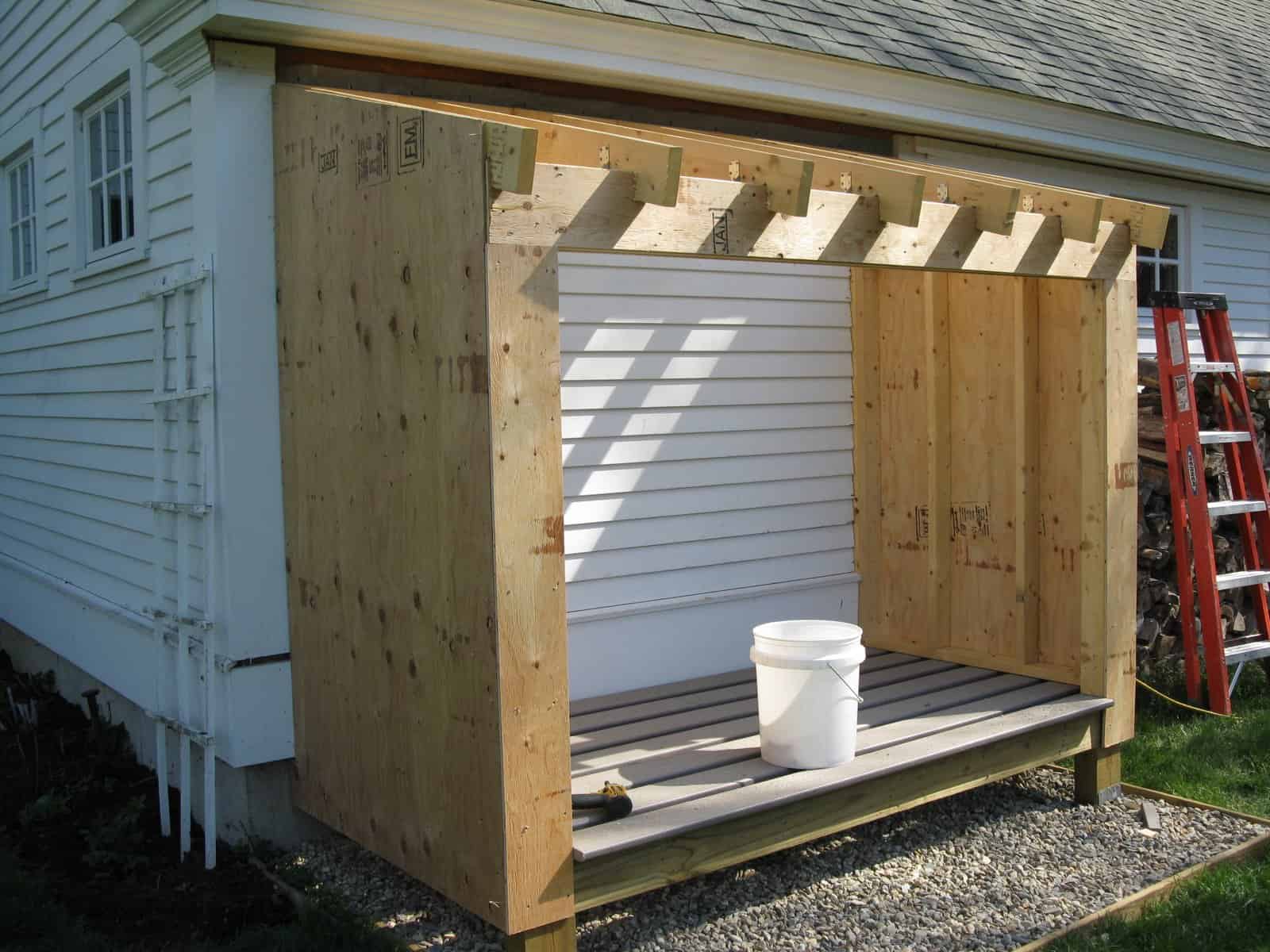 A lot of wood shed plans are pretty standard and utilitarian looking, but this one has a little extra style with the pergola-style roof. 
It may not protect the firewood from all the rain, but it is one that will surely get approved by the HOA board. 
Open Wood Shed Plans from Gambrel Shed Plans
Tiny House Look-Alike
How is this amazing wood shed made out of pallets?! It doesn't seem possible! 
You can recreate this shed, that looks more like a tiny house than a shed, using reclaimed pallets! 
How to Build a Pallet Shed from Easy Pallet Ideas
Conclusion
There are options for DIY wood sheds in just about every shape, size, and style. If you just need a spot to keep your wood dry, there are simple designs that can fit in your back yard.You can also go big with a shed to store wood, tools, rakes, and whatever else you need easy access to. 
Just remember, when you're picking the design that's right for you, consider your space, needs, and whether or not HOA will approve it (there's nothing worse than falling in love with a design only to get it shut down by the board!).