How To Build A Smokehouse Or Smoker: 30 Tips & Tutorials
There is something special about food that's smoked. It's full of flavor with that mesquite taste and it's definitely not something that can be replicated using any other type of cooking equipment.   
If you like the taste of smoked food, having your own smoker or (even better) a smokehouse will allow you to have it as often as you like. You don't even need to buy a pricy appliance – you can make it yourself! 
Impressive DIY Smokehouse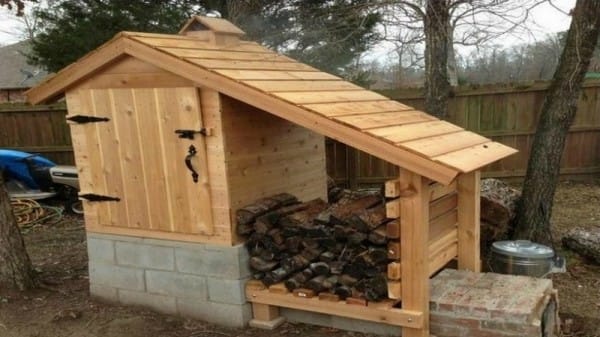 This smokehouse is impressive because it has everything it needs in one compact design (look at that organization). 
One of the more unique parts of this smokehouse is that it has an attached storage area for the wood needed for the smokehouse. Plus, the smokehouse roof extends to protect the wood, too! 
How to Build a Smokehouse by Little Things
Simple & Basic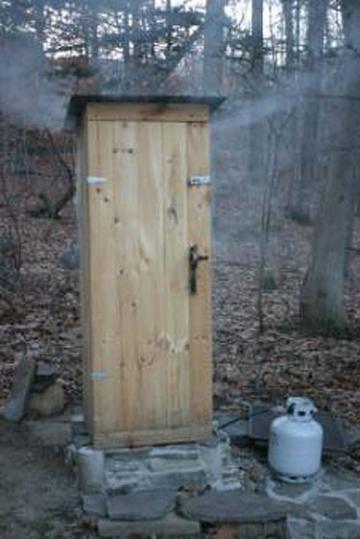 If big and fancy isn't your thing, check out these smokehouse plans for a more simple and basic design.
This smokehouse sits on a few stones (for proper airflow), isn't massive in size, and gets the job done just fine. 
Build a Smokehouse by Living the Country Life
Easy Build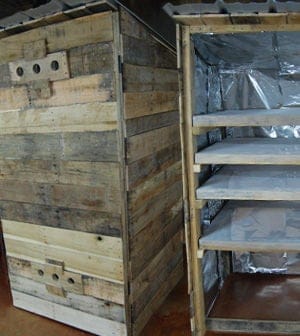 Chances are good you already have a lot of the materials you need to build this smokehouse – because all the wood comes from discarded pallets. 
The person who made this smokehouse says he spent less than $100 for the whole thing and that it was a simple build. Check out Instructables to see the 11-step process. 
DIY Smokehouse by Instructables
Cinderblock Smokehouse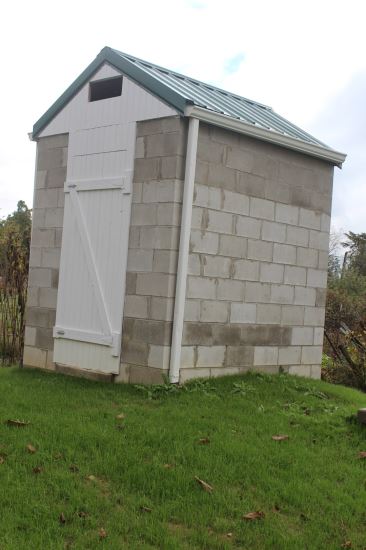 At first glance, this smokehouse looks like it was built by a professional, but it's actually stacked cinder blocks, not some fancy stone (and cinder blocks are very inexpensive). 
If you have the space for a large smokehouse, something like this will definitely do the trick and will give you the option to smoke a lot of meat and cheese at once. 
How to Build a Smokehouse by Mother Earth News
Converted Wardrobe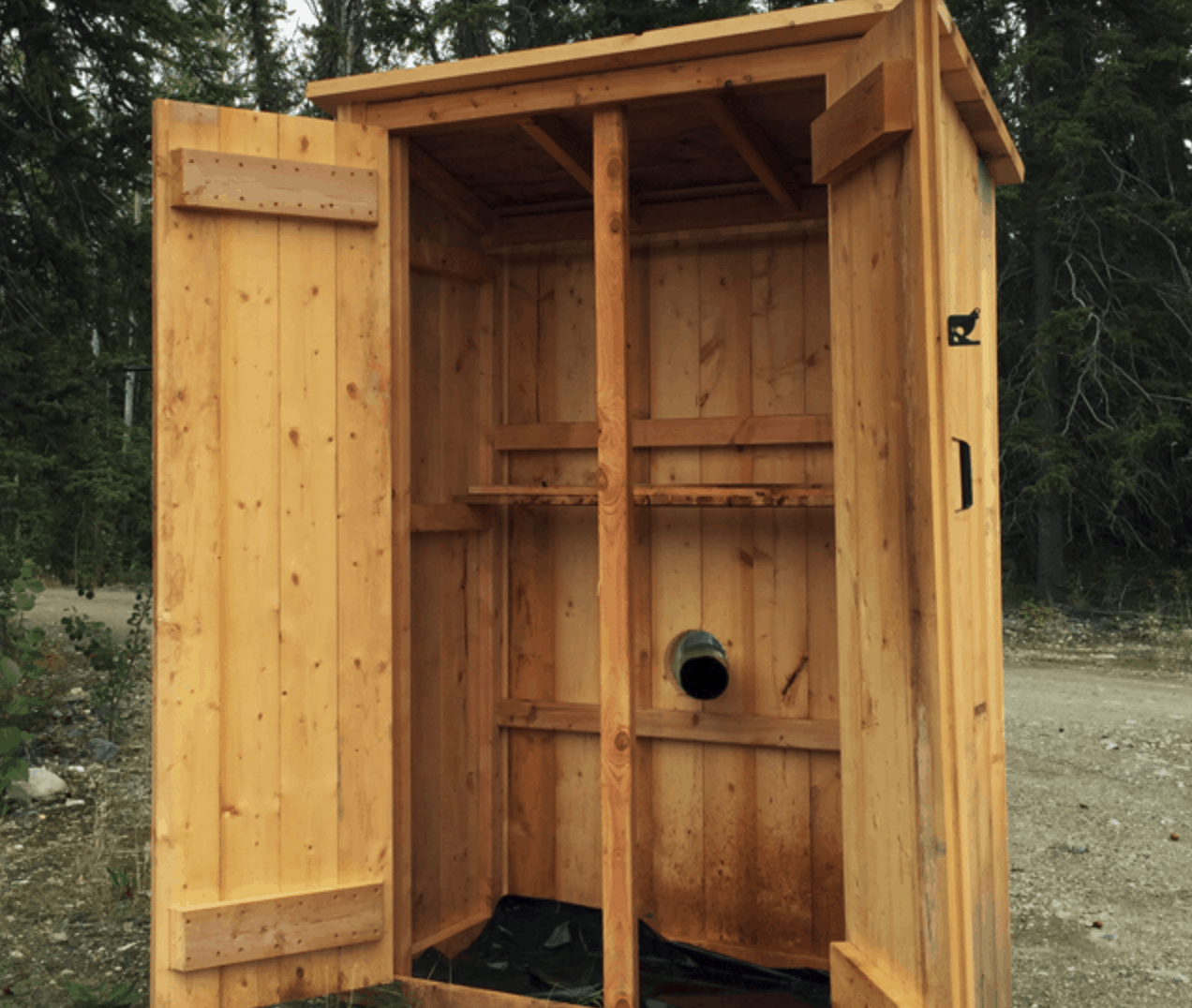 If you ever the option to repurpose some discarded furniture into something new, always do it! 
This smokehouse was made from an old wardrobe closet (and can also be done with a small outdoor shed). Check out Ana White's website to see the plans. 
Small Outdoor Shed or Closet Converted into Smokehouse by Ana White
Small Smokehouse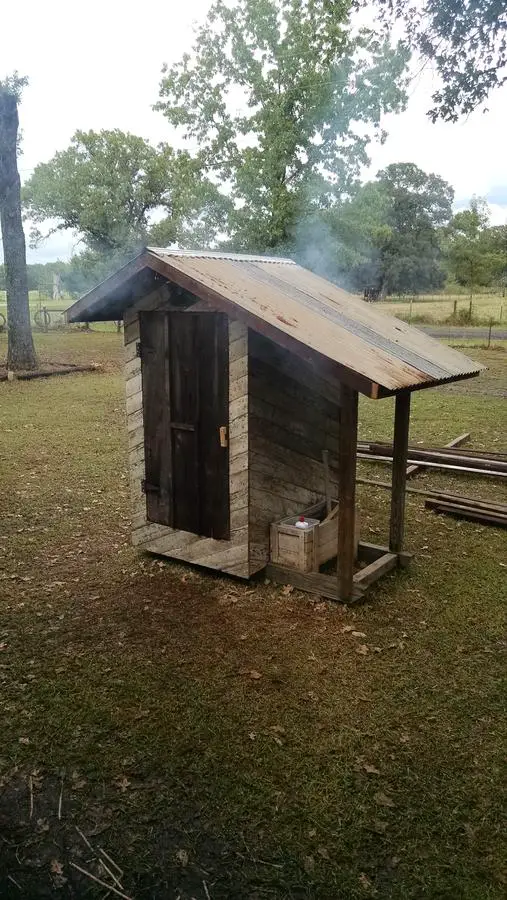 While you can certainly build a huge, grand smokehouse, not everyone has space for (or even wants) one that big. 
This smokehouse is by no means the smallest option out there, but it's still compact compared to a lot of them. It's still well-built and will get the job done! 
My Old "New" Smokehouse by Smoking Meat Forums
Mixed Materials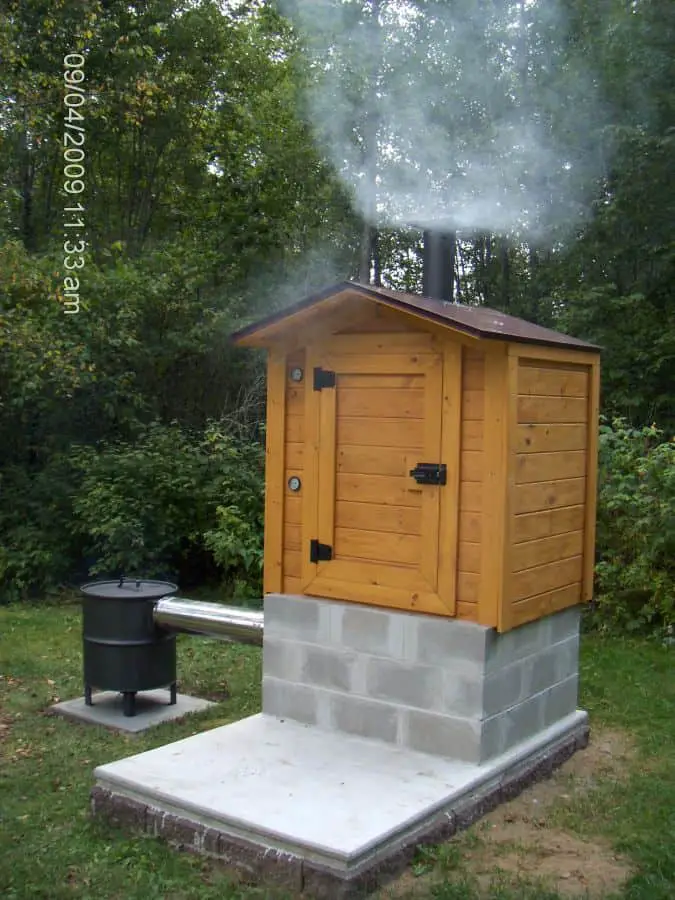 You don't have to stick to one type of material when building a smokehouse, you can use stone, brick, wood, metal, or whatever you want and combine them. 
This smokehouse is an excellent example of how sleek and put-together a smokehouse can look even when it's not uniform in style. 
DIY Smokehouse Ideas by Goods Home Design
Smoker & Grill Combo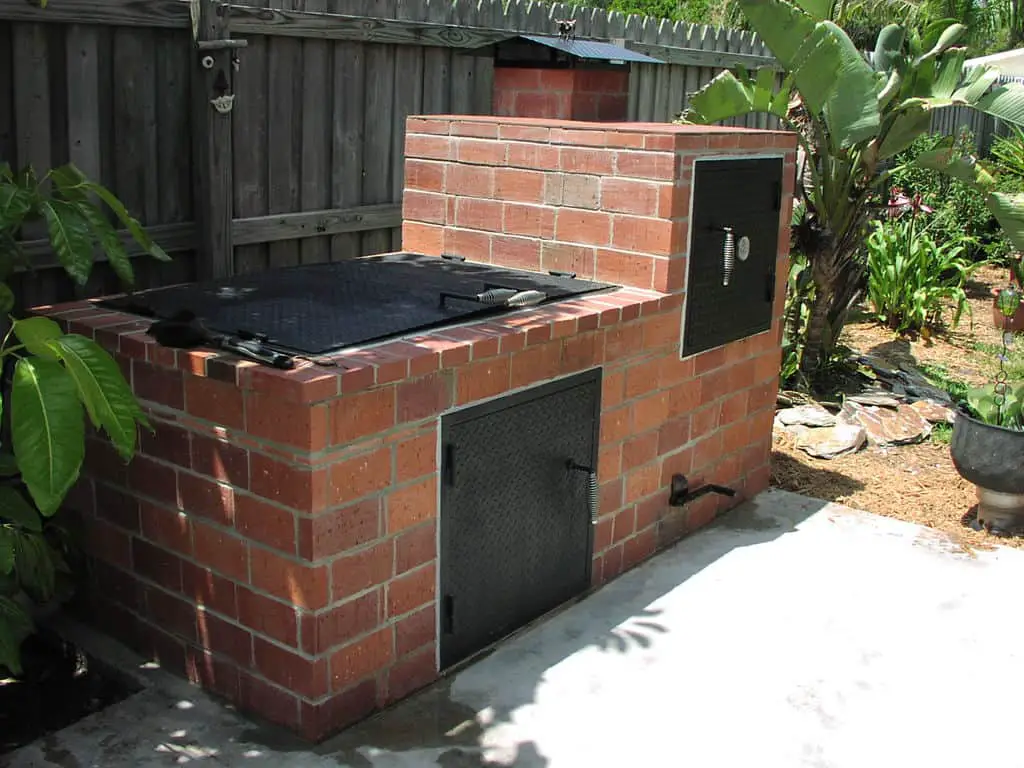 Meat that's been grilled has a completely different flavor than meat that's been smoked. But, you can still like them both. 
If you just can't decide which you like more, you can build a smokehouse and grill combo like this one on Instructables. 
Brick Barbeque by Instructables
Smokehouse on Wheels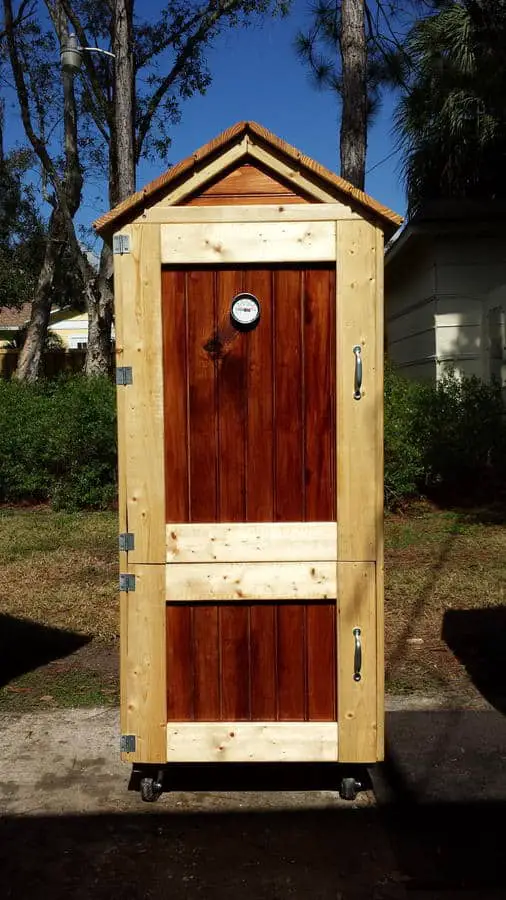 It's not always easy (or practical) to leave a smokehouse at all times if you're not going to be using it regularly, so being able to store it away is key. 
This smokehouse built on top of wheels makes it easy for you to move it from the garage to the backyard without having to lift it. 
Small Smokehouse Build by Smoking Meat Forums
Backyard Ready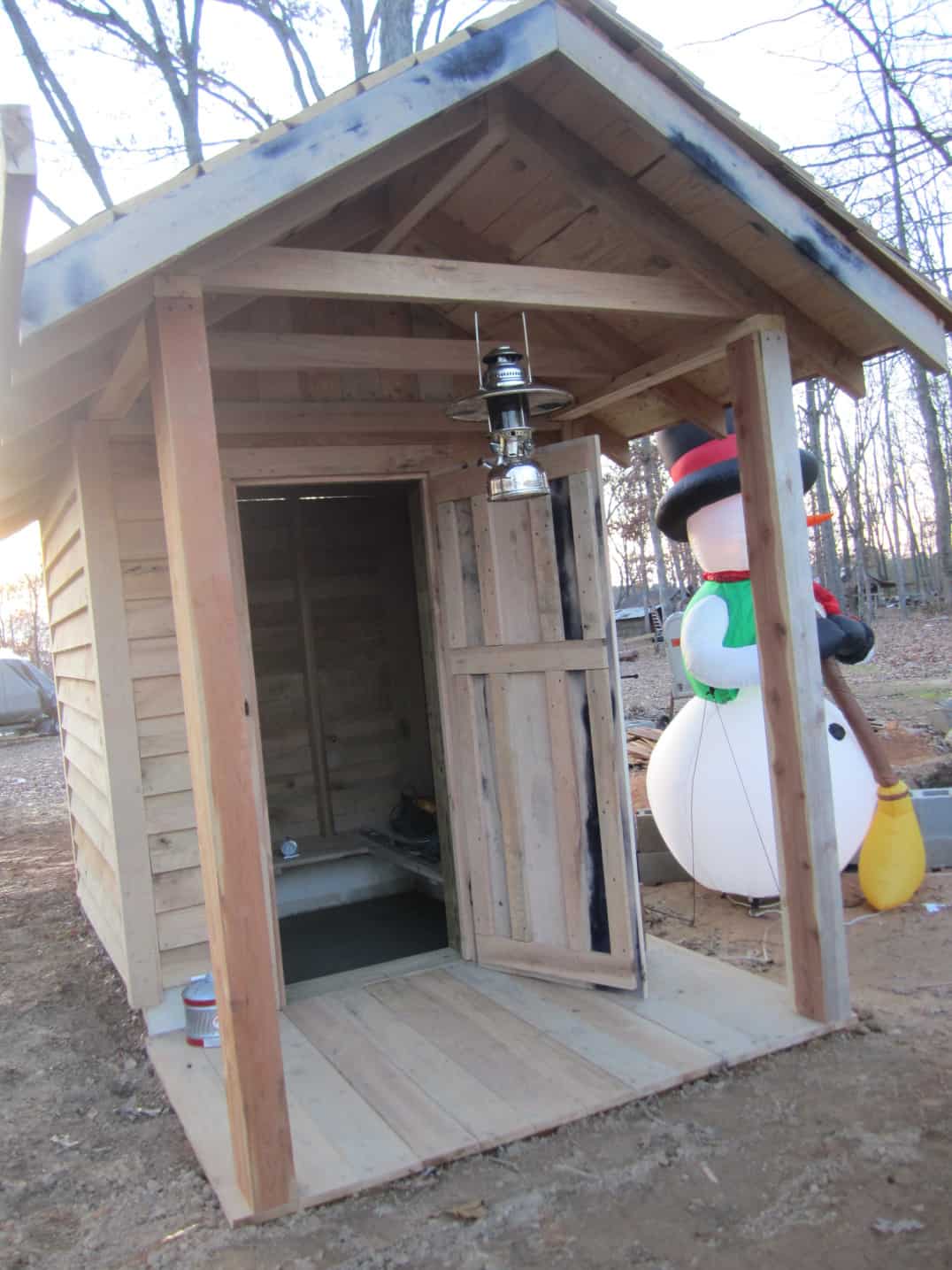 If you live in a neighborhood with an HOA or other strict guidelines, building a smokehouse that blends in with your actual house will make it easier to get approval to keep it in your backyard. 
A design like this is still functional but is almost disguised because of the little porch that gives it a more architectural appearance. 
How to Build a Smokehouse by Backyard Buddies
High-End Looking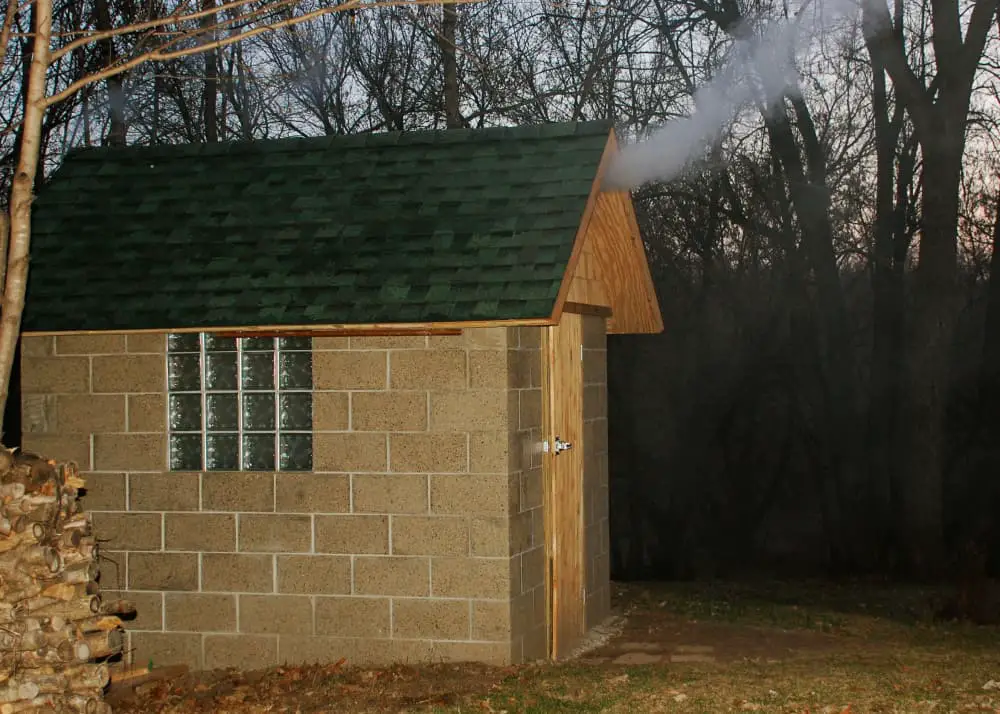 A smokehouse doesn't need a shingled roof or fancy window, but it sure doesn't hurt to include them like this family did!
This is, admittedly, a very impressive and high-end looking smokehouse, but it was still built relatively easily and quickly! 
Building a Smokehouse by Just Two Farm Kids
With A Pizza Oven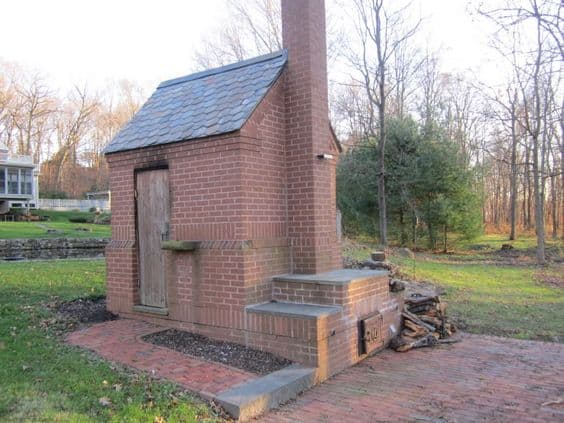 Of all the smokehouse designs out there, this one may be the best because it includes a pizza oven. Who doesn't like wood-fired pizza?!
To recreate this (amazing) design, you'll need to be up for the challenge of using bricks. But, if there were ever a reason to learn how to build using bricks, it's this. 
Build Like a Brick Smokehouse by BBQ Brethren 
Whiskey Barrel Smoker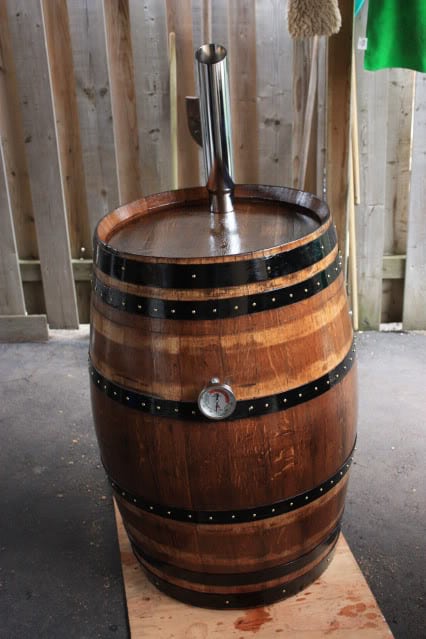 If you're sitting there thinking "these big smokehouses are great, but I don't need something that big," then a smaller smoker may be a good option. 
This homemade smoker is made from a whiskey barrel and will do an excellent job of smoking meat. Plus, it has a really nice, polished look.
Whiskey Barrel Smoker from The Smoke Ring
Budget-Friendly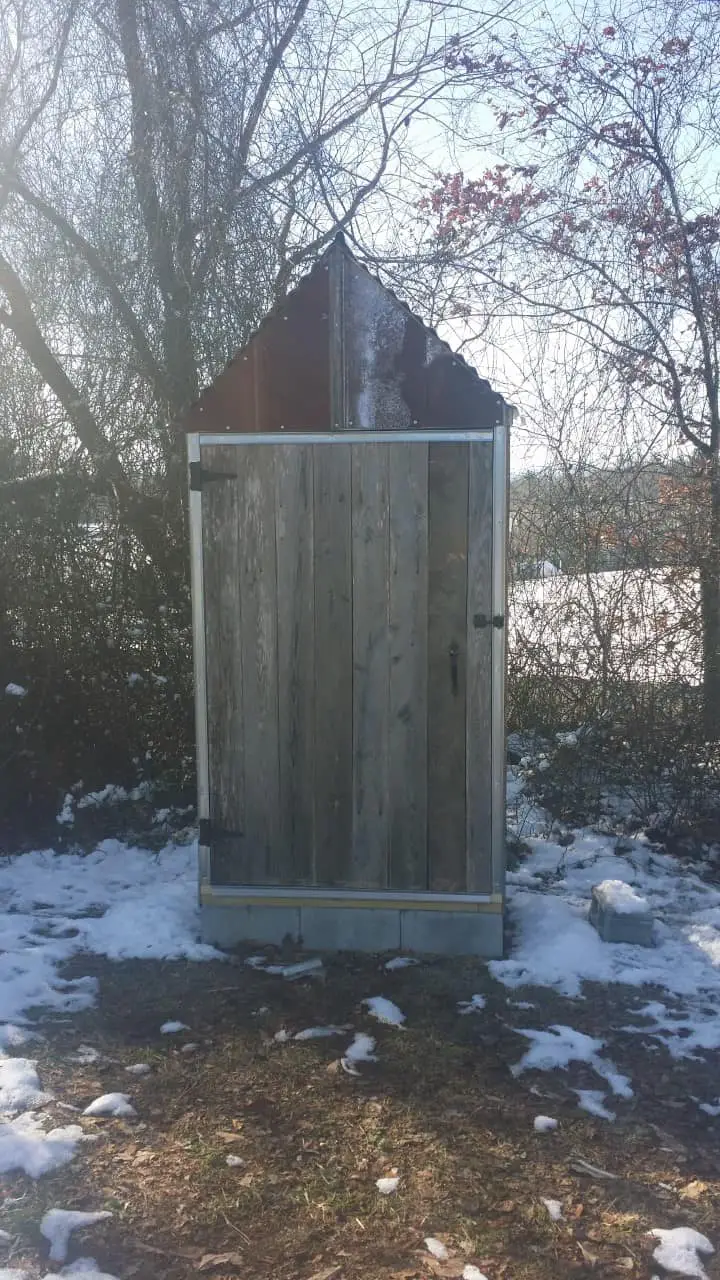 A pre-made smokehouse is expensive, but a lot of DIY options can cost a lot, too. So if you're looking for something that's a little more budget-friendly, this is the design for you.
These bloggers were able to build and easy DIY smokehouse for around $20! It's not huge and grand, but it's strong, functional, and doesn't require a ton of skill to recreate. 
How to Build a Smokehouse for $20 by Morning Chores
Cabin Lookalike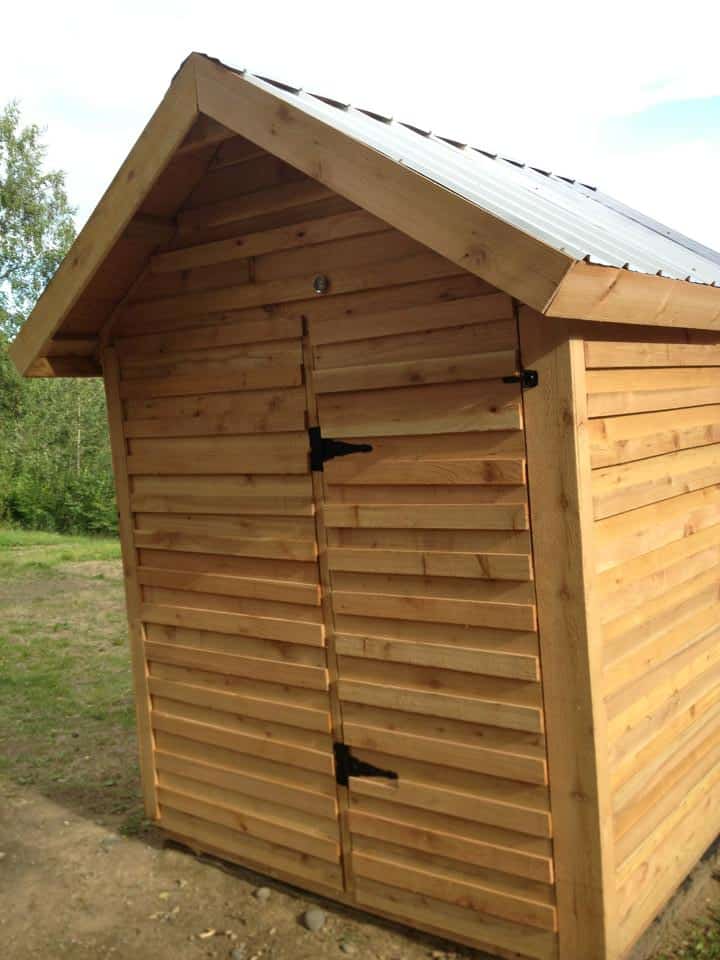 Doesn't this smokehouse look like it belongs in the mountains with its cabin-like design? 
Unfortunately, the blogger doesn't have formal plans to share for this smokehouse (he built it from scratch!), but he does give some pretty good details that will alow a skilled builder to recreate it. 
Walk-In Smokehouse Project by Robert Forto
Scrap Materials Smokehouse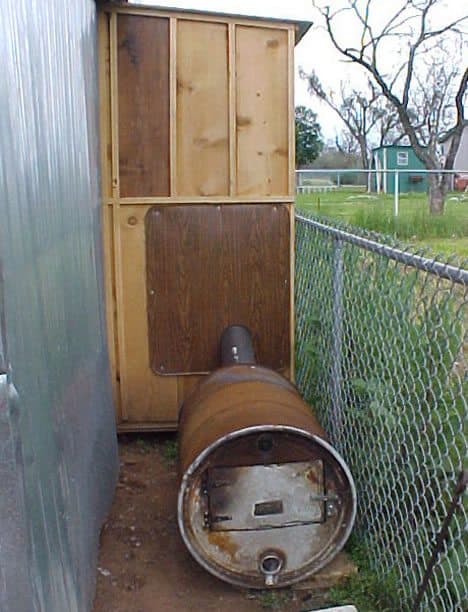 This blogger created this smokehouse using scrap wood (and he hilariously built it to look like an outhouse for a little extra fun). 
This is another smokehouse project that doesn't have formal plans, but it has excellent details and photos to help you recreate it on your own. 
Smokehouse Plans from Smoking Meat
Sleek & Stylish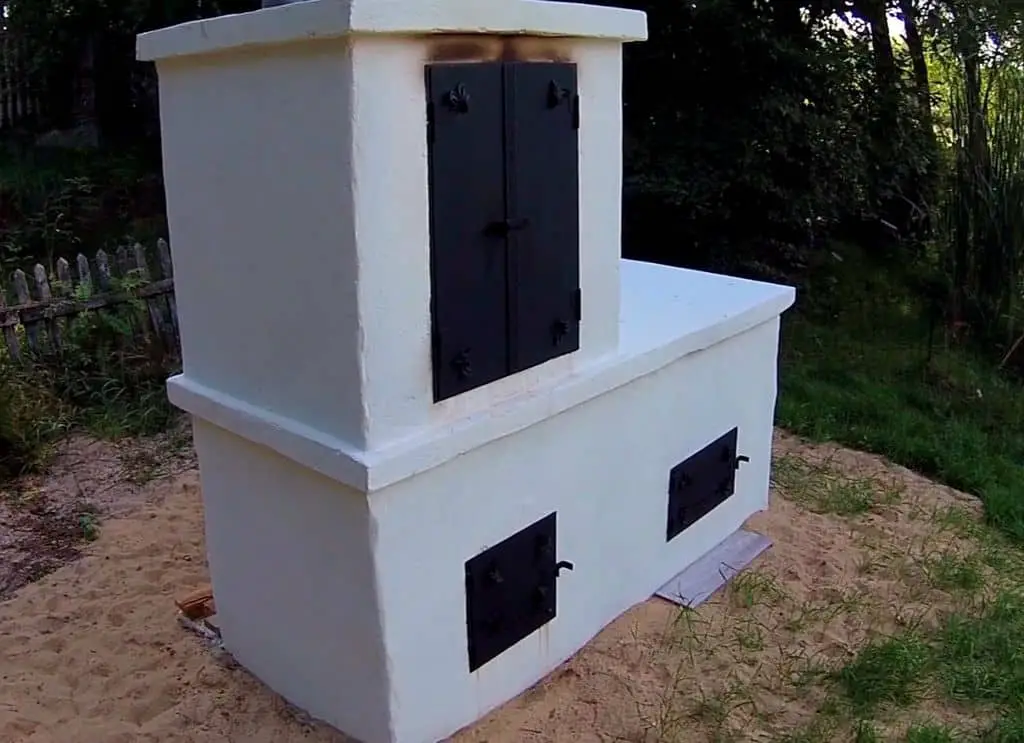 Here is another smokehouse that combines a smoker and pizza oven, with a bonus grill! 
Fair warning, this isn't the easiest design to recreate (it involves wood, bricks, and plaster), but the finished product will absolutely be worth all the work and time put into building it. 
Smokehouse, Pizza Oven, Garden Grill DIY by Instructables
Converted Fridge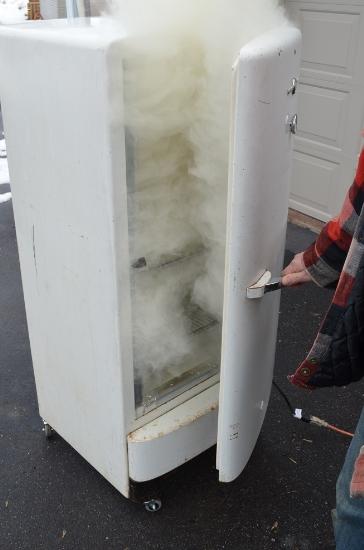 Don't have any interest in learning woodworking or masonry skills? Then, you can just convert an old fridge into a smokehouse. 
You obviously can't walk into this design, but it still has a lot of space and will give you that smoked taste you're craving. 
How to Make a Fridge Smoker by Grit Magazine
Metal Insulation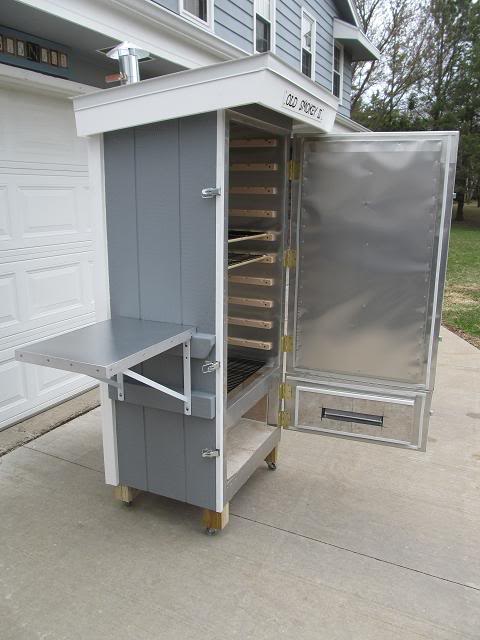 There are plenty of ways to design your smokehouse to make sure it's effective without being a huge fire hazard. 
This blogger opted to line the interior of his smokehouse with aluminum to help keep heat in and to protect the structure from catching on fire. 
Meat Smoker from Ron's Outdoor Blog
Brick Smokehouse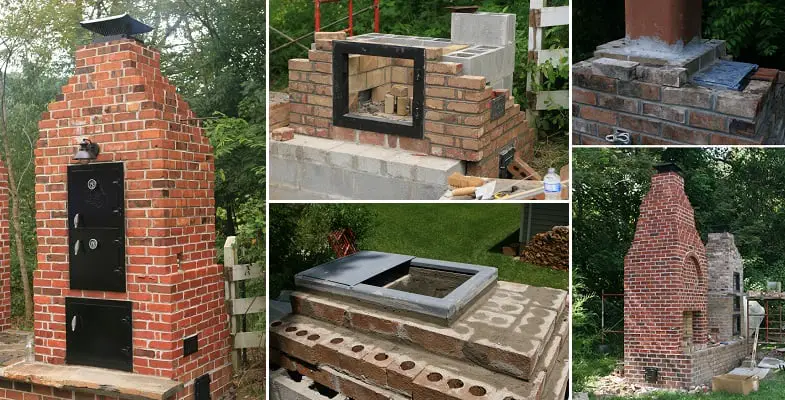 Some smokehouses can be extremely effective, but also kind of be eyesores. So, there's no shame in wanting something that's a little more aesthetically pleasing. 
This homemade smokehouse has a unique and stylish design and the brick exterior really elevates the overall look. You wouldn't mind sitting out on the patio with this in your line of vision. 
How to Build a Brick Smoker by Goods Home Design
Gas Bottle Smoker
One unique way to make a smoker is by using gas bottles like this DIYer did. 
In order to make one of these smokers, you'll need to have some metalworking skills (it requires some cutting and welding). But, in the end it can fit a lot of meat and will be worth the work. 
DIY Gas Bottle Hot Smoker by The BBQ Info
Rolling Smoker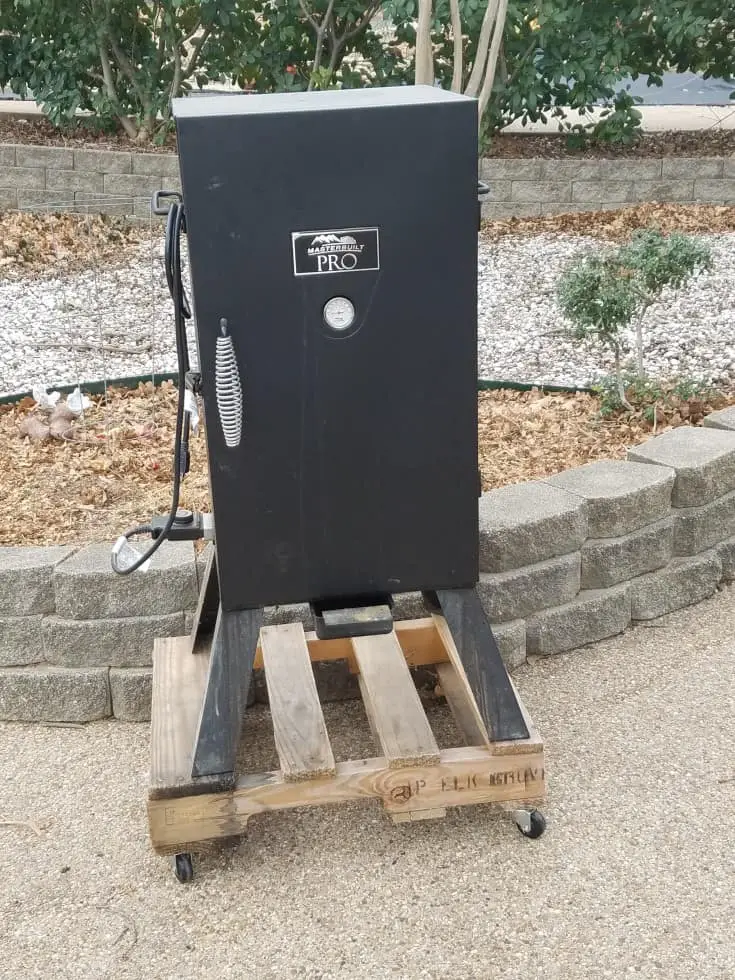 This smoker is not only compact (for easy storage) but it's on wheels so it can easily be moved around the house or yard. 
This tutorial is just for making the roller, not for the smoker. But if you already have a smoker, this is a fantastic DIY project. 
How to Make a Rolling Smoker Cart by Mixed Kreations
Repurposed Filing Cabinet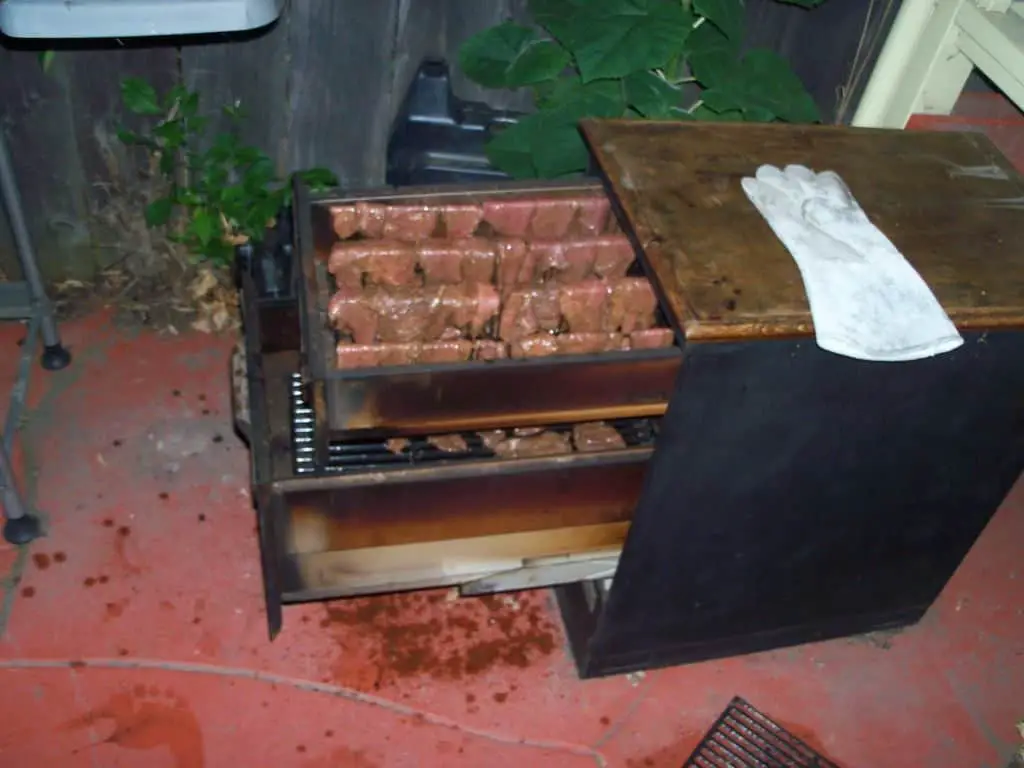 Filing cabinets are so easy to come by at any thrift shop (or you can just hit up someone who's retiring because they're probably more than happy to get rid of theirs!). 
Once you've secured a good filing cabinet, you can repurpose it into a smoker (joke's on you, retiree!). It's definitely not going to be the largest smoker out there, but it's great for small meals. 
Filing Cabinet Smoker by Instructables
Planter Smoker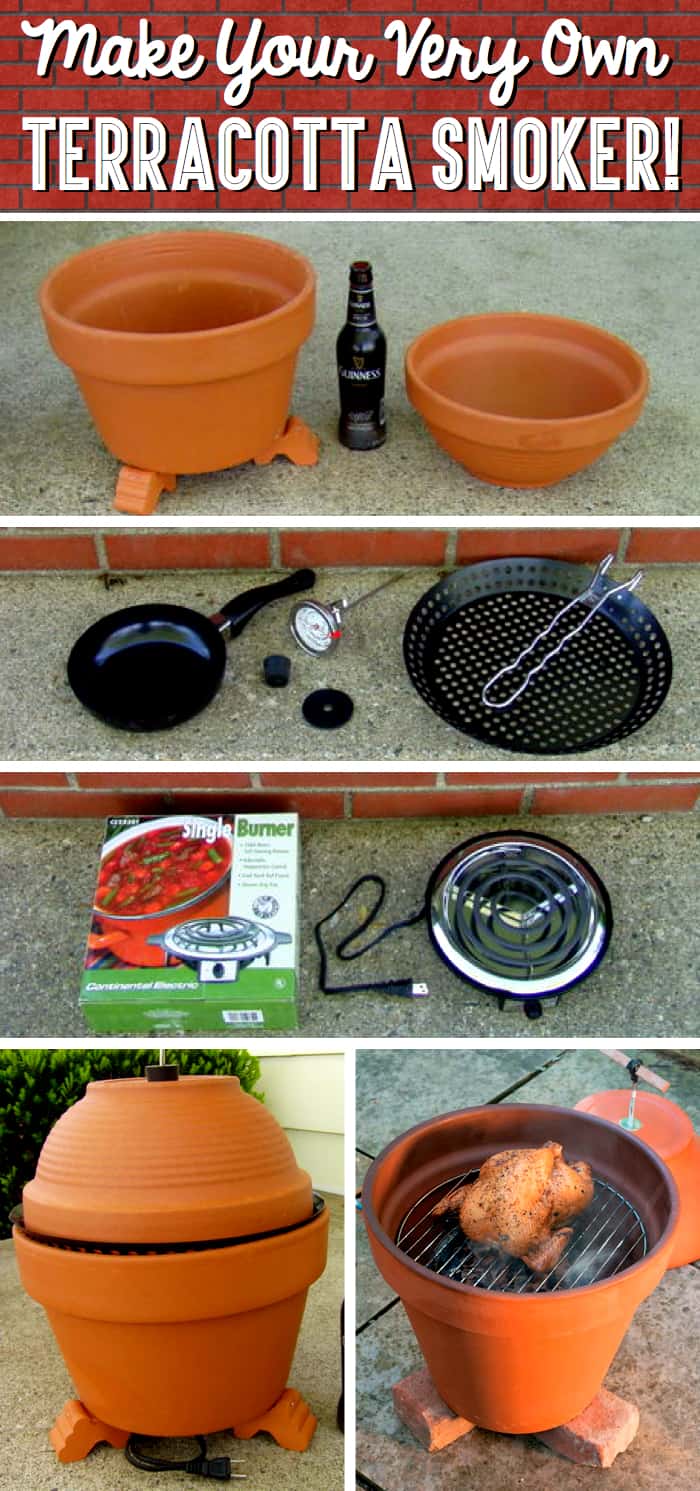 If you're not trying to smoke all of the meat you just bought from the butcher at once, you don't need a massive smokehouse, you just need something small to get the job done. 
If that's what you're after, check out this smoker made from two terracotta planters (which can be found at any craft store). It's a really easy and inexpensive way to get that delicious flavor you want! 
Easy DIY Project: Make Your Very Own Terracotta Smoker by Cute DIY Projects
Easy DIY Smoker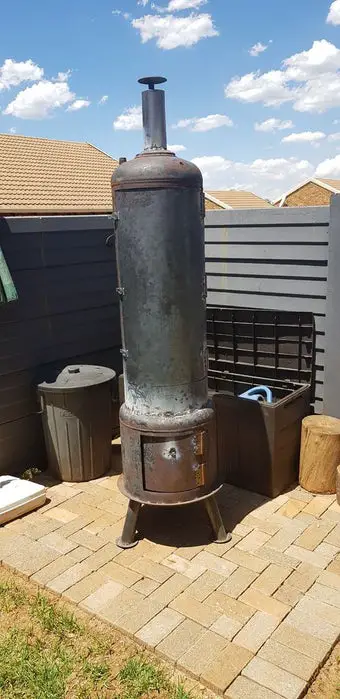 All you need to make this smoker is two discarded water heaters. It will result in a tall, thin smoker that will hold quite a bit of meat. 
You'll need to have some basic metalworking skills project because there's a bit of cutting and welding involved. 
DIY Smoker From 2 Geysers by Instructables
Big & Portable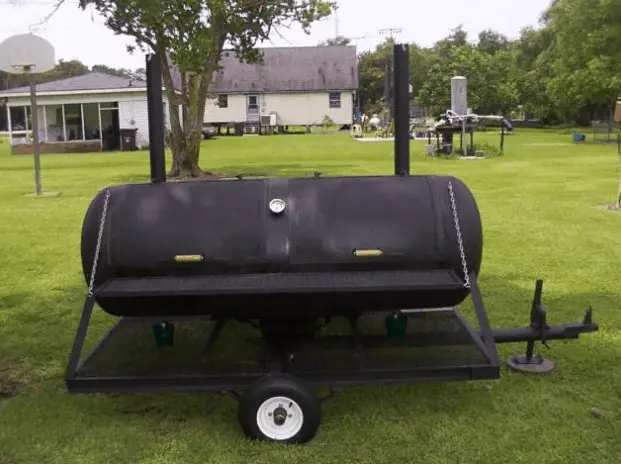 For anyone who wants to smoke a lot of meat at once, they need a large smoker. This one built on a trailer is definitely big and it's portable. 
Something like this isn't for everybody, but it's a great DIY project for someone who is interested in catering, likes to host big parties, or just wants to smoke a lot of meat at once. 
How to Build a 100+ Gallon BBQ Smoker Trailer (With Blueprints) by Food Truck Empire
DIY Cold Smokehouse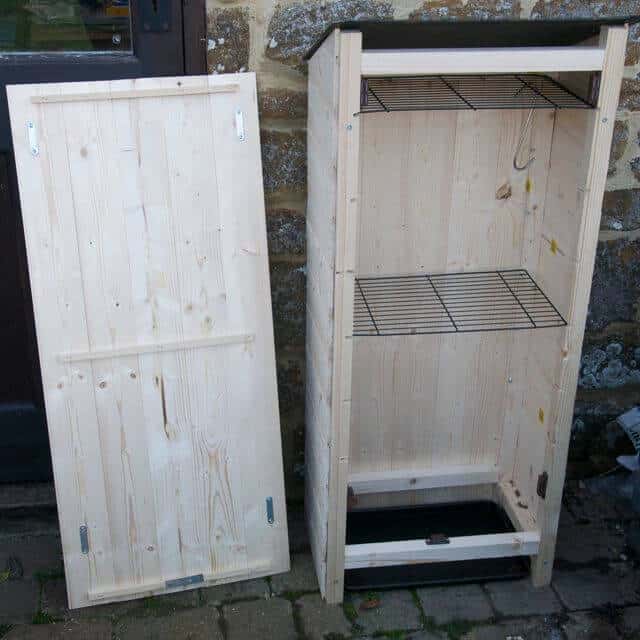 Cold smoking is a little different from traditional meat smoking. It has less to do with heat and more to do with having the meat literally soak in the smoke and not cook.
If this sounds like something you're up to try, and you have four hours to spare, you can make your own cold smoker using the tutorial from the Country Skills Blog. 
DIY Cold Smoker by Country Skills Blog
Tiny Smoker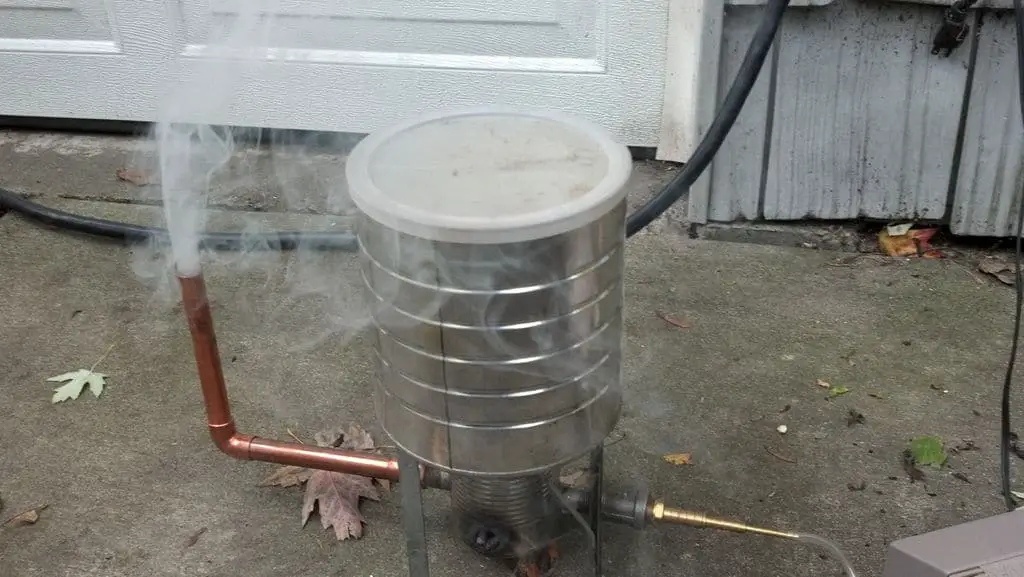 The main portion of this smoker is made from an old coffee can. Seriously. 
It's a really small cold smoker, but can definitely be effective in dispensing enough smoke to really soak into the meet for that delicious flavor. 
Miss Betsy's Cold Smoke Generator by Instructables
Inexpensive & Easy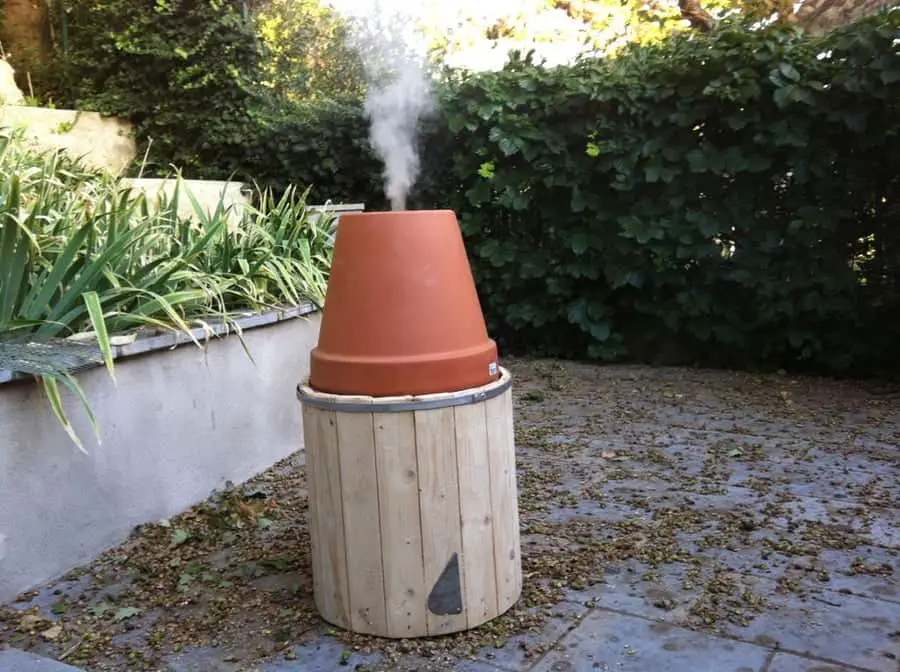 This smoker is very similar to the design with two terracotta planters, but it has some elevated aspects to it that give it a little more polished look. 
You'll need some basic wood skills to create the bottom half of this smoker, but beyond that, you just need to tinker with the parts to get it working in no time. 
DIY Smoker Easy & Cheap by Instructables
The Fanciest Smokehouse Ever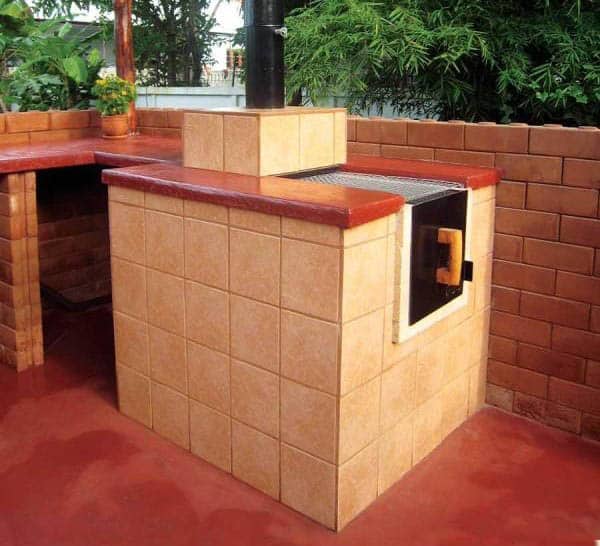 Okay, if you can recreate this majestic smokehouse/grill/oven/stove, then you're a master at all things DIY! 
It is actually a project that can be done by someone with a lot of DIY experience (and there are plans to help you along). It's that final, polished look that really makes this project stand out. 
Build an Outdoor Stove by Mother Earth News
Conclusion
Whether you are trying to smoke a lot of meat at once to freeze it for later, or just want to add some flavor to your family's Tuesday night dinner, there is a smoker or smokehouse that will meet your needs. You don't have to have a lot of skills to create a design that works best for you and your family. 
Regardless of which design you choose, you're guaranteed to have some really good meals with the meat you smoke! If you feed it to your friends, you may even trick them into thinking you're a master chef!