20 Homemade Sawhorse Plans
When you're working on that honey-do list or refurbishing an old house, sawhorses can come in handy. But what if you don't have any lying around and don't want to spend a bunch of money buying some?
These DIY plans will show you how to make a sawhorse or two from a variety of different materials that you may already have lying around the house. Just be sure to read the instructions through carefully, gather equipment and supplies first.
Folding Scrap Wood Sawhorse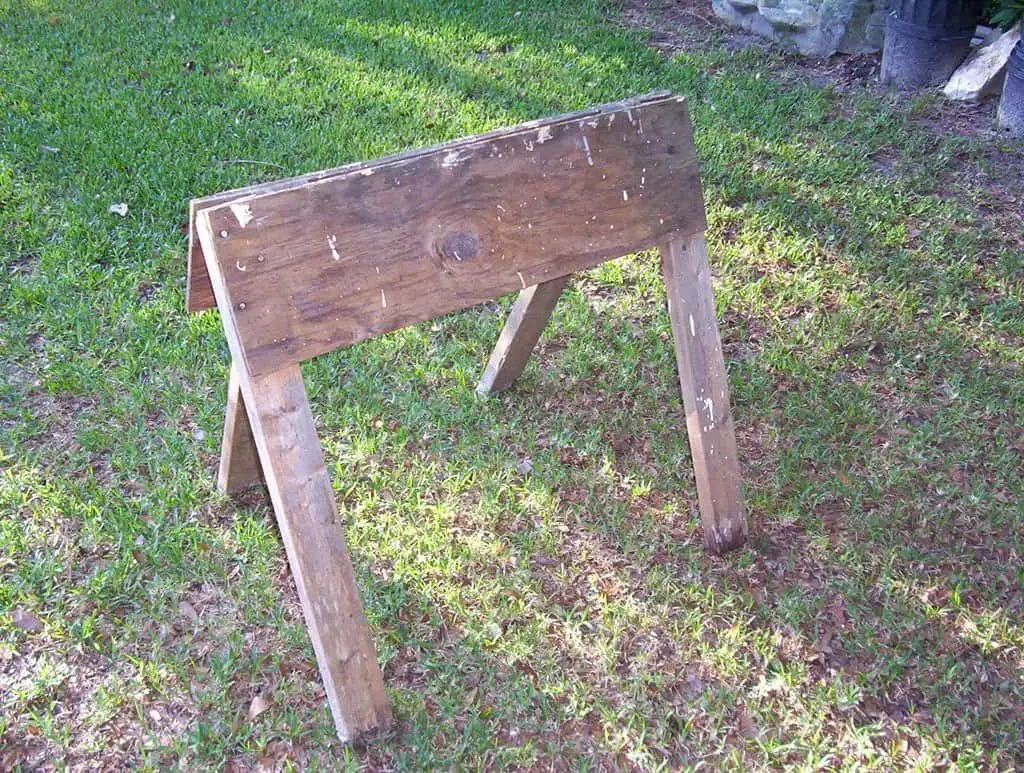 These simple sawhorses are easy to put together, with a few simple pieces. They're great for clearing out a shed of scraps that can't otherwise be used, too.
You'll just need some 2x4s, plywood scraps, 16 penny nails, and a piece of rope. It won't take long to put them together, and they'll handle a decent amount of weight.
Via Instructables
14-Minute Sawhorse Plans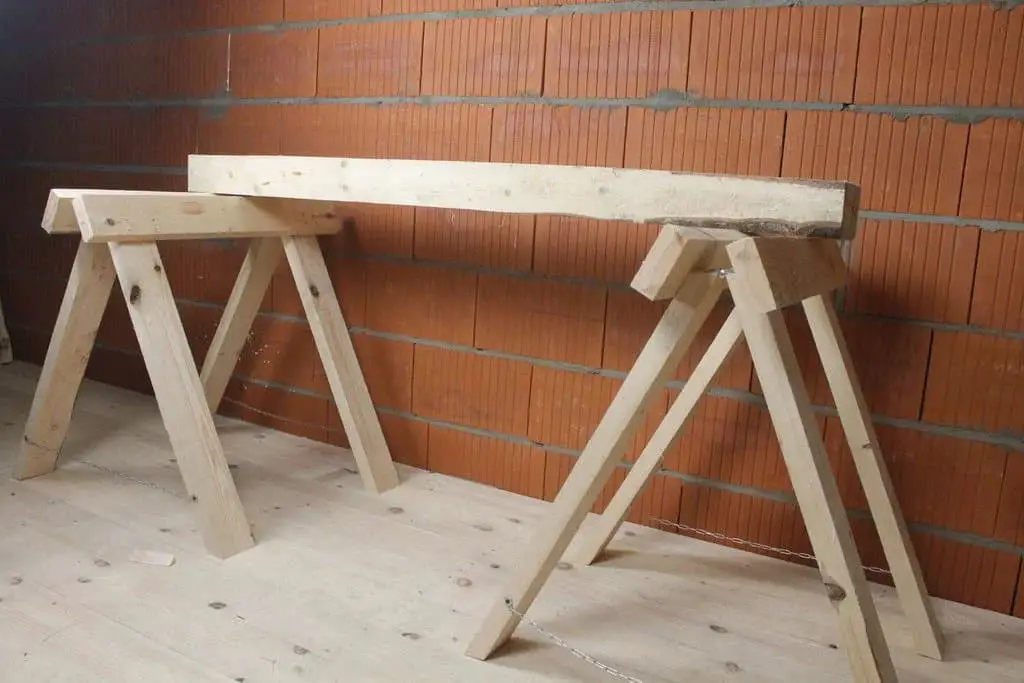 For a super quick toss-together for some sawhorses, this 14-minute project uses firewood, a door hinge, and a piece of chain. That's it, really. Just follow the details in the step-by-step instructions at Instructables.
You won't need many tools, either, so this is perfect for any makeshift project for folks who don't necessarily have a lot in the tool box.
Via Instructables
Scrap Metal and Wood Sawhorses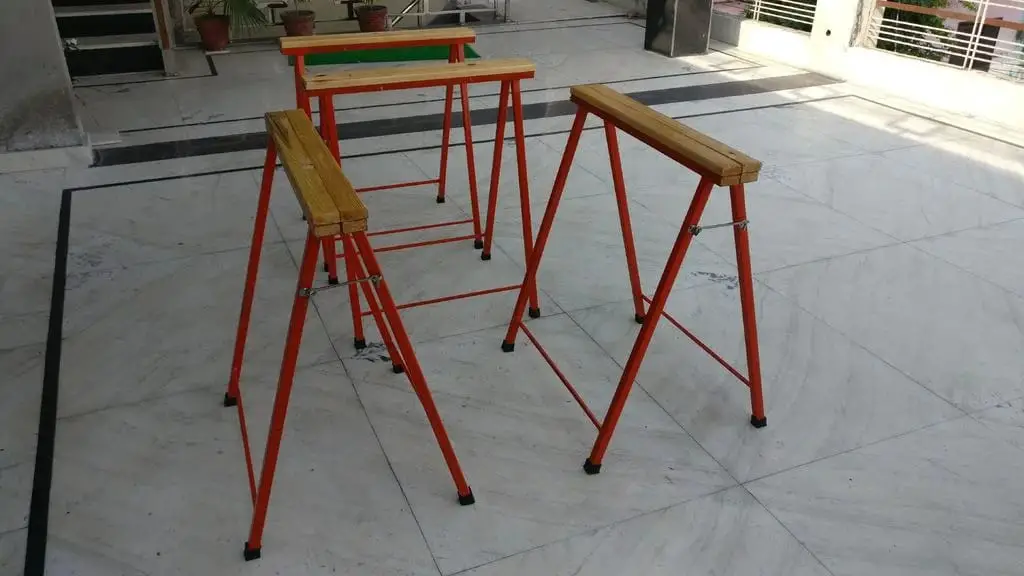 These sawhorses require a bit more work than some of the other options, but you'll wind up with some of the sturdiest options out there.
To make them, you'll need some rectangular metal tube, square rod, rectangular wood, door hinges, a welding electrode, window or door hooks, rubber shoes (for chairs), self-tapping screws, an angle grinder flap wheel, cutting disc, chopping saw, arc welding machine, tape measure, and a few other tools.
Via Instructables
Portable Modern Sawhorse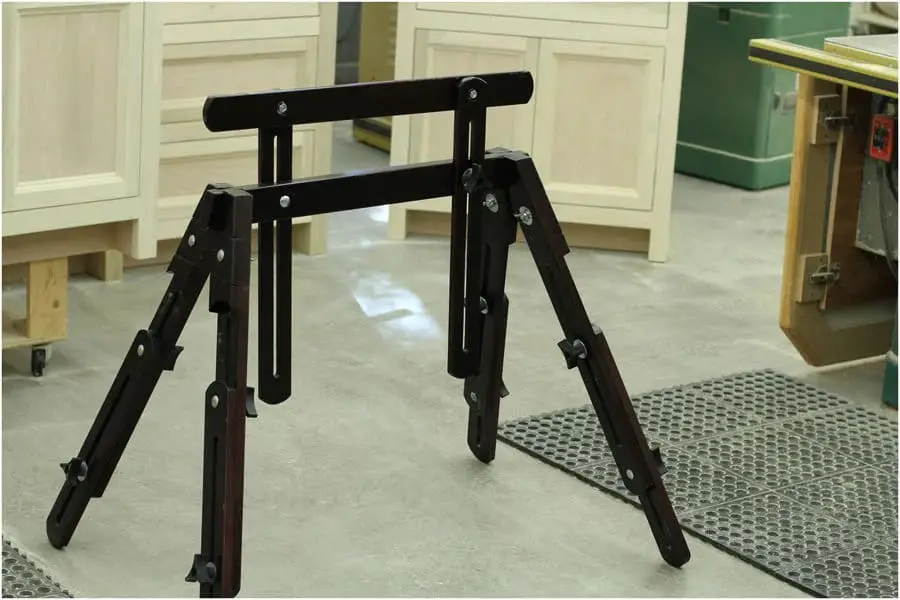 If you tend to work on construction projects in more than one location, these handy portable DIY sawhorses are a great fit. They're not necessarily the easiest of the DIY sawhorse plans to work with (they require metal working skills), but they are incredibly sturdy and versatile.
The sawhorses are also extremely adjustable and work for a variety of projects not related to construction as well, such as filming with an elevated track.
Watch the video for full instructions.
Video for instructions
Via Instructables
Stackable Sawhorse Plans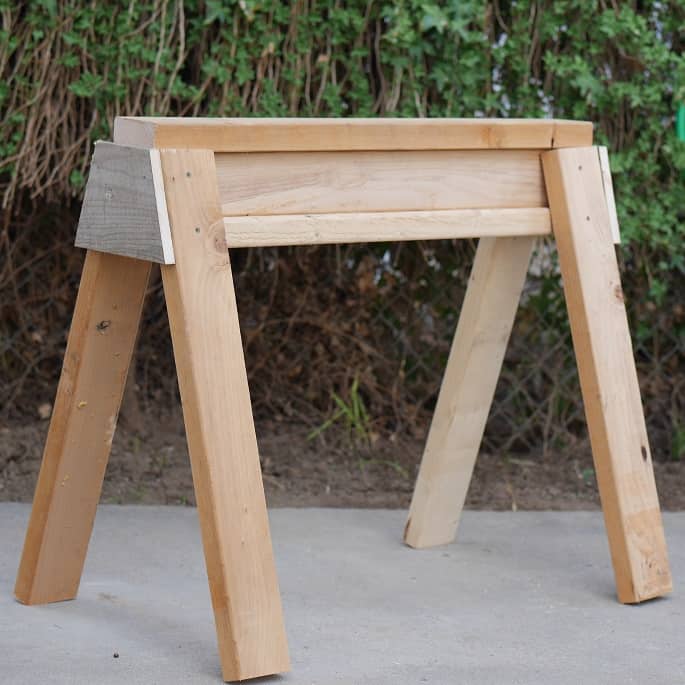 These wood sawhorse plans are pretty basic and easy to build. The plan covers all you need, including a shopping list, measurements, illustrations for a step-by-step guide, cutting list, and more – all in a free PDF download.
To make them, you'll need 2x4s, scrap plywood, and deck screws. Download the PDF to get a solid understanding of everything you'll be doing and full sawhorse dimensions.
Via Construct 101
Scrap Material Sawhorse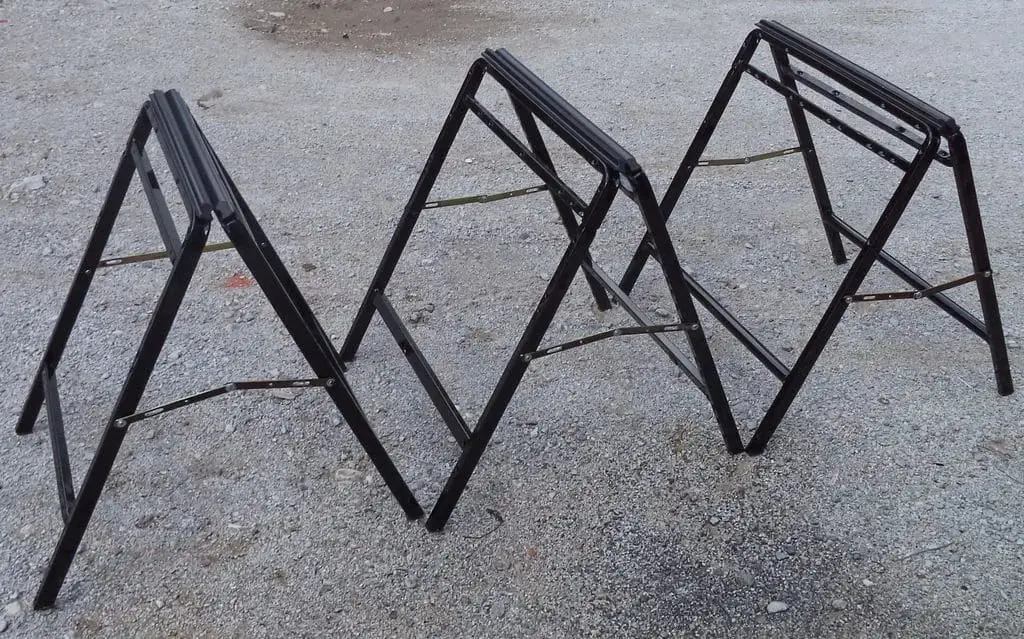 For this one, you'll need to read the instructions carefully before committing. It's a great project that uses scrap materials from less likely places, like old couches and cupboards.
Each step of the process is accompanied by instructions and photos. Just follow along with some creativity, and you'll be able to construct these metal sawhorses in a reasonably short amount of time.
Via Instructables
Classic Wood Sawhorse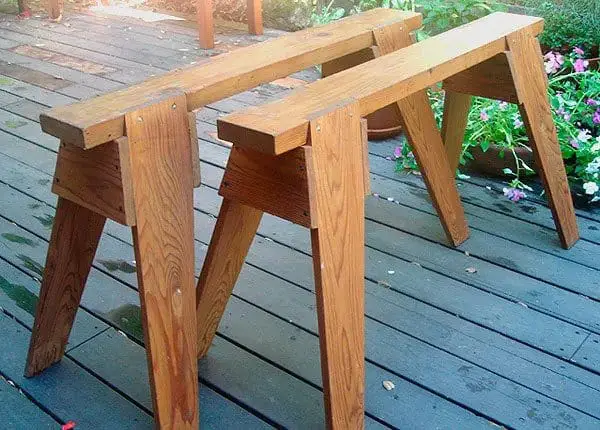 For those who love a good old-fashioned sawhorse, this one's for you. The poster for this project at Fine Woodworking has been building these sawhorses for 30+ years, sticking with the same design. They are sturdy, solid, and moderately easy to build.
Via Fine Woodworking
Stackable 2×4 Sawhorses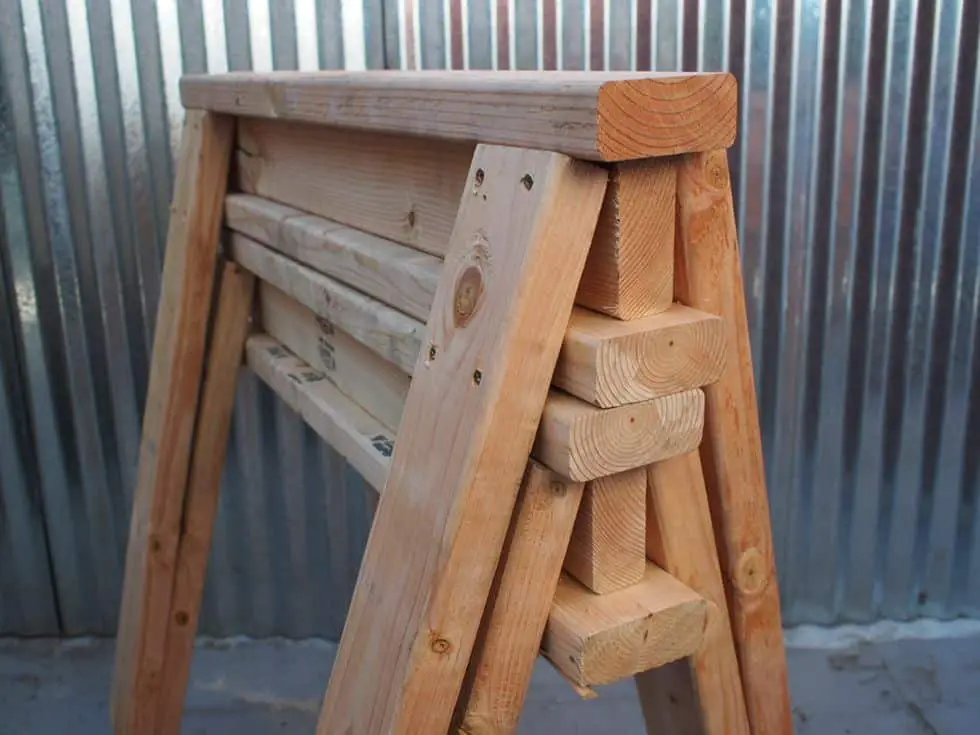 If you're needing several sawhorses and don't want to take up a ton of space with them, these stackable 2×4 plans are perfect. They're strictly made from 2x4s and fasteners, too, which makes them great for using up old scraps and keeping costs low.
This particular style of sawhorse is great for construction sites, backstage workshops, and the home shed if you tend to do a lot of woodworking projects around the house. The best part? If one breaks, you can just remove the offending 2×4 with another and keep going.
Six-Step Sawhorses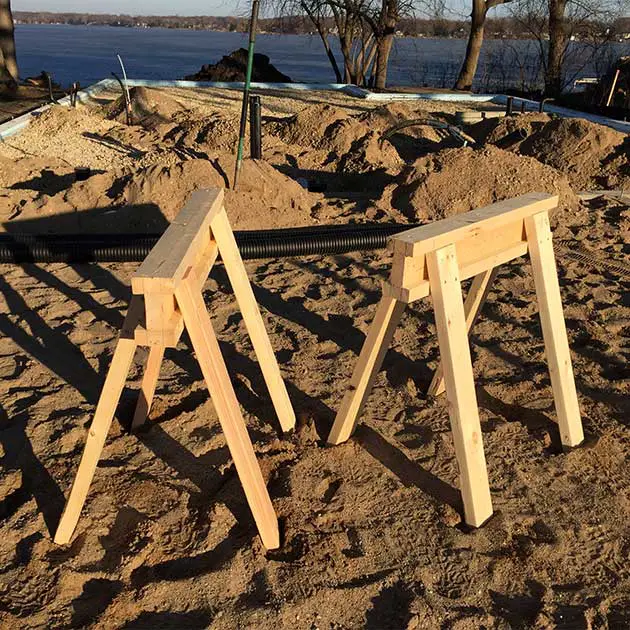 Those needing a simple, straight-forward plan for building sawhorses will love these from Construction Pro Tips. They teach you how to use 2x4s and other basic materials to build sawhorses in just six steps. They're incredibly durable, too, though, sadly, they don't stack.
Super Simple Sawhorses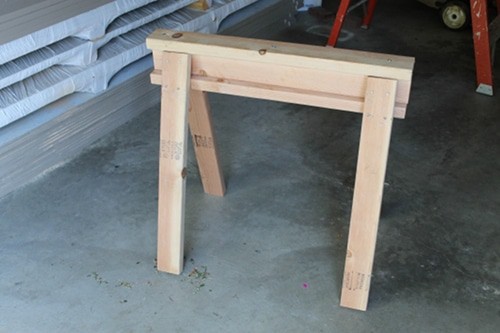 If you want some super simple, incredibly easy to build sawhorses, these are your plans. They were designed for anybody to be able to build, including brand new to woodworking folks.
These sawhorses are great for makeshift tables or scaffold, too, since they're durable and fast to build and don't require a lot of supplies. You'll need 2x4s, screws, and galvanized nails.
Via Art of Manliness
Folding Sawhorses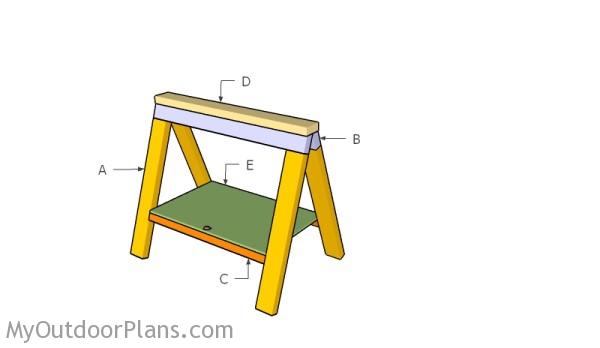 When your workshop is small – or nonexistent – you need sawhorses that fold up and tuck away. These do just that. You'll just need to follow the straight-forward, simple step-by-step plans before gathering supplies.
One nice thing about these sawhorses, too, is that they're adjustable, so you can use them to fit your exact needs for any project.
Via My Outdoor Plans
Micro Sawhorse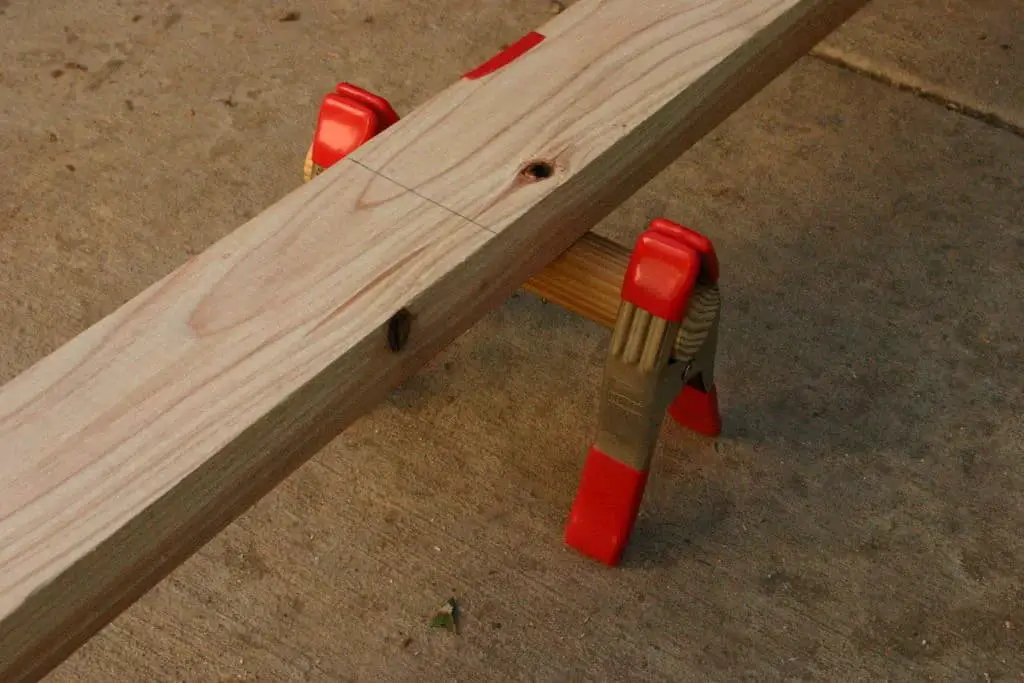 Have a tiny project for which full-sized sawhorses won't cut it? These micro sawhorses will do the trick – and in about 10 seconds each. You'll just need to gather the supplies and put them together.
They stand about four to six inches tall and use 2 spring clamps, and a "stick" per each. Super simple, super cheap. Super short.
Via Instructables
Strong Folding Plywood Sawhorses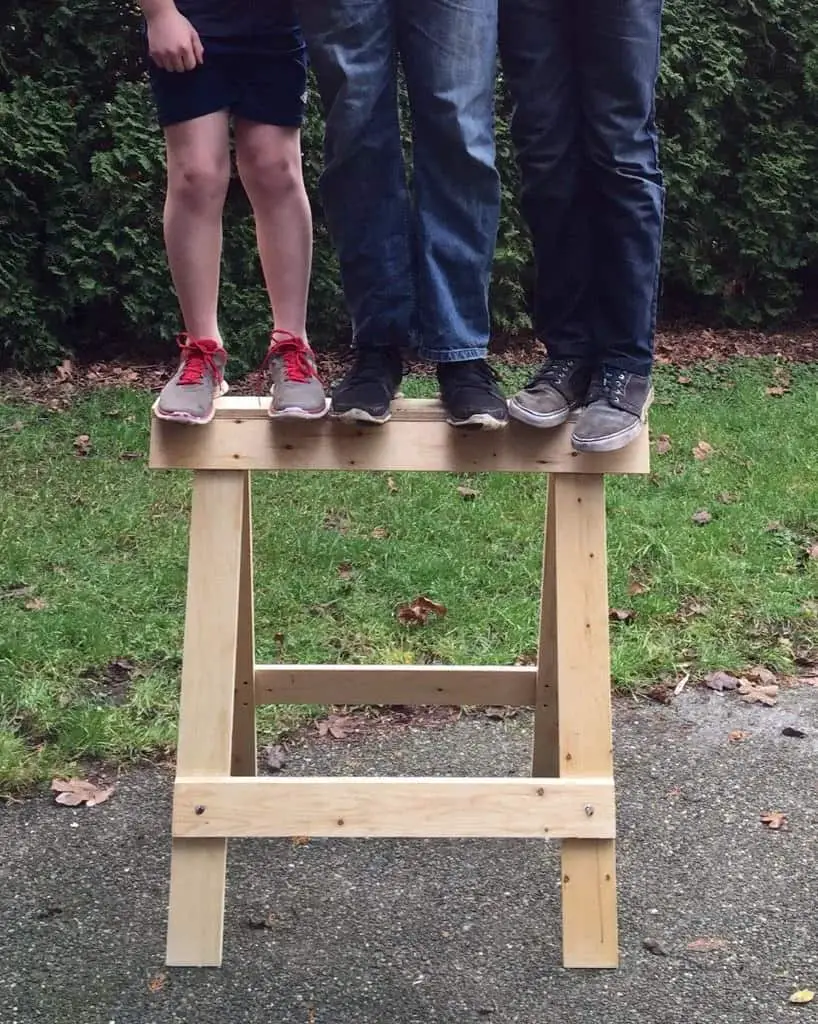 If you need folding sawhorses but need them to be uber sturdy, these are a good option. They fold up tight and tuck away, but while they're out, they can hold up to 500 pounds!
The sawhorses are lightweight, easy to build, and reasonably inexpensive. Just read the instructions first, gather supplies, and get building.
Via Instructables
Super Simple Scrap Wood Sawhorse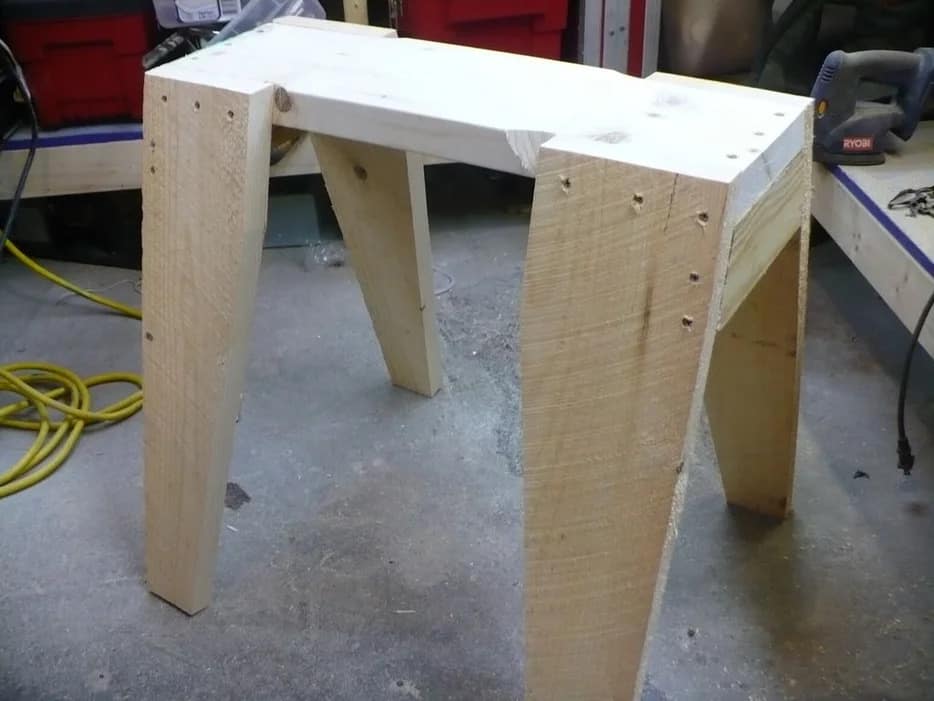 When space isn't as much of an issue, these scrap wood sawhorses are a great option. I've used ones very similar them backstage in a theater workshop, and they're perfect for set building and similar work on more delicate projects.
These sawhorses are pretty easy to build, too, and perfectly adjustable for your needed height. If you're tall, make them tall enough. If you're on the shorter side, you can adjust the leg length down to a more comfortable size, as well.
Via Instructables
Durable Folding Sawhorse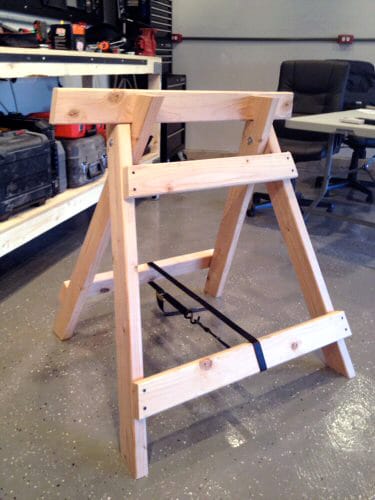 For some incredibly durable sawhorses, check out these plans from The Art of Manliness. They're not the easiest to build, admittedly, but they're probably one the strongest, most durable options you'll find in a collapsible sawhorse.
They're also highly versatile, thanks to the cross member modifications possible through the design. You'll need carriage bolts, 2x4s, washers, nuts, wood screws, and a locking tie-down, along with a compound miter saw, jigsaw or handsaw, drill, and a square.
10-Minute Stackable Scrap Lumber Sawhorses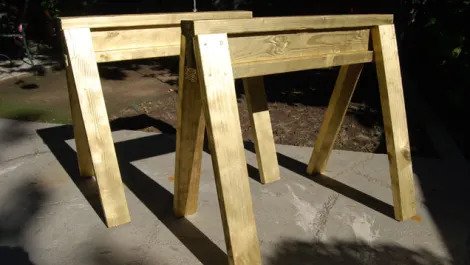 Need sawhorses super-fast? How about these 10-minute plans? They're not fancy, for sure, but they're quick, easy to build, and they do the trick for not much money at all. If you're in a hurry, you really can't beat them.
You'll need 2x4s for the legs and "I" beam – just adjust them to fit your needs. You'll also need some galvanized deck screws. That's it.
Via Life Hacker
Adjustable Knock-Down Sawhorses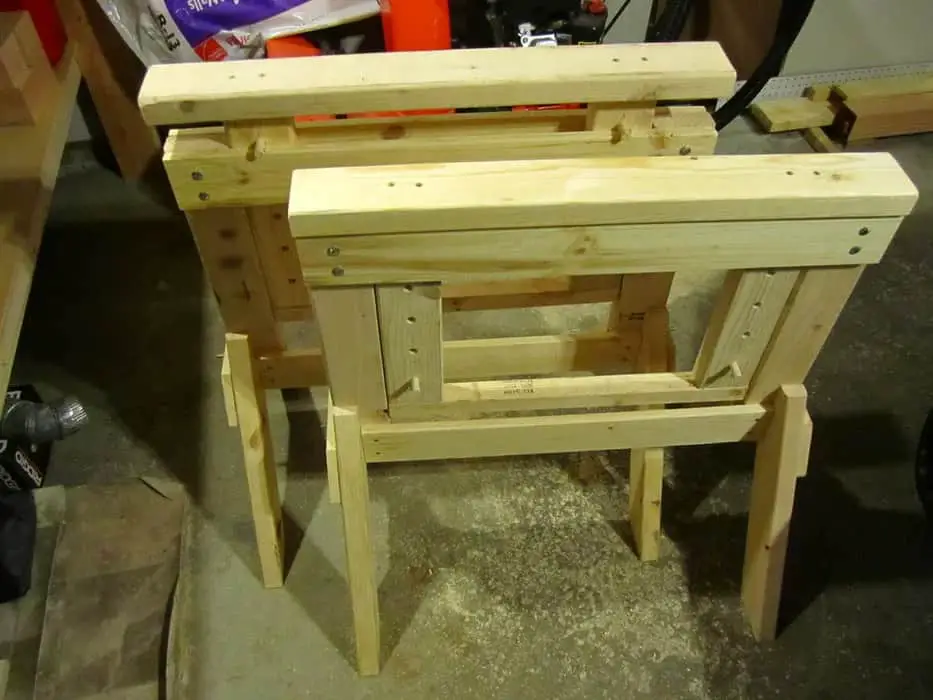 For some workspaces, you need not just folding sawhorses, but ones that can be altered for use in multiple circumstances by multiple people. These sawhorses are extremely adjustable, strong, sturdy, and knockdown to a very little bit of space. Plus, they cost about $15 each to make.
To make them, you'll need a drill and bits, wrenches or socket set, a skill saw or miter saw, along with other basic tools and supplies.
Via Instructables
Pair of Sturdy Folding Sawhorse Plans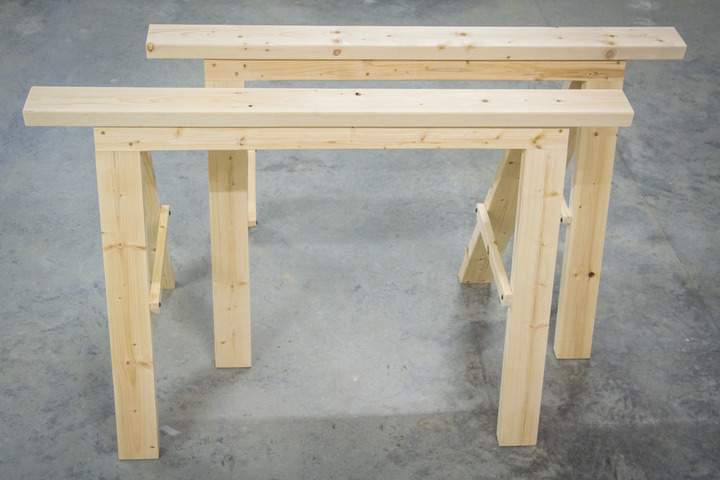 These are plans for another super simple sawhorse setup. They're basic and inexpensive, plus they fold down, don't cost much, and won't take long to put together. Just read the instructions through a few times before buying materials.
Via Around Home DIY
"Shorty" Sawhorse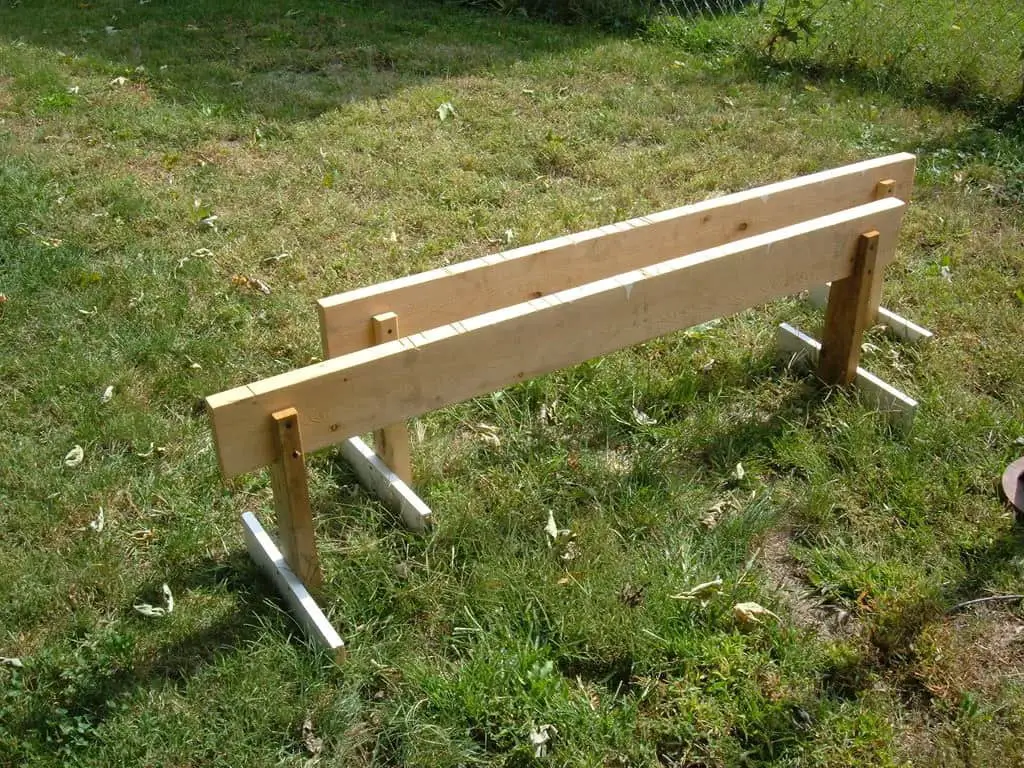 These sawhorses are good for two things: using up scrap materials and providing you with shorter sawhorses that work for specialty projects and situations.
You'll need some 2x6s, 2x4s, 1x4s, and drywall screws, along with a hand saw or miter saw, coping saw or jig saw, drill and bits, speed square, and a pencil, plus, of course, safety gear.
Via Instructables
$50 Pair of Classic Sawhorses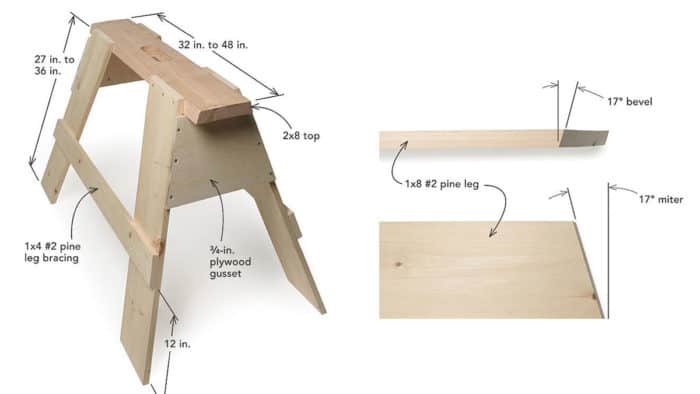 This final pair of sawhorses is another classic design that won't cost you much to make. The design combines the heft of their "Clydesdale" sawhorses and the lightweight ones of other design. They combine the best of both into these uber strong but lightweight classically styled sawhorses.
Plus, they're stackable, making them all the more versatile.
Finding the Right Pair of Sawhorses
Going through the various styles and designs above, you should be able to find the right combination of qualities to pull together the perfect pair of sawhorses for your needs. Or, if you do a lot of projects, you may want to build a few different pairs.
Just remember to look through all the instructions for whichever ones you favor before you get started. Check for the needed tools and necessary supplies and make sure those suit your needs.