10 Easy and Effective DIY Mosquito Traps
Those pesky, bite-happy mosquitos will be popping up any day now that Spring is headed hard in our direction. And that means we want to get them under control before they gain control over us. That means mosquito traps for the indoors and the outdoors.
These handy little DIY tricks and tutorials for combating those bloodsuckers should help, and all for not a lot of money. From recycled bottles to fan-based traps, your home and yard are covered.
Brown Sugar and Yeast Bottle Trap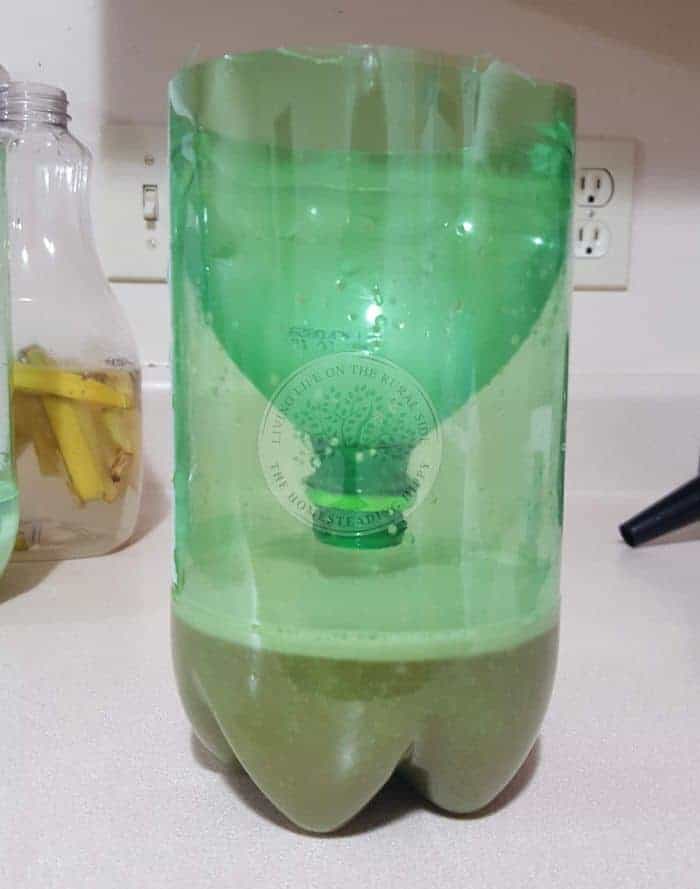 This super easy-to-make homemade mosquito trap just requires a few basic supplies from the kitchen, some scissors, and a soda bottle you're ready to recycle. Gather up your supplies and decide on the best place to keep the trap where it will attract those flying insects the most in your home.
You'll need 1 cup of brown sugar, 1 packet of dry yeast, some water, and a 2-liter bottle. Soda bottles are the easiest for this project, though you could probably use any similarly shaped bottle. The key is being able to remove the top and invert it back into the rest of the bottle, sealing it off.
This is a trap that can be used indoors or outdoors, but you're not likely to have a lot of results outdoors. And unless your home is absolutely swarming with the insects, you're not likely to see tons of results. There are mixed levels of success with them.
The Kill-Them-Before-They-Multiple Trap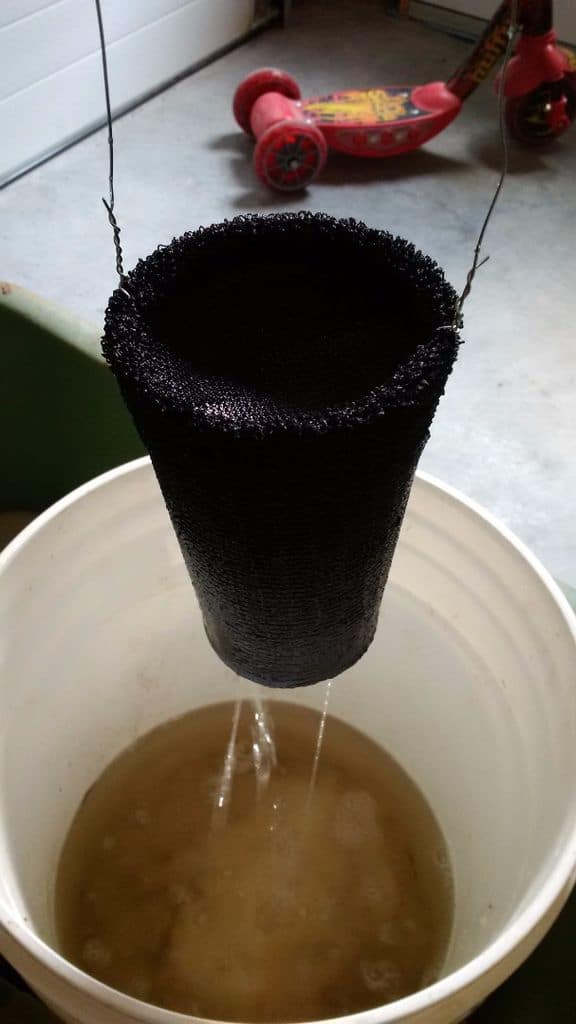 The best cure for any problem is always prevention. That's what this particular trap aims to do. They're a dark, water-filled container designed to simulate the breeding environments that mosquitoes prefer. They'll come in and lay their eggs and wind up dooming their spawn to a quick downfall.
This trap is lined with socks, which is where the females come in and lay their eggs. The larvae will then fall through the screen and into the water below in the container. And once they're fully grown, they'll be too large to escape through the mesh and get stuck inside the container.
Making the trap is fairly easy. You'll follow a few simple directions for drilling (for hanging the trap), gluing and otherwise attaching things to keep everything in place and functional. Then, you'll add in some basic mosquito bait, and voila – an effective trap that keeps mosquitoes from growing up around your home.
Via Instructables
LED Light Strip Trap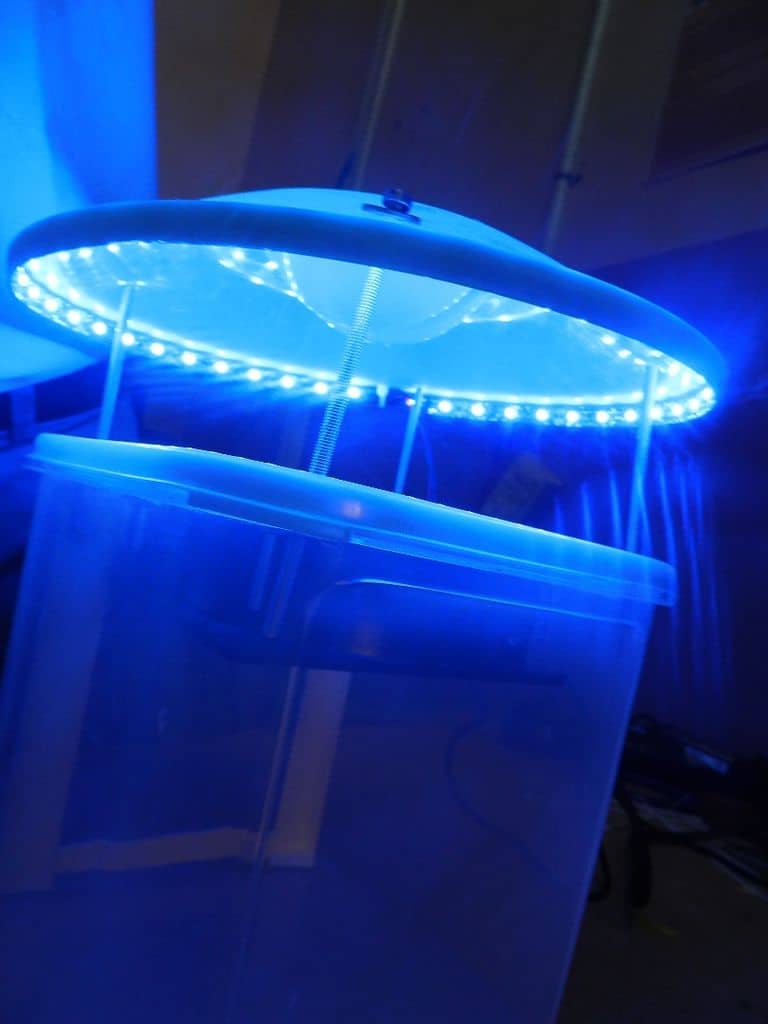 This unique mosquito trap is kind of fun, actually, and adds a splash of light to the yard at night. It's also cheap and easy to get the materials for it, so it's an all-around winner in our books. You'll need a CPU fan, a 12-volt adapter, a 12 volt LED light strip, a plastic box, double-sided tape, mosquito net, and screws and bolts.
You will also need to know how to use a soldering iron and have one available. So, admittedly, it's not the easiest option out there. But folks who've built it say it's effective and is definitely a unique way to trap and kill off those nasty mosquitoes.
The tutorial gives clear instructions on how to build the whole thing, so we recommend reading it a few times before getting started. Once it's built, you can use it indoors or outdoors, though because it's electric, we wouldn't recommend leaving it out overnight.
Via Instructables
The One-Way Bottle Trap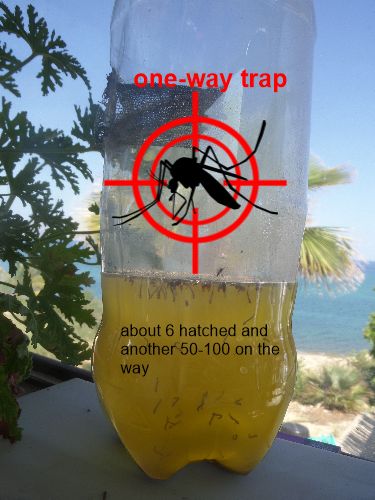 This mosquito trap came about through multiple stages of development. The original crafter determined that some species of mosquitoes – specifically the Aedes Aegypi, which carries Zika, Dengue, Yellow Fever, and Chikungunya – are craftier than others at escaping from traps. This was built with them in mind.
The trap is designed not to catch mosquitoes before they bite, but rather after they've drawn blood. The reason for this is to prevent them from successfully laying eggs that will then produce more and more mosquitoes. This also prevents the mosquito from passing along any diseases they may have picked up from any infected victims.
To make the trap, you'll need to get a source of non-chlorinated water. Preferably, you'll use rainwater, or water from a nearby outdoor water source like a river or lake. The trap is perfect for use in spaces like outdoor kitchens, patios, campsites, and similar.
Via Instructables
Super Easy Outdoor Mosquito Trap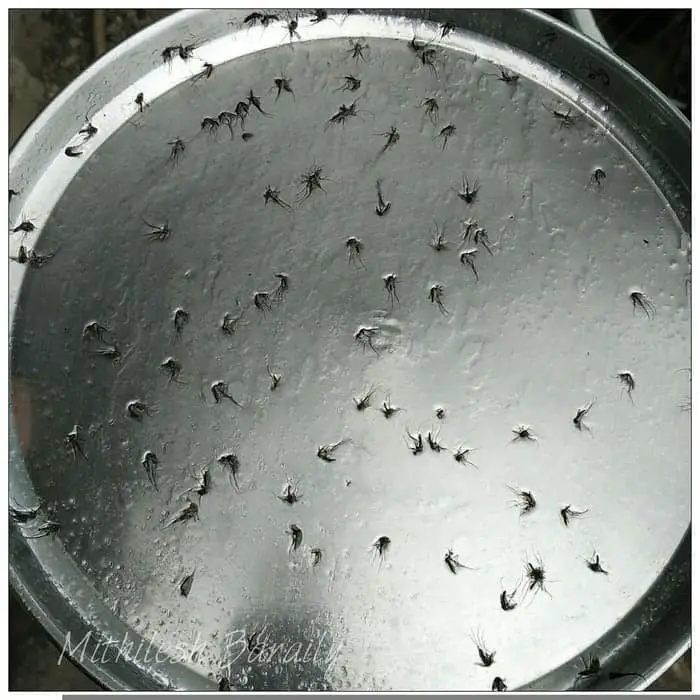 For the absolute easiest mosquito trap, try this old basic option. You only need a few simple materials you probably already have on hand and it will only take you a few minutes to make. They're effective and cheap, too, so they're great for people on a budget.
To make the trap, you'll need cooking oil – olive, soybean, coconut, vegetable, whatever! – a flat plate of any shape, size, or material, and your fingers. Spread the oil around on the plater with your fingers then remove the mess from your hands before using.
You can put the plates out around the campsite or use them as a catch while hanging out where mosquitoes are biting. Wave the plate around to catch them – that's it. It's primarily an "active" trap, meaning you won't just set them out and go, but the trap is highly effective in settings like a campsite.
Via Instructables
DIY Amish Flying Insect Trap
This effective trap is great for setting out in locations around the house or yard where you've noticed mosquitoes have gotten pesky. It's fairly simple to make and uses basic supplies. It does, however, kind of stink, so you won't want to keep it near the kitchen or anywhere that you're hanging out much.
You'll need a cup of sugar, a cup of apple cider vinegar, a couple of banana peels, and a 2-liter soda bottle. This noxious mixture gives off a scent that mosquitoes and other flying insects happen to find very attractive. So, in theory, they'll be drawn to the trap and get caught.
Ideally, you'll hang the trap after you've put the "bug juice" into it and let it do the work. The liquid makes the trap heavy, though, so make sure any branches and wires involved are strong enough to support the weight – especially after the insects flock in.
The Ultimate Mosquito Trapper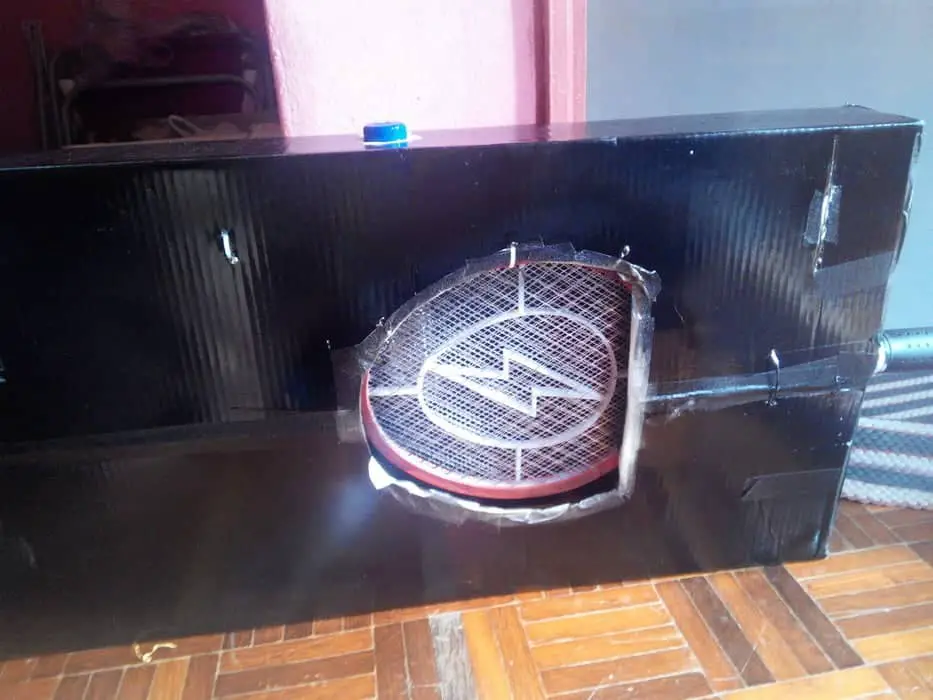 This is a kind of all-in-one trap for any small pest you've got hanging out the house or yard. Flies, mosquitoes, cockroaches, even lizards, are drawn to it and meet a quick end. So, you'll want to keep that in mind if you have any kind of pest issues.
You'll need a racket-style mosquito zapper paddle, a small plastic ware container, some duct tape, string, a battery, a knife, a flashlight, a small mirror, some black spray paint, yeast, sugar, rotten fruit, a small bottle, a glue trap, and a box.
The supply list is long, but the trap is one of the best homemade mosquito traps you'll find. Just follow the straightforward instructions on the Instructables page.
Via Instructables
The $1 Mosquito Bag Fan Trap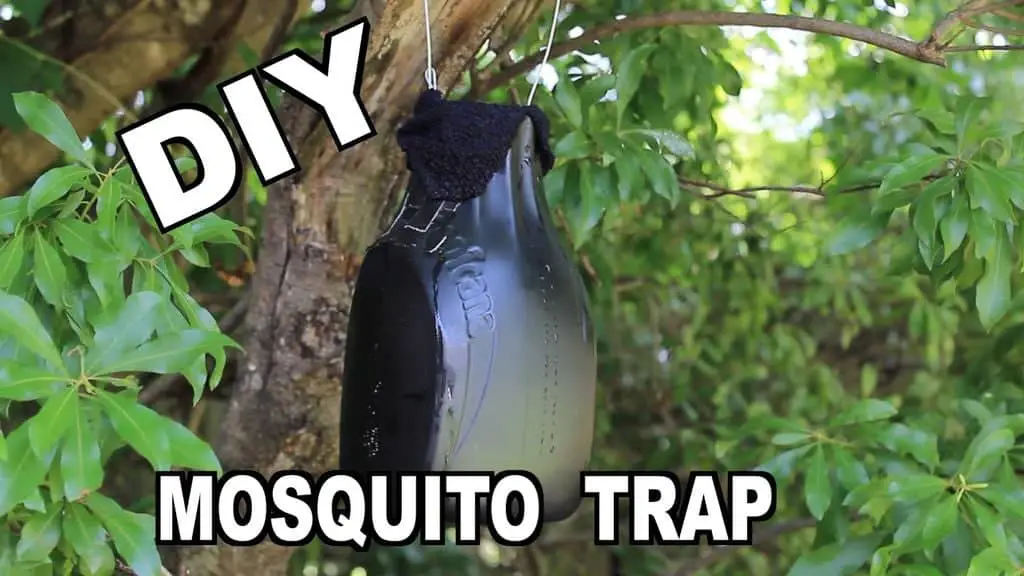 If you've got a window box fan hanging around and a Walmart or JoAnn's nearby, you can make this trap for just about nothing. The box fan is the pull that gets the mosquitoes in and the tulle fabric or mosquito netting is what keeps them there.
You don't have to do any sewing, just some cutting, and taping. You'll need a box fan, cardboard, tulle or mosquito netting, duct tape or glue. Then you'll just need to watch the video to create this unique and effective mosquito trap.
This kind of trap is completely non-toxic and really effective, so it's great for use in barns, on porches, and similar locations where mosquitoes congregate.
Via Instructables
Soapy Water Trap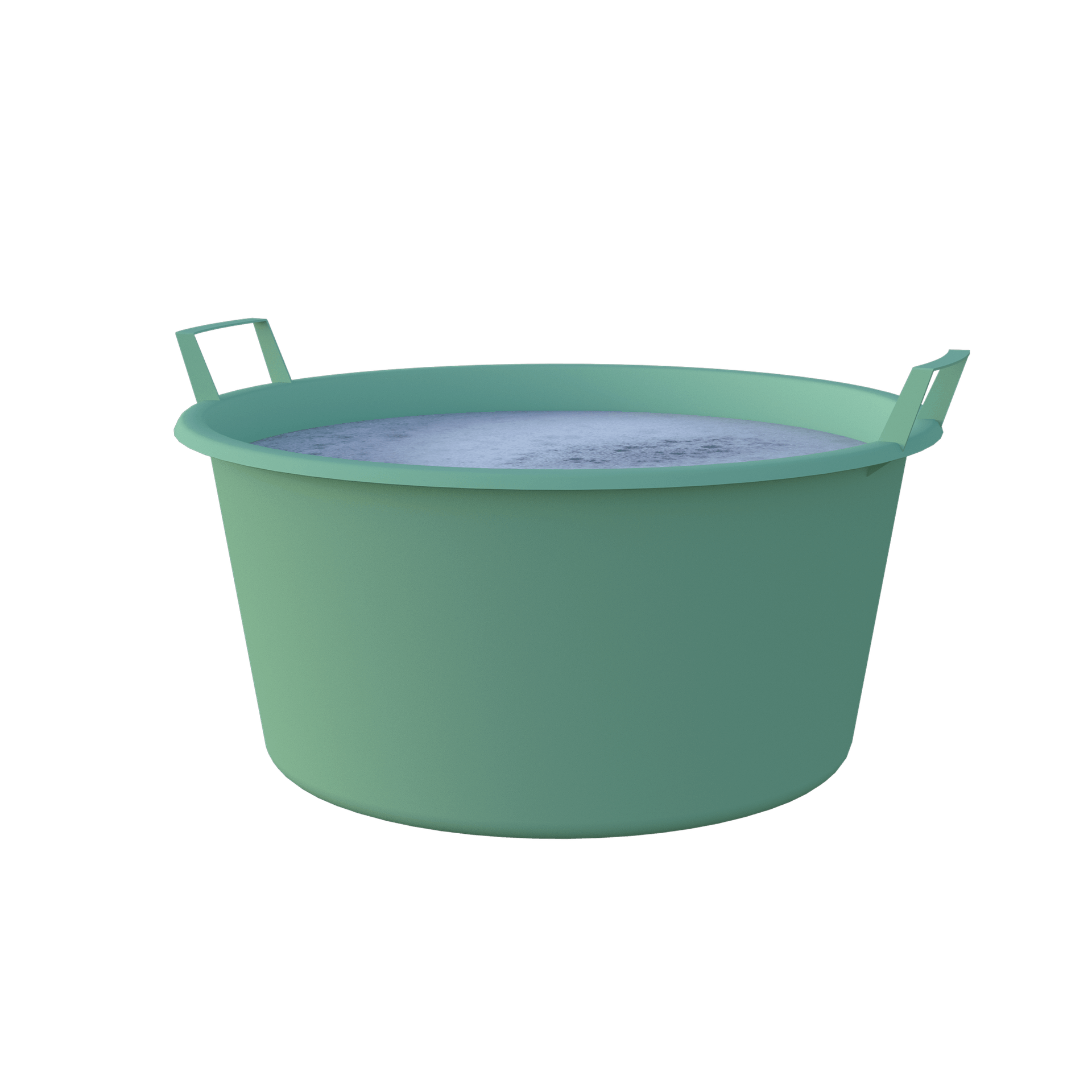 Another highly effective, reasonably easy-to-make mosquito trap is this no yeast mosquito trap that uses dish soap instead of smelly vinegar or rotten fruit mosquito bait. Apart from the smell being more pleasant, it's also a super easy, non-toxic way to catch mosquitoes before they munch on your arm.
Find a durable dish and fill it with soapy water. You can use dishwashing detergent or soap to create the suds. The mosquitoes find the water attractive, so they'll come in for a landing, get trapped in the soap bubbles, and drown.
This isn't the most effective way of trapping these flying bugs, but if you put out a few dishes along the perimeter of your outdoor dining space, you will likely catch most of them before they get to your table.
Upcycled Screen Passive Trap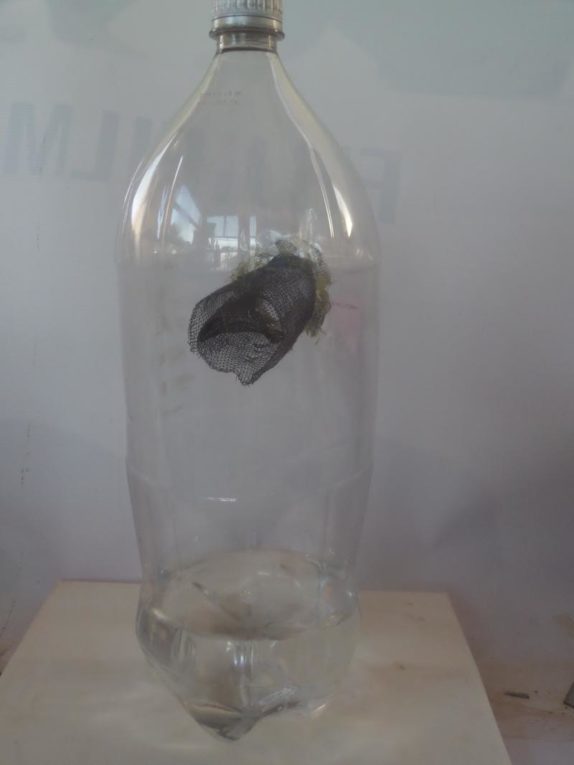 This final DIY mosquito trap is a passive trap that upcycles old screen or new screen material. You'll need some basic supplies to make it and it's easy and inexpensive. Just follow the tutorial to make this super effective mosquito trap that's perfect for use indoors and outdoors.
You'll need a plastic bottle, scissors, metal wire, screen mesh, an empty toilet paper tube, and duct tape. The tutorial is pretty straightforward, making it an easy project for anyone, though we'd recommend wearing gloves for dealing with the screen mesh, which can sometimes be sharp.
Don't Forget Your Mosquito Repellent
While all of these traps are great for trapping mosquitoes before they snack on the kids, they are just one layer of protection against these nasty insects that carry things like Zika, West Nile, and Dengue fever. You should also invest in some non-toxic, all-natural insect sprays and deterrents.
You can also find things like citronella candles and plants to add to the landscaping that help to drive away mosquitoes as well. Just aim to go all natural as much as possible, as often the chemicals used in commercial treatments can harm your family, whether human or four-legged.